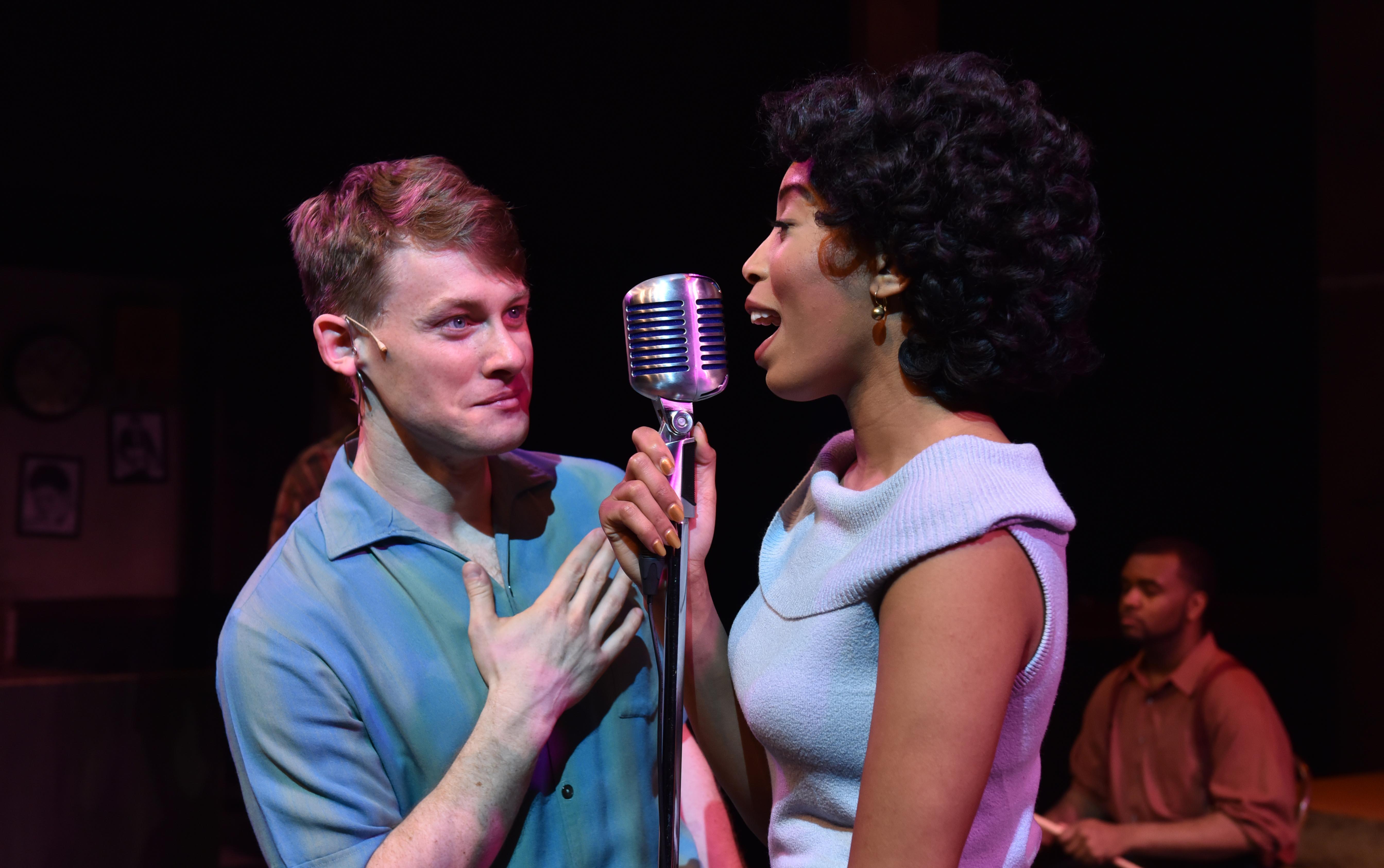 Liam Quealy as Huey Calhoun and Aeriel Williams as Felicia Farrell in "Memphis" from Porchlight Music Theatre. (Photo by Michael Courier)
While the 1968 strike by African-American sanitation workers in Memphis, Tennessee, remains one of the cornerstone events in this country's civil rights history, that city's role in challenging the status quo might well date back to the early 1950s.
That, as the musical "Memphis" tells the story, is when a poor, semi-literate, ne'er-do-well young white guy fell in love with the music being played in the black clubs on Beale Street – a place where, during the Jim Crow era, few whites ever ventured to go, and those who did had an unsettling effect. And it was that very guy (Dewey Phillips in real life, renamed Huey Calhoun in the show), who managed to get the blues, and rock 'n' roll – which one character in the show describes as "a high-speed version of the blues" – on a white-owned commercial radio station and subsequently on television.
From left: Gilbert Domally, James Earl Jones II, Nancy Wagner and Lorenzo Rush, Jr. in "Memphis" from Porchlight Music Theatre. (Photo by Michael Courier)
In the process, he conjoined two worlds (those of black music and the white teenagers quickly drawn to it), and he might just have had as much impact on social and cultural change as any legislation.
I confess that the national touring version of the Tony Award-winning Broadway production of "Memphis" that arrived in Chicago in 2011 left me underwhelmed. But the new Porchlight Music Theatre production of the show – the work of Joe DiPietro (book and lyrics) and David Bryan (music and lyrics) – is nothing short of phenomenal and gives it a whole new life. A transformative evening in the theater, it features galvanic direction by Daryl Brooks, volcanic dancing created by choreographer/assistant director Christopher Carter and his assistant Reneisha Jenkins, a powerhouse onstage band driven by music director/pianist Jermaine Hill, and a large, fiercely talented cast that brings an electric energy to the storytelling, which also includes a mixed-race love affair.
It all begins with a knockout dance sequence at Delray's, an "underground" club on Beale Street whose owner, Delray Jones (played by the fearsome, barrel-chested Lorenzo Rush, Jr.) keeps an exceedingly close watch on his gifted younger sister, singer Felicia (Aeriel Williams, the lithely beautiful actress and superb singer who recently made her mark playing the young Josephine Baker at the Black Ensemble Theater).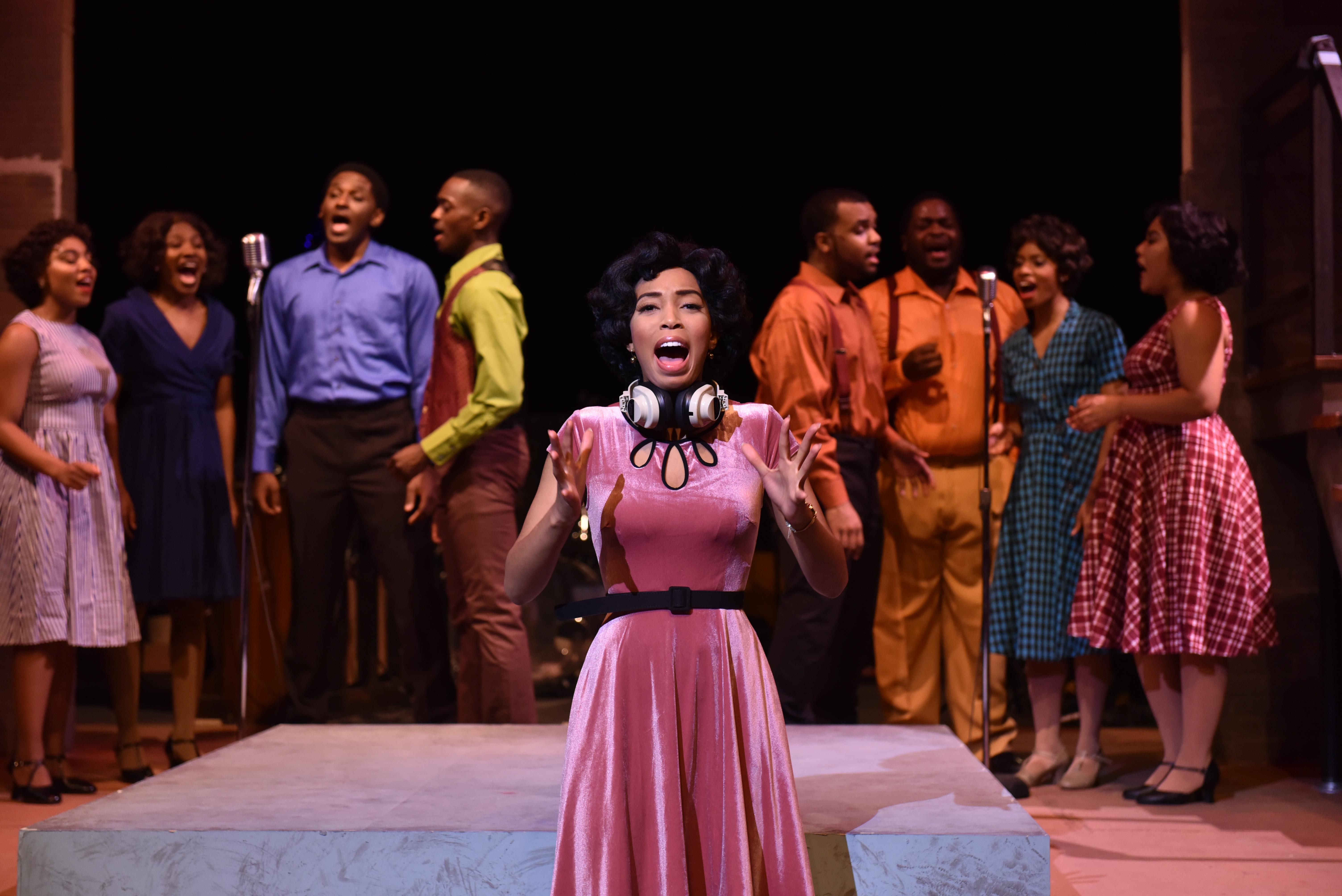 Aeriel Williams, center, in "Memphis." (Photo by Michael Courier)
Enter Huey (Liam Quealy, who is so inside his character that you can see a visible change in him as he moves from failure, to success, to the man who is left behind). He is quickly drawn to Felicia, but it is not until he hits on an idea for selling rock 'n' roll records in the department store where he is a bumbling stock clerk, and then unleashes his unstoppable enthusiasm as an eccentric, game-changing DJ, that he can promise to make her a star – or at least get her on the radio.
Meanwhile, Huey, whose mother, Gladys (fearless Nancy Wagner) is a virulent racist, wants her son to have nothing to do with Felicia, while he encourages his white listeners to head to black churches to hear more of the music he loves. And that is the signal for the company to erupt in the rousing, roof-raising rendition of "Make Me Stronger." As it happens, love is not enough to protect Huey and Felicia from being brutally attacked by a group of pipe-wielding rednecks.
There is much more to the story as Huey proposes to Felicia (despite the fact that miscegenation laws were in effect in Tennessee until 1967), and big-shot white music executives from New York arrive in Memphis to offer Felicia a chance at stardom, and want Huey to compete with some guy named Dick Clark for the job of hosting a rock 'n' roll program for teens on national television (but only if he uses all white dancers, which he refuses to do).
As it turns out, Felicia goes to New York and enjoys great success while Huey, a pioneer in propelling the whole crossover music revolution, remains in Memphis and is swallowed up by history.
Of course "Memphis" helps restore the legacy of a true believer whose instincts were just ahead of his time, even as Felicia understood she might never have a second chance.
Along the way there are wonderfully winning performances by James Earl Jones II as Bobby, the black janitor who befriends Huey (and aces his big number, "Big Love"), and Gilbert Domally as Gator, who brings the first act to a close with the resounding call for change, "Say a Prayer." Yet in many ways the real stars of the show are the fabulously talented members of the large ensemble, both black and white, who sing and dance up a storm (and even jump rope), and could easily compete with the chorus of any Broadway company.
The clever set by Jacqueline and Richard Penrod is tellingly framed by a giant radio dial (a reminder of how powerful that medium once was), with Bill Morey's dozens of stylish, brightly hued costumes full of pizzazz – easily suggesting youth culture and changing times, and bringing an added dimension of movement to Carter's stunning dance sequences.
"Memphis Lives in Me," sings Huey at the end of the show. And no doubt "Memphis" will live in you by the time you leave the theater.

"Memphis," a Porchlight Music Theatre production, runs through June 10 at the Ruth Page Center for the Arts, 1016 N. Dearborn St. For tickets ($33-$60) call (773) 777-9884, or visit www.PorchlightMusicTheatre.org. Running time: 2 hours and 30 minutes with one intermission.
Follow Hedy Weiss on Twitter: @HedyWeissCritic
---
In 'The Doppelgänger,' Insiders and Outsiders Greedily Savage an African Nation
Hersey Felder's Portrait of Tchaikovsky Fueled by Composer's Music of Suppression, Longing
Broadway Revival of 'Carousel' Injects New Elements Into Rodgers and Hammerstein Classic
'Gentleman Caller' Lays Bare the Not-So-Secret Lives of Tennessee Williams, William Inge
Blistering Grand Opera 'Sweeney Todd' at Theo Ubique's Tiny Storefront
---