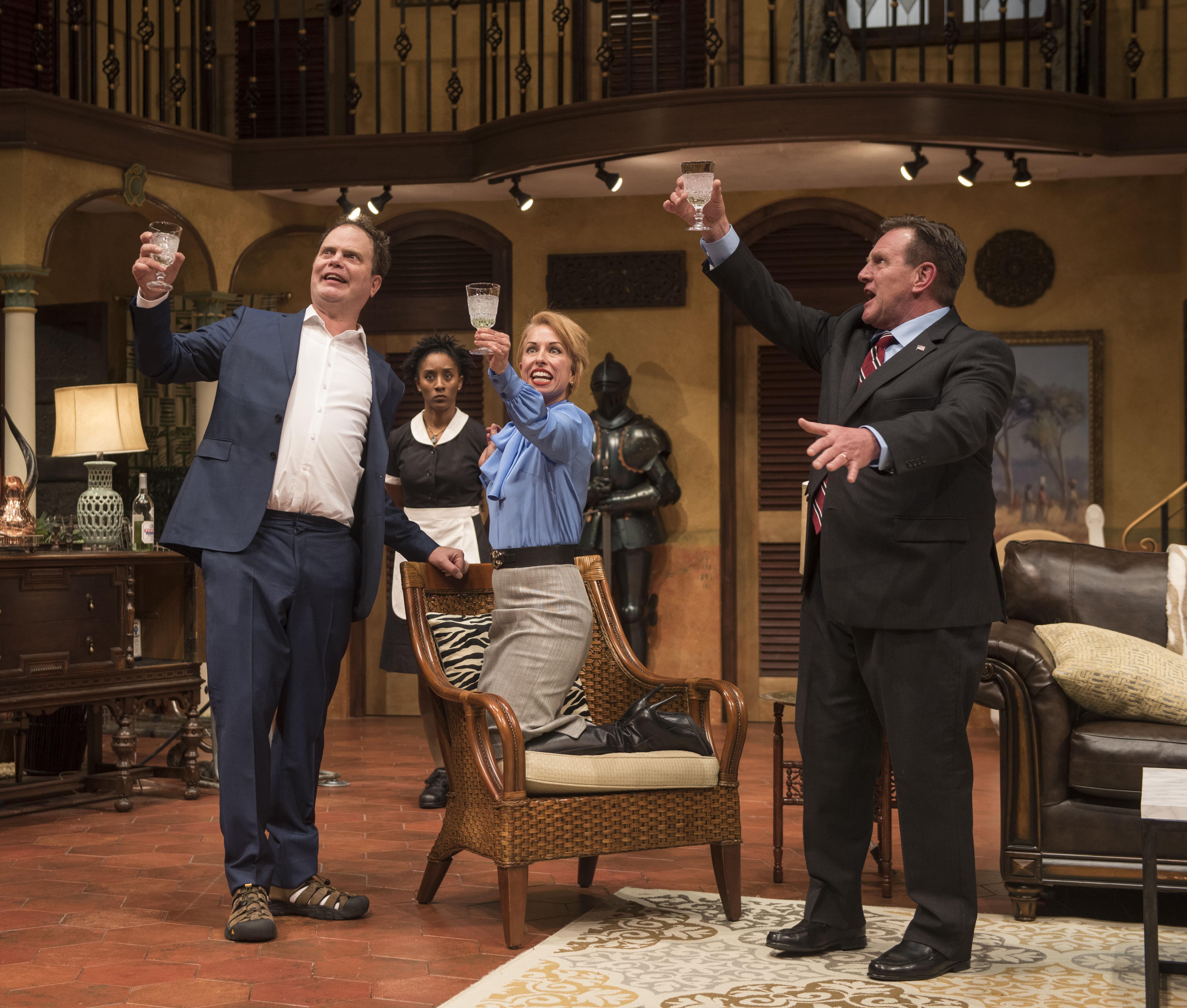 From left: Rainn Wilson, Celeste M. Cooper, Audrey Francis and Michael Accardo in Steppenwolf's world premiere production of "The Doppelgänger (an international farce)" by Matthew-Lee Erlbach. (Photo by Michael Brosilow)
We need hardly be reminded that the world is in a precarious state at the moment, and that no country (nor any of the ever-hustling collection of insiders and outsiders who manipulate the world disorder) has a monopoly on greed, savagery, stupidity and the erasure of even the most basic forms of ethical and moral behavior.
Page through one of the few remaining newspapers that still delve deeply into international issues and you will quickly be able to draw up a list of the countless victims and perpetrators. Or, if you prefer a more satirical version of the whole bloody mess, consider Chicago-bred writer/actor Matthew-Lee Erlbach's alternately audacious, obnoxious and ultimately overwrought play, "The Doppelganger (an international farce)." A sort of equal-opportunity snake pit of corruption, violence and ridiculous sex-capades, the show is now receiving its world premiere at Steppenwolf Theatre.
Before going any further it is essential to note that the production's 11-person (and crucially 12-character) cast – under the aptly whirlwind direction of Tina Landau – is excellent, and probably would appreciate the gift of a couple of tanks of oxygen and a few dozen crates of energy bars.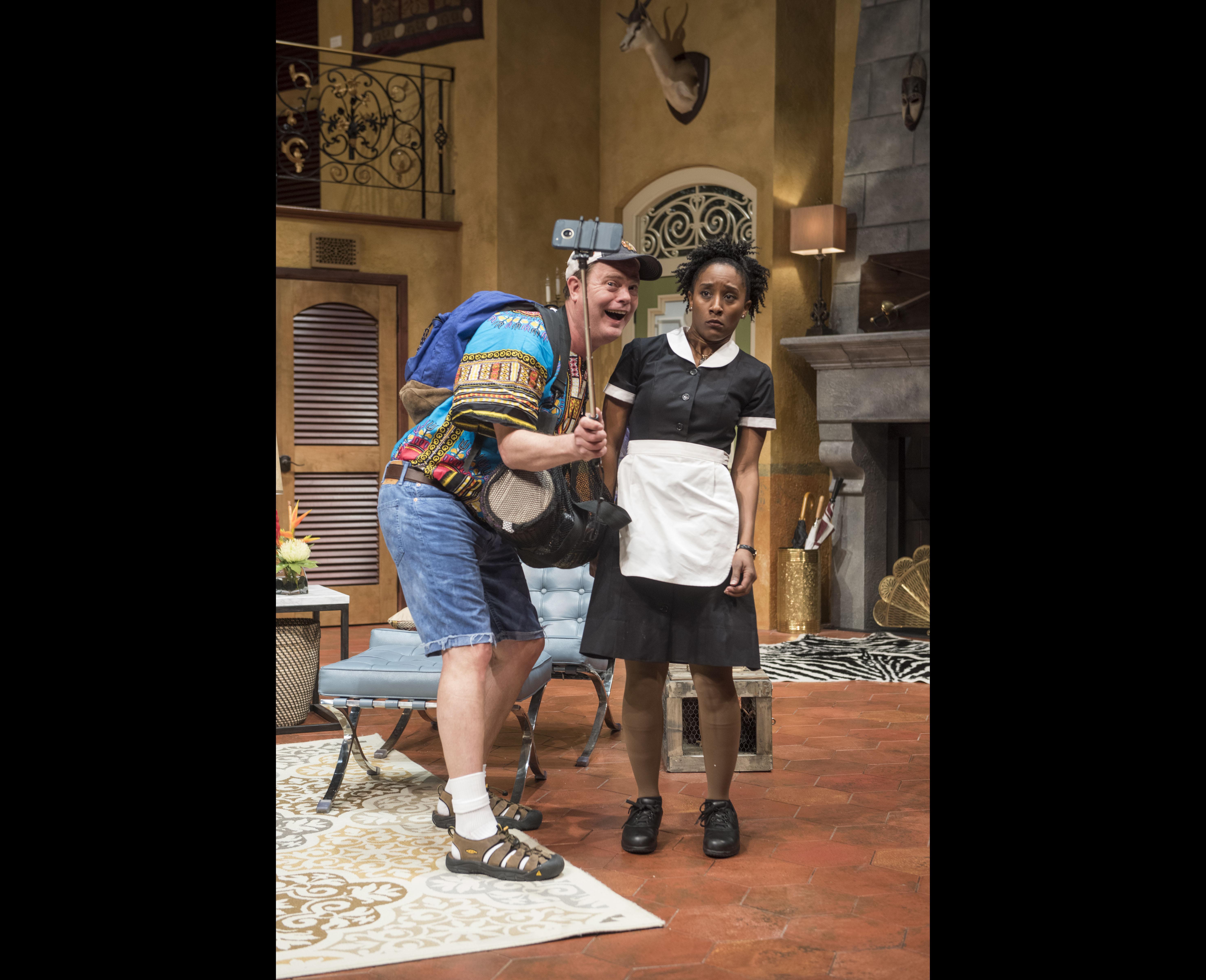 Rainn Wilson and Celeste M. Cooper in "The Doppelgänger (an international farce)" by Matthew-Lee Erlbach. (Photo by Michael Brosilow)
And while Rainn Wilson (best known as Dwight Schrute on NBC's "The Office"), has received most of the pre-opening publicity, it is the altogether astounding Celeste M. Cooper whose performance deserves the loudest bravos, as well as the theatrical equivalent of a Purple Heart.
The actress, who could easily match any Olympic-level triathlon athlete, spends the show loaded down with everything from suitcases and giant potted plants, to the most resilient of corpses, and climbs more stairs and logs more miles on stage than any marathon runner would be able to do once, let alone eight times a week. Beyond all that, she turns in a performance of razor sharp wit and intensity, finessing both a fierce fencing scene and a conversation spoken in an authentic African language. (Wilson at least gets to relax a bit during the run as his understudy, Eric Slater, is scheduled to step in for six performances.)
And now, back to the story which is set in the Central African Republic, a war-torn, corruption-infested nation whose hugely valuable copper mines have become the target of interest for a slew of international hucksters including Thomas Irdley (Wilson), a British businessman who lives in the posh French colonial mansion in the country's capital, Bangui, where all the chaos unfolds. (Todd Rosenthal's no-expense-spared three-story set is a wonder.)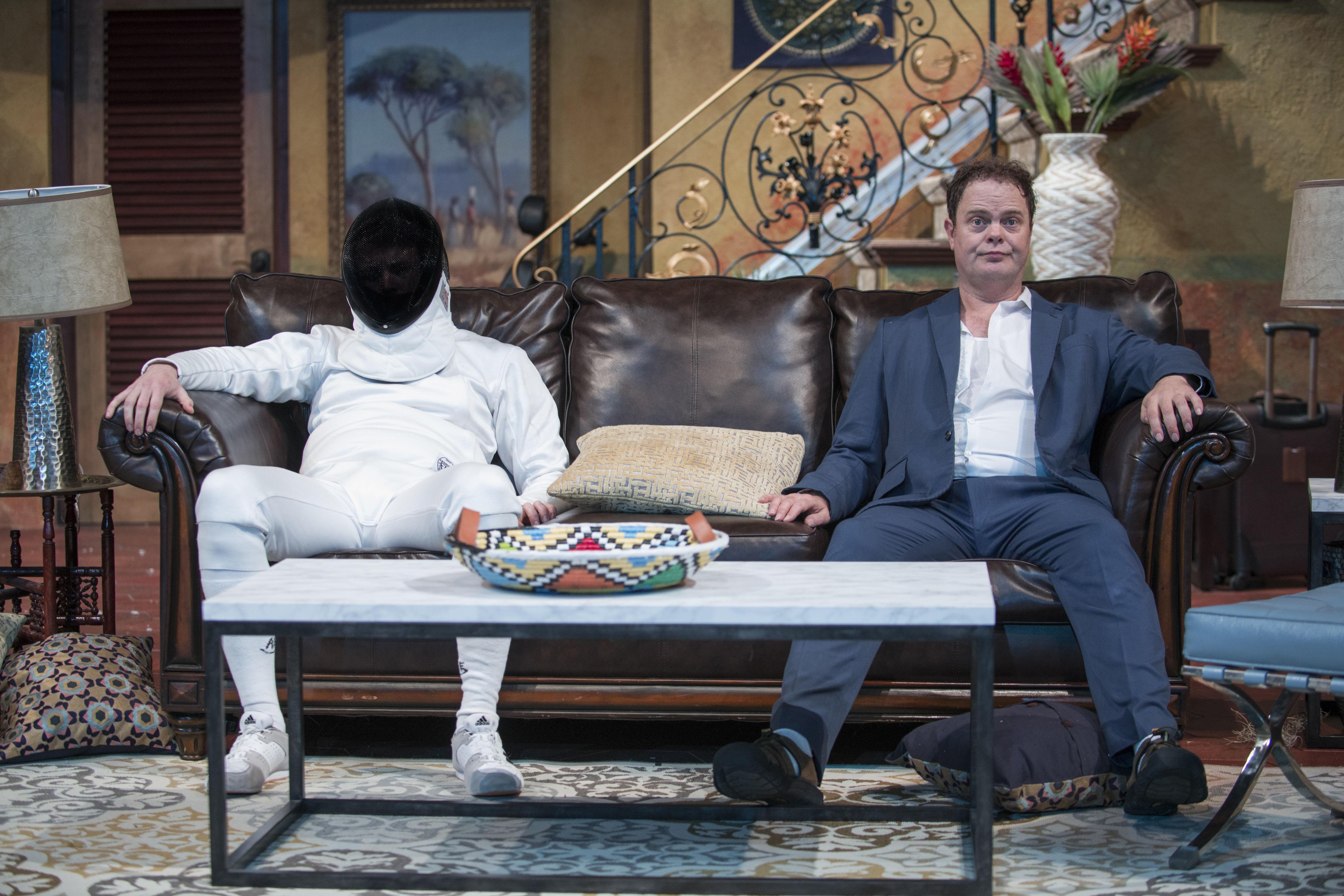 Dan Plehal and Rainn Wilson in "The Doppelgänger (an international farce)" by Matthew-Lee Erlbach. (Photo by Michael Brosilow)
As it happens, Ridley suffers an accident that might (or might not) be fatal shortly before the arrival of the many investors and others who hope to profit from a copper mine deal. But as luck would have it, Jimmy Peterson (Wilson, in aptly moronic form as the witless if well-meaning American doppelgänger Irdley just happened to meet earlier), has arrived at the mansion and is impressed into service by Irdley's tireless maid, Rosie Guerekoyame (Cooper).
Rosie is determined to oversee her own carefully hidden agenda which is to secure decent wages and conditions for the vast, long-exploited labor force of her country – the copper miners and others who remain impoverished as others reap huge profits. And she quickly realizes she might be able to use the hapless American to press for her cause by having him assume the identity of his double. Of course she must keep the semi-lifeless body of Irdley under wraps, and this turns out to be a full-time job for Rosie who, in classic farce form, must haul him in and out of closets and bedrooms, up perilous attic stairs and more. Cooper keeps her cool even as she works up a sweat, converses in what is probably perfect Sango, and interacts with every fully reprehensible visitor.
Rainn Wilson and Karen Rodriguez in "The Doppelgänger (an international farce)" by Matthew-Lee Erlbach. (Photo by Michael Brosilow)
Among those who arrive at the mansion to make a deal are: The slickly efficient General Stanley Harcourt (Michael Accardo); the wildly neurotic British envoy, Beatrix Geddes-Renwick (a wickedly funny Audrey Francis); a hip young Chinese technocrat, Wen Xiaoping (the fleet Whit K. Lee); a sex-crazed Saudi prince, Amir Abdullah (Andy Nagraj); the prince's brash and bawdy Brazilian money launderer, Marina (Karen Rodriguez); and the ousted dictator of the Central Republic, Michel Masaragba (a spot-on James Vincent Meredith) and his shrewd and independent-minded wife, Lolade (the always superb Ora Jones). Irdley's wife, Theresa (Sandra Marquez), leaves and returns on cue, as does Dan Plehal.
In addition to orchestrating all the essential pandemonium of a farce, the play's first act, rife with equal opportunity satire, makes the essential points about rampant global, as well as home-grown opportunism in Third World countries. And its climactic knockout apocalyptic tirade calling for full-out destruction would be a perfect place to end the play. (Along the way, Erlbach does go a step too far with a much-close-to-home comment about gun violence in schools that had some in the audience loudly hissing.) The show's second act is just tedious overkill, with an unnecessarily extended bit of male nudity. And even the immense power of the show's final image (not to be divulged here) isn't enough to redeem the preceding excess.

"The Doppelganger (an international farce)" runs through June 2 at Steppenwolf Theatre, 1650 N. Halsted St. For tickets ($20-$114) call (312) 335-1650 or visit www.steppenwolf.org. Running time: 2 hours and 30 minutes with one intermission.
Follow Hedy Weiss on Twitter: @HedyWeissCritic
---
Hersey Felder's Portrait of Tchaikovsky Fueled by Composer's Music of Suppression, Longing
Broadway Revival of 'Carousel' Injects New Elements Into Rodgers and Hammerstein Classic
'Gentleman Caller' Lays Bare the Not-So-Secret Lives of Tennessee Williams, William Inge
Blistering Grand Opera 'Sweeney Todd' at Theo Ubique's Tiny Storefront
---