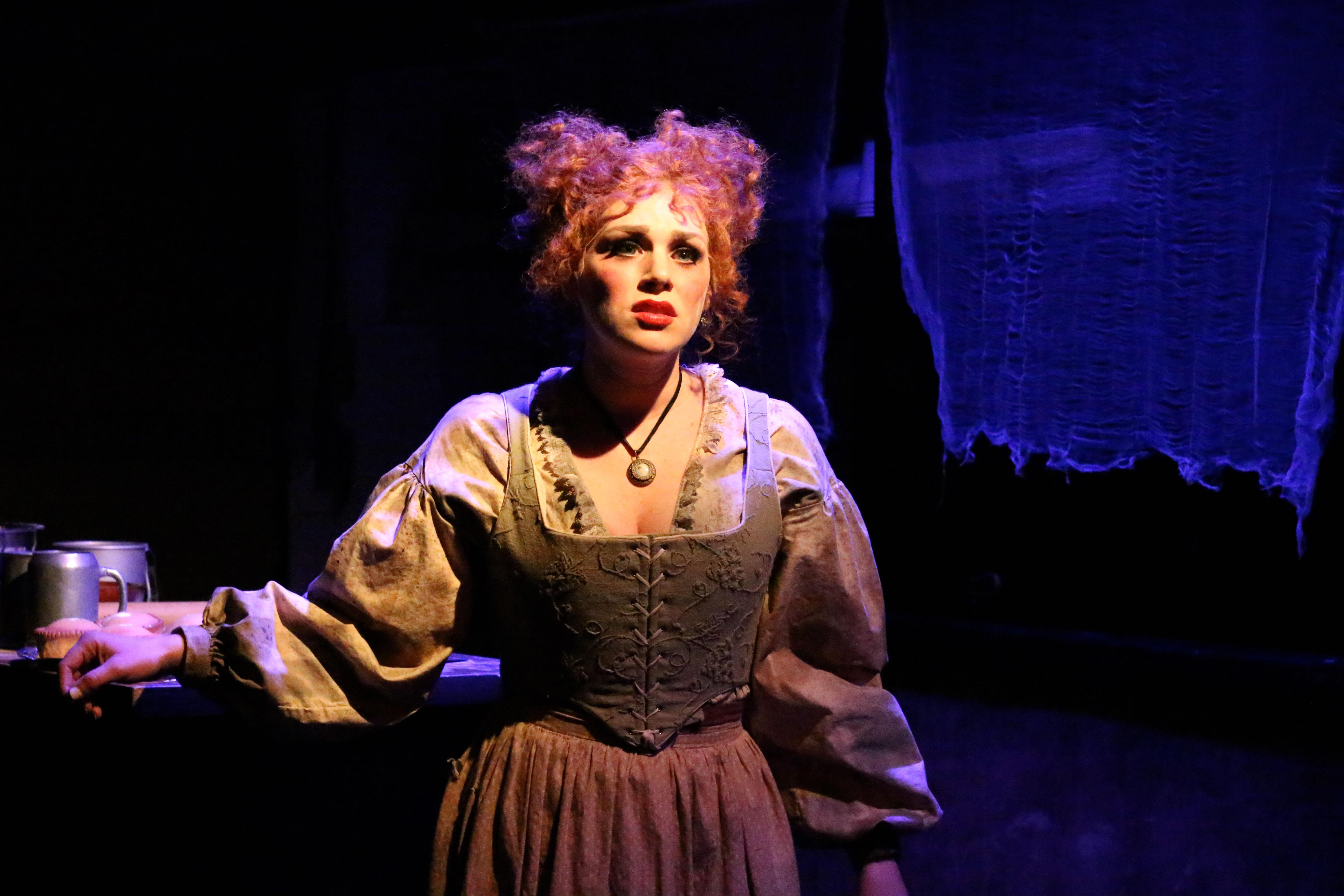 Jacquelyne Jones as Mrs. Lovett (Credit: Cody Jolly Photography)
Talk about going out with a bang. Before it moves to a new home (and before it presents a farewell revue of its greatest hits in the magical 55-seat Rogers Park storefront space it has inhabited for the past 14 years) Theo Ubique Cabaret Theatre is presenting one final full-blown musical – a blazing, fully immersive production of the Stephen Sondheim-Hugh Wheeler classic, "Sweeney Todd." 
And if you think there is no way in the fiery hell of a stomach-turning meat pie emporium that this intimate venue can become the stage for a musical that often seems most at home on a stage of grand opera dimensions, think again. The production is larger than life in many ways, thanks to both director and co-founder Fred Anzevino (the ever modest but endlessly imaginative, emotionally fierce director) and his genius collaborator, music director Jeremy Ramey. (Their spirits will linger in the building's walls long after the company moves to its new home at 721 Howard St. in Evanston this fall.) The resounding voices of the cast of 13 actor-singers will also shake you to the core.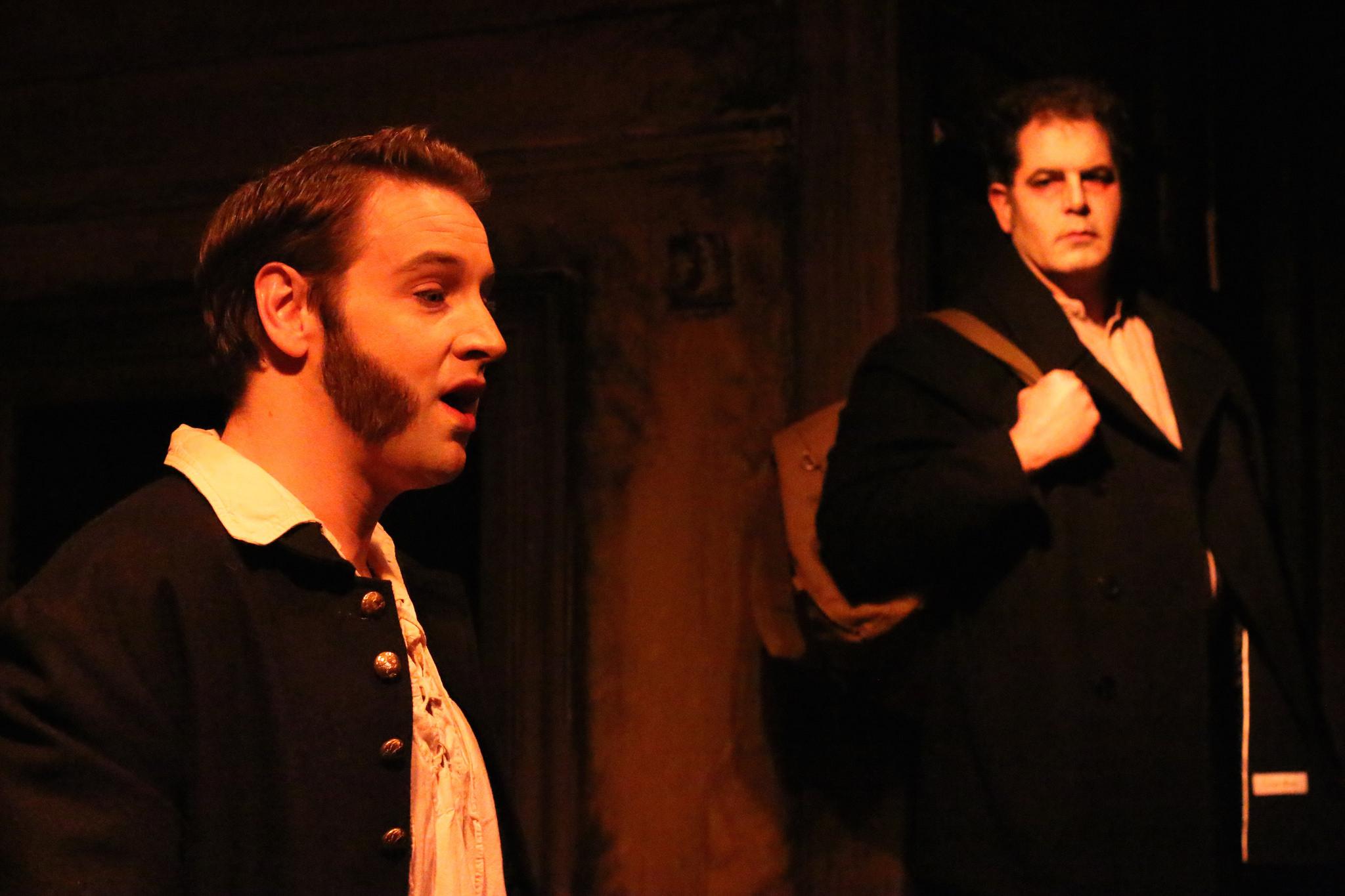 Nathan Carroll as Anthony Hope and Philip Torre as Sweeney Todd (Credit: Cody Jolly Photography)
From the moment the dark and dangerous underbelly of 19th century London is conjured with sepulchral organ tones, and the characters who inhabit that city's streets, courtrooms and asylums emerge from the darkness and command you to attend the tale of the "demon barber of Fleet Street" – a man whose youthful tragedy has left him starved for revenge and some form of justice – it is clear that a spark of divine fire is at work here. This is a scorching production that is all the more potent for its extreme, immersive intimacy. In fact, it is so intimate, that you can feel the vibrations of the characters' volcanic voices reverberate on your own skin.
"City on fire," sings the chorus at one climactic moment in the show. And you might well be tempted to add: "Theater on fire, too." And no matter how many times you may have seen this show you are sure to discover little things in its lyrics here that you might never have heard quite as clearly before simply because the story unfolds literally inches from your seat.
The "penny dreadful" tale that unspools here is familiar by now, but that does not make it any less shocking in its pitch black (yet at moments perversely comic) way. 
After 15 years in punishing exile in Australia – where he was sent on trumped-up charges by the evil, sexually twisted, but powerful judge who raped his beautiful young wife – Todd (Philip Torre, whose splendid baritone has been heard in many major opera houses) returns to London where he once practiced his impeccable artistry as a barber.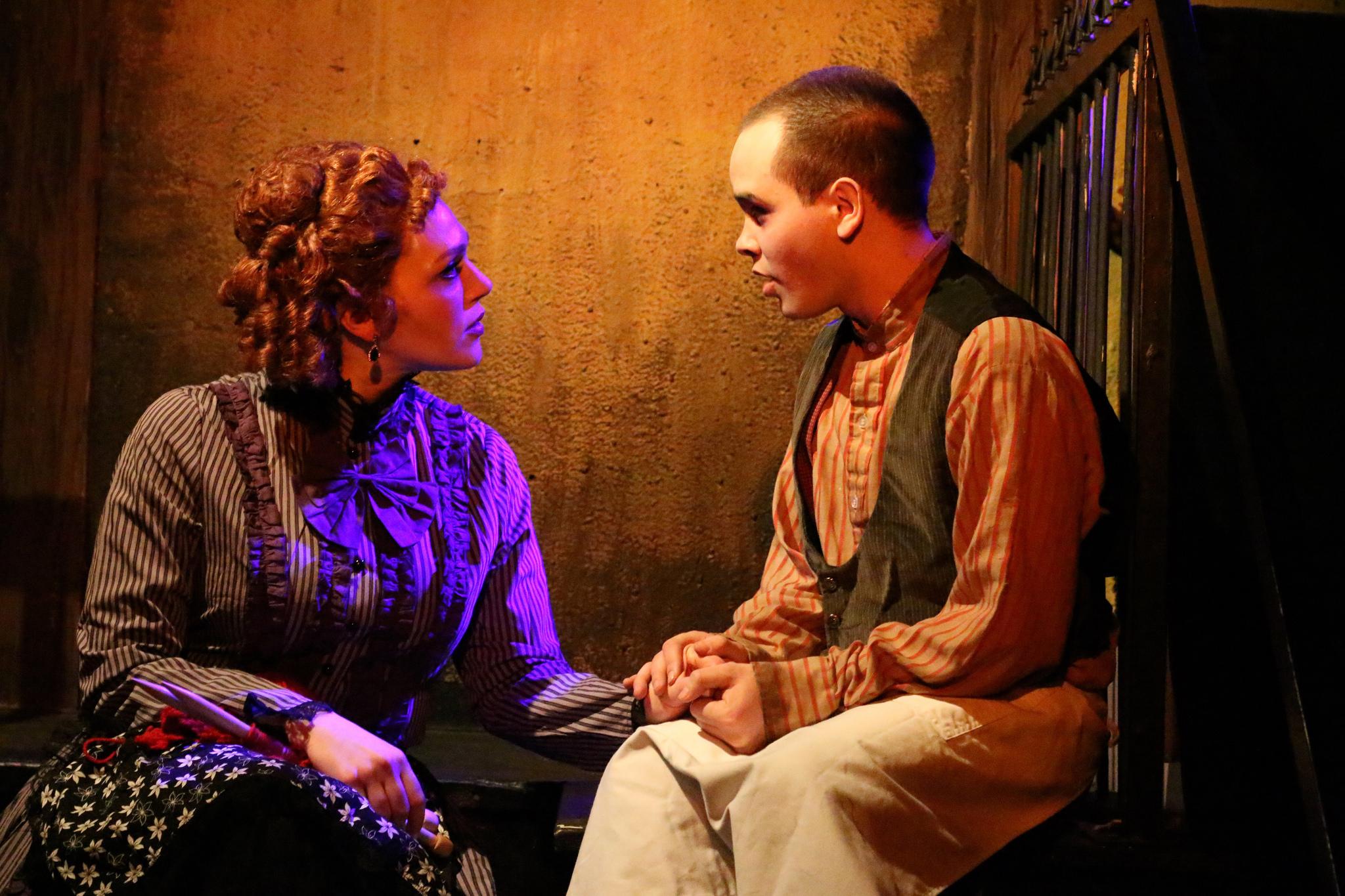 Jacquelyne Jones as Mrs. Lovett and Frankie Leo Bennett as Tobias Ragg (Credit: Cody Jolly Photography)
Occupying the ground floor of the building where he once worked is the wildly opportunistic widow, Mrs. Lovett (Jacquelyne Jones, a powerhouse mezzo-soprano with a wonderfully expressive face, who was recently seen in the hit show, "Lizzie"). Lovett is purveyor of the worst pies in London, and just happens to have saved Todd's precious set of razors. And when the barber's quest for vengeance against Judge Turpin (John B. Leen in an ideally warped portrayal) gets out of hand it is she who hits on the idea of how to make the most profitable use of the closely shaved corpses.
Meanwhile, there is an ill-fated love affair between Anthony (Nathan Carroll, a superb tenor), the warm-hearted young sailor who rescued Todd at sea, and Johanna (Cecilia Iole, a silvery soprano reprising the role she played in Paramount Theatre's superb production of "Sweeney"), who, as it happens, is Sweeney's daughter. Turpin long ago made her his ward, and now lusts after her for his wife, egged on by his fawning associate, Beadle (counter tenor Kevin Webb, in a perfectly unctuous turn).
In his latest stellar turn at Theo Ubique, Frankie Leo Bennett brings great energy and heart to the role of Toby, the street urchin who initially works for Pirelli (the excellent Ryan Armstrong) the charlatan barber, briefly touches a maternal nerve in Mrs. Lovett, and ultimately senses the evil all around him.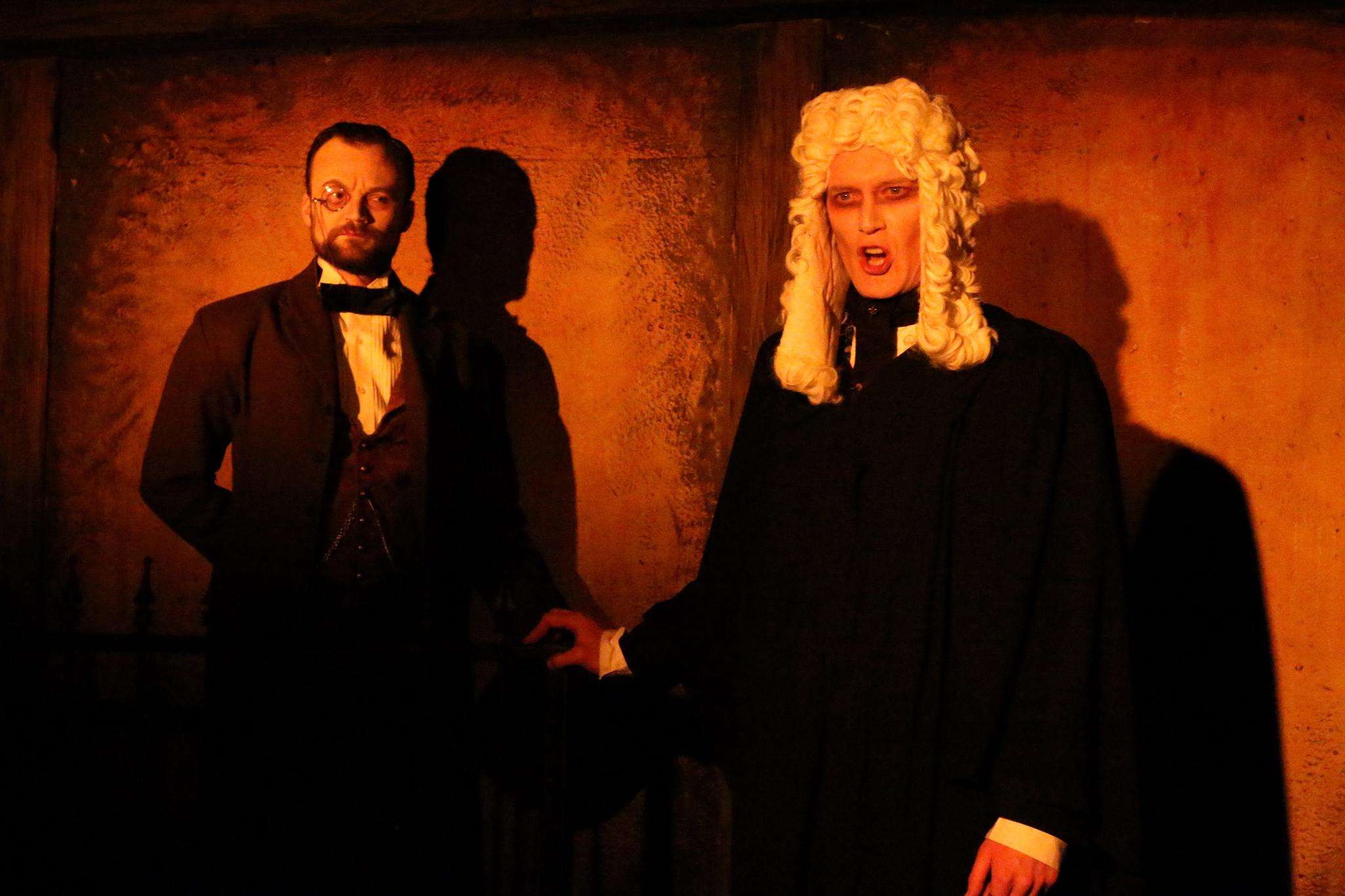 Kevin Webb as Beadle Bamford and John B. Leen as Judge Turpin (Credit: Cody Jolly Photography)
Megan Elk does a rip-roaring job as the Beggar Lady whose secret should not be revealed. And working alongside them all is the chorus of four volcanic voices that includes Grant Brown, Missy Wise, Trevor Vanderzee and Hope Elizabeth Schafer.
Set designer Ben Lipinski (with the help of James Kolditz's ghostly lighting) has ingeniously used every corner of the theater to suggest the world of the show, with Bill Morey's lavish early Victorian-era costumes on a Broadway level, and enhanced by the most artful makeup design.
And then there is Sondheim's incendiary, fiendishly difficult score with all its verbal brilliance and ravishing melodies. It is in a league all its own.
Music director/keyboardist Ramey is one of the great treasures of Chicago's musical theater scene, and with extraordinary backing from Simeon Tsanev (violin), Jay Gummert (reeds) and Rachel Schuldt (cello), he makes a band of four sound like a symphony orchestra. A true master.
But finally, a tearful note, for this riveting production suggests why Theo Ubique has achieved such success. And the thought of its leaving this challenging yet hallowed space comes with a sense of loss as well as promise.
Frankie Leo Bennett as Tobias Ragg (Credit: Cody Jolly Photography)

"Sweeney Todd" runs through May 20 at the Theo Ubique Cabaret Theatre, 6970 N. Glenwood Ave. For ticket ($39 - $44) call (800) 595-4849 or visit www.theo-u.com. Running time: 2 hours and 45 minutes.
Note: A playfully "bloody-themed" pre-show dinner (optional, and priced at $25), is available with advance reservations and includes a beet salad, a "deconstructed" meat pie and cake with a berry glaze.
---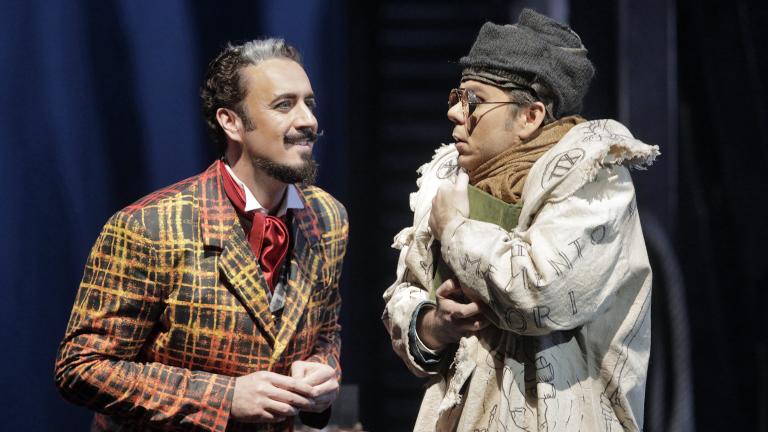 In Gounod's 'Faust,' a Slew of Mixed Messages
March 9: Despite a lush score, excellent voices and several memorable characterizations, the story often loses its focus in a new production of "Faust" at Lyric Opera of Chicago.
---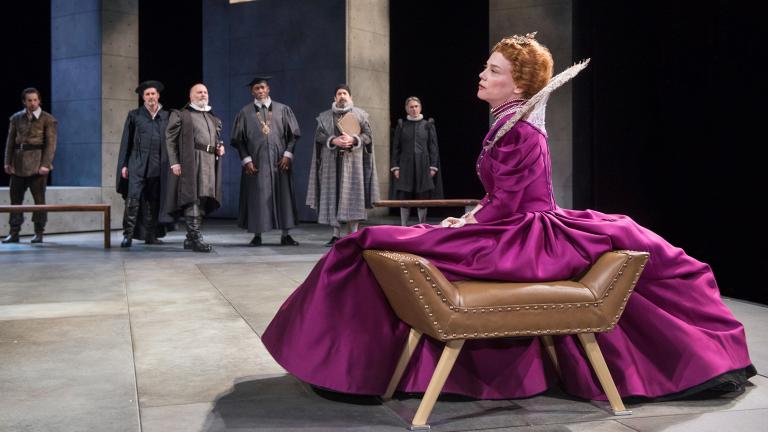 Powerful Women at Odds With Each Other and the Nature of Power
March 2: A vivid production of "Schiller's Mary Stuart" at the Chicago Shakespeare Theater is fresh and modern, but never artificially tricked up.
---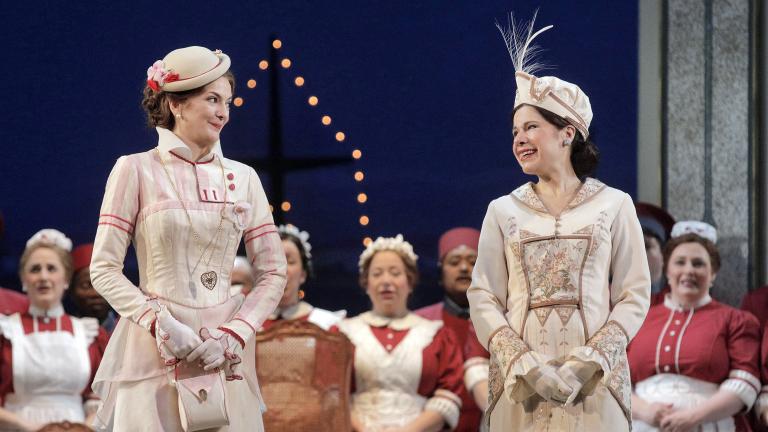 In Lyric's 'Cosi,' a Spirited Toast to the Imperfections of the Heart
Feb. 20: The production of "Cosi fan tutte" now at Lyric Opera of Chicago is a beauty. And in its playful but unquestionably bittersweet exploration of love, fidelity, betrayal and the unreliable nature of both men and women, it could easily have been written yesterday.
---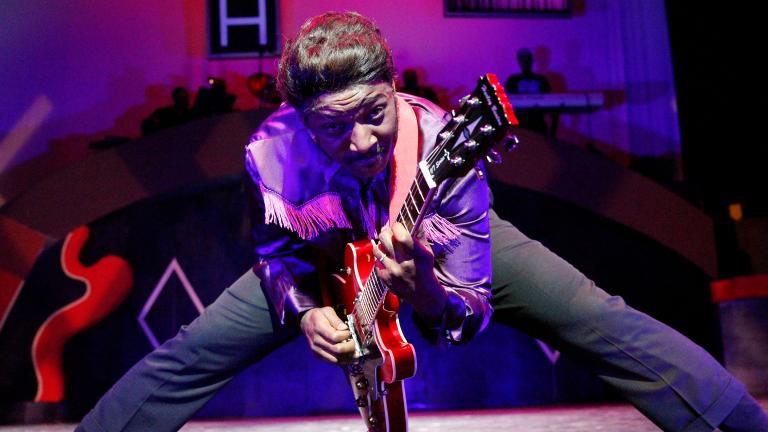 Black Ensemble Pays Rollicking Homage to Rock 'N' Roll Pioneer Chuck Berry
Feb. 26: Long before Chuck Berry died in March 2017 at the ripe old age of 90, he was revered as the granddaddy of rock 'n' roll. Black Ensemble Theater tells the story in "Hail, Hail Chuck: A Tribute to Chuck Berry."
---