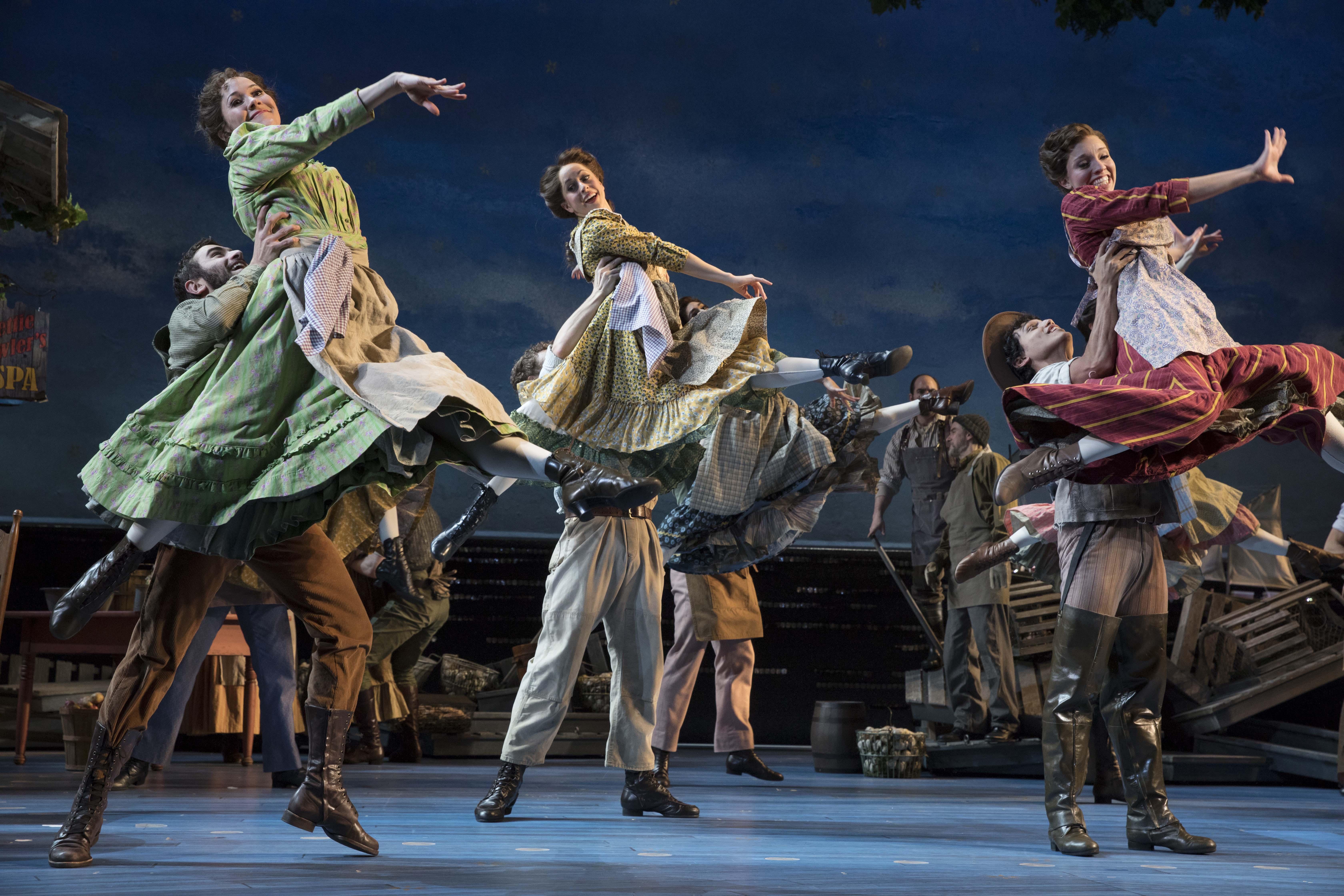 "Carousel" on Broadway. (Credit: Julieta Cervantes)
New York … I should confess right up front: I've been hooked on Rodgers and Hammerstein's glorious 1945 musical "Carousel" from childhood on. I first saw it in its film version, but have vivid memories of countless stage productions since then, including Nicholas Hytner's brilliant 1994 version at Lincoln Center, and the intimate Court Theatre of Chicago production in 2008 that featured a young actress by the name of Jessie Mueller as Carrie Pipperidge, the sassy yet traditional-minded young woman who is the best friend of the show's heroine, Julie Jordan.
Now comes the high-profile Broadway revival of "Carousel" by veteran director Jack O'Brien and Justin Peck, the 30-year-old New York City Ballet dancer turned prolific choreographer who is making his Broadway debut with this musical. As for Mueller, who in the interim has racked up a stellar career on Broadway, and won a Tony Award for her performance in "Beautiful – The Carole King Musical," she is now playing Julie Jordan, with Joshua Henry (who memorably starred as Aaron Burr in the Chicago production of "Hamilton") as Billy Bigelow, the rough but charismatic carnival barker, and opera diva Renee Fleming making her Broadway debut as Nettie Fowler, Julie's wise and inspiring aunt.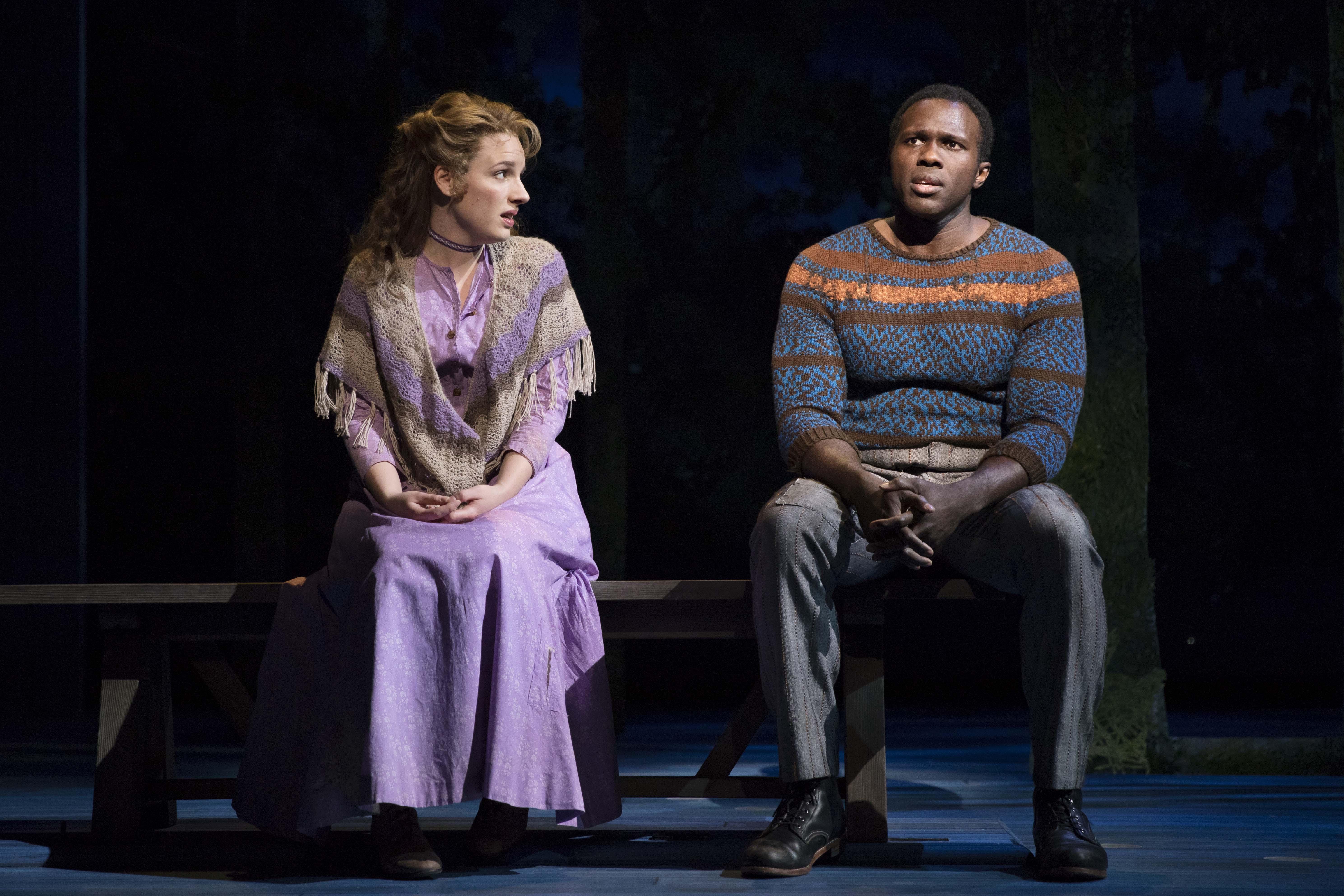 Jessie Mueller and Joshua Henry in "Carousel." (Credit: Julieta Cervantes)
The voices here are sublime. Peck's choreography is wilder and more elaborate than Agnes de Mille's groundbreaking original work, yet echoes it in many ways, and at certain points (from the fully danced overture to the neo-classical moves of an ensemble of angels) expands upon it greatly. And designer Santo Loquasto's concept for the carousel (a slowly opening umbrella-like roof suspended above swirling dancers who suggest the churning ride) is enchanting.
But, not everything about this production (whose cast of more than three dozen sometimes feels cramped on the Imperial stage), is satisfying.
Clearly it was O'Brien's goal to honor the vintage beauty of the show while at the same time giving a strong nod to contemporary audiences. And you need look no further than the Playbill cover to see the big change. Rather than the iconic image of the carousel itself, or a dual picture of Billy and Julie, the impetuous couple at the show's center, there is Billy, an African-American man, standing alone and clearly anguished. Remember, "Carousel" is set in the 1870s (the post-Civil War era), but this image is clearly meant to span the centuries, and to give layers of additional meaning to a character generally played by a white actor. It is worth noting that not a single word has been added to the script.
Before going any further, a brief recap of what unfolds in the small New England fishing town where the other major source of employment is a textile mill, and where the carousel is the center of excitement and romance, matched only by the annual clambake that signifies the arrival of summer.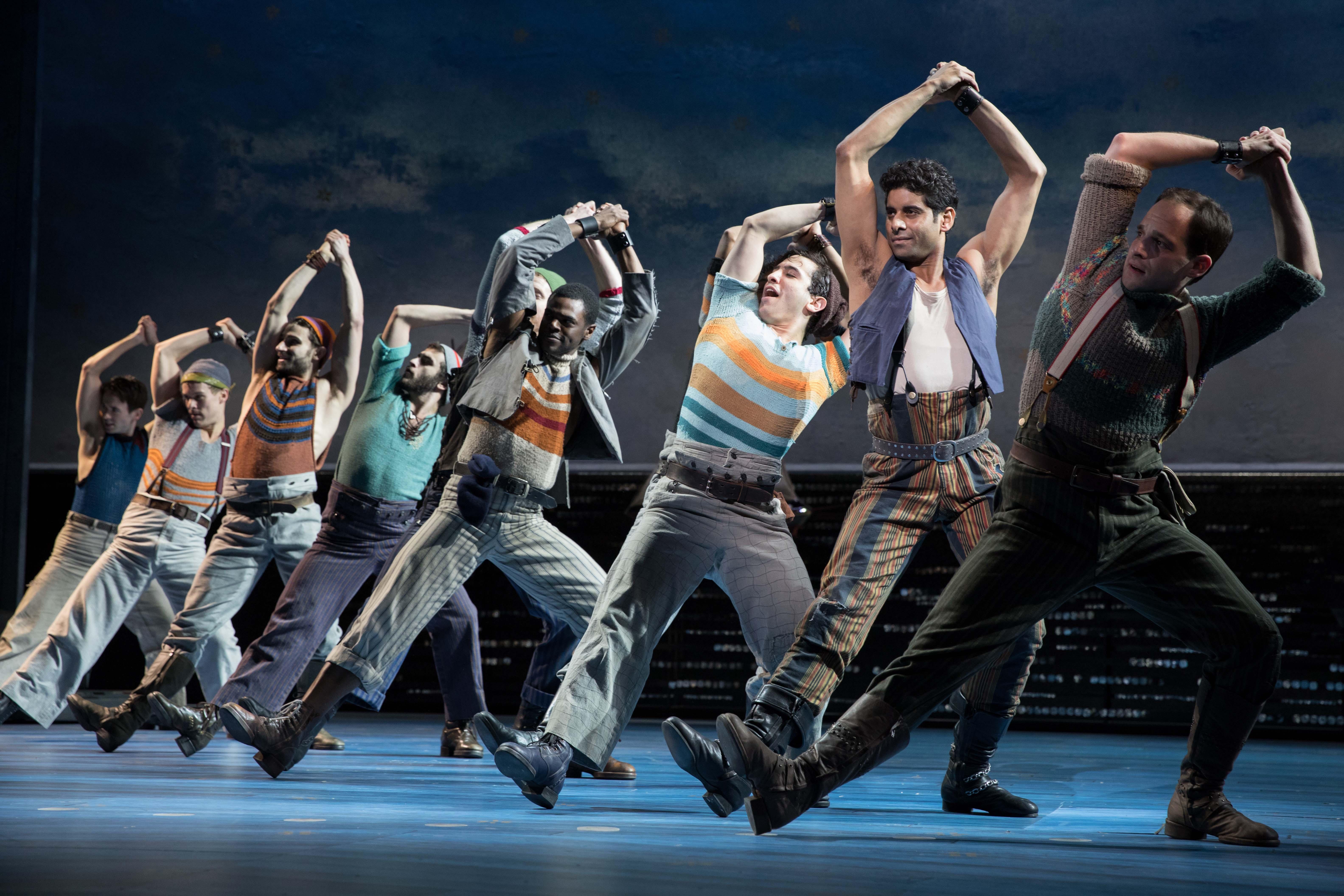 Amar Ramasar and the company of "Carousel." (Credit: Julieta Cervantes)
Julie (Mueller) is a strong-willed young millworker deeply attracted to Billy (Henry), the bad-boy barker under the thumb of his wealthy and widowed employer, and friends with the criminally minded Jigger Craigin (Amar Ramasar). Both Julie and Billy are impulsive and willful in their particular ways. And in very short order – and much to the astonishment of the more extroverted Carrie (zestily comic Lindsay Mendez), who is to marry the supremely confident and entrepreneurial fisherman, Enoch Snow (a terrific turn by Alexander Gemignani) – they marry, Julie becomes pregnant, and Billy, always operating on a short emotional fuse, grows desperate. He will have his reckoning (and redemption) somewhere outside the pearly gates – 15 years after his final act of self-destruction and at the moment when he first sees his unhappy teenage daughter, Louise (dancer Brittany Pollack, in the extended beach scene solo that suggests she possesses some of her father's anger).
Often it feels as if the actors, as talented as they are, are each in a somewhat different production and that O'Brien was unable to forge a fully cohesive style.
Henry does a masterful job with Billy's "Soliloquy," the Rodgers and Hammerstein "aria" that is as much a piece of genius as anything written by Shakespeare or Verdi. But dramatically he only fully comes into his own in the second act afterlife scene in which he encounters The Starkeeper (a deft turn by John Douglas Thompson) and demands his right to a hearing with the highest power "up there."
Mueller, who invariably can bring an audience to tears with her intense but quiet, supremely understated honesty, does precisely that with "If I Loved You" and, even better, "What's the Use of Wond'rin'?" although at times it seems as if O'Brien moved her a bit out of the spotlight. A big mistake. Just listen to how she explains the show's most troubling element – an incident of wife abuse.
Fleming brings her remarkable voice to bear on everything from "June is Bustin' Out All Over" to the show's prayer-like anthem, "You'll Never Walk Alone" (in which she and Mueller blend beautifully in the finale). And she is totally at home in every scene.
Renee Fleming and Jessie Mueller in "Carousel." (Credit: Julieta Cervantes)
As with all great musicals, each generation gets a rendering of a classic that captures the temper of the actual moment. So it is with this "Carousel." In many ways this show was ahead of its time when it was created. And now, whatever the flaws might be in this 21st century "rotation," it is worth the price of a ticket for a ride on the "Carousel."
"Carousel" is at the Imperial Theatre, 249 W. Broadway, New York. For tickets ($69 - $325), call (800) 432-7250 or visit www.telecharge.com.

One final note: Strolling around the Broadway theater district a few days ago it was impossible to avoid the many marquees and billboards that now display the names of a slew of actors and directors with deep Chicago connections. In addition to Jessie Mueller and Renee Fleming (Lyric Opera's Creative Consultant), there are: Laurie Metcalf (starring in "Three Tall Women"); David Cromer (director of the absolutely transcendent musical, "The Band's Visit"); Joel Hatch (in the hit musical, "Come from Away"); Jessie Fisher and Alex Weisman (in "Harry Potter and the Cursed Child"); Patrick Andrews (in the revival of "Angels in America"); and Tina Landau, the Steppenwolf ensemble member and director of "Spongebob Squarepants," whose  production of "The Doppelgänger (an international farce)," opens this weekend at Steppenwolf.
Follow Hedy Weiss on Twitter: @HedyWeissCritic
---
'Gentleman Caller' Lays Bare the Not-So-Secret Lives of Tennessee Williams, William Inge
Chicago's Spring Theater Season In Full Bloom
'Smart People' a Searing, Steroid-Fueled Riff on Race, Sex and Super-Achievers
'Pretty Woman: The Musical' Puts High-Gloss Spin on a Prostitute's Life
---