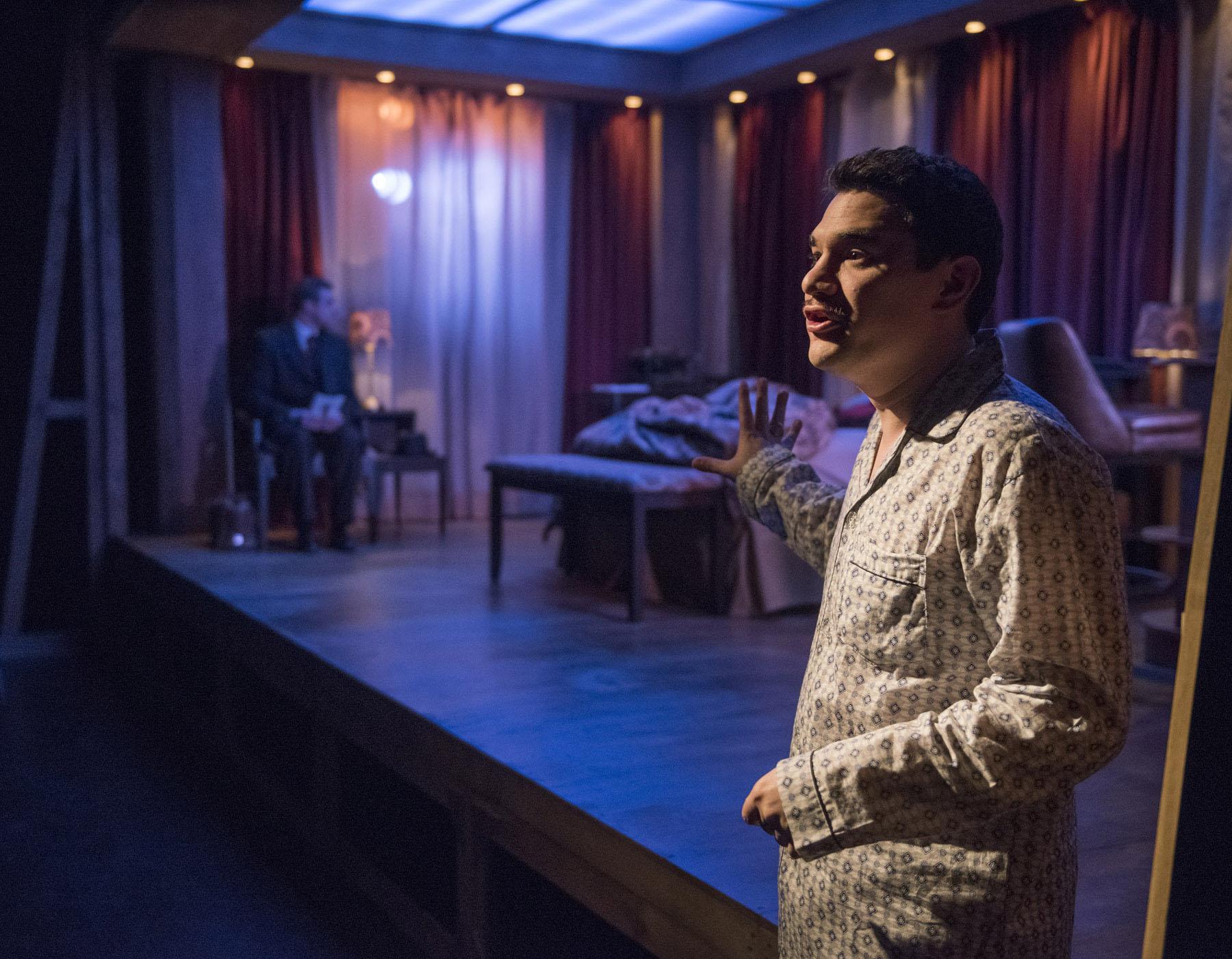 Curtis Edward Jackson, left, and Rudy Galvan in Raven Theatre's world premiere of "The Gentleman Caller." (Photo by Michael Brosilow)
The speaker who commands the opening scene in "The Gentleman Caller" – the richly evocative new play by Philip Dawkins now receiving a vividly acted world premiere at Raven Theatre – needs very little introduction.
Standing off to a corner of the stage, and drawing us in to his world with characteristically barbed commentary and a subtly arch Southern drawl, is Tennessee Williams (Rudy Galvan in an uncannily shrewd, funny, buoyantly confident, picture-perfect performance that is certain to be a career-changer). And not surprisingly, much as he did in his career-making play, "The Glass Menagerie," Williams grabs hold of his memories, massages them to brilliant effect, and engages in his unique brand of verbal seduction as he recalls a couple of revealing encounters from his past with another great mid-20th century American playwright, William "Bill" Inge.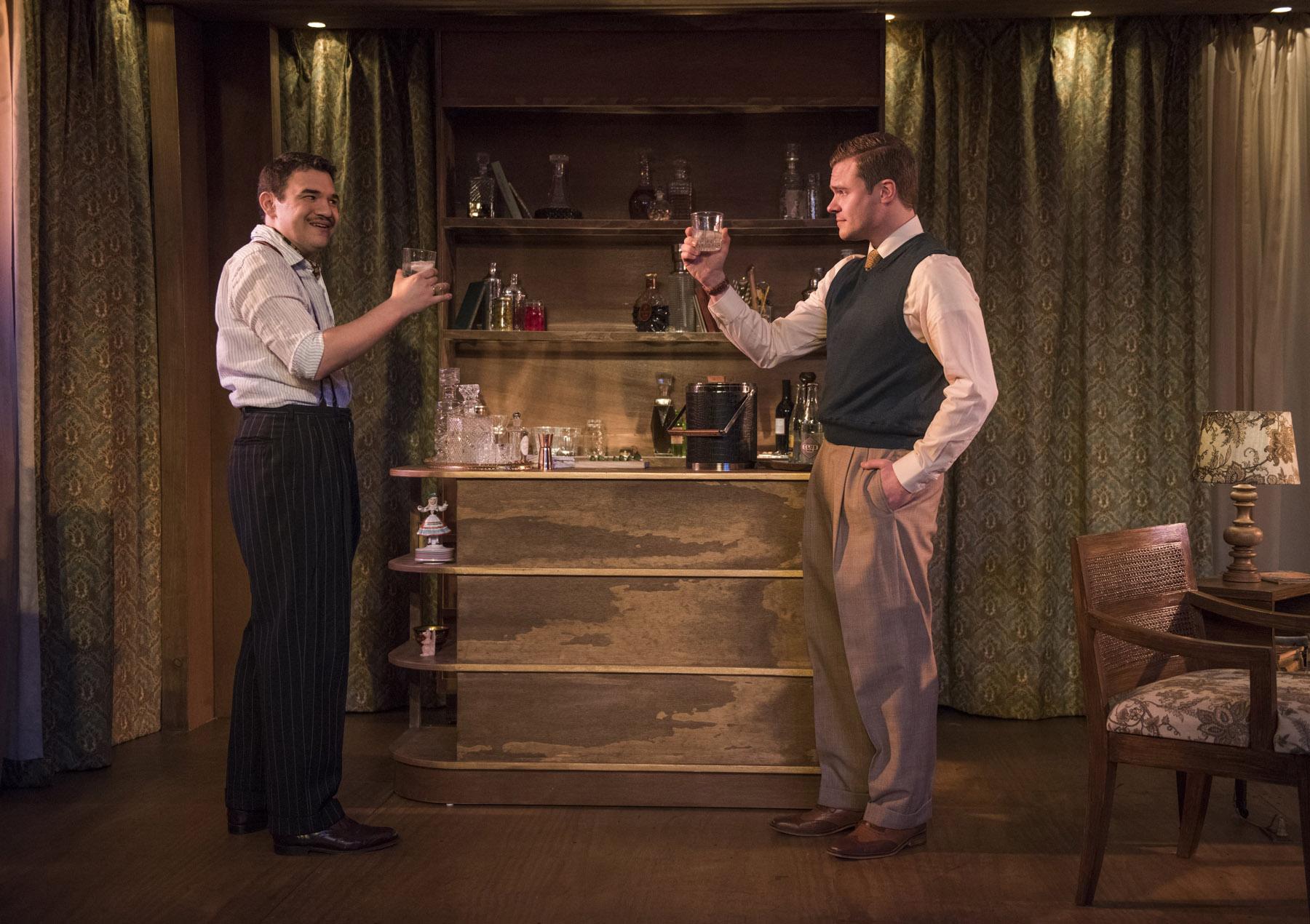 Rudy Galvan, left, and Curtis Edward Jackson in "The Gentleman Caller." (Photo by Michael Brosilow)
The first encounter takes place in November 1944 in a garden apartment in St. Louis outfitted with a large bar and a modest couch. The occasion is the initial meeting between Williams, who will very soon be catapulted to fame with the Chicago premiere of "Menagerie," and Inge (an aptly taut, precision-tuned portrayal by Curtis Edward Jackson), who is still only an aspiring playwright, and a number of years away from having success of his own. In fact, Inge is working as a theater critic for the St. Louis Star-Times at the time, and is about to interview Williams before the latter heads to Chicago.
The meeting is fraught with sexual and emotional tension as Williams, an unapologetic, easily flamboyant homosexual, age 33, taunts, teases and challenges Inge, a tightly closeted and self-loathing man just a few years his junior.
Williams (not surprisingly, the driving force in the play) is the exhibitionistic Dionysian spirit; Inge is the puritan. Yet as different as the two men might be on the surface they share many things, including their stifling Midwest upbringings, their sense of always being outsiders, their heavy dependence on alcohol, their hunger for love, their need to write (and, as Williams puts it, hear the song of the nightingale) and a certain twined terror of both failure and success.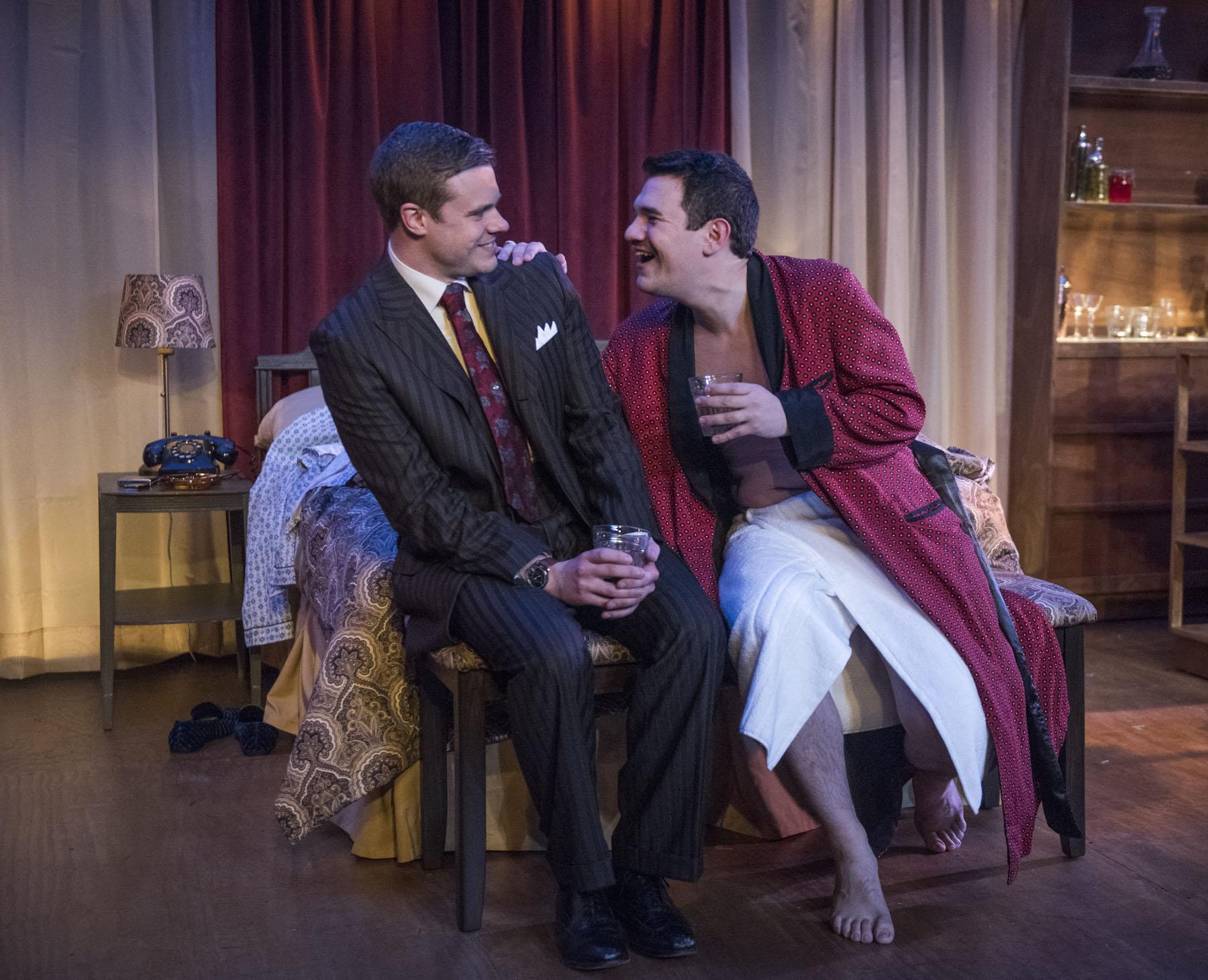 Curtis Edward Jackson, left, and Rudy Galvan in "The Gentleman Caller." (Photo by Michael Brosilow)
The play's second act features a bed at its center. It is December 1945 – New Year's Eve – and Inge has come to Williams' messy Chicago hotel room after being blown away by the triumphant debut of "Menagerie." Williams (who, unbeknownst to Inge, has already sent the writer's first play to Audrey Wood, his powerful agent), would soon go on to further fame with his 1947 masterwork, "A Streetcar Named Desire." But it would not be until the 1950s that Inge would hit his stride with such plays as "Come Back, Little Sheba," "Picnic" and "Bus Stop."
Dawkins, whose previous work includes such memorable plays as "Charm" and "The Happiest Place in the World" (his self-performed one-man show about Disneyland), has a terrifically acerbic, winningly naughty sense of humor that comes paired with a deceptive passion, and this makes him ideal for channeling Williams. His insights into the differences between the celebrant and the spectator, the artist and the critic (with one who is "a maker of dreams" and the other who "destroys by describing"), are cutting but not entirely off target. (Williams was no fan of critics other than the Chicago Tribune's fabled Claudia Cassidy, who championed "Menagerie.")
Director Cody Estle's impeccable direction, and Jeffrey D. Kmiec's set (with draperies that serve as an apt metaphor in a very funny scene about voyeurism), serve Dawkins' work ideally.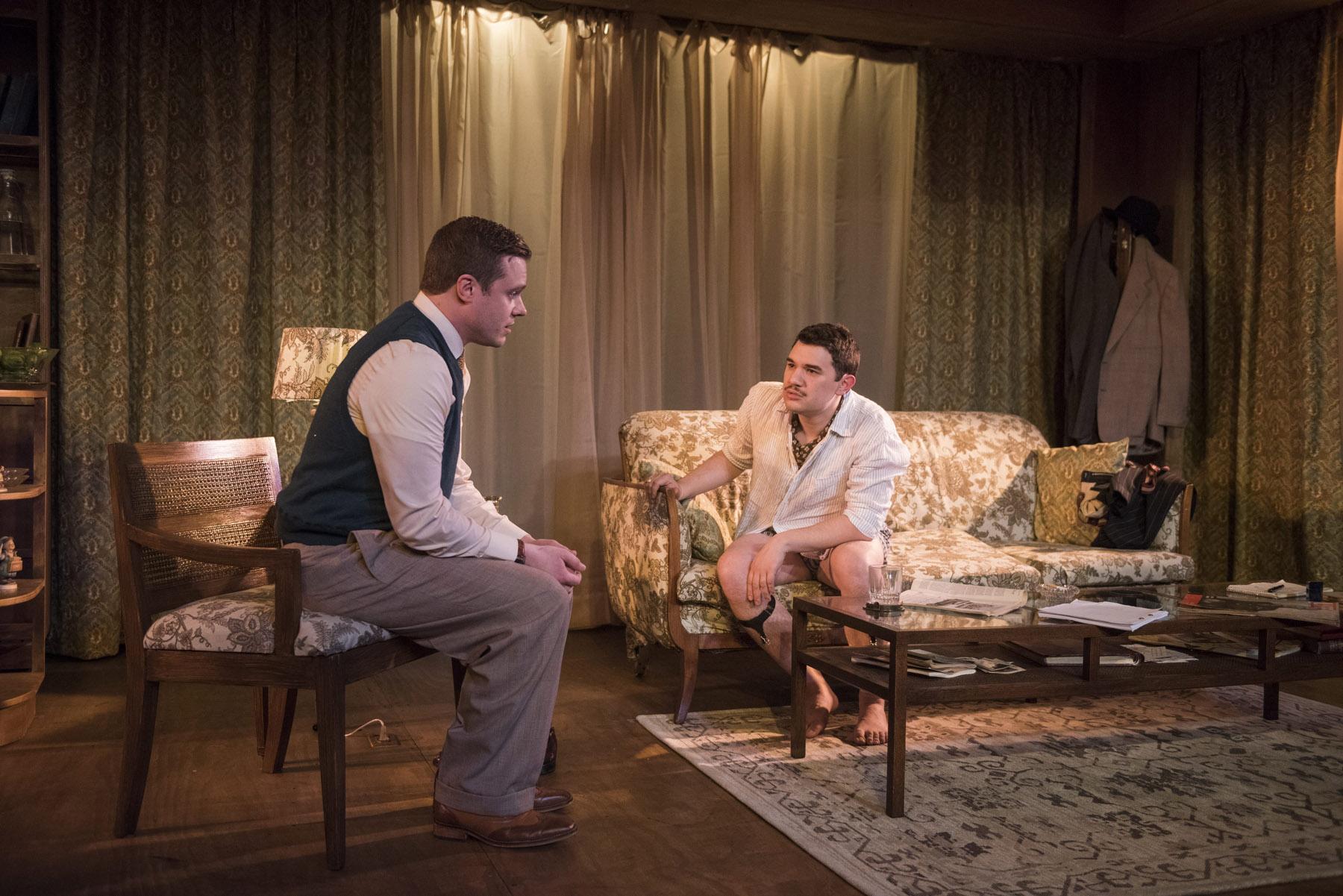 Curtis Edward Jackson, left, and Rudy Galvan in "The Gentleman Caller." (Photo by Michael Brosilow)
One final note: Although a play on the very same theme – "Billy and Me," by Wall Street Journal theater critic Terry Teachout – debuted at Palm Beach Dramaworks this past December, "The Gentleman Caller" is already scheduled for its New York debut by Off Broadway's Abingdon Theatre Company. No word yet about casting.

"The Gentleman Caller" runs through May 27 at Raven Theatre, 6157 N. Clark St. For tickets ($46; $43 if purchased online) call (773) 338-2177 or visit www.raventheatre.com.
Follow Hedy Weiss on Twitter: @HedyWeissCritic
---
Chicago's Spring Theater Season In Full Bloom
'Smart People' a Searing, Steroid-Fueled Riff on Race, Sex and Super-Achievers
'Pretty Woman: The Musical' Puts High-Gloss Spin on a Prostitute's Life
'Guess Who's Coming to Dinner' Sets the Table for Truths About Love and Race
'An Enemy of the People' a Tragic, Comical Political Farce of Our Times
Blistering Grand Opera 'Sweeney Todd' at Theo Ubique's Tiny Storefront
Black Ensemble Pays Rollicking Homage to Rock 'N' Roll Pioneer Chuck Berry
---