Shedd Aquarium's dolphin calf Kukdlaa is celebrating his first birthday Tuesday with positive results from a physical checkup. And with cake, of course.
Several days after passing a milestone medical exam conducted by 13 Shedd employees, Kukdlaa got to mark the occasion with some "cake" prepared by Shedd's staff: A 10-inch, yellow plastic toy resembling a cheese wheel filled with jello molds to make it look like a birthday cake.
"The results show that he's a healthy 1-year-old calf," said Maris Muzzy, Shedd's supervisor of marine mammals. "He's a perfect little dolphin."
With Kukdlaa, Shedd houses seven Pacific white-sided dolphins, making it home to nearly half of the 17 Pacific white-sided dolphins currently living in accredited facilities in North America. The aquarium says it provides information on dolphin husbandry and maternal care that is applied worldwide.
On April 18, 2016, Katrl, a first-time mother, gave birth to Kukdlaa, who was 3 feet long and weighed about 25 pounds. A year later, Kukdlaa is now 5 feet, 10 inches long and weighs 161 pounds.
Like with a human baby, the first few days of a dolphin's life are critical, Muzzy said. Shedd staff watched carefully last year as Kukdlaa took his first breath, bonded with his mother, began nursing and learned how to go to the bathroom.
"I have to admit that the first couple of days when they're first learning to do everything is a nail-biter," Muzzy said. "It's very stressful."
One of the first skills a calf needs to learn is how to position itself in its mother's slip stream, the hydrodynamic wake that forms as she swims. This position, which allows the baby dolphin to move throughout the water without using much energy, is also required for nursing.
"The mom can be swimming really, really fast, and the calf can be doing absolutely nothing but making small adjustments with his body to stay in the slip stream," Muzzy said.
Katrl, the calf's mother, bonded with him immediately, Muzzy said.
"She's still very attentive to him," she said. "If he moves out of her sight, she goes to see where he went and what he's doing. But at a year of age, he is starting to become a little more independent."
Dolphins start eating fish at 2 to 6 months old. At Shedd, as their appetite picks up, dolphins begin formal training with other animals, which Kukdlaa gets very excited about, Muzzy said.
It's likely the calf wasn't as eager to undergo his 1-year checkup last week, when 13 members of Shedd's Marine Mammals and Animal Health teams worked together to draw blood, monitor vitals by conducting an ultrasound, measure his weight and length and check for cuts, abrasions or other abnormalities.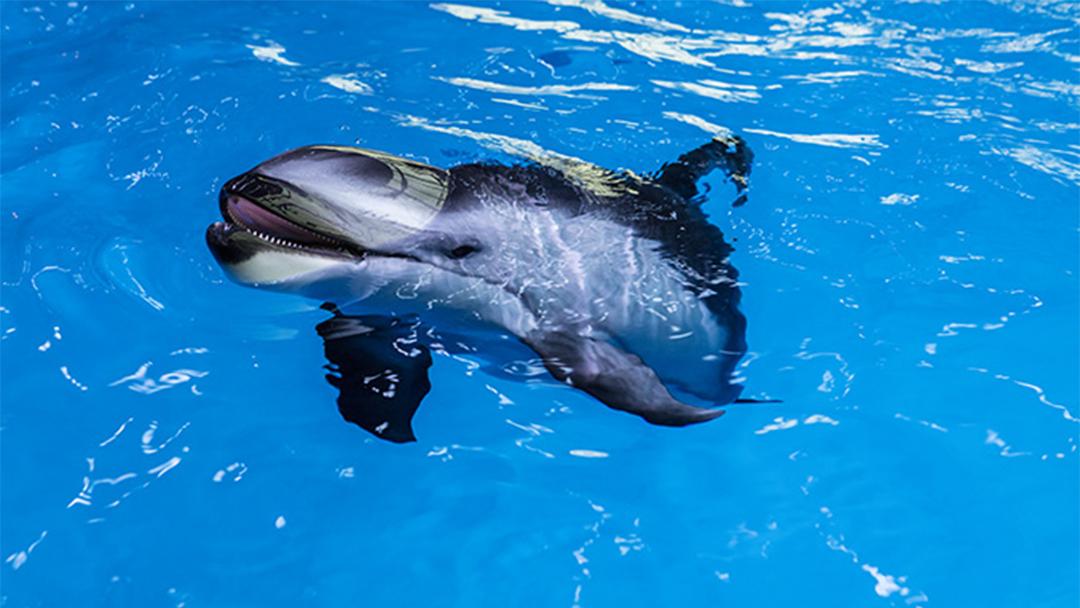 Kukdlaa, Shedd Aquarium's 1-year-old dolphin calf (Shedd Aquarium)
But Muzzy said Shedd's staff spent weeks preparing for the physical exam to ensure it went smoothly. Trainers had also spent the past six months interacting with Kukdlaa to make the checkup less intimidating.
"We've been working on him getting used to the trainers holding him gently so that when it comes time for him to be moved into the stretcher [to be weighed],  he's used to that type of restraint," Muzzy said.
With a successful first year behind him, Kukdlaa's next steps are weaning from his mother and boosting his diet to 10 pounds of fish daily.
He's already spending more time with other animals, including his two half-brothers, Makoa, 2, and Sagu, 5.
"It seems to be more of a difficult thing for the mother than for the calf," Muzzy said about the weaning process. "The calves are pretty good about taking off and going to explore their environment and hanging out with other dolphins. Whereas the mother will sometimes be chasing them down."
Follow Alex Ruppenthal on Twitter: @arupp
---
Related stories: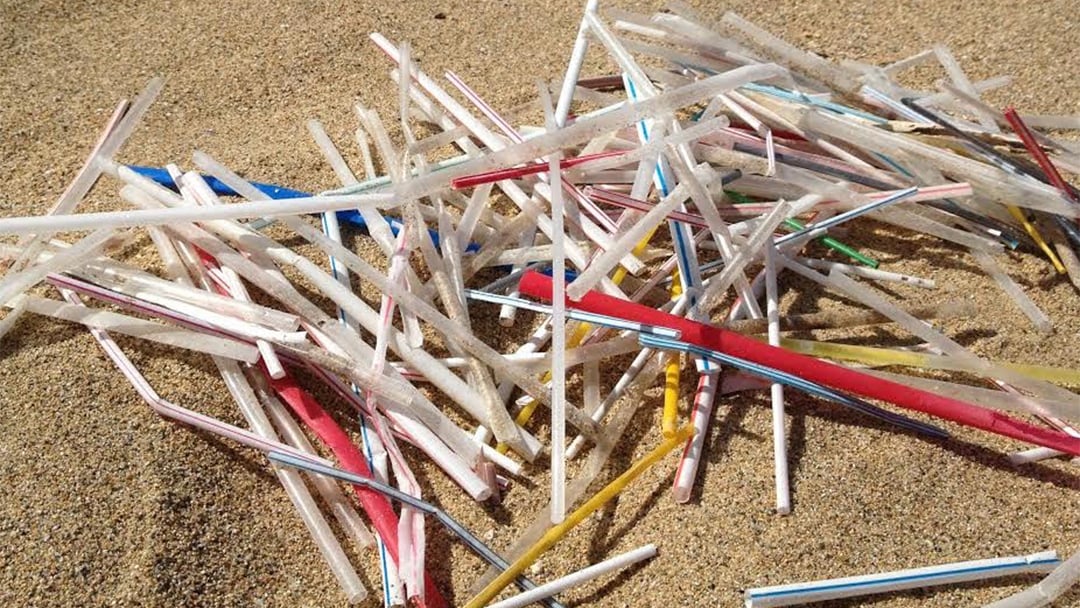 Shedd Aquarium Wants You to #SheddTheStraw for Earth Day
April 12: With an eye toward Earth Day, Shedd Aquarium has launched a campaign encouraging people to switch from single-use plastic straws to reusable or biodegradable alternatives.
---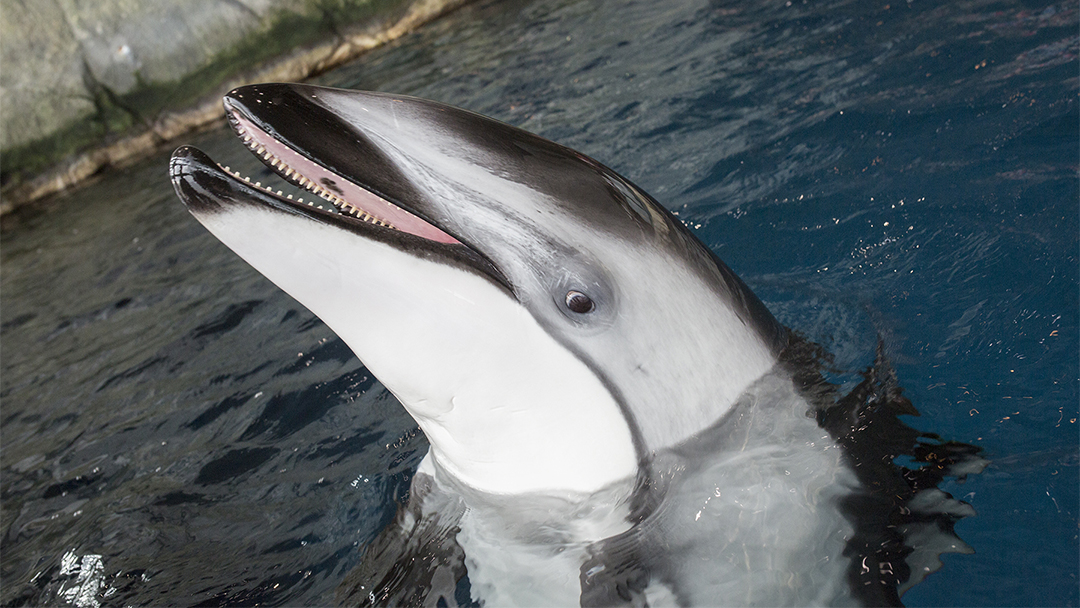 Shedd Aquarium Celebrates Dolphin Awareness Month
March 29: What is it like to touch and work with dolphins? One Shedd trainer said they feel firm, smooth and a little colder than you might expect, according to the aquarium's dolphin fact list.
---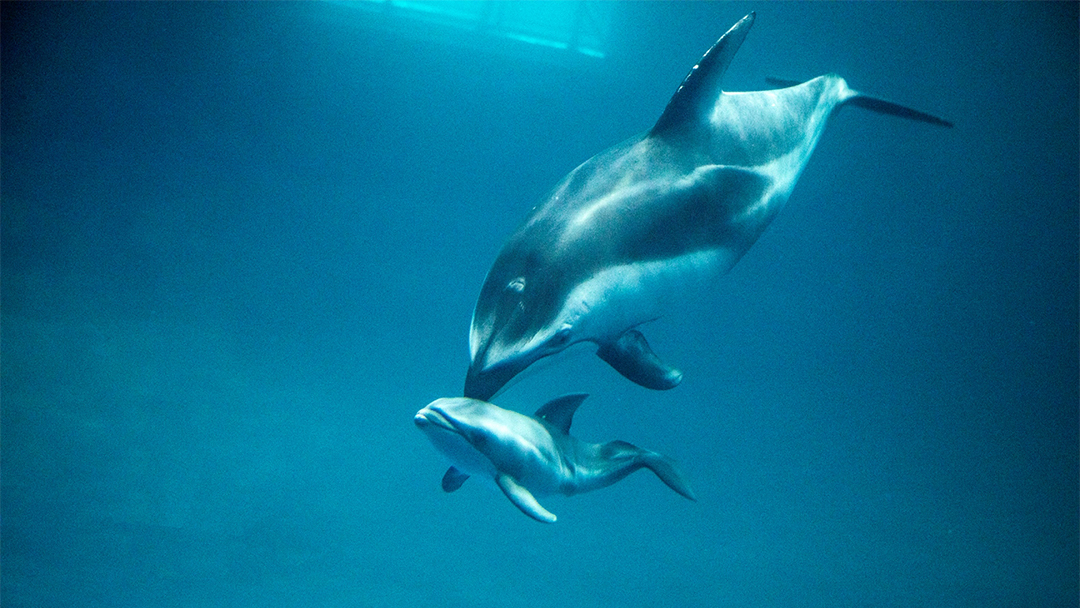 Pacific White-Sided Dolphin Gives Birth at Shedd Aquarium
April 19, 2016: Shedd Aquarium staff are watching a 28-year-old female Pacific white-sided dolphin and her newborn calf around the clock during what they call "a very crucial time."
---