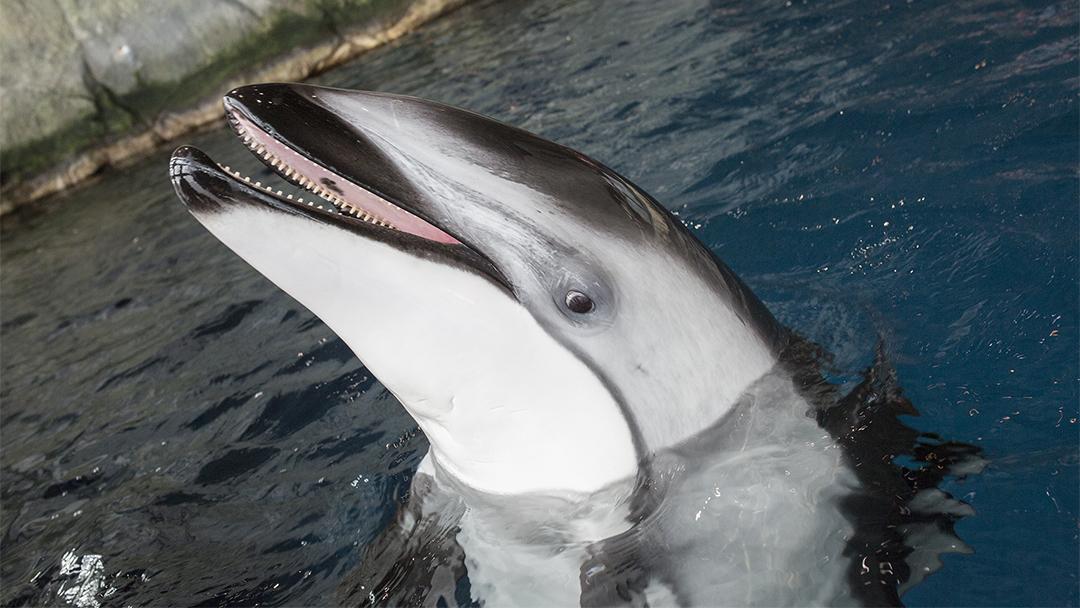 First-time mother Katrl gave birth to a dolphin calf in April 2016. (© Shedd Aquarium / Brenna Hernandez)
March is Dolphin Awareness Month, and Shedd Aquarium is marking the occasion by sharing a collection of dolphin facts reflecting what its trainers have learned while caring for the aquarium's dolphins.
Shedd houses seven Pacific white-sided dolphins, four females and three males, making it home to nearly half of the 16 Pacific white-sided dolphins currently living in accredited facilities in North America. 
Together, the dolphin crew contributes to one of Shedd's most popular features, its Aquatic Presentation, in which trainers highlight the behaviors of a rotating group of dolphins, beluga whales and sea lions. During the presentation, the dolphins get a chance to show off their speed, which has been clocked at up to 25 miles per hour, making the Pacific white-sided dolphin one of the fastest swimmers in the ocean, according to Shedd's dolphin facts.
Other facts on Shedd's list: 
Pacific white-sided dolphins grow up to be 6 to 7 feet long as adults, and weigh between 220 to 300 pounds or upwards of 400 pounds for large males. 

Dolphins do not have a gag reflex, which allows them to swallow their food whole. This lets them to catch food and eat it quickly when they find it.

Pacific white-sided dolphins can leap 15 to 20 feet, turn somersaults in the air, or belly flop with a dramatic splash. Jumping can help them see above the water or communicate with fellow dolphins.

Although dolphins lack vocal chords, they create underwater vocalizations sounding like clicks or creaking doors. Volume and frequency can vary when dolphins are producing vocalizations, even at considerable depths.

Dolphin milk has fat content close to half-and-half: between 10 and 20 percent.

The names of Shedd's Pacific white-sided dolphins are Tlingit, the language of the Native American tribe of the Pacific Northwest.
Three of Shedd's four female dolphins are more than 20 years old and have been in Shedd's care since the early 1990s. The three males were all born at Shedd within the past five years: Sagu (2012) and Makoa (2015) to mother Piquet; and a dolphin calf (April 2016) to first-time mother Katrl.
Pacific white-sided dolphins are difficult to study in the wild, and Shedd has participated in research efforts for more than 20 years to better understand the species.
Over the past two decades, Shedd's animal care experts and veterinarians have collected data providing insight into the dolphins' social structure, behavior, reproduction, biology and vulnerability to environmental change. The research is recorded in what is known as a studbook, the collective history of a population's genetic and demographic identity. In 2008, Shedd's senior director of marine mammals, Lisa Takaki, became the Association of Zoos and Aquariums' first studbook keeper for Pacific white-sided dolphins. 
"Put another way, [studbook keepers] are animal matchmakers, charged with making the best decisions to maintain sustainable populations of animals living among AZA-accredited institutions," Shedd wrote on its website. 
What is it like to touch and work with dolphins? One Shedd trainer said they feel firm, smooth and a little colder than you might expect, according to Shedd's dolphin fact list. Other comparisons include a wet inner tube or a peeled hard-boiled egg. 
As far as personality, Shedd's staff describe Pacific white-sided dolphins as playful, acrobatic and intelligent. 
(© Shedd Aquarium / Brenna Hernandez)
Related stories: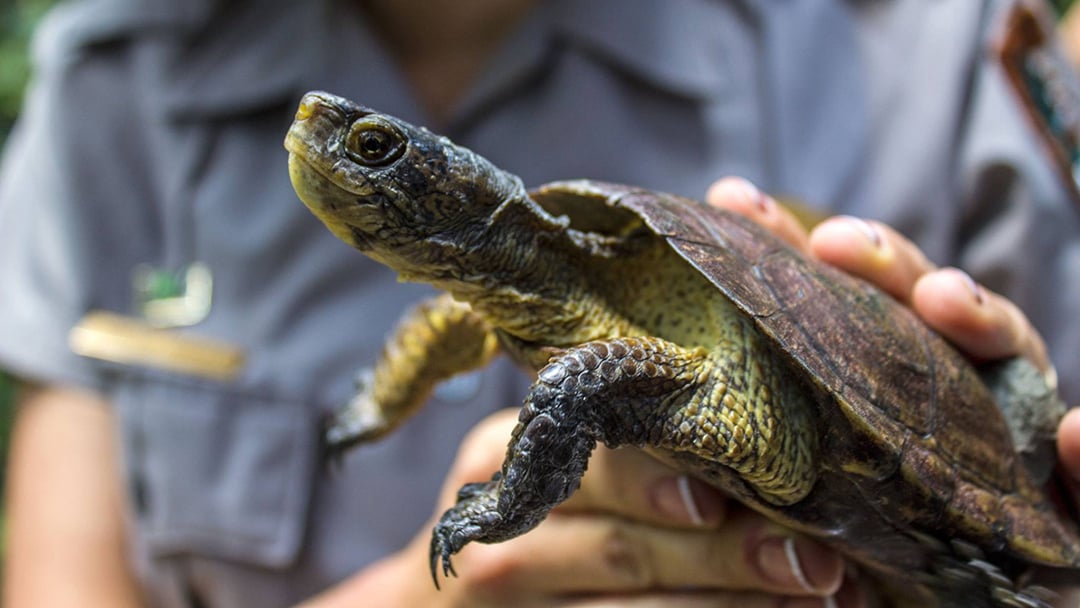 Donors Hear Extinction Stories at Shedd Conservation Event
March 21: The tale of the Western pond turtle was one of several success stories shared with donors this month at a Shedd Aquarium event focused on conservation efforts nationwide.
---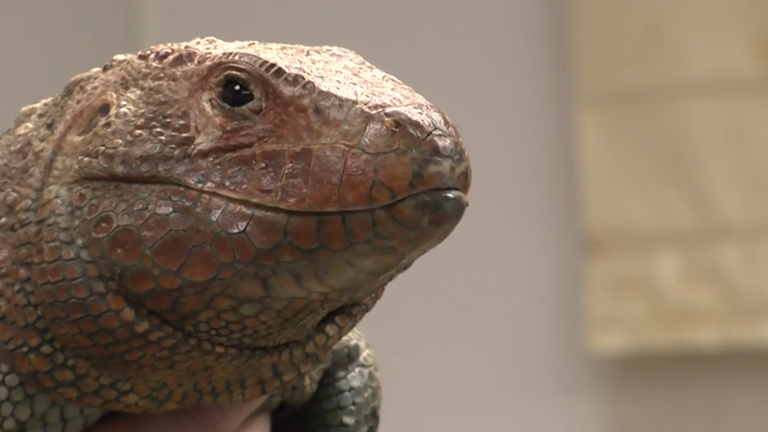 More Mobility for Shedd Lizard, Thanks to 3-D Printer
June 30, 2016: Hiss Majesty, a 16-year-old Caiman lizard at the Shedd Aquarium, was fitted for a new prosthetic limb.
---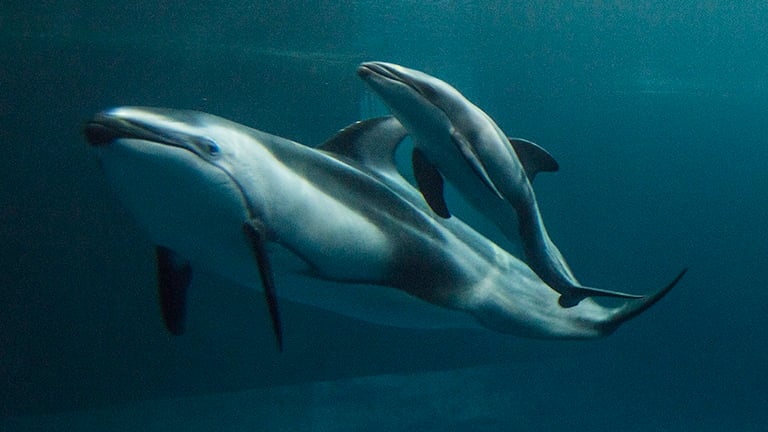 Pacific White-Sided Dolphin Gives Birth at Shedd Aquarium
April 19, 2016: Shedd Aquarium staff are watching a 28-year-old female Pacific white-sided dolphin and her newborn calf around the clock during what they call "a very crucial time."
---