In Chicago's South Lawndale community, more than 40 percent of men and nearly 50 percent of women report being in fair or poor general health, according to a new study.
Nationally, that figure is about 12 percent.
Those findings are among the many health disparities detailed in the Sinai Community Health Survey 2.0, which evaluated the health of more than 1,900 residents in nine Chicago neighborhoods.
Maureen Benjamins, senior researcher at Sinai Urban Health Institute, said that while the findings surprised many researchers involved in the survey, not everyone reacted similarly.
"The community health workers go into the field every day and go into people's homes, and say these findings confirm what they already knew," she said.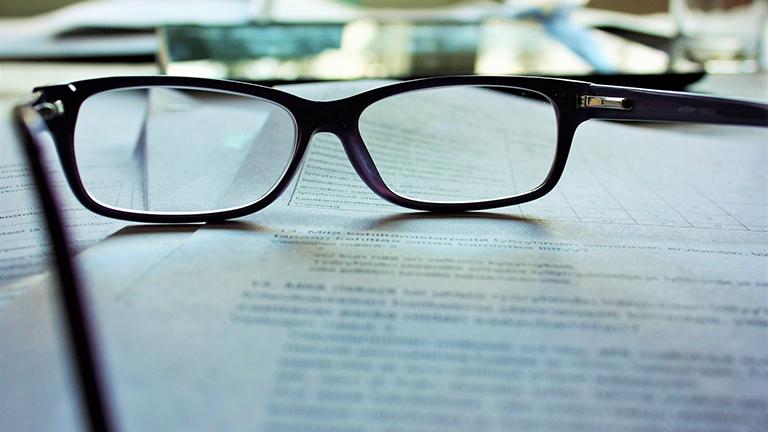 Document: Read the report
Researchers conducted face-to-face interviews with residents of Chicago Lawn, Gage Park, Hermosa, Humboldt Park, North Lawndale, Norwood Park, South Lawndale, West Englewood and parts of West Town, where residents west of Western Avenue were surveyed.
"The data paint a stark and complex picture of health and wellness in many Chicago communities, varied by race, income and ethnicity, demonstrating the value in collecting hyperlocal information," said Sharon Homan, president of the Sinai Urban Health Institute, in a statement.
Drilling down to a community-level can reveal nuances in citywide health data, said Benjamins. 
"The city [smoking] level is 18 percent, so about one in five people in Chicago smoke. In the selected communities that we surveyed, that rate ranges from 6 percent to nearly 60 percent," Benjamins said.
In West Englewood, 56 percent of men and 47 percent of women smoke. "That would be an ideal place to focus our efforts" to reduce smoking by providing resources in the community, she said.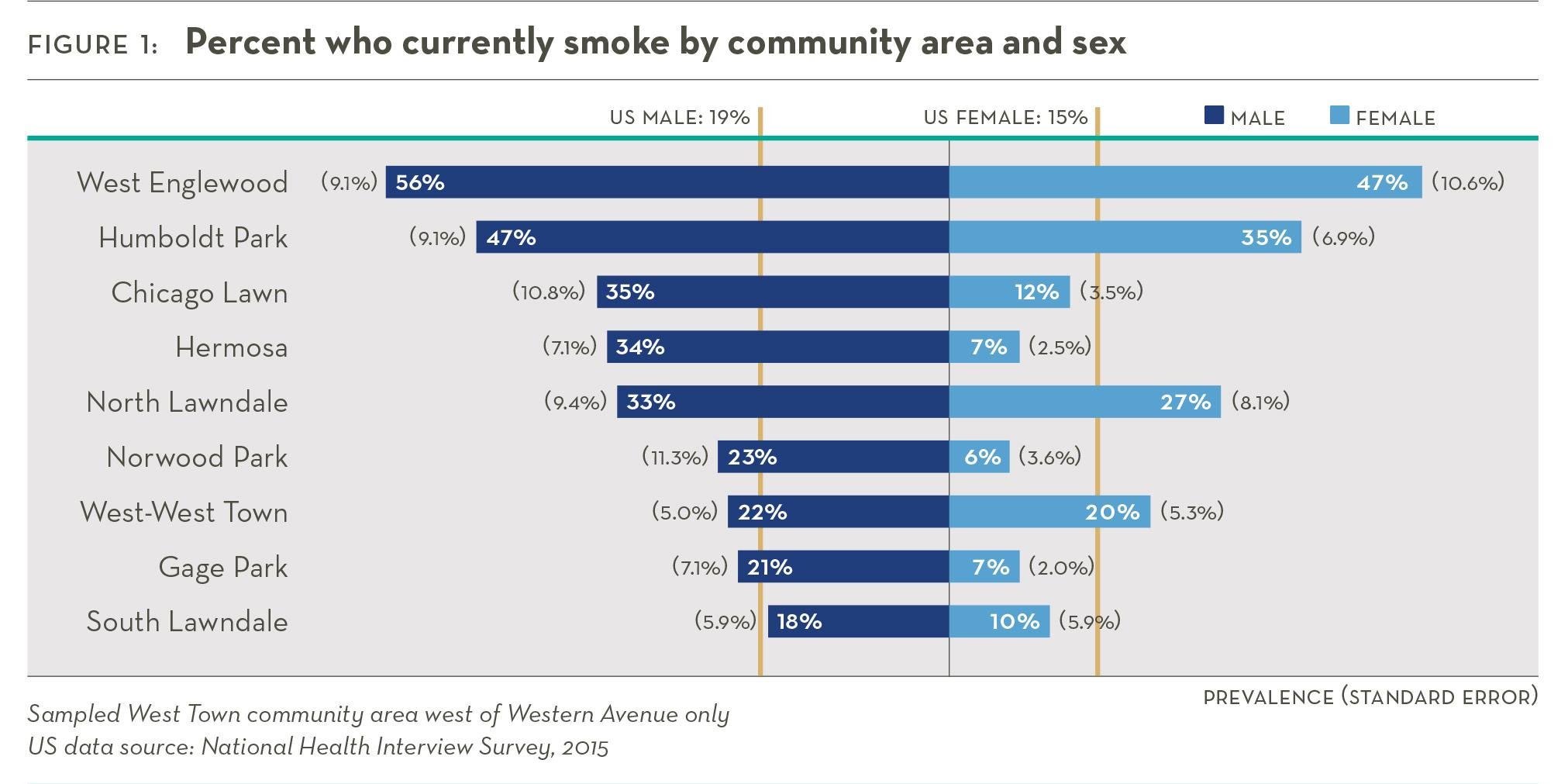 Neighborhood smoking rates (Sinai Urban Health Survey 2.0)
Residents were asked more than 500 questions that addressed traditional health measures such as general health status, obesity and post-traumatic stress disorder.
According to the survey, one in four women in Humboldt Park and North Lawndale currently have symptoms of PTSD, and at least one in 10 adults in Humboldt Park and the western side of West Town have been diagnosed with the disorder.
Jana Hirschtick, senior epidemiologist at Sinai Urban Health Institute, called the rates of PTSD "alarming."
"We were aware that this was an issue but not aware of the magnitude," she said.
Survey questions also touched on social factors that influence a person's health, including food insecurity, criminal justice experiences and unmet health care needs.
Assessing social factors of health is "really critical, and unfortunately, overlooked when we think of traditional health measures," said Hirschtick.
Social and behavioral factors have a larger impact on health than traditional measures, like clinical care, and shed light on differences in health between groups, she added. "It helps us understand and get to the why of why things are the way they are and why there are differences in groups."
Many residents said that they forgo medical care, surgery, treatment, prescriptions and even eyeglasses due to costs. In Gage Park, one in six adults did not receive needed medical care or surgery in the past year due to the cost. Meanwhile, about one in four adults in West Englewood and North Lawndale did not get needed prescription medications in the past year because of cost.
Benjamins said she was surprised by the prevalence of food insecurity—or the limited availability or access to nutritionally adequate and safe foods—among those surveyed.
More than 40 percent of households in Humboldt Park, South Lawndale and Gage Park were food insecure in the past year, compared to 13 percent of homes nationally, according to the study.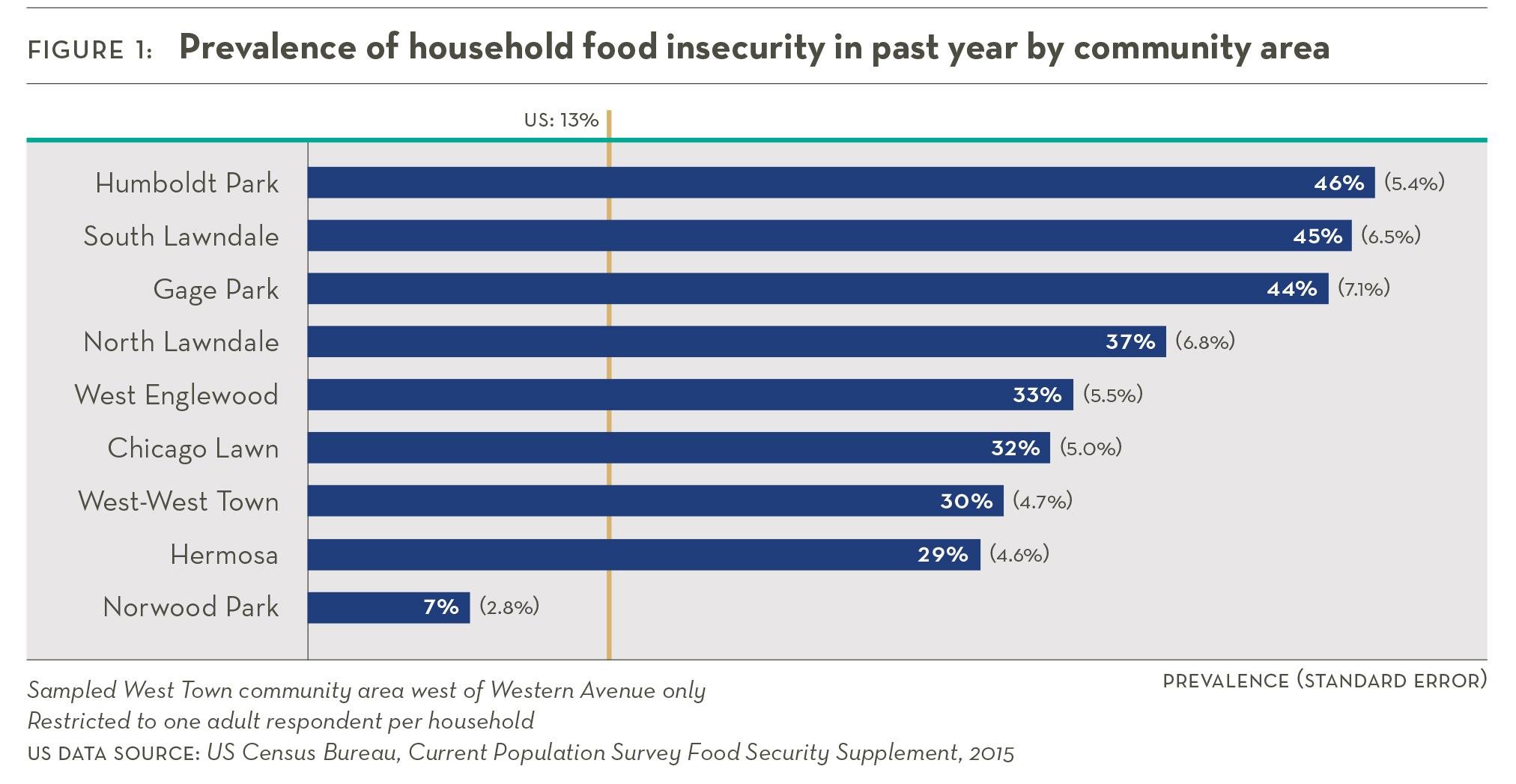 Food insecurity rates per neighborhood (Sinai Urban Health Survey 2.0)
Collecting the data and quantifying the experiences of residents are the first steps to creating meaningful programs and policies, says Hirschtick.
"There are a constellation of factors that communities face that impact their health. It's not just PTSD, or food insecurity, or obesity," she said. "Disadvantaged communities have a number of factors that impact people's daily lives and health.
"Each community is really unique in terms of the constellation of factors and the different people in them," she added. "And when we think of solutions and translating the findings into solutions we need to tackle them neighborhood by neighborhood."
Next month, SUHI will begin hosting community forums to share the data with residents and start working with community partners to develop solutions.
"We're really hoping with the public release of this data it will serve as a call to action for people. I think a lot of the findings demand attention," Hirschtick said. "They were alarming to us even though people live them every day. We hope we can turn the findings into actionable results and we're actively looking for partners to do so."
For more information about the survey, visit the Sinai Community Health Survey website.
Follow Kristen Thometz on Twitter: @kristenthometz
---
Related stories: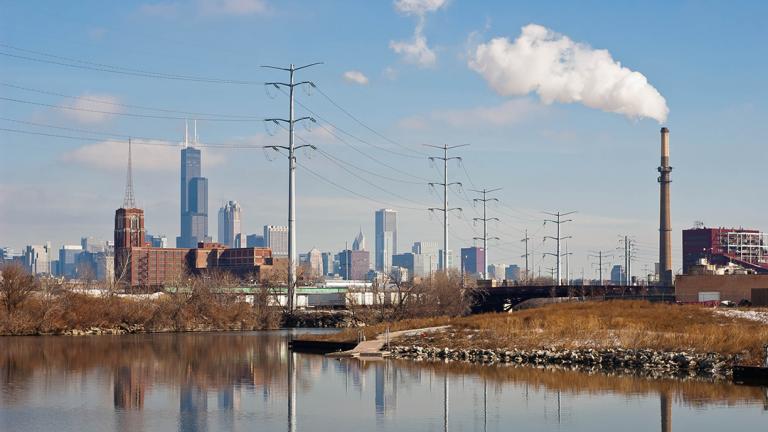 EPA Cuts 'Matter of Life and Death' for Chicago Communities
March 20: Cuts to the EPA's budget would affect a disproportionate number of minority and low-income residents in Chicago, experts say. 
---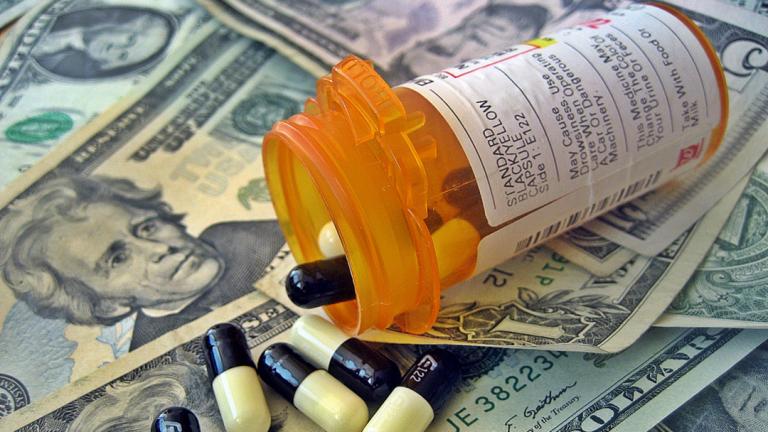 Republican Health Care Reform Bill Struggling
March 15: As the Republican replacement for Obamacare faces political backlash, we take a closer look at how the law might change health coverage.
---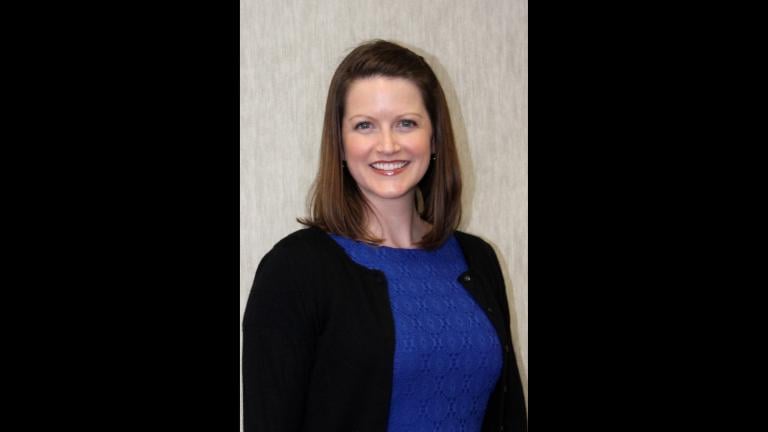 New City Medical Director to Focus on Mental Health, Addiction
Feb. 1: The Chicago Department of Public Health recently hired a behavioral health medical director to better address substance use disorders and mental health issues in the city. Meet Dr. Elizabeth Salisbury-Afshar and learn more about her role.
---