After the now-defunct Michael Reese Hospital closed its trauma center in 1991, many have advocated for a new trauma center to ensure that South Siders wouldn't be forced to travel several miles for the emergency care they need.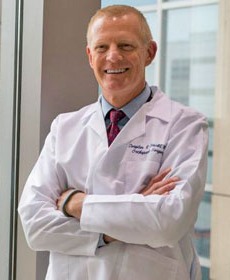 Dr. Douglas R. Dirschl, M.D.
Activists have long called on the University of Chicago to fill the gap and, in September, the university and Sinai Health System announced that a new Level 1 trauma center would be opening at the Sinai Health System-owned Holy Cross Hospital in the Chicago Lawn community.
Now U. of C. says it will instead add a Level 1 trauma center at its own Hyde Park hospital.
"We deeply value our relationship with Sinai Health System and its enormous contributions to the network of care in Chicago," said University of Chicago Medical Center President Sharon O'Keefe in a press release. "We recognize Sinai's experience and excellence in trauma care. At the end of the day, we realized that integrating all of these services on one site, on our campus, made the most sense for South Side patients." 
Dr. Douglas Dirschl, chair of the University of Chicago's Department of Orthopaedic Surgery and Rehabilitation Medicine, joins "Chicago Tonight" to discuss plans for the center.
---
"Chicago Tonight" spoke with Dirschl Tuesday afternoon by phone. Below, some highlights from the discussion.
What pushed University of Chicago Medicine to add a Level 1 trauma center in Hyde Park?
"It really comes down to a commitment to meeting and serving the community's needs. University of Chicago has been looking for a while and investigating what the community's needs were and how best we can serve them. We determined there are three major needs for health care on the South Side of Chicago: trauma care, expanded access to emergency care, and expanded access to specialty care.
"On our campus in Hyde Park we had serious capacity constraints. The occupancy in our hospital was, and is, well over 90 percent. I believe that's the highest in the state, so we didn't have free inpatient beds – our emergency department was too small. And, we get over 1,000 requests every year from other South Side hospitals to transfer patients in to get higher-level and specialty care. So we really felt we were at capacity, and that's why when Sinai came to us with a partnership, we were extremely interested. It seemed to be a way to help meet the community's needs for trauma and emergency services without the capacity constraints at the Hyde Park campus."
Why did the university decide to abandon the original plan of creating a trauma center at Holy Cross Hospital?
"As we got deep into discussions with the Sinai system – and I should give a shout out here to the Sinai physicians I got to know and respect greatly – we discovered a standalone adult trauma center at Holy Cross Hospital, not connected physically to comprehensive trauma care at Mount Sinai or to the Hyde Park campus, was highly complex, and that there were a great number of efficiencies and economies of scale by offering comprehensive trauma services on a single campus. So we worked hard to find some ways we could alleviate capacity constraints, and were happy last week to announce that we're opening a Level 1 adult center at U. of C. to complement our Level 1 pediatric center and burn unit, and to also announce that we're expanding and relocating our emergency department, and applying to the state to expand our number of beds to have the capacity to do all these things."
Will this help the U. of C. be better connected to the South Side?
"University of Chicago Medicine is already very strongly connected to our neighbors. Eighty-four percent of emergency room patients are from the South Side, and we get 1,000 transfers from South Side hospitals. But this announcement, and one reason I'm so happy personally, is that it allows South Side communities that have not had the best access in the city to trauma and emergency care to have much better access. We're serving them even better than in the past."
---
Below, a map of Chicago's level 1 adult trauma centers, including the new proposed U. of C. Level 1 trauma center and the now abandoned Holy Cross trauma center location.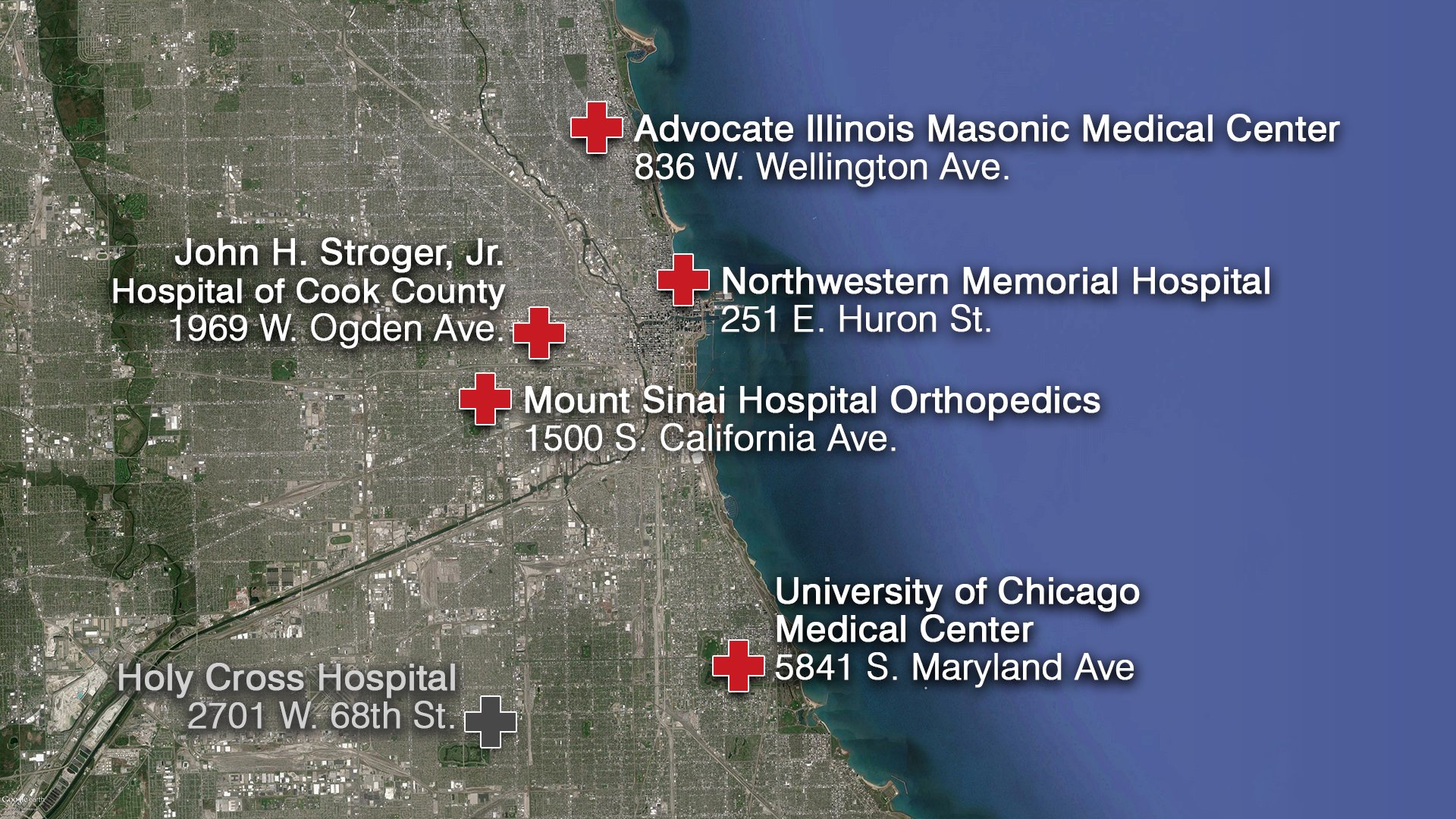 Currently, the closest operating trauma centers to the South Side are Advocate Illinois Masonic in Lakeview; Northwestern Memorial in Streeterville; Stroger Hospital on the Near West Side; and Mt. Sinai in the North Lawndale community.
University of Chicago Medicine will now go through a series of regulatory steps and seek approval for a Level 1 adult trauma center from the Illinois Department of Public Health and the Chicago Trauma Network.
---
Related story: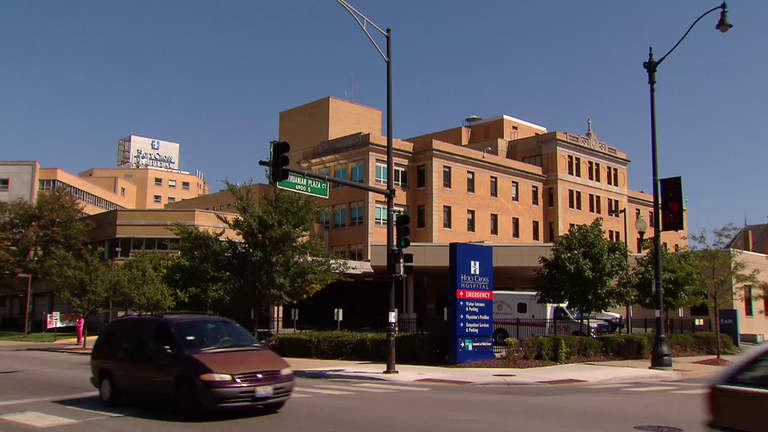 South Side Trauma Center a Victory, But Activists Continue Fight for Equity
In September, activists in Chicago scored a major victory when University of Chicago Medicine and Sinai Health System announced they would join forces to create a new adult trauma center.