In its first meeting since Chicago Public Schools CEO Barbara Byrd-Bennett took administrative leave, members of the CPS Board of Education discussed the recent series of events causing further instability for the school district.
Board Vice President Jesse Ruiz, who has been appointed as interim CEO of the district, explained that he's taken several immediate steps to address the situation, the first of which is to suspend the district's contract with SUPES Academy. Ruiz said he's also asked CPS legal counsel to look into options to terminate the contract if any wrongdoing is found during the investigation.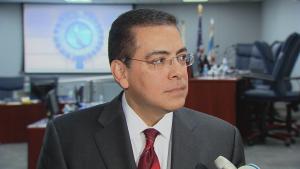 "We do not have any additional information on the investigation, but I think it's in the district's best interest to suspend the contract effective immediately, until we receive full and thorough information," he said.
Ruiz explained that he's also ordering the district to halt all sole-source contracts, also known as no-bid contracts.  
Board President David Vitale said last week he and board members were aware of the federal investigation into a $20.5 million no-bid contract given to SUPES Academy, a former employer of Byrd-Bennett. According to CPS, there is $8,140,463.91 remaining in the contract with SUPES Academy, and $12,359,536.09 has already been expended.
"What I want to ensure the public is that our procurement process here at the Board of Education of the Chicago Public School system is a highly effective one in nature. Almost all of our contracts are subject to public bidding or request for proposal process," Vitale said.
He went on to explain the district's process of sole-sourcing. In instances where management would like to pursue a service for which there is only one vendor, he or she makes the case for entering a contract with that vendor before a "committee here in the system." 
"The committee determines whether the standards for sole-sourcing have been met or not met. If they are met, the board is briefed on sole-sourcing," he said. "The SUPES Academy contract was such a sole-source contract and it did follow that process."
In light of recent events, he continued, the district has decided to have a third-party review that sole-sourcing process. The system has already initiated a request for proposal process to receive bids on that service.  
During the meeting, board members officially installed Ruiz as interim CEO. He and fellow board members voted unanimously to approve the SUPES contract in 2013.
"Given the information I was provided, no, I don't think it was a mistake. The services are important, we believe in the services," Ruiz said to reporters. "There's not going to be a lot of debate over whether teacher and principal preparation is a good investment for our district. I stand by that vote."
In a statement, a representative of SUPES Academy said, "We were disappointed to learn this morning that the Board of Education of the City of Chicago has suspended our contract to provide leadership training and mentorship to Chicago Public Schools principals, pending its investigation. We stand behind the training we provide, bolstered by the positive feedback we have received from these same principals. We are committed to continuing our great work with CPS once this review is completed."
Ruiz said there is no time frame set for how long he'll serve as interim CEO, but explained he will serve as long as needed to manage the district through major agenda items with nearing deadlines, like passing a budget, renewing the contract with the Chicago Teachers Union and getting pension reform in Springfield. 
Following the meeting, Ruiz spoke with reporters about his selection as interim CEO and the suspension of the contract with SUPES Academy. Watch the video.