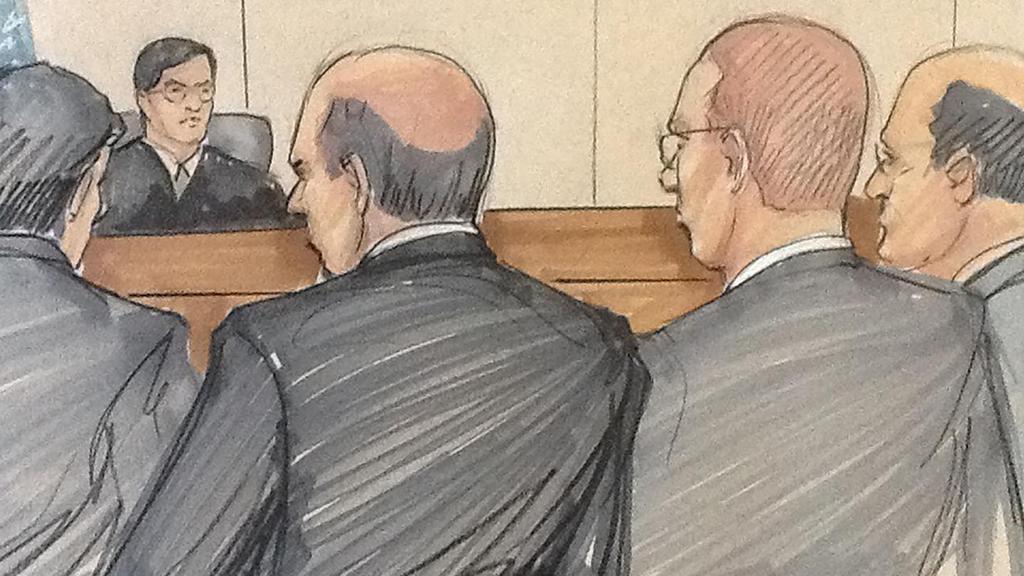 Courtroom sketch from October 2015 depicts Gary Solomon, right, and Thomas Vranas, left, in federal court. (Thomas Gianni)
The former SUPES Academy chief charged in connection with the Barbara Byrd-Bennett fraud scandal was sentenced Friday to seven years in prison after pleading guilty last year.
U.S. District Judge Edmond Chang sentenced Gary Solomon to 84 months in prison, saying the former SUPES CEO was not the "mastermind" behind the yearslong fraud scheme that prosecutors made him out to be, but he did act out of "green not need" when he saw the opportunity to enrich himself financially.
Solomon and former SUPES co-owner Thomas Vranas initially faced more than 20 counts each of mail and wire fraud, and bribery in their scheme to steer millions of dollars' worth of CPS contracts to their companies.
Solomon pleaded guilty to one count of wire fraud last October. Prosecutors recommended he be sentenced to nine years in prison. He faced up to 20 years if convicted at trial.
Prior to his sentencing, Solomon apologized to CPS and his family, as well as district leaders, the Board of Education and the schools and students themselves.
"If my actions made their lives more difficult … I deeply apologize," he said.
Assistant U.S. Attorney Megan Church said Solomon's action was not a singular lapse of judgment, but rather an ongoing scheme in which he helped install a "corrupt leader" in Byrd-Bennett as the head of Chicago Public Schools.
Chang agreed. He said public corruption has become a blight on both Chicago and Illinois, and pointed to the casualness of the defendant's corruption as an aggravating factor in Solomon's sentence.
"It's worse because it's treated so lightly," the judge said.
Byrd-Bennett previously pleaded guilty to one count of wire fraud in October 2015 and faces up to 7.5 years in prison. At one point during Friday's hearing, Chang asked Church which defendant she thought should receive the greater sentence: Solomon or Byrd-Bennett. Church said the former, saying Solomon was the one who profited the most from the scheme and went out of his way to involve Vranas.
From April 2012 to April 2015, the trio allegedly "participated in a scheme to defraud and to obtain money and property from CPS by means of materially false and fraudulent pretenses … and to defraud and deprive CPS and the Chicago Board of Education of their right to the honest services of Byrd-Bennett through bribery."
Prosecutors say Solomon and Vranas knew Byrd-Bennett would receive a cut of each contract in exchange for steering them to SUPES, and claim Solomon's claims to the contrary show he has failed to accept responsibility for his role in the scheme.
His attorney, Anthony Masciopinto, disagreed, saying in a briefing: "While the government may disagree and dislike Gary's counsel's sentencing arguments, Gary has accepted responsibility and is remorseful, as is evidenced by his pre- and post-indictment conduct, plea agreement, and numerous character witnesses who have observed Gary up close."
They asked Solomon be sentenced to no more than 18 months in prison, citing myriad mitigating circumstances, including a claim that CPS would have continued working with SUPES even if there had never been a bribe offer.
His attorneys go on to say Solomon has already suffered a "significant punishment" in dealing each day with his own public humiliation, guilt and remorse. In a hearing last fall he told Judge Chang he has been taking anxiety medication since just before his indictment last year, and had met with a mental health professional.
In a filing earlier this month, prosecutors argued "there was no limit to Solomon's efforts to exploit Byrd-Bennett's position within CPS to his financial benefit." They claim the former SUPES Academy CEO had an agreement with Byrd-Bennett that grew from a 10-percent kickback on CPS contracts awarded to his company, into a signing bonus and bank accounts amounting to hundreds of thousands of dollars.
Prosecutors say in July 2012 Solomon "saw an opportunity" to install Byrd-Bennett as CPS chief to replace then-CEO Jean-Claude Brizard, who had planned to resign and whom Solomon referred to as a "dead man walking."
"As Solomon explained, Byrd-Bennett saw that 'the ship is sinking fast and she wants to help,'" prosecutors said in a sentencing memo. "Solomon said that Byrd-Bennett had brought up an increased role. Less than 10 days later, Solomon sent Byrd-Bennett an email stating, 'Congrats Madam CEO!!'"
Byrd-Bennett was not appointed as CPS CEO until that October.
While in that position, Byrd-Bennett worked to convince the district to spend millions on principal training through SUPES. In return, Solomon and Vranas agreed to pay her a kickback coming in the form of trust funds for two of her relatives, along with a promise to hire her back once she left CPS.
In one case, Solomon offered personal finance benefits to Bennett in exchange for her awarding a $2 million contract to the SUPES Academy in October 2012. Those benefits included meals, an airplane ticket and tickets to sporting events.
Byrd-Bennett and Vranas are each scheduled to be sentenced at separate hearings late next month.
Follow Matt Masterson on Twitter: @ByMattMasterson
---
Related stories: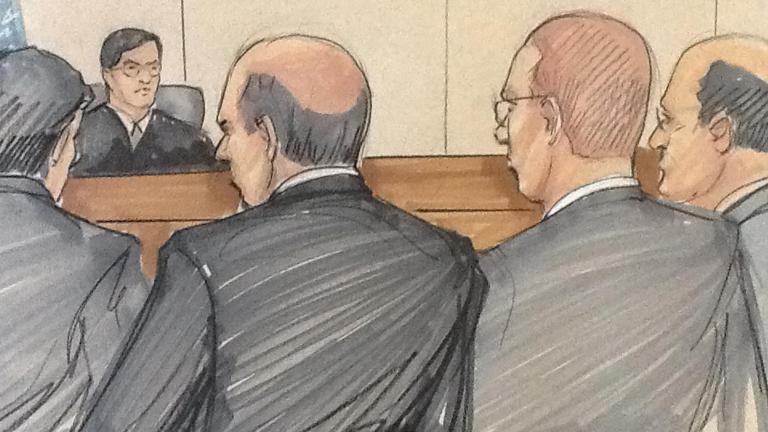 SUPES Co-Owner Pleads Guilty in Byrd-Bennett Bribery Scandal
Oct. 18: SUPES Academy CEO Gary Solomon pleaded guilty to one count of wire fraud in federal court Tuesday, opening the door for co-defendants Tom Vranas and Barbara Byrd-Bennett to be sentenced for their bribery scheme.
---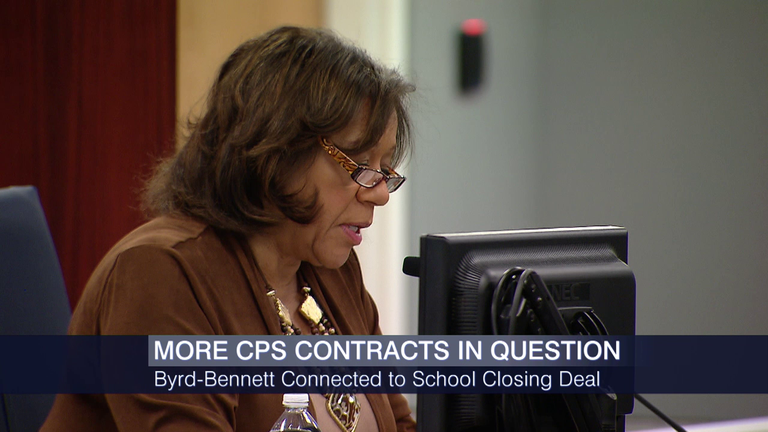 More Barbara Byrd-Bennett CPS Contracts Under Scrutiny
Oct. 15, 2015: As Mayor Rahm Emanuel defends his role in the Barbara Byrd-Bennett scandal, "Chicago Tonight" has learned of another controversial CPS contract with someone else Byrd-Bennett used to work for.
---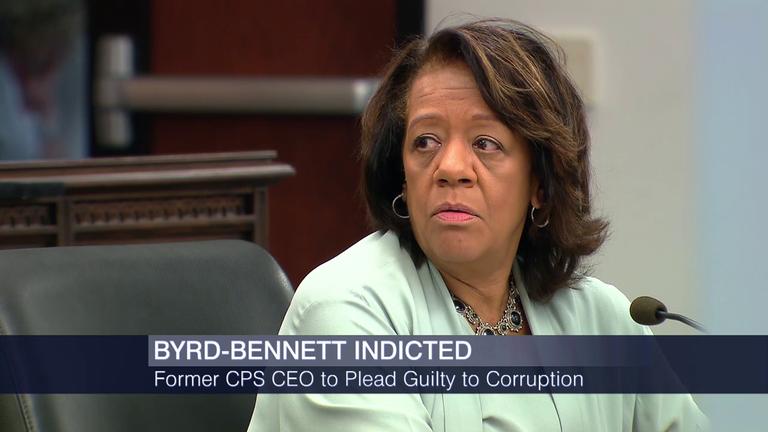 Former CPS CEO Barbara Byrd-Bennett to Plead Guilty in Bribery Scheme
Oct. 8, 2015: Former Chicago Public Schools CEO Barbara Byrd-Bennett is charged with 23 counts of federal corruption for her alleged role in a scheme to steer millions in CPS contracts to her former employer.
---