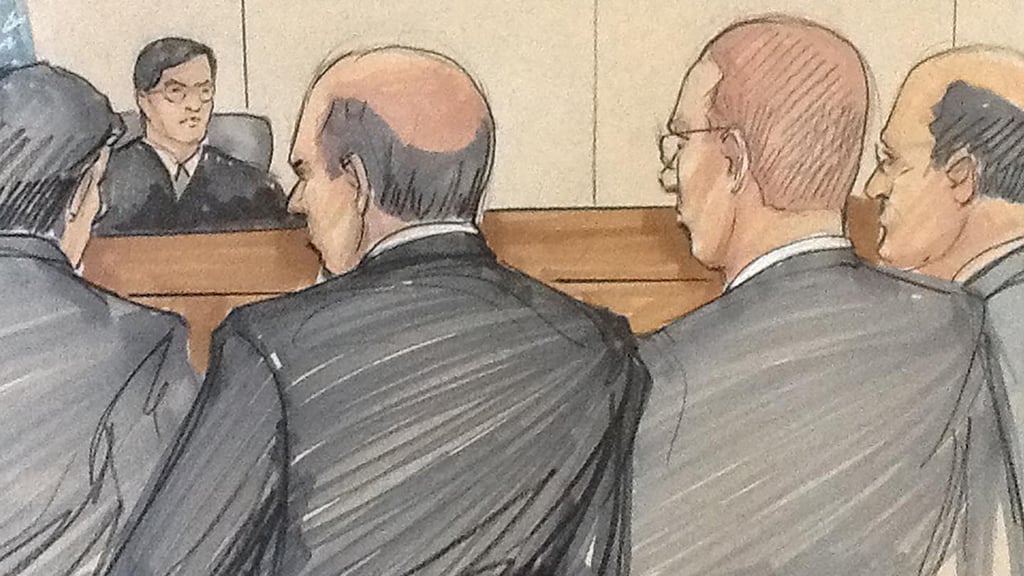 Courtroom sketch from October 2015 depicts Gary Solomon, right, and Thomas Vranas, left, in federal court. (Thomas Gianni)
A federal court has rejected an appeal from former SUPES Academy co-owner Gary Solomon, a key figure in the Barbara Byrd-Bennett fraud scheme who argued his sentence should have been more lenient than the one handed down to the former Chicago Public Schools chief. 
The Seventh Circuit Court of Appeals on Tuesday affirmed Solomon's seven-year prison sentence, rejecting his argument that the punishment is "substantively unreasonable" because he received more time than Byrd-Bennett and denying his request for a new sentencing hearing.
"The district court is required by statute to tailor its sentence to the particular defendant before it," the appeals court wrote in its 12-page decision.
"And as soon as we look at the specifics, it is apparent that all things are not equal. Byrd-Bennett cooperated, and Solomon did not (at least in any meaningful way). Disparate cooperation warrants disparate sentencing."
Solomon and fellow SUPES co-owner Thomas Vranas initially faced more than 20 counts each of bribery and mail and wire fraud in their scheme to steer millions of dollars' worth of CPS contracts to their company. Prosecutors claimed the men knew that Byrd-Bennett, then the head of CPS, would receive a cut of each contract steered to SUPES – a principal development firm where Byrd-Bennett had worked before moving on to CPS.
Byrd-Bennett pleaded guilty to one count of wire fraud and was sentenced last spring to 4.5 years in prison. In her role as CEO of the country's third-largest school district, Byrd-Bennett was the key figure in the scandal, but prosecutors painted Solomon as the mastermind.
Solomon also pleaded guilty to one count of wire fraud in 2016, but only after Byrd-Bennett began cooperating with the FBI. In his argument to the appeals court, Solomon correctly noted that Byrd-Bennett had deleted emails and lied in her initial statements to investigators, aiming to minimize her own involvement in the scheme. But her eventual cooperation led to her co-defendants later pleading guilty.
During sentencing, Solomon's attorneys also disagreed with prosecutors over the scope of the fraud scheme. Prosecutors said Byrd-Bennett used her influence to ensure SUPES received two extremely valuable contracts: one worth about $2.5 million – which was awarded within two weeks of her taking over as CEO – and a second worth $20.5 million.
Solomon's attorneys argued that his agreement with Byrd-Bennett "reached only the first of the two contracts SUPES received," meaning their client earned about $500,000 through this arraignment, as opposed to the $2.9 million the state was alleging.
Solomon again raised this issue in his appeal, arguing that it significantly increased his sentencing guideline calculation. The appeals court disagreed.
"Though Solomon will pay a heavy price for his role in this seamy business, his sentence is based on a properly supported assessment of the scope of his criminal agreement," the appeals court wrote. "The court's decision to impose a harsher sentence on him than it did on Byrd-Bennett also has ample support in the record; Solomon's sentence is not substantively unreasonable."
Contact Matt Masterson: @ByMattMasterson | [email protected] | (773) 509-5431
---
Related stories:
Former CPS CEO Barbara Byrd-Bennett Sentenced to 4 1/2 Years
Gary Solomon, Former SUPES CEO, Sentenced to 7 Years in Prison
SUPES Co-Owner Pleads Guilty in Byrd-Bennett Bribery Scandal
---