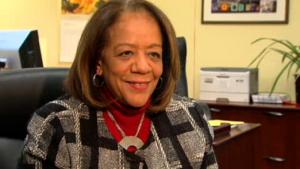 Chicago Public Schools CEO Barbara Byrd-Bennett is taking a leave of absence, effective April 20, amidst a federal investigation into a no-bid contract awarded to a company that once employed her. Chicago Board of Education Vice President Jesse Ruiz will serve as interim CEO, Board President David Vitale announced today.
In 2013, the $20 million contracted was granted to SUPES Academy for training to school principals. Byrd-Bennett "worked as a coach for SUPES until she was hired at CPS and there's some evidence that she continued to consult with related companies after she was on CPS' payroll," according to a Catalyst Chicago report. Byrd-Bennett was named CEO by Mayor Rahm Emanuel in October 2012.
• CPS Facing Federal Investigation, Calls For Bankruptcy
• CPS Under Federal Investigation
"In light of the attention given to my position as Chief Executive Officer of Chicago Public Schools, I believe that my continuing as CEO at this time would be a distraction. Although this is a very difficult decision for me personally, it is one that I believe is in the best interest of the children of CPS that I am so fortunate to serve," Byrd-Bennett wrote in a letter to Vitale, adding that she has hired a lawyer.
CPS officials released copies of subpoenas issued in the investigation. Byrd-Bennett's chief of staff and various CPS colleagues have been called to testified before a grand jury.
Vitale held a press conference Friday afternoon at CPS headquarters to talk about the future leadership of CPS. Read a statement from him:
"In light of the ongoing federal investigation and its impact on her ability to effectively lead Chicago Public Schools, Barbara Byrd-Bennett is taking a leave of absence from Chicago Public Schools effective immediately.

Board of Education Vice President Jesse Ruiz is taking the responsibilities of the chief executive officer while Byrd-Bennett is on leave. As board vice president for almost four years, and a former chairman of the Illinois State Board of Education, Ruiz has both the legal and educational expertise and experience to guide the district at this time while ensuring students and teachers continue to make academic gains in the classroom."
Read a statement from a spokesperson for the mayor:
"Mayor Emanuel supports today's actions by Barbara Byrd-Bennett and the Board of Education so that the focus of our teachers, principals and parents can remain on the nearly 400,000 students who depend on the district for a quality education. Though there have been no formal allegations, the Mayor has zero tolerance for any type of misconduct from public officials and welcomes today's decision to help ensure this issue does not distract from the incredibly important work happening in our neighborhood public schools."
Read a statement from Chicago Teachers Union Vice President Jesse Sharkey:
"What Barbara is being singled out for is sadly just one incident among widespread practices by the mayor's Board of Education appointees, and the turmoil caused by yet another top-down leadership scandal is a grave concern for all of us as the district faces a crippling financial deficit. As I said yesterday, there is a culture of conflict of interest that is severely disruptive to the lives of both educators and the parents and students they serve, and it does nothing but create a climate of pervasive mistrust.

Barbara will be most remembered as the person who was brought in to sell the mayor's school closing plan. While it is our understanding that she is taking a leave of absence due to her potential inability to lead the district during the investigation into her connection to SUPES, she is not the only individual who may be at fault for any wrongdoing. Board president David Vitale was the architect of a financial deal that has cost the district hundreds of millions of dollars, and no one has asked for him to take a leave of absence. Board member Deborah Quazzo has received millions in profits from her private investments in companies with CPS contracts, and no one has asked for her to take a leave of absence either.

These are the types of relationships that we've been sounding the alarm about for years—those in which there are personal connections between Board members and the banks and companies that profit from relationships with CPS. In a school district that seems to be all about privatization, private entities continue to play a major role in its operations, and if Barbara is the first to fall, then perhaps there are many others who should follow."