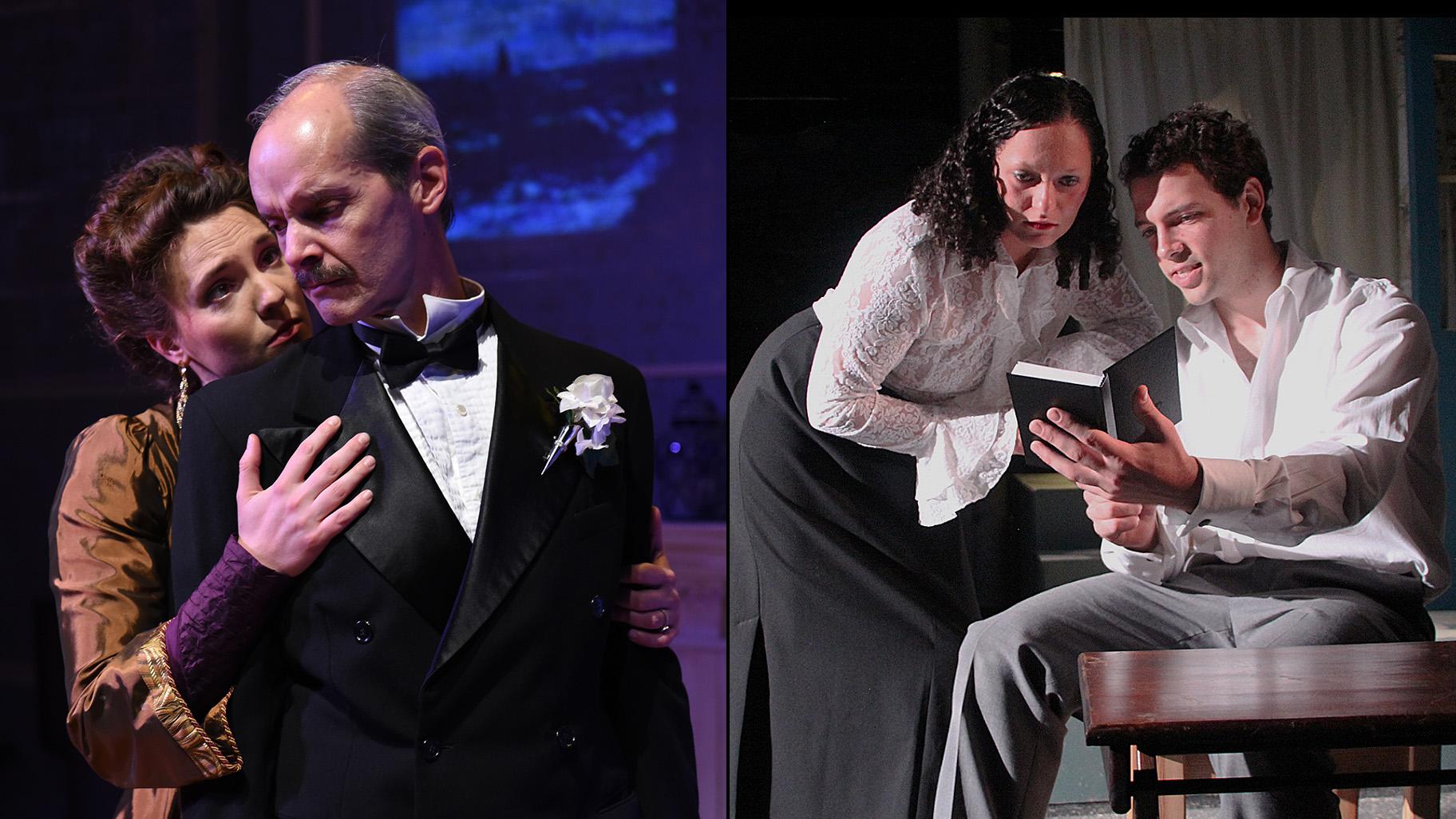 Eliza Stoughton and Mark Ulrich in "Howards End," left, and Emma Brayndick and Miles Borchard "Sons and Lovers." (Photos by Michael Courier, left, and Lisa Lennington)
By what surely is sheer coincidence, two groundbreaking British novels – E.M. Forster's "Howards End" and D. H. Lawrence's "Sons and Lovers" – both published within just a few years of each other in the early 20th century, are currently receiving world premiere productions on Chicago stages. And if you consider some of the abiding themes in both of these books – the tension among social classes, the fate of the poor, sexual turmoil and the status of women – it quickly becomes clear that despite their creation more than a century ago they remain exceptionally timely.
Here is a closer look at both shows, now in the later stages of their runs:
---
From left: Natalie Santoro, Mark Ulrich, Eliza Stoughton, Terry Bell and Heather Chrisler in "Howards End." (Photo by Michael Courier)
Masterful on every count, Remy Bumppo Theatre's production of "Howards End" once again confirms this company's high standards. Beyond the impeccable acting of the nine-person cast, direction (in this case by Nick Sandys, its omni-talented artistic director) and design (exceptionally elegant sets and projections by Yeaji Kim and period costumes by Kristy Leigh Hall), it holds fast to a deep devotion to the most sophisticated writing, and a desire to tackle provocative ideas. And if Douglas Post's superb stage adaptation of Forster's fervent novel just happens to have arrived at the same time the "Downton Abbey" franchise seems to be growing stronger than ever, so be it. (They have quite a few things in common.)
Published in 1910, Forster's story takes its name from the grand old English country house around which much of the plot is focused, and it interweaves the social, political, moral, financial and romantic fates of three families from three different social classes.
There is the Wilcox family, wealthy capitalists whose fortune was made (perhaps not by entirely upright means) in the colonies. Henry Wilcox (deft work by Mark Ulrich), the patriarch and recently widowed husband of Rose, is the father of two sons – Charles (Michael McKeogh), who is very much his father's son, and is married to the status-conscious Dolly (Emily Tate), and Paul (Tommy Malouf), a more free-spirited fellow, and their sister, Evie (Natalie Santoro).
The Schlegels – Margaret (Eliza Stoughton) and Helen (Heather Chrisler) – are German-born sisters with bohemian artistic spirits and liberal politics who befriended the rather lonely Rose before her death, and subsequently moved to London. Unbeknownst to Margaret, Rose willed her beloved Howards End to her – something she only learns much later, and well after she makes a compromising but pragmatic marriage to Henry. Stoughton and Chrisler are both extraordinary actresses and leave unforgettable imprints on their characters.
Last, but by no means least, there is Leonard Bast (charismatic, rail-thin Terry Bell, an actor to keep your eye on). An impoverished but proud young dreamer with a poetic spirit, he works as a clerk, and the Schlegels attempt to take him under their wings. But Best makes some very damaging life decisions that keep him trapped in the lower class, including a liaison with Jacky (Jodi Kingsley), the floozy who he impregnates and marries, and a disastrous financial choice. And along the way, the Schlegel sisters inadvertently lead him down a disastrous path. As Forster suggests, combatting poverty is far more complex than it appears. As for happiness – well, that is even more elusive.
Remy Bumppo Theatre's production of "Howards End" runs through Oct. 5 at Theater Wit, 1229 W. Belmont Ave. For tickets ($37.75-$62.75) call (773) 975-8150 or visit RemyBumppo.org. Running time is 2 hours and 45 minutes with one intermission.
---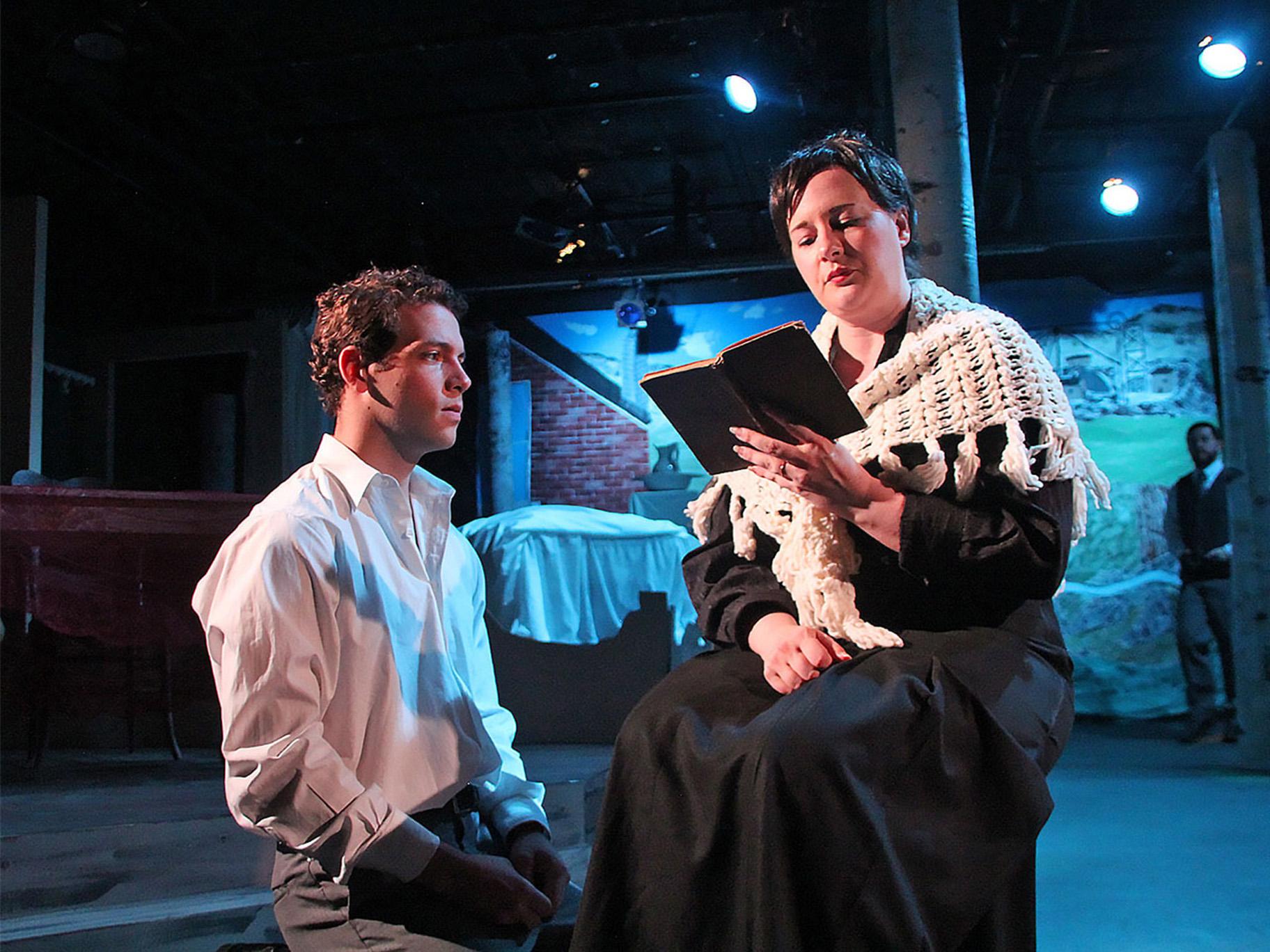 Miles Borchard and Amy Gray with Brian Boller, back, in Greenhouse Theater Center and On The Spot Theatre Company's U.S. premiere of "Sons and Lovers." (Photo by Lisa Lennington)
In a very real sense, D.H. Lawrence gave birth to himself in "Sons and Lovers," his quasi-autobiographical novel that was initially disparaged (and faced with allegations of obscenity) when it was published in England in 1913. So it is perfectly fitting that the opening scene in director Mike Brayndick's stage adaptation of the work – now in an ambitious production by On the Spot Theatre Company – begins as Lawrence (played by Brian Boller), serves as the story's somewhat ghostly narrator and the witness to his actual birth as Paul Morel (Miles Borchard), his thinly veiled fictional incarnation.
Paul's educated, middle-class mother, Lydia (Amy Gray), attended by two midwives, is caught in the final agonizing moments of labor and delivery for the second of her two sons. Her marriage to Walter (Stephen Dunn), the semi-literate Midlands miner whose initial attraction has long since worn off – and who drowns his financial woes and marital unhappiness in alcohol – is a mess, and prone to violent outbursts. And over the years she turns her emotional attention onto her oldest son, William (Borchard), who eventually moves to London, and then, most damagingly, onto Paul, the artistic, sensitive young man.
"Sons and Lovers" is the chronicle of the emotional anguish and confusion that shaped Lawrence's life well into early manhood, and the two very different women with whom he had intensely troubled relationships, in no small part because of his mother's fiercely judgmental and controlling ways. His first girlfriend is Miriam Leivers (Corrie Riedl), the daughter of a nearby farm family with whom he shares intellectual and artistic interests. But Miriam is wary of sex and senses his restlessness. Clara Dawes (Emma Brayndick) is a more worldly, promiscuous, married woman who briefly satisfies his sexually adventurous spirit. But it is only the death of his mother that enables him to embark on a wilder, freer existence, as short-lived as it might be. (Lawrence was plagued by poor health throughout much of his life and died at the age of just 44.)
The performances are excellent throughout in this straightforward dramatization.
"Sons and Lovers" runs through Sept. 29 at the Greenhouse Theater Center, 2257 N. Lincoln Ave. For tickets ($20-$29) call (773) 404-7336 or visit greenhousetheater.org. Running time is two hours and 25 minutes with one intermission.
Follow Hedy Weiss on Twitter: @HedyWeissCritic
---
CSO Opens Season with Glorious Grieg, Stunning Shostakovich and More
An Advice Columnist Taps into the Pain, Poetry and 'Tiny Beautiful Things' of Life
Basketball Diplomacy Takes a Great Theatrical Leap Forward at Steppenwolf
'Be Here Now' a Tragicomic Gem About Seizing the Day
---