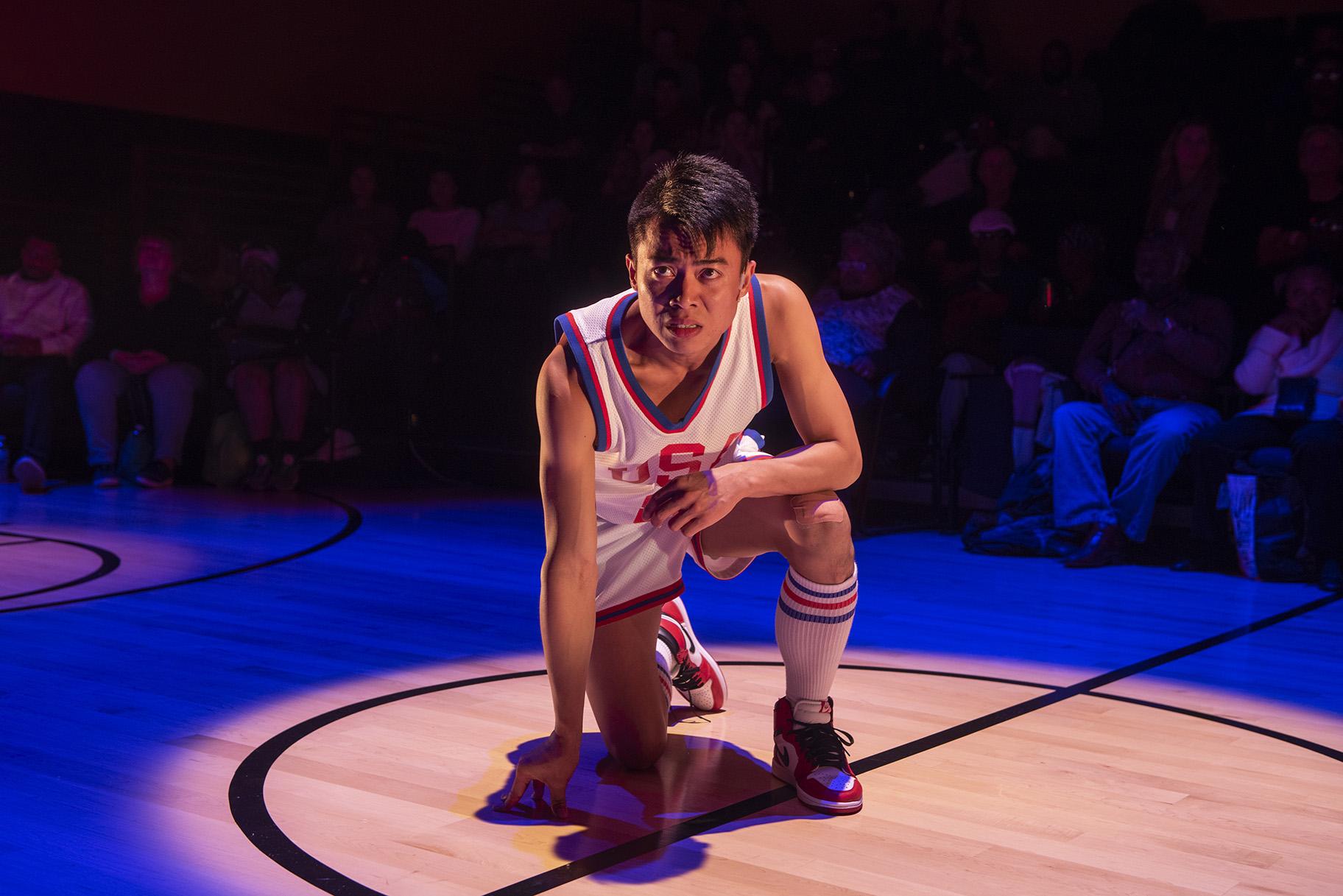 Glenn Obrero in Steppenwolf's production of "The Great Leap" by Lauren Yee. (Photo by Michael Brosilow)
As she has demonstrated in such enthralling plays as "Cambodian Rock Band" and "Samsara" (both produced at Victory Gardens Theater), and "King of the Yees" (seen at the Goodman Theatre), Lauren Yee possesses a special gift for animating and personalizing history, and for penning exceptionally dynamic, character-defining, crazily comic dialogue.
That gift is now on full display in her remarkable play, "The Great Leap," which debuted off-Broadway in 2018, and is now receiving its Chicago premiere in one of the finest productions to be staged by Steppenwolf Theatre in recent years. And while it deals with events that unfolded in San Francisco and Beijing, China in 1971 and 1989, its arrival on stage here now – at the very moment student protests in Hong Kong are boldly challenging the status quo – could not be more fortuitous.
In addition to the play's timeliness, there is the sheer physical and emotional dynamism of the production, which has been staged by Jesca Prudencio (a director new to Chicago, who hopefully will be booked for a return), and the work of four dazzling actors, including Chicago veteran Keith Kupferer, and, in their Steppenwolf debuts, Glenn Obrero, James Seol and Deanna Myers.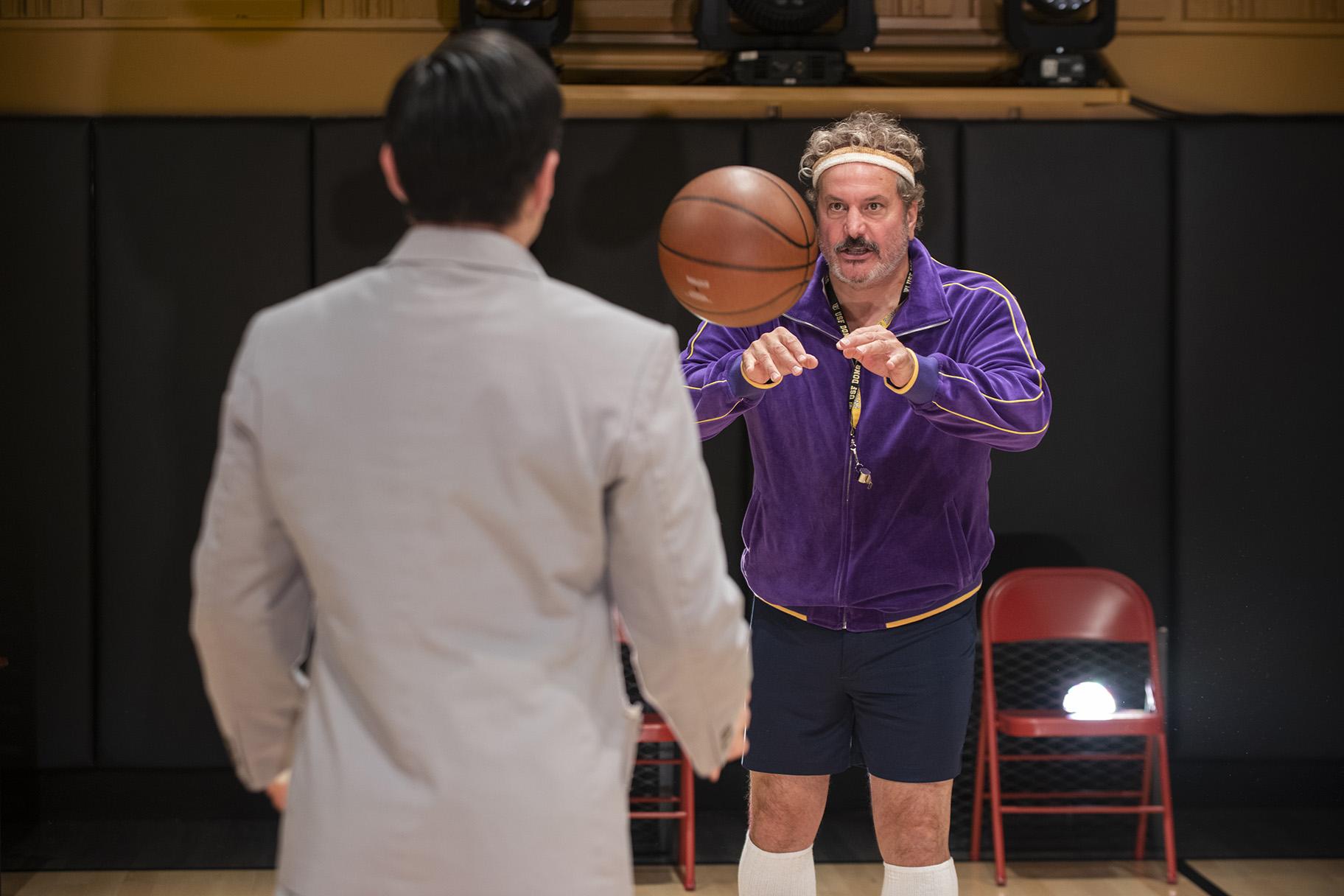 Keith Kupferer in "The Great Leap." (Photo by Michael Brosilow)
Before going any further, a bit of Sino-American basketball history is in order. As it happens, the sport was introduced to China in the 1890s by YMCA missionaries. It became a national pastime by the 1930s, was the only Western sport not frowned upon under the Mao regime, and is said to be played by 300 million men and women in the country. And while "Ping-Pong Diplomacy" in the early 1970s is credited with opening the door to improved relations between China and the U.S., and paving the way for President Nixon's landmark visit to China, it is the passion for basketball (and the Chinese fascination with the players of the NBA) that endures.
"The Great Leap" begins in San Francisco in May, 1989, as Manford (Obrero), a 17-year-old Chinese-American considered too short for any serious future in the game (he is 5 feet 7 inches while the top players in China tend to be 7 feet), introduces himself to Saul (Kupferer), the 52-year old, potty-mouthed Jewish coach of the University of San Francisco men's basketball team. The team has been invited to China to play its counterpart at the University of Beijing. And for Saul, who brought a team to China back in 1971, it is something of a crucial rematch that comes at a moment when his career (and his current team) are falling apart.
Manford, who grew up in Chinatown, is convinced he is the most brilliant point guard around, and he finally wears Saul down with his irrepressible energy, speed, drive, self-confidence and rapid-fire verbal pleas in which he promises to bring glory to both the team and Saul.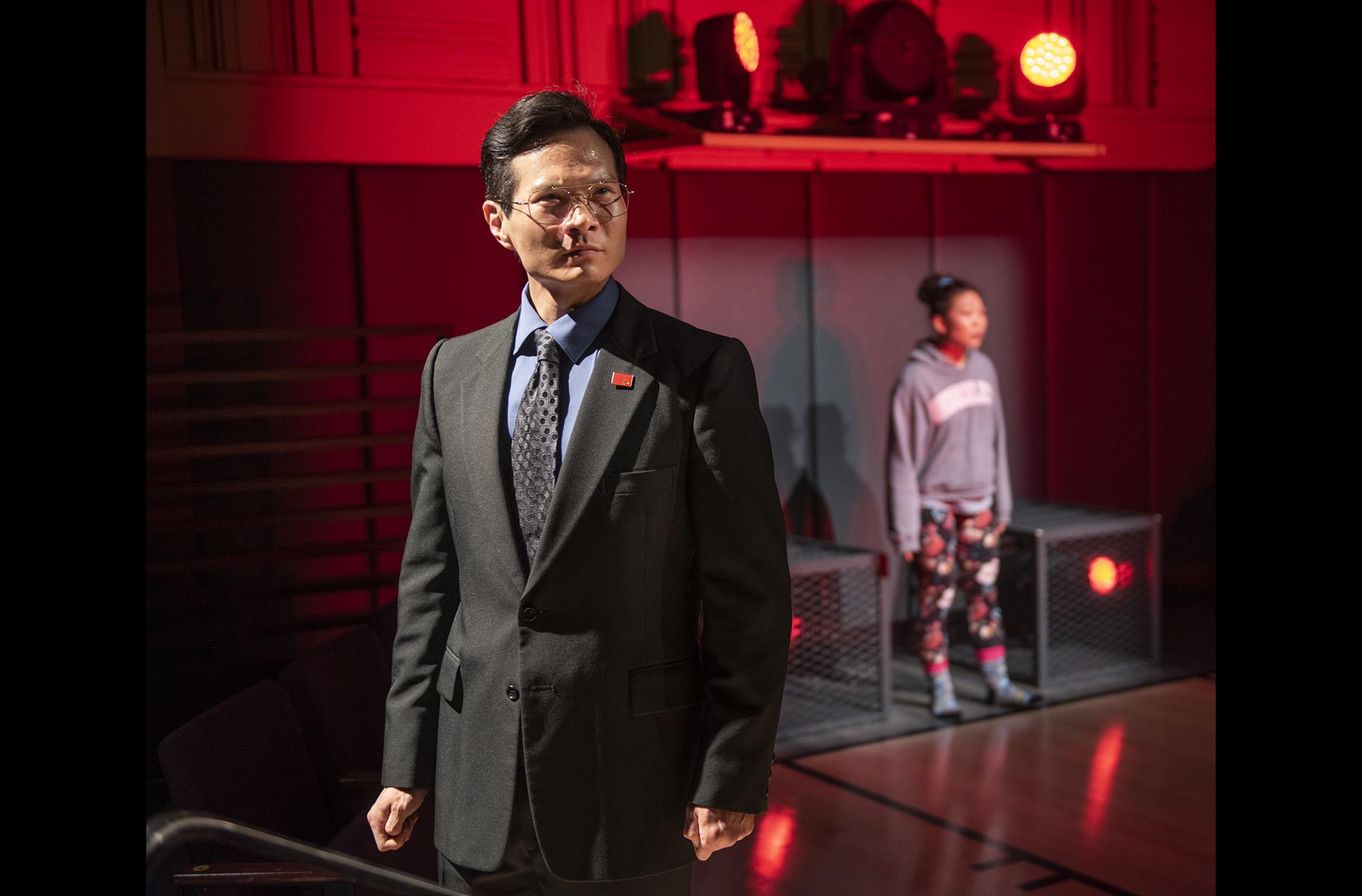 James Seol in "The Great Leap." (Photo by Michael Brosilow)
Meanwhile, waiting for Saul in Beijing is Wen Chang (Seol), who, 18 years earlier, served as his official translator. Chang's English was always as impeccable as his meticulous adherence to the Communist Party. And while he had every intention of assuring his survival by keeping a low profile, he reluctantly ended up as coach of the Beijing team.
As it turns out, the basketball game that takes place in June 1989, unfolds at the very same moment as the Tienamen Square student protests that shook the Chinese government – an event encapsulated in the iconic photograph of "The Tank Man," the lone figure carrying shopping bags who defiantly stepped in front of a Chinese army tank.
There is much more about the play that should not be revealed, except to say that it has one of the great final moments in any recent drama. And although not a single basketball is dropped into a hoop during the course of "The Great Leap," the sport comes to life.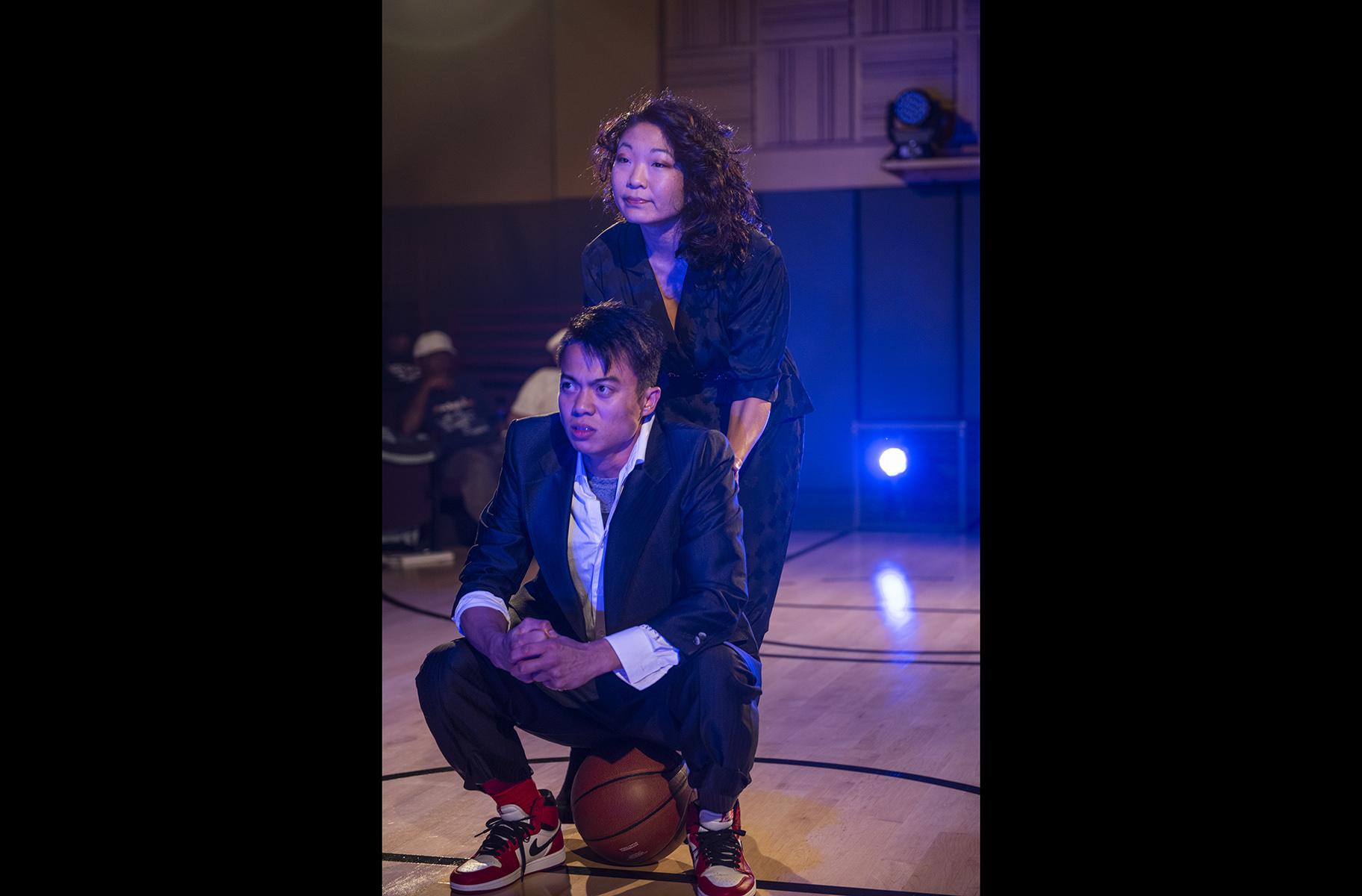 Glenn Obrero and Deanna Myers in "The Great Leap." (Photo by Michael Brosilow)
Obrero is pure magic to watch as he captures the pain of an outsider whose ever-distant mother has recently died, and whose whip-smart, upwardly mobile cousin, Connie (the winningly no-nonsense Myers) watches out for him. And Kupferer is simply perfection as the expletive-spewing Saul. But it is Chang who uncannily captures his character's posture, diction, stoic face and puritanical manner. And he will haunt you for a very long time to come.
"The Great Leap" runs through Oct. 20 at Steppenwolf Theatre Upstairs, 1650 N. Halsted. For tickets ($20-$89) call (312) 335-1650 or visit Steppenwolf.org. Running time is 2 hours with one intermission.
Follow Hedy Weiss on Twitter: @HedyWeissCritic
---
'Be Here Now' a Tragicomic Gem About Seizing the Day
Lyric Opera Names Its Next Music Director: Enrique Mazzola
'The Band's Visit' Captures the Special Magic of an Unexpected Encounter
---