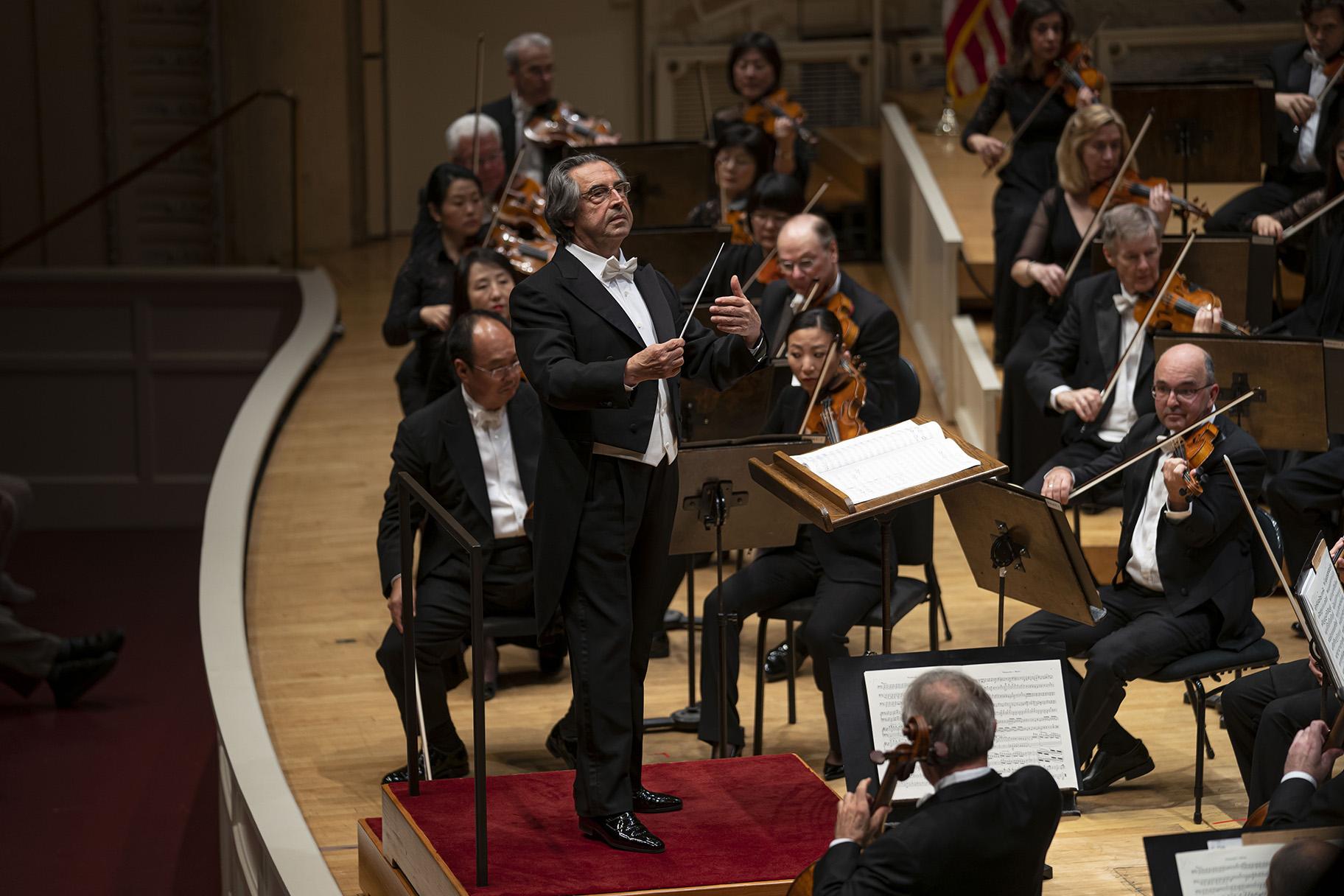 Music Director Riccardo Muti leads the Chicago Symphony Orchestra in a program that includes Shostakovich's Symphony No. 6, works by Mendelssohn and Scriabin, as well as Grieg's Piano Concerto featuring pianist Leif Ove Andsnes as soloist on Sept. 19 2019, in Orchestra Hall. (Photo by Todd Rosenberg)
Magnificent. That is the most fitting description of Thursday evening's program at Symphony Center that marked the start of Maestro Riccardo Muti's 10th season as music director of the Chicago Symphony Orchestra – a decade during which he has honed the sound of this remarkable assemblage of musicians into something so much deeper than pure virtuosity.
Listen to the orchestra – whether it is moving through the most challenging symphony, finding the mystery in a short, relatively unknown work, or seamlessly accompanying the playing of the most masterful soloist and you will be struck by something far more precious than precision-tooled sound. There is a synchrony of breathing among these musicians that is truly wondrous to experience. And it was in full force Thursday as it joined forces with the phenomenal Norwegian pianist, Leif Ove Andsnes, for Grieg's "Piano Concerto in A Minor," launched into Shostakovich's quixotic "Symphony No. 6 in B Minor," and gave exquisite renderings of two brief, rarely heard works – one by Mendelssohn and the other by Scriabin – that served as ideal prologues to the larger pieces.
To start there was Mendelssohn's "Calm Sea and Prosperous Voyage Overture," a work inspired by two poems by Goethe that might best be described as a 13-minute, proto-Impressionist symphony. Opening with an elegiac hum of low strings before drawing on the winds and brass, it builds to a state of agitation and then shifts currents as timpani, strings, horns, flutes and piccolo add color and dynamism. Mendelssohn's gifts as a melodist and dramatist full of rhythmic ingenuity is fully on display here before he moves into a final moment of calm.
Greig's ravishing "Piano Concerto in A Minor" is a familiar work, but Andsnes, a tall, lean man with long fingers and a reserved demeanor that belies the passion, individuality, distinctive phrasing and astonishing fluidity of his bravura playing, brought it to vivid life with his thrillingly fresh interpretation.
A timpani drum roll leads straight to the piano, and Andsnes established the concerto's recurrent melody with an exciting yet almost conversational tone. His playing was wholly unmannered yet theatrical as he seamlessly shifted from calm to storm. And his immaculate but soulful phrasing, and the balletic lightness of his fingers as they flew across the keyboard suggested an intriguing mix of the romantic and the modern.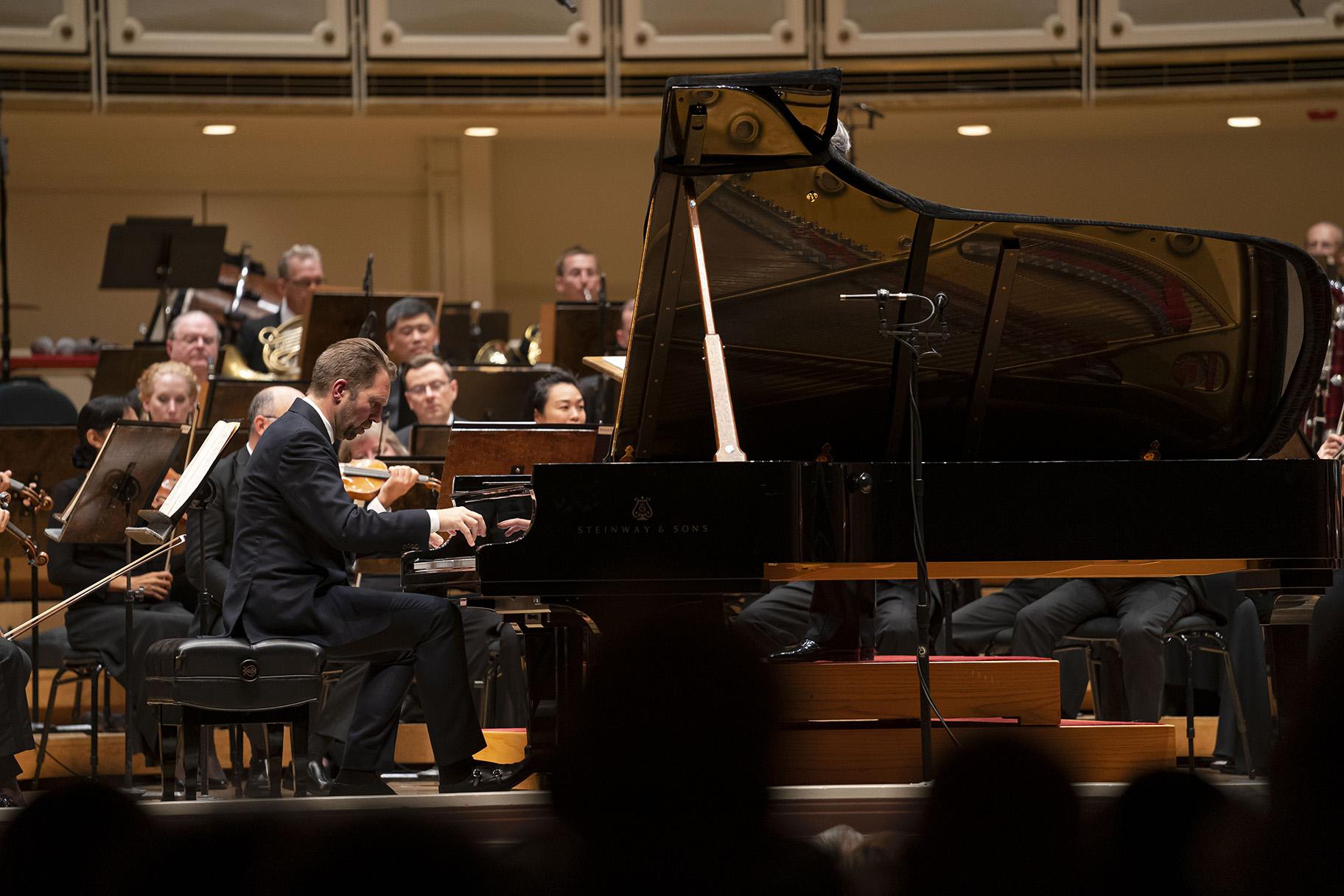 Leif Ove Andsnes performs Grieg's Piano Concerto with the Chicago Symphony Orchestra led by CSO Music Director Riccardo Muti on Sept. 19, 2019, in Orchestra Hall. (Photo by Todd Rosenberg)
The honeyed sound of the orchestra opened the second Adagio movement, with Andsnes bringing countless shadings to even the briefest passage. The work's final movement, with its feverish folk dance themes, and beautiful work by the winds, evolved into moments of dreamy sensuality and subtle rapture, with a sense of grandeur courtesy of the horns and timpani.
Throughout, Muti and the orchestra were perfectly in sync with Andsnes' masterful approach, and their admiration for the pianist was notably visible, too. And, following a long, standing ovation, Andsnes returned to the stage for an encore – a beguiling performance of "Gangar (Norwegian March)," one of Grieg's 66 short solo piano works collected under the umbrella title of "Lyric Pieces." The delicacy, fleetness and seductive ease with which Andsnes' hands danced across the keyboard was again in evidence. And clearly he has Grieg's music encoded in his DNA.
The concert's second half was all Russian, with Scriabin's brief, moody, aptly titled 1898 piece, "Reverie for Orchestra" (in its first performance by the CSO), as prologue. Beginning with the sound of flutes, and ceding to the strings, it was full of shifting sensations as yearning turned to moments of dark dreams and then calm.
Shostakovich's "Symphony No. 6," written in 1939, as the dark clouds of World War II were gathering, is a disconcertingly schizophrenic but fascinating work that brought to mind the vividly colored, exploded geometry of the paintings of his contemporary, Wassily Kandinsky. This is a symphony in the form of a most intriguing sound experiment – full of twists and turns and a terrific use of a wide array of instruments.
The opening movement of the work begins with the low strings sounding a yearning, anguished, melancholic theme at once astringent and lush, with the serpentine lines of the piccolo and the harp adding color, and the clarinet, horns and timpani moving in to generate a great, ominous storm. Then it is a quick switch to an introspective mood and a sense of suspension that ends with the gentle hum of timpani courtesy of the excellent David Herbert (a busy man throughout the evening).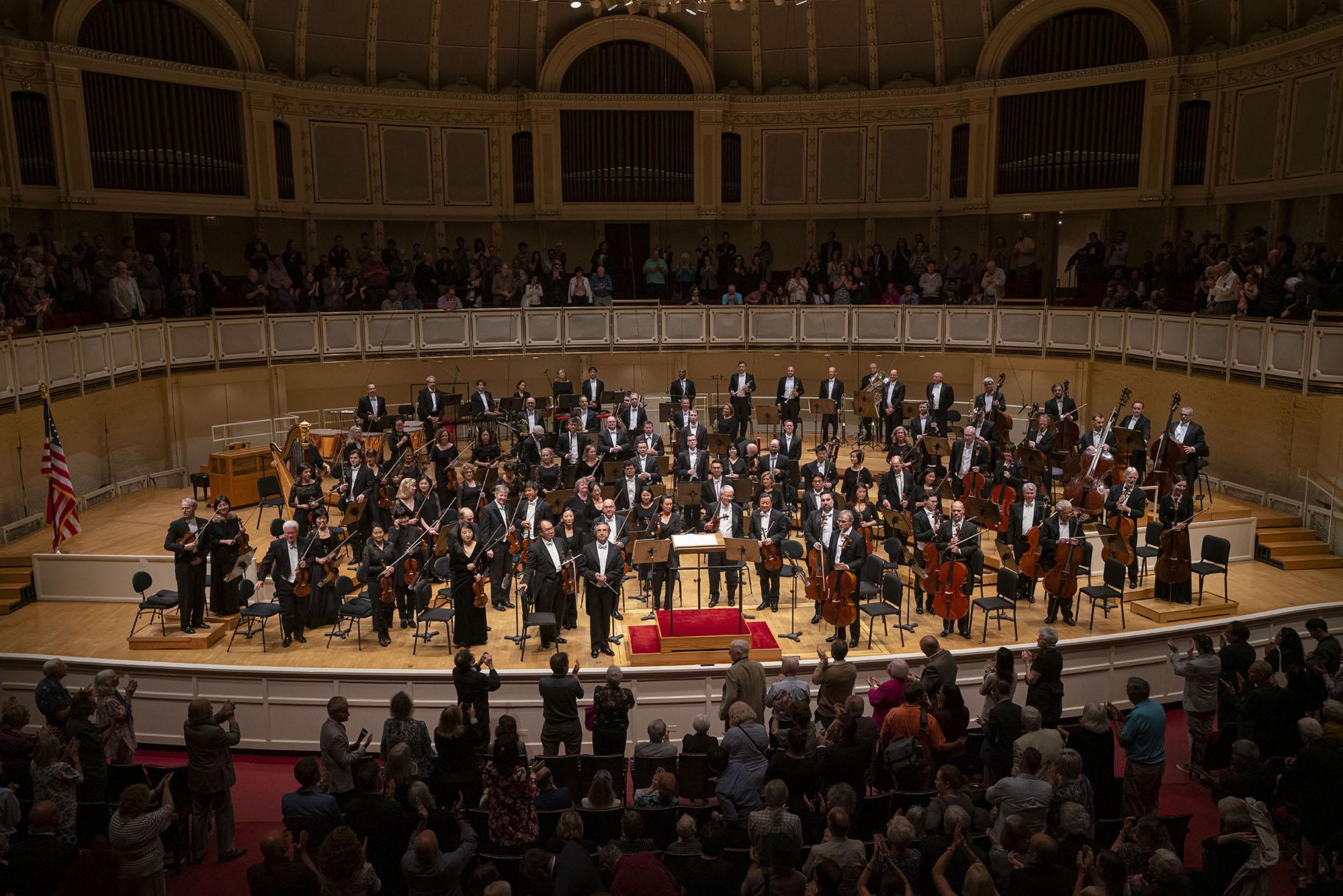 Riccardo Muti and the Chicago Symphony Orchestra acknowledge audience applause following their opening program of the 2019-'20 season on Sept. 19, 2019, in Orchestra Hall. (Photo by Todd Rosenberg)
A blithe and playful tone took over in the second movement, with raucous playing from the violins, the flutes and other winds, and xylophone and percussion, all leading to a great climactic swirl of energy. And then it was on to the third movement – a wildly exuberant gallop embellished with horns, drums, cymbals and more – a celebratory, almost circus-like romp with Muti adding a final jump to signal the crazy fun was over.
And now it's on to Saturday evening's annual Gala concert (with Andsnes reprising the Grieg "Piano Concerto" on a program that also includes music by Verdi, Suppe and Tchaikovsky); a season that will celebrate the 250th anniversary of Beethoven's birth with Muti leading the CSO in performances of all nine of the composer's symphonies; and performances by six solo artists of the composer's 32 piano sonatas. And there is much more, too.
For tickets to all concerts at Symphony Center, 220 S. Michigan Ave., call (312) 294-3000 or visit www.cso.org.
Follow Hedy Weiss on Twitter: @HedyWeissCritic
---
Lyric Opera Names Its Next Music Director: Enrique Mazzola
An Advice Columnist Taps into the Pain, Poetry and 'Tiny Beautiful Things' of Life
Basketball Diplomacy Takes a Great Theatrical Leap Forward at Steppenwolf
---