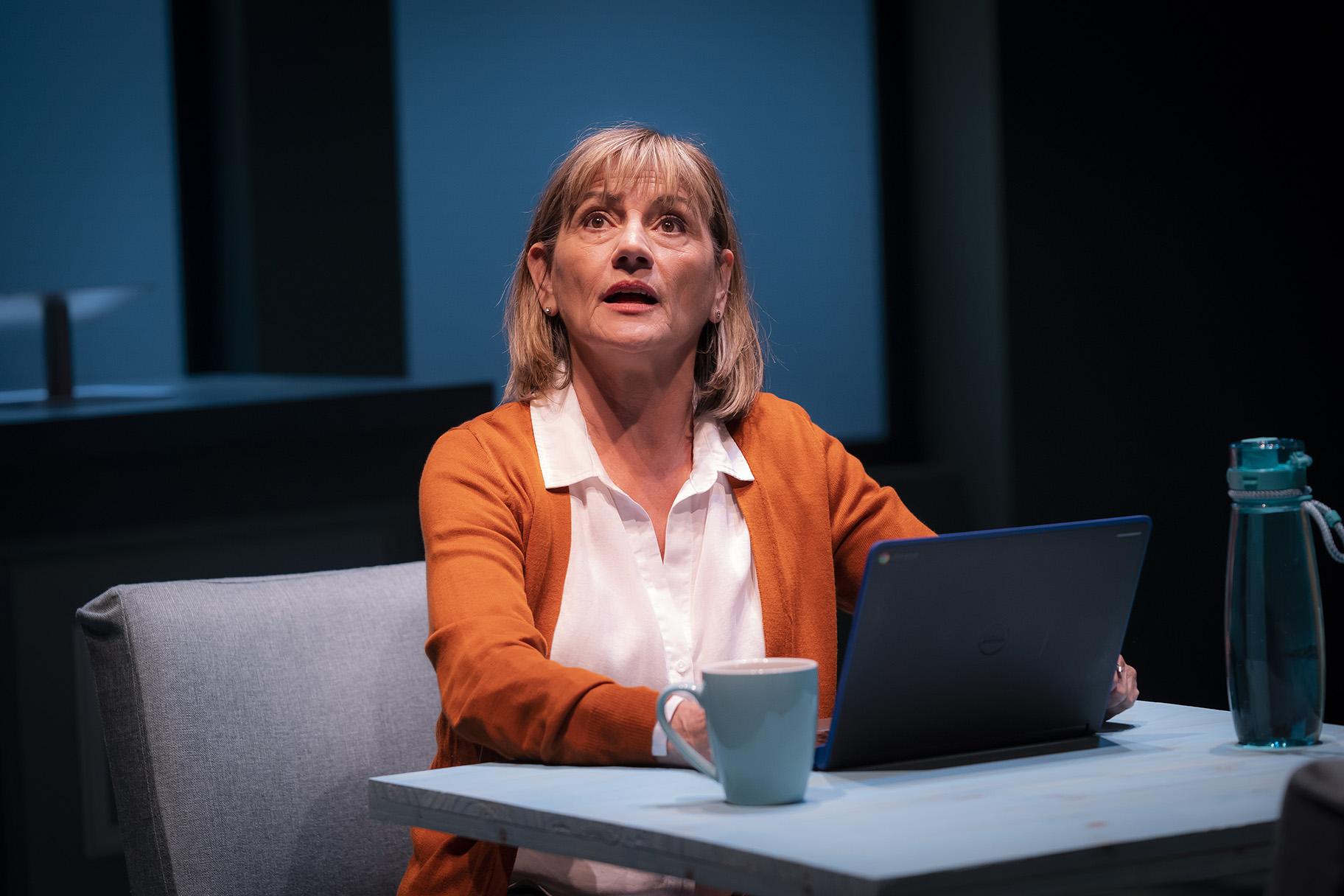 Janet Ulrich Brooks in the Chicago premiere of "Tiny Beautiful Things" at Victory Gardens Theater. (Photo by Liz Lauren)
In 2010, writer Cheryl Strayed, already known for her debut novel, "Torch," rather reluctantly agreed to write an unpaid online advice column under the carefully disguised name of "Dear Sugar."
Strayed was in her early 40s at the time and had already done a great deal of living. She had grown up in an unsettled household, was catapulted into a deep state of grief when, in her senior year of college, her 45-year-old mother died of cancer; and she had married at the age of 19 – far too early – and subsequently gone through a divorce. She also had developed a heroin habit and engaged in a period of sexual promiscuity, and then, in 1995, repaired her life by embarking on a 1,100-mile hike from the Mojave Desert to the Oregon-Washington state line (an odyssey she would later chronicle in her memoir, "Wild: From Lost to Found on the Pacific Crest Trail," a book that subsequently became a movie).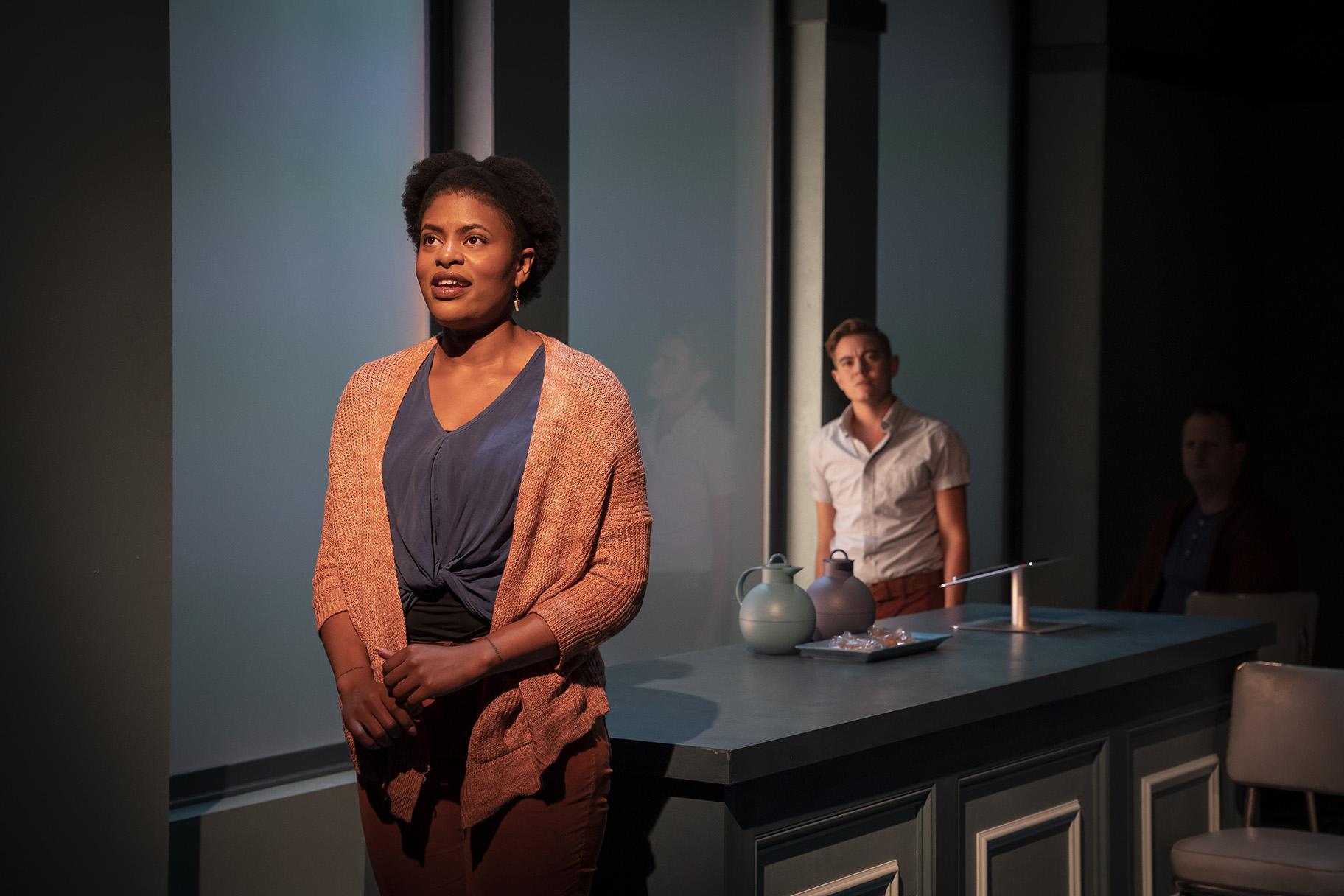 From left: Jessica Dean Turner, August Forman and Eric Slater in "Tiny Beautiful Things." (Photo by Liz Lauren)
Along the way, Strayed held many different jobs, and remarried and had children. So, clearly she had a wellspring of experience to draw on when responding to those who sought her help. Strayed also happened to be a wonderful writer who spoke from the heart and never resorted to glib or facile responses. Her column, which ran from 2010 to 2012, had its critics, some of whom were irked by her insistence on anonymity. But listen to her responses to her advice-seekers in "Tiny Beautiful Things," the emotionally charged stage adaptation of the book that collected many of those columns, and you will quickly realize she put her heart and soul into her answers, responding in a way that easily bypassed psychiatric jargon and got to the root of a problem in a practical yet often transcendent way.
"Tiny Beautiful Things," artfully adapted for the stage by Nia Vardalos (who wrote and starred in the hit film "My Big Fat Greek Wedding"), and expertly directed by Vanessa Stalling, is now receiving a moving, flawlessly acted Chicago premiere at Victory Gardens Theater that features a tour-de-force, award-worthy performance by that quintessential Chicago actress, Janet Ulrich Brooks, as "Sugar." And she receives invaluable support from Eric Slater, Jessica Dean Turner and August Forman as a slew of different "Letter Writers."
Those letter writers, who congregate in a stylized turquoise-painted cafe (by set designer Courtney O'Neill), and are dressed in similarly rust-colored casual clothes (by Theresa Ham), present Sugar with a wide range of problems – some familiar, some quirky, some profound. And the intensity of their queries is subtly ratcheted up over the course of the show's 85-minute duration.
From left: Janet Ulrich Brooks, August Forman and Eric Slater in "Tiny Beautiful Things." (Photo by Liz Lauren)
There is the woman who is jealous of others' success; the eighth-grade boy who is gay and has no friends; the old man with neighbor issues; the 25-year-old woman whose married lover offers her a monthly fee; another woman who guiltily recalls how she allowed her mother to die alone; and the man who responds to everything in his life by uttering "WTF." There also is the woman who doesn't know how to end a relationship with a good man; another who is unsure about how much she should tell her lover about past traumatic events in her life; and the adult, rejected as a transgender child, who is unsure about accepting an apology from parents whose attitude has changed. Strayed's answers to all of them are thoughtful, honest, life enhancing and tinged with poetry.
Along the way, Strayed offers stories from her own life that amplify her answers. And Brooks is masterful in her beautifully rendered tale of an encounter with a young boy who stole a wonderful old camera case at a yard sale, and of her memory of how her mother bought her the tiny red velvet baby girl's dress that caught her eye at another sale, and how, much later, that dress became a cross-generational treasure.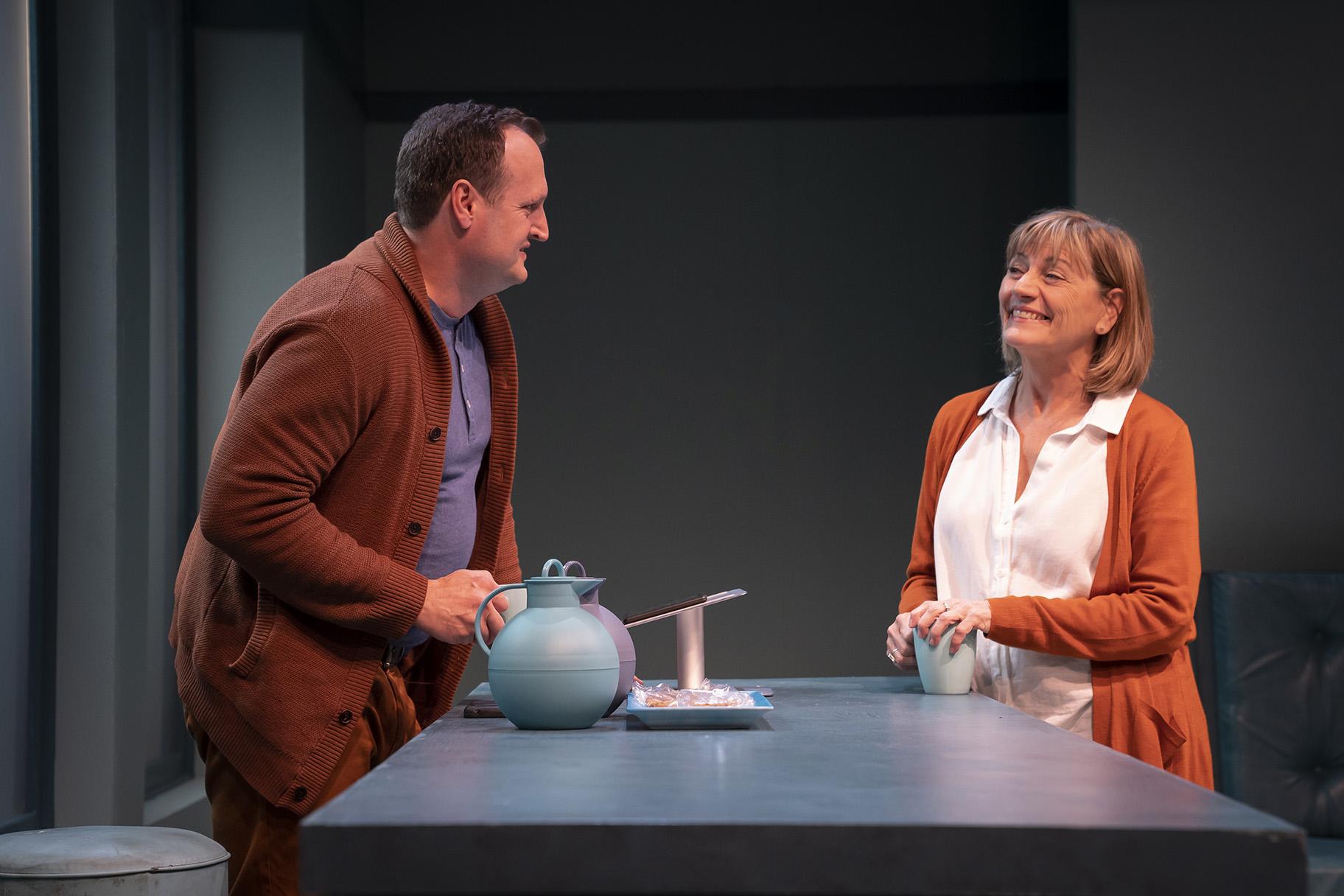 Eric Slater and Janet Ulrich Brooks in "Tiny Beautiful Things." (Photo by Liz Lauren)
There is just enough humor injected along the way, too, including a clever play on Donald Rumsfeld's riff about "There are known knowns …"
The most elaborate exchange occurs after Sugar receives a long, 21-point letter from a profoundly bereaved man who cannot come to terms with the death of his 22-year-old son. The letter is exquisitely rendered by Slater, and Brooks responds point-by-point in a way that fully captures Strayed's remarkable ability to process love, anger, acceptance, change, forgiveness, death and the need to move on.
All in all, a beauty of a show. And there is nothing tiny about it.
"Tiny Beautiful Things" runs through Oct. 13 at Victory Gardens Theater, 2433 N. Lincoln Ave. For tickets ($31-$65) call (773) 861-3000 or visit victorygardens.org. Running time is 85 minutes with no intermission.
Follow Hedy Weiss on Twitter: @HedyWeissCritic
---
Basketball Diplomacy Takes a Great Theatrical Leap Forward at Steppenwolf
'Be Here Now' a Tragicomic Gem About Seizing the Day
'The Band's Visit' Captures the Special Magic of an Unexpected Encounter
---