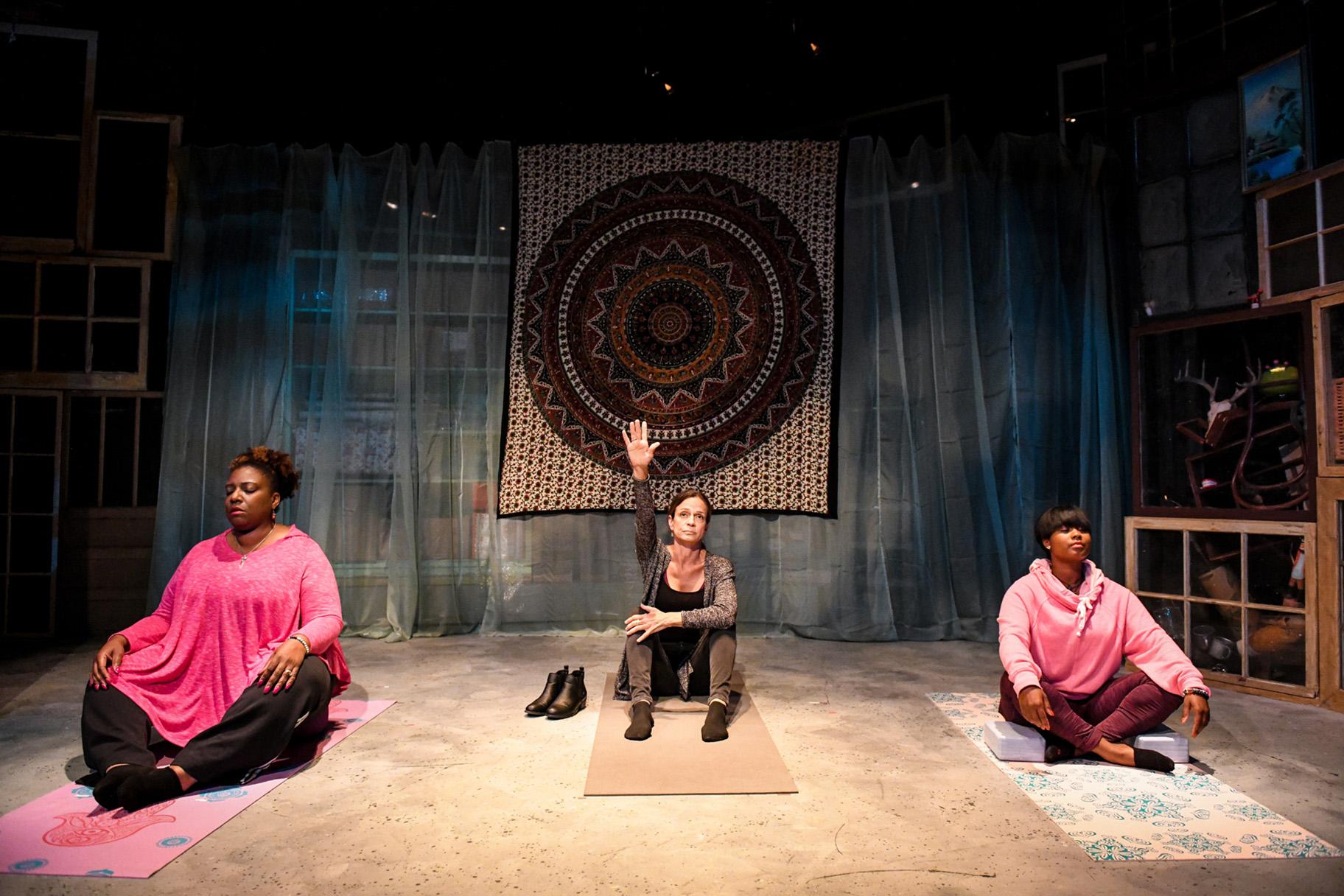 Deanna Reed-Foster, Rebecca Jordan and Demetra Dee in Shattered Globe Theatre's Chicago premiere of "Be Here Now." (Photo by Evan Hanover)
The priceless opening scene in "Be Here Now" – a tragicomic gem of a play by Deborah Zoe Laufer now receiving its Chicago premiere in a bravura production by Shattered Globe Theatre – begins as three women are seated on mats in a yoga class and responding to the blissed-out voice of an unseen instructor who suggests they "look inside themselves."
Two of the women – Patty Cooper (Deanna Reed-Foster) and her niece, Luanne (Demetra Dee) – are in the groove. A third, Bari (Rebecca Jordan), their co-worker at a fulfillment center in a small, economically challenged town in upstate New York, is definitely not feeling the calming vibe. And while her responses are laugh-out-loud funny, the reasons for her impatience and disgust are not.
A brainy, cynical academic and self-professed atheist, the thirty-something Bari has unhappily moved back to her hometown where she is making ends meet by working in a dead-end job preparing boxes of trinkets for shipping while also struggling to complete her doctoral thesis in time to meet a fast-approaching deadline. Until recently she had been teaching a course in nihilism at a university in New York City, but without the thesis she will no longer have her job. On top of everything else she has begun to be plagued by serious headaches.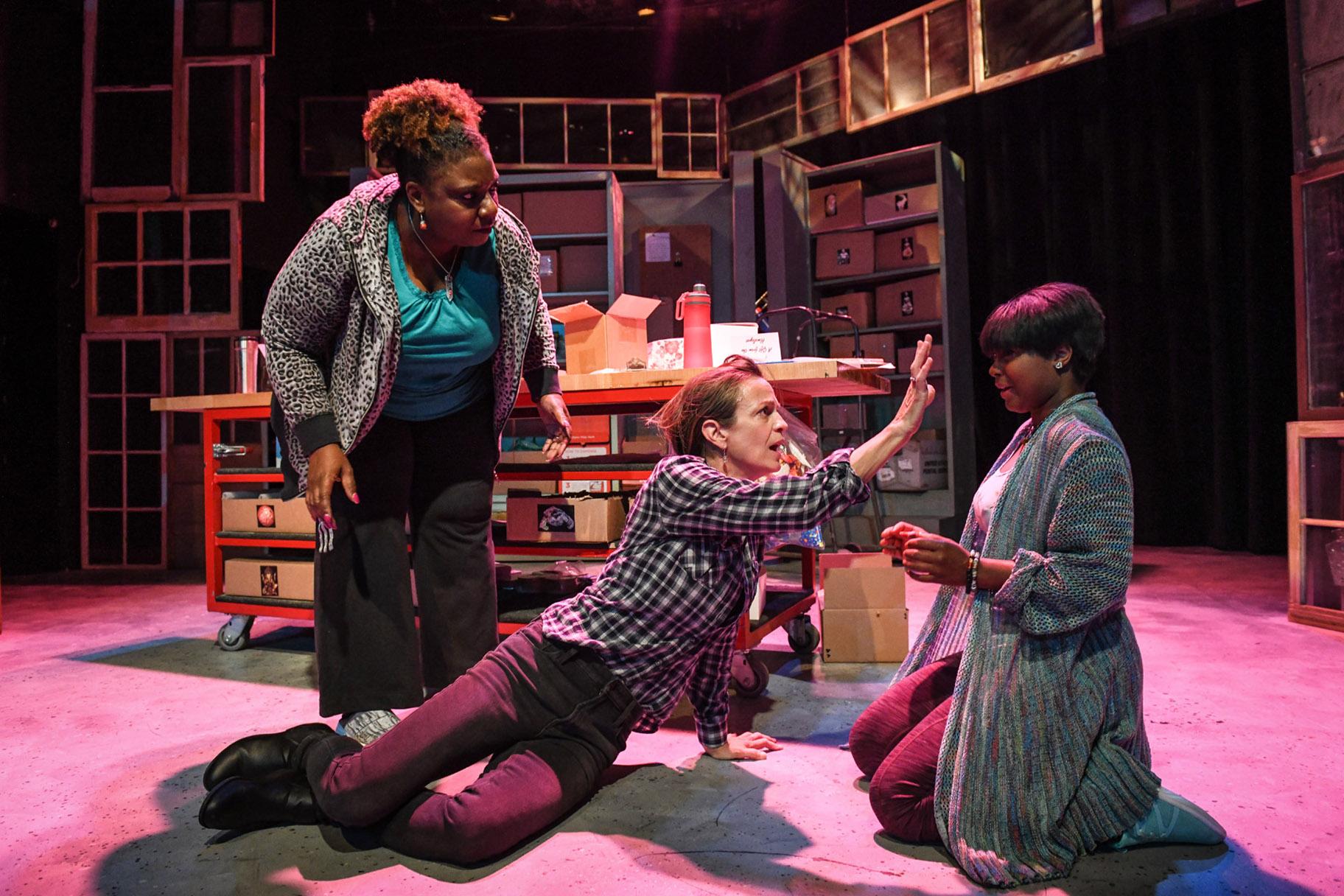 From left: Deanna Reed-Foster, Rebecca Jordan and Demetra Dee in "Be Here Now." (Photo by Evan Hanover)
Bari's co-workers are Christian "believers," but from different generations. So while Patty is a hard-working pragmatist thankful for having a job, her niece, though fully invested in the goodness of a higher power, also has no compunction about messaging sexy selfies to her new boyfriend.
Both women are concerned about Bari, and Patty tries to lift her spirits by setting her up on a blind date with a relative, Mike (Joe Wiens), a decidedly eccentric guy who lives in a shack, rides a bicycle, and collects all sorts of trash, from vacuum cleaners to baby strollers. The genesis of his "recyclable" trash obsession comes with its own story, but should not be revealed here, except to say that, among many other things, it is the source of a hilarious riff on the MacArthur ("Genius Grant") Fellowships.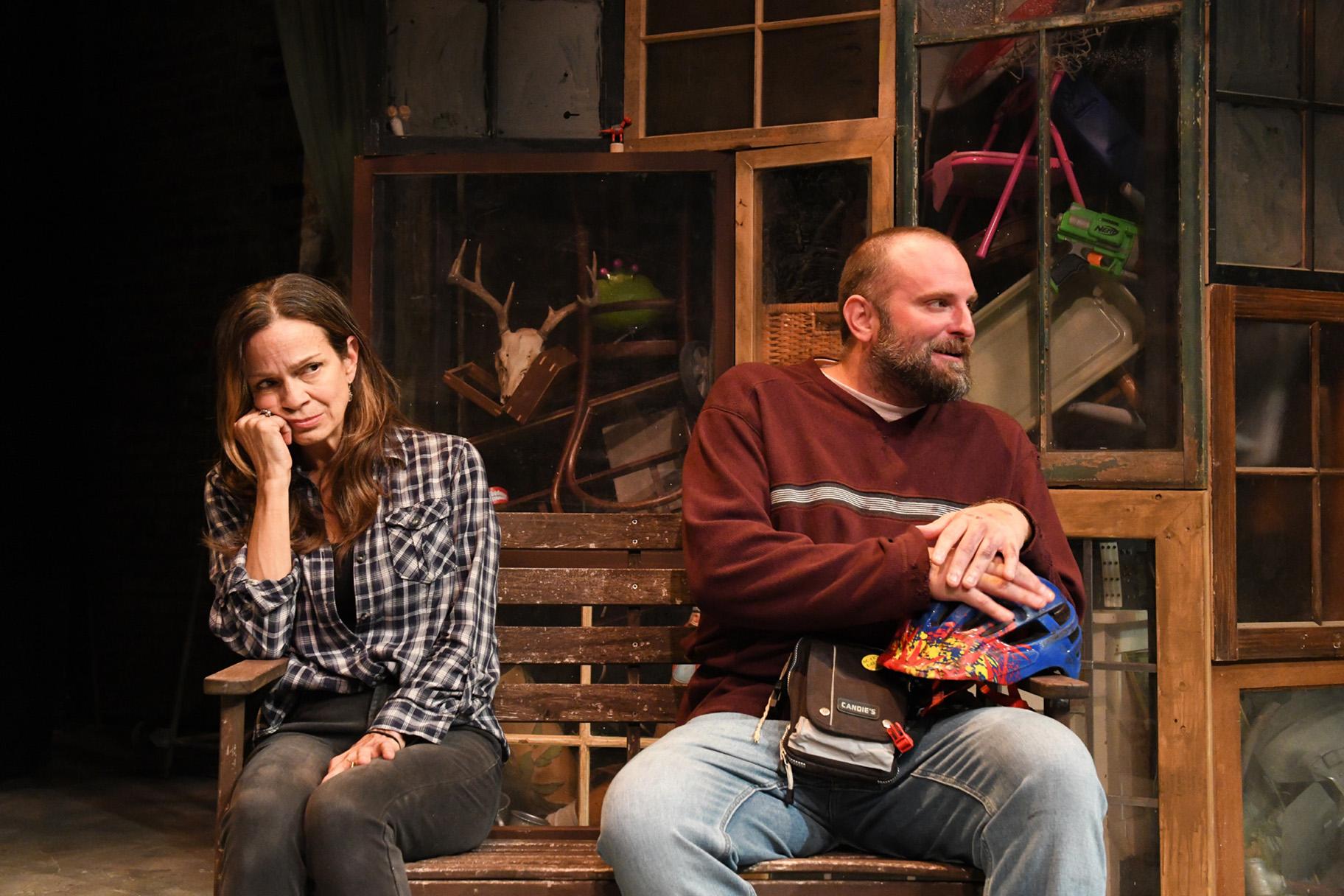 Rebecca Jordan and Joseph Wiens in "Be Here Now." (Photo by Evan Hanover)
To be sure, there is a touch of genius in Laufer's choice of workplace – a "fulfillment center" that is anything but fulfilling, especially to Bari. In addition, her date with Mike is a disaster. And despite the pleading of both her co-workers and Mike, Bari's increasingly terrifying headaches and seizures suggest something is very wrong with her, although she refuses to see a doctor.
All this might sound a bit contrived. But as she demonstrated so winningly in her earlier play, "End Days," Laufer has an exceptional gift for being at once sharp-witted and compassionate, for shifting from comedy to despair in the blink of an eye, and for deftly illuminating the human condition, and matters of faith, grief, guilt and the various modes of psychic survival. And with her knife-sharp direction and spot-on casting of "Be Here Now," director Sandy Shinner demonstrates that she is an ideal orchestrator of Laufer's work.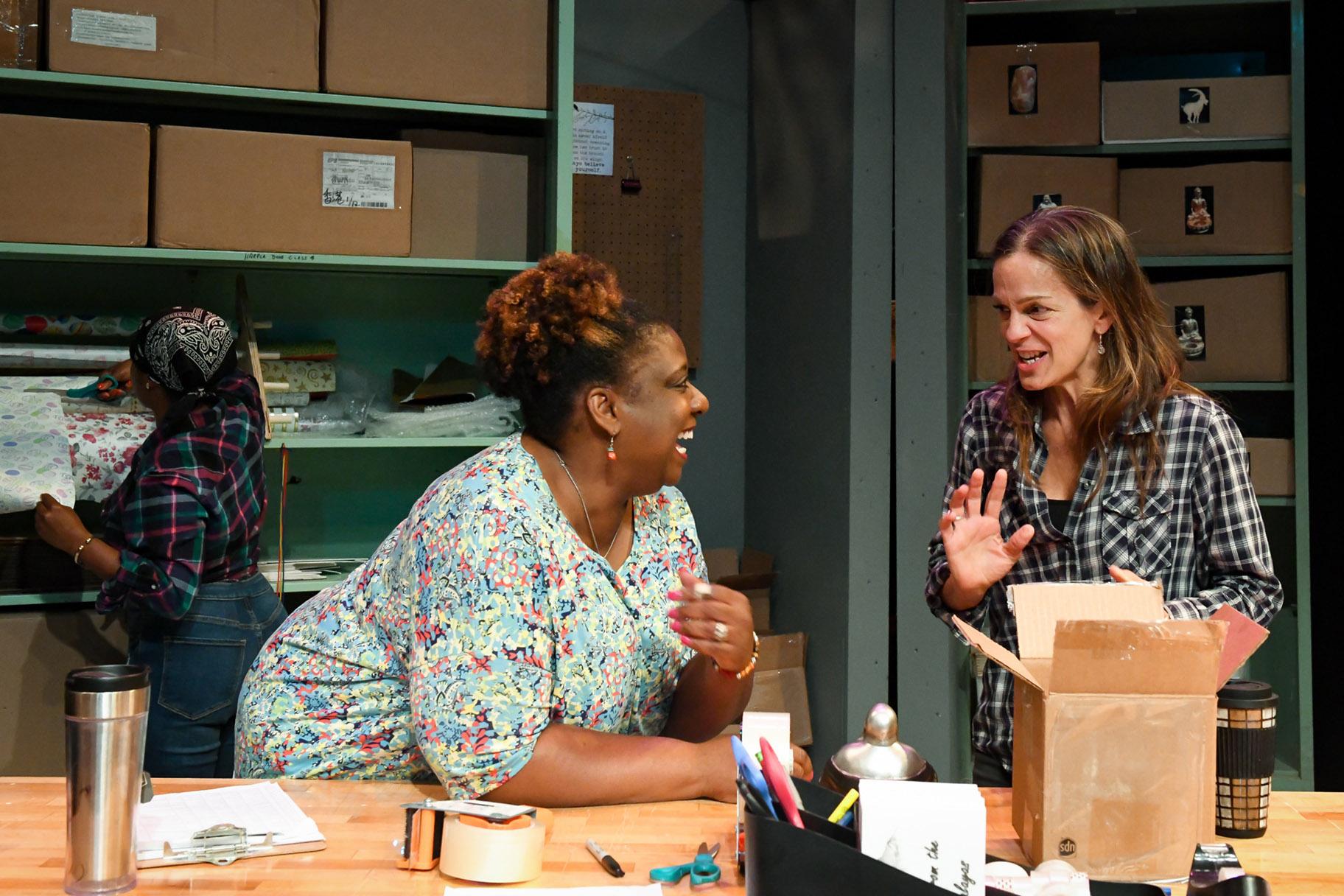 From left: Demetra Dee, Deanna Reed-Foster and Rebecca Jordan in "Be Here Now." (Photo by Evan Hanover)
Rebecca Jordan gives a riveting performance as a woman whose anger is a cover for deep unhappiness, loneliness and fear. And Wiens is superb as her counterpart – a smart, damaged, lonely, quirkily visionary man who has found a way to literally "rebuild" his life. In addition, Foster, a veteran Chicago actress, and Dee, a young talent with comic chops and charm, light up the stage with their high spirits.
There is a fifth "character" in this production, too, in the form of Angela Weber Miller's brilliant set – a collage of grimy windowed walls through which you can see the countless piles of discarded objects that have been collected by Mike, and in some way are waiting to be brought back to life by him.
The title of Laufer's play really says it all, serving not so much as a command, but as a plea to dispense with crushing "goals" and the delusional belief in an "afterlife," and to instead live in the moment, seize the day and "be here now."
The Shattered Globe Theatre production of "Be Here Now" runs through Oct. 19 at Theater Wit, 1229 W. Belmont Ave. For tickets ($42) call (773) 975-8150 or visit shatteredglobe.org. Running time is 90 minutes with no intermission.
Follow Hedy Weiss on Twitter: @HedyWeissCritic
---
Lyric Opera Names Its Next Music Director: Enrique Mazzola
'The Band's Visit' Captures the Special Magic of an Unexpected Encounter
Jeff Award Nominations a Reminder of the Season Spotlighted as 'Year of Chicago Theater'
---