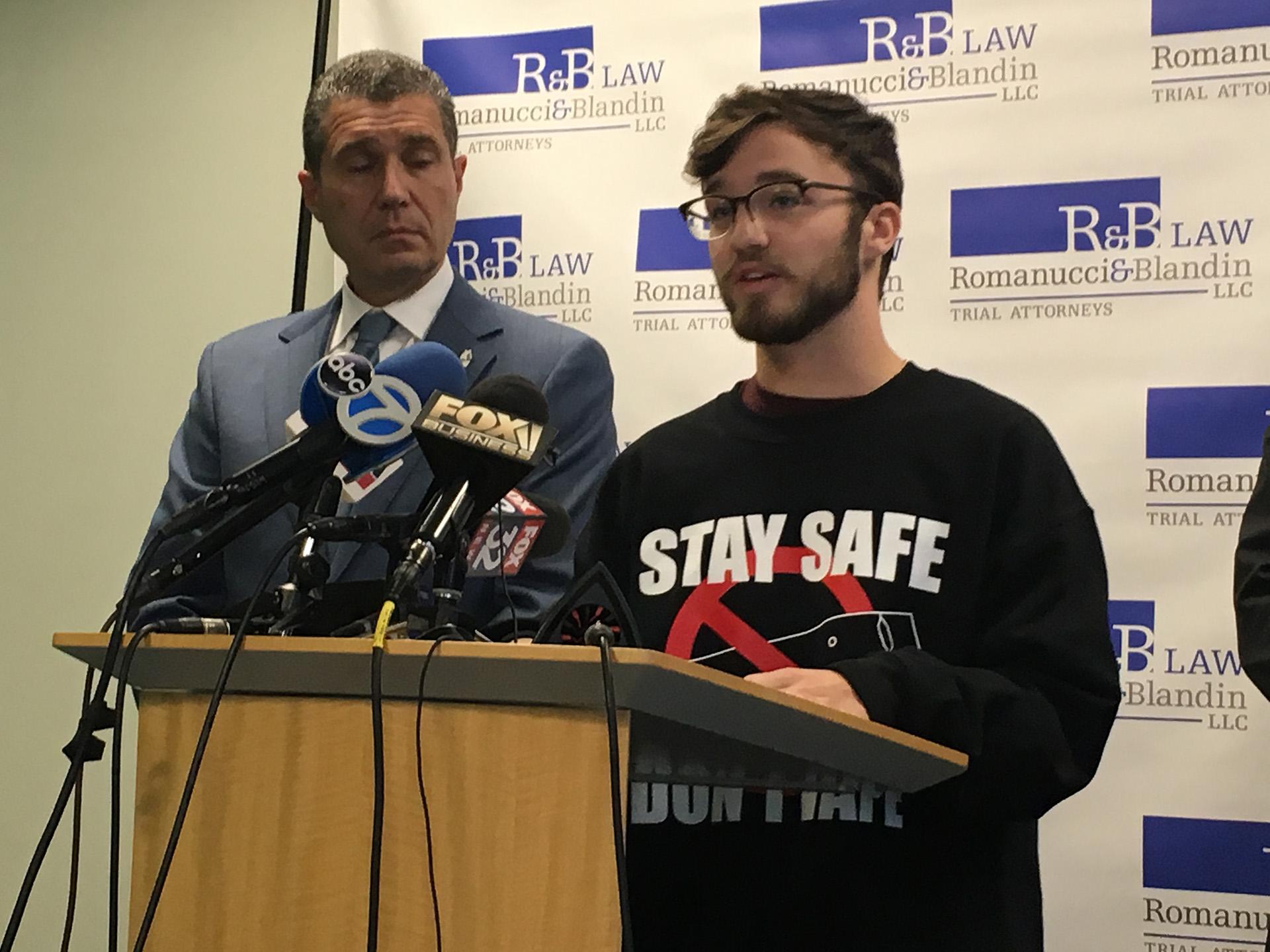 Gurnee resident Adam Hergenreder, 18, right, talks about how he began using e-cigarettes at a Friday, Sept. 13 press conference alongside his attorney Antonio Romanucci. (Kristen Thometz / WTTW News)
Gurnee resident Adam Hergenreder, 18, looks like a typical teenager, but his lungs tell a different story.
"I've been told by medical professionals that my lungs are that of a 70-year-old," Hergenreder said Friday at a press conference announcing legal action against a major e-cigarette maker.
Late last month, the teen was admitted to the hospital where doctors discovered he had severe lung damage. Prior to his hospitalization, Hergenreder said he experienced tremors, had difficulty breathing and had been throwing up for days. Doctors told him if he had showed up any later he likely could have died.
Hergenreder said he began vaping to "fit in" with his classmates and friends at age 16, and that when he started using e-cigarette devices, he didn't know they contained nicotine. He thought the products were safe. 
"I vaped several times a day," he said, adding that he preferred mint and mango flavors. "At the height of my habit, I was smoking almost a pod and a half every two days, which equates to several packs of cigarettes."
Now, Hergenreder is filing a lawsuit against e-cigarette maker Juul Labs and a Waukegan gas station where he bought the products underage. Illinois residents must be 21 to purchase tobacco products.
"Adam is one of millions of teens who unknowingly took up vaping completely unaware of the adverse harmful effects until it was almost too late," attorney Antonio Romanucci of Romanucci & Blandin said at the press conference Friday.
The lawsuit, filed in Lake County Circuit Court, alleges Juul used deceptive marketing tactics to target adolescents, which led to widespread addiction to vaping products with highly concentrated sources of nicotine and other harmful chemicals.
Juul launched a massive online and social media advertising campaign filled with young, attractive models "smoking Juuls and partying in provocative, sexual settings to lure the next generation of nicotine addicts," according to the lawsuit.
"Adam didn't stand a chance to avoid getting hooked on these toxic time bombs," Romanucci said. 
Juul is facing mounting scrutiny by attorneys general across the country. A company spokesperson told WTTW News its products are intended for adult use and that it has launched an action plan to combat underage use. "Our product has always only been intended to be a viable alternative for the one billion current adult smokers in the world," the spokesperson said. "We have never marketed to youth and do not want any non-nicotine users to try our products." 
Romanucci disputes that claim, saying the company advertises at events that attract younger audiences, like Lollapalooza. "When Juul is marketing its products at events like that they're bound to wind up in the hands of kids, like Adam, because it looks like a cool product," he said.
Gas Stop, a gas station located at 2720 W. Washington St. in Waukegan, is also named as a defendant in the lawsuit because retailers are "equally culpable" in fueling the youth vaping addiction, according to Romanucci. The lawsuit states Hergenreder was never asked to show identification when purchasing Juul products from the Gas Stop, which did not answer calls for comment by WTTW News.
The lawsuit comes a day after the Illinois Department of Public Health reported 52 confirmed hospitalizations in Illinois for similar illnesses since May, including one death. A dozen more reports are under investigation, according to the agency.
U.S. government officials on Thursday refined how such illnesses are being measured, and reported 380 confirmed and probable cases in 36 states and one U.S. territory, reports the Associated Press. The new tally from the Centers for Disease Control and Prevention counts only breathing illnesses with abnormal chest X-rays, a recent history of vaping, and lab work that rules out infectious diseases or other possible causes. 
As health officials issue warnings against using e-cigarette products, the federal government announced plans this week to propose a ban on thousands of flavors used in the devices to combat a recent surge in underage vaping.
IDPH has been working with a team from the CDC, the Food and Drug Administration and health departments in other states to identify the names and types of vaping products linked to the hospitalizations, as well as where they were obtained.
No single vaping device, liquid or ingredient has been tied to all of the illnesses, officials said. Reported symptoms have included coughing, shortness of breath, fatigue, diarrhea and vomiting, which worsen over a period of days or weeks before hospital admission. 
The American Vaping Association claims black market THC products are to blame for the reported illnesses, not nicotine vaping products. Many of the sickened – but not all – said they had been vaping THC, the chemical that gives marijuana its high, according to health officials. Hergenreder admitted to using both nicotine and THC products, but contends he primarily used products that contained nicotine. 
He urges anyone who is vaping to stop. "If you are thinking about (starting vaping), just take 10 seconds to evaluate what you're about to do and educate yourself about the Juul," he said.
While Hergenreder is now feeling better, he says he still has a difficult time climbing up stairs and isn't able to dance and move around like he used to.
"It'll be a lifelong road to recovery because in 10-15 years, I don't know what my lung capacity will be," he said.
The Washington Post reported last week that some state and federal health officials had linked vaping illnesses to a chemical derived from vitamin E. But the Illinois Department of Public Health says state officials have "not identified a specific causative agent" and are continuing to "look at all products."
Illinois cases have been reported in Chicago and the counties of Champaign, Cook, DeKalb, DuPage, Henry, Kane, Kendall, Lake, Madison, McHenry, Peoria, Rock Island, St. Clair, Tazewell, Vermillion, Wabash, Will and Winnebago. Those affected are between the ages of 15-41, with a median age of 22, according to IDPH.
Contact Kristen Thometz: @kristenthometz | (773) 509-5452 |  [email protected]
---
Related stories:
Health Officials: Hospitalizations in Illinois Linked to Vaping Climbs to 52
Potency of Wisconsin THC Cartridges May be Higher than Claim
Government Will Propose Banning Flavors Used in E-Cigarettes
Wisconsin Man Accused of Making Illegal Vaping Cartridges
Lack of E-Cigarette Regulations Complicates Explanation for Lung Illnesses
Sen. Durbin Calls on FDA Commissioner to Act on Vaping Epidemic or Resign
US Health Officials Report New Vaping Deaths, Repeat Warning
Parents Sound Alarm on Vaping After Daughter's Near-Death Experience
Illinois Resident Who Was Hospitalized After Vaping Dies
---