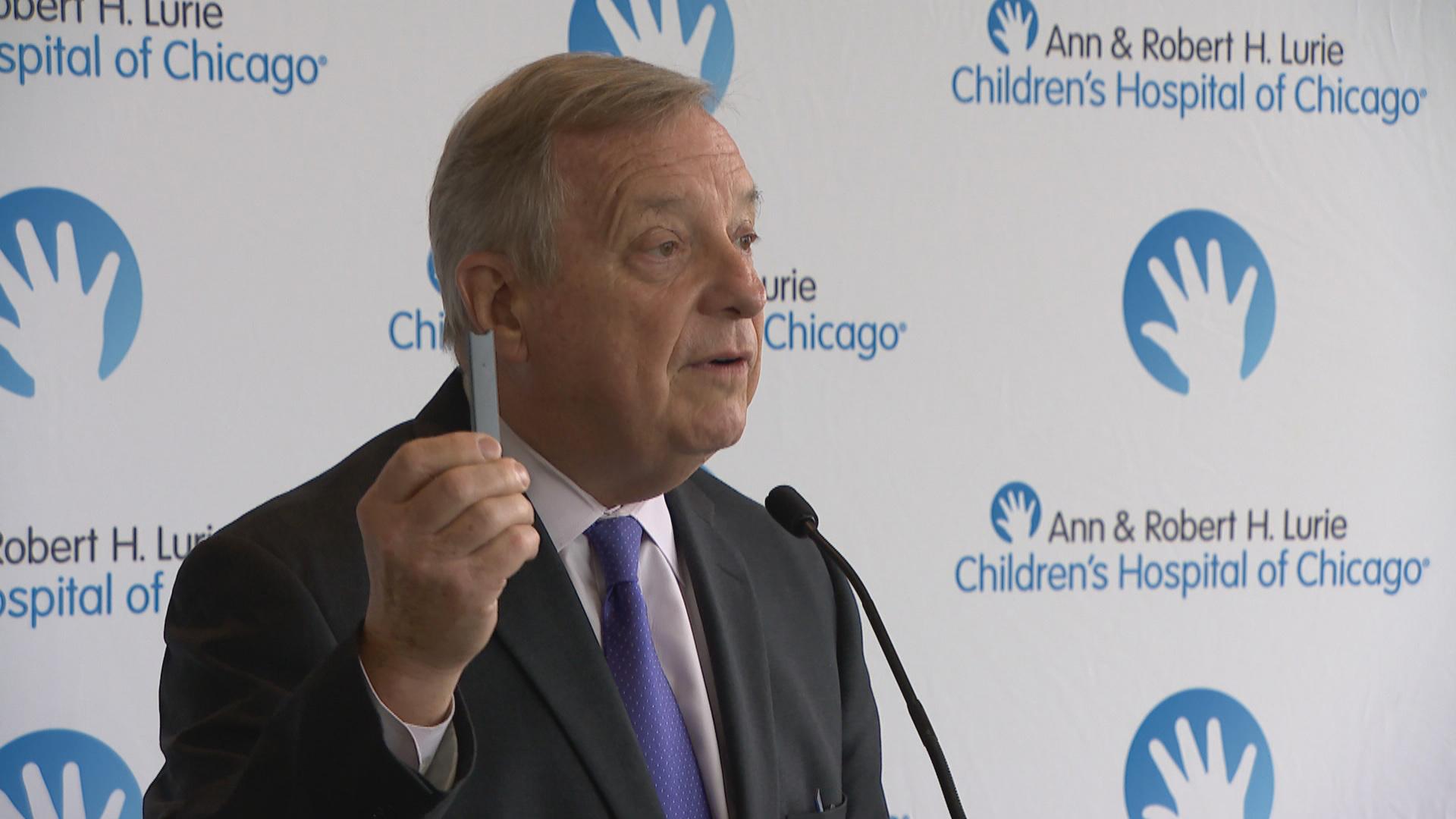 U.S. Sen. Dick Durbin calls on the Food and Drug Administration on Monday, Sept. 9, 2019, to take action to properly regulate e-cigarettes as the number of vaping-related illnesses and deaths continue to rise across the country. (WTTW News)
As the number of vaping-related illnesses and deaths continue to rise across the country, U.S. Sen. Dick Durbin is calling on the head of the U.S. Food and Drug Administration to take action to properly regulate e-cigarettes or step down.
Health officials reported last week there have been about 450 possible cases nationwide of vaping-related illnesses, including 42 in Illinois, and as many as five deaths, the first of which was reported in Illinois.
In a Sept. 6 letter to FDA Acting Commissioner Dr. Ned Sharpless, Durbin says Sharpless alone has the power to stop the vaping epidemic, which could have been prevented.
"Our nation is in the midst of a public health crisis that could have been avoided if the Food and Drug Administration had acted at any point over the past 10 years to properly regulate e-cigarettes and the accompanying kid-friendly flavors and products," Durbin wrote in the letter. He also called for an immediate ban on all e-cigarette flavors other than tobacco, and devices that have not been approved for sale by the FDA.
No single vaping device, liquid or ingredient has been tied to all of the illnesses, officials said. Reported symptoms have included coughing, shortness of breath, fatigue, diarrhea and vomiting, which worsen over a period of days or weeks before hospital admission. 
"Previously healthy young people are getting seriously ill because our Food and Drug Administration has failed to protect them from the dangers of e-cigarettes," Durbin said at a Monday morning press conference. 
The American Vaping Association claims black market THC products are to blame for the reported illnesses, not nicotine vaping products. Many of the sickened – but not all – said they had been vaping THC, the chemical that gives marijuana its high, according to health officials.
Read: Lack of E-Cigarette Regulations Complicates Explanation for Lung Illnesses
The Washington Post reported last week that some state and federal health officials had linked vaping illnesses to a chemical derived from vitamin E. But in a statement responding to questions about that link from WTTW News, the Illinois Department of Public Health reiterated that Illinois has "not identified a specific causative agent" and is continuing to "look at all products."
In his letter, Durbin called on Sharpless to take action within the next 10 days or resign.
"If you continue to refuse to do your job – which is to protect the public health – then it is time to allow someone else to take the helm," he wrote.
Adolescent vaping has skyrocketed among Chicago pediatrician Dr. Maria Rahmandar's patients. "Flavoring is a primary component that attracts teens to these products," said Rahmandar, who works at Ann & Robert H. Lurie Children's Hospital of Chicago. "On a weekly basis, I am seeing teens who want to quit but can't stop using these powerful devices."
Over the past year, there's been a 78% increase in the number of high school students using e-cigarettes and a 48% increase in middle school students using the devices, according to Durbin, who wants Sharpless to send a letter to all schools warning of the health consequences associated with vaping and asking each school to ensure that message is conveyed to both parents and students.  
"As a clinician and a parent, I urge our members of Congress and FDA to act in the best interests of children and adolescents by regulating e-cigarettes, banning flavoring and restricting deceptive marketing that can lure vulnerable youth," Rahmandar said.
The Associated Press contributed.
Contact Kristen Thometz: @kristenthometz | (773) 509-5452 |  [email protected]
---
Related stories:
US Health Officials Report New Vaping Deaths, Repeat Warning
Parents Sound Alarm on Vaping After Daughter's Near-Death Experience
Health Officials Report 5 More Cases of Hospitalizations Linked to Vaping
Illinois Resident Who Was Hospitalized After Vaping Dies
City Reaches Settlements with 16 E-Cigarette Retailers for Selling to Minors
Vaping Companies Sue to Delay US Review of E-Cigarettes
Illinois Health Officials Report Hospitalizations Linked to Vaping
---