Labor Day looms, our fair frying friends. Thus we are sad to say that it's just about time to fold up our table, drain our trusty fryer, and say a fond(ish) farewell to our parking lot kitchen. But before we say goodbye for the summer, we have a Deep Frydays finale befitting our fair city – a teeny-wiener version of the Chicago-style hot dog.
What is there to say about the Chicago-style hot dog that has not already been rhapsodized about by Chicago's many scribes? It's a majestic ode to our city, brought to our third coast by immigrants, simmered in history, conceived at the Columbian Exposition and elevated to glory at a Rogers Park restaurant (that would be Fluky's) in 1929. It's a masterwork of flavors, colors and textures. Each ingredient retains its unique character even as it creates something greater than the sum of its parts. (And no, it doesn't need ketchup, but if you want to ruin your own food, this is still America and it's your absolute right.) And in that classic Chicago way, it's constructed so that you're getting some vegetables in while eating a tube of meat. In a city that seems like it's always changing, it's a comfort to know you're never far away from a steamed poppy seed bun tucked full of pure beef joy made just as it was when you were a kid, and when your parents were kids, and when their parents were kids.
Luckily for us, most of the bulkier components of the classic Chicago-style hot dog – the all-beef hot dog, tomato, pickle, sport pepper and onion – lend themselves well to skewering, and skewers lend themselves well to battering and frying. We added mustard, celery salt and poppy seeds to the batter for that all-important speckled appearance. And we used the final component, neon green relish, as a drizzle atop the fried skewer, because why hide that divine green color? If you want, you can remove the skewer and pile all this mess onto a bun, but it's a little ungainly and we found that the batter coating worked nicely as an appropriately speckly replacement for the bun.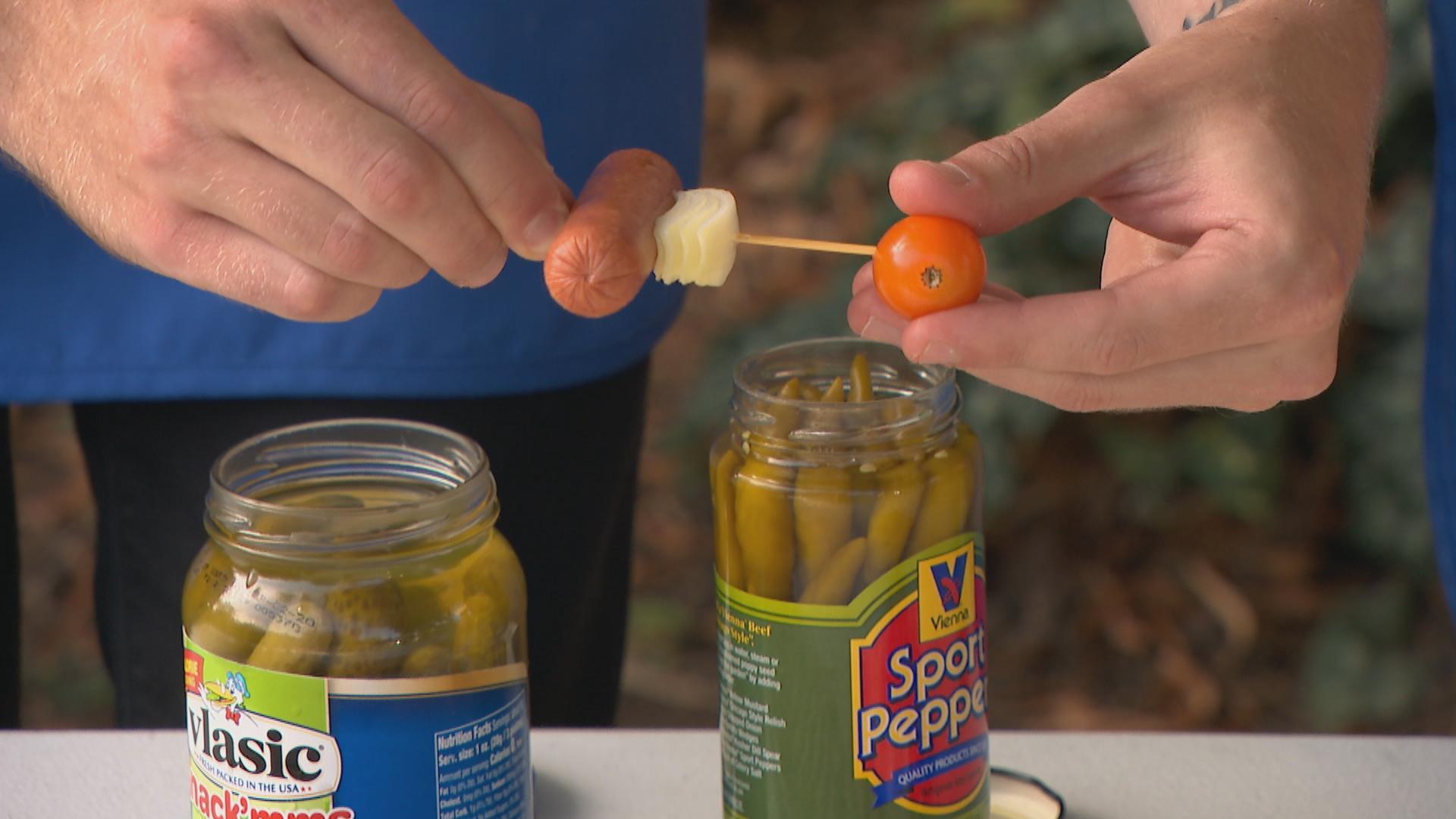 One last thing before we hop in the fryer: from the bottom of *our* all-beef hearts (and clogged arteries) thank you for joining us on this oily odyssey! We're hanging up the tongs for now, but watch this space for more adventures in the future. It's been an awfully good time, and we're hungry for more.
---
DEEP-FRIED CHICAGO STYLE HOT DOGS
• 12 mini beef hot dogs (or 6 regular-size hot dogs sliced in half crosswise)
• 12 cherry or grape tomatoes
• 12 ½-inch wedge of sliced onion
• 12 sport peppers
• 12 baby kosher dill pickles or gherkins
• 2 cups flour
• 2 eggs
• 1 cup beer
• 2 tbsps yellow mustard
• 1 tsp celery salt
• 1 tsp salt
• 1 tbsp poppy seeds
• Pickle relish to taste
Onto skewers, thread one each of hot dog, tomato, onion, pepper and pickle. (We used the hot dog and pickle as bookends. Delicious bookends.)  In a large bowl, whisk together flour, eggs, beer, mustard, celery salt, salt and poppy seeds. Dip skewers into batter, making sure all components are well-coated. Fry in hot oil until golden brown and heated through.
For a gluten-free batter, whisk together 2 cups rice flour and 1 ½ cups warm water, then let rest for 10 minutes. Add 2 tbsps yellow mustard, 1 tsp celery salt, 1 tsp salt, and 1 tbsp poppy seeds, then follow same frying directions as above.
---
More from our series:
Deep Frydays: Part of Your Complete Breakfast
Deep Frydays: Potato Chip-Crusted Polish Sausage
Deep Frydays: Fine, We're Doing Malort
Deep Frydays: Take a Pizza My Heart
Deep Frydays: Totally Tubular Tamales
Deep Frydays: Brownie Disaster
Deep Frydays' Maiden Voyage: Giardiniera Mix
---