For our summer series Deep Frydays, we take some of Chicago's favorite foods and, like the name says, we deep-fry them and deal with the big questions: How do you deep-fry deep-dish? Will it collapse in the heat like a poorly filled pothole? Can you deep-fry a feeling? Will we keep our jobs? Where's the defibrillator in this building? Let's find out together!
Many Chicagoans have sweet memories of the confection we're about to dunk in hot oil: the Frango mint. But they might be surprised to learn that those mint chocolate truffles nestled into a familiar green box treasured by so many (the signature candy of that most venerable of Chicago shopping institutions, Marshall Field's – now, reluctantly, Macy's) were created not in Chicago, but in Seattle.
That's right, friends: SEATTLE. The recipe was originally developed at the Frederick & Nelson department stores in the Pacific Northwest city in 1918. When Frederick & Nelson was acquired by Marshall Field's in 1927, they also acquired the recipe, and began making the mints on the 13th floor of the flagship Marshall Field's store, where they were made in giant melting pots for the next 70 years. In 1999, Frango production was moved to a Pennsylvania company. Much of the candy's production remains there today with one exception: one-pound boxes of Frango mints are made at Cupid Candies on the South Side for local distribution. And there's one more Chicago tie: another treasured local food brand, Garrett Brands (as in Garrett's Popcorn), purchased the rights to the Marshall Field's Frango recipe in 2017.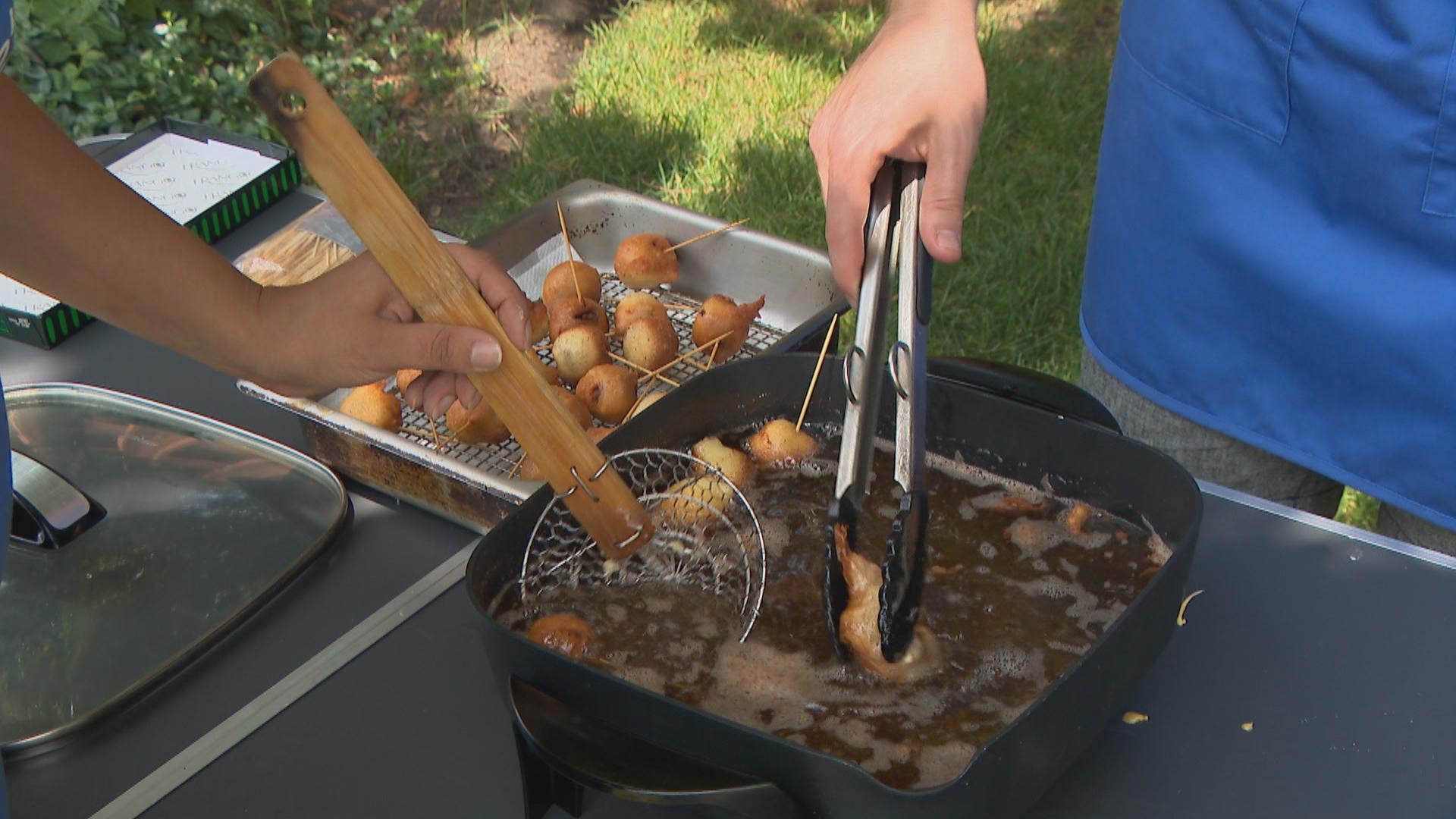 Frango fans would probably say that the mints are already perfect, so why mess with perfection? But here at Deep Frydays, we believe that nothing can't be improved upon by a crispy outside and gooey inside. Happily, that's exactly what we got by dunking Frangos into pancake batter and frying them up. Pile a few of these into a bowl, sprinkle with powdered sugar, and you've got a decadent dessert fit for even the fanciest of Marshall Field's shoppers. Just one thing – learn from our mistake and don't do it under the hot sun. Those Frangos soften up mighty fast.
---
DEEP-FRIED FRANGOS
• 1 cup all-purpose flour
• 1 teaspoon baking powder
• 1/2 tablespoon sugar
• 1/2 teaspoon salt
• 1 large egg
• 3/4 cup milk
• 15-20 Frango mint chocolate truffles
Whisk together dry ingredients, whisk in egg and milk until relatively smooth (a few lumps are fine). Push a skewer into a Frango, dunk in the batter, and then fry briefly until golden.
For the gluten-free version, we used a commercial gluten-free pancake mix like Bob's Red Mill.
---
Related stories:
Deep Frydays: Take a Pizza My Heart
Deep Frydays: Totally Tubular Tamales
Deep Frydays: Brownie Disaster
Deep Frydays' Maiden Voyage: Giardiniera Mix
---