For our summer series Deep Frydays, we take some of Chicago's favorite foods and, like the name says, we deep-fry them and deal with the big questions: How do you deep-fry deep-dish? Will it collapse in the heat like a poorly filled pothole? Can you deep-fry a feeling? Will we keep our jobs? Where's the defibrillator in this building? Let's find out together!
Today's sacrifice to the gods of hot oil: Polish sausage.
It has been said (not necessarily truthfully, but it has been said) that at its peak, Chicago's Polish population was surpassed by only one other city: Warsaw, that actual capital of Poland. True or not, that's a whole lot of Poles. Thus it's only fitting that to this day, Chicago maintains a strong Polish identity, especially because they were here in the 1830s when Chicago was little more than a village.  And like other ethnic groups, the Polish created their own neighborhoods all around Chicago, and in time, their contributions were recognized by streets and parks named for their historic heroes, Casimir Pulaski and Tadeusz Kosciusko on the Northwest Side. Even Bears coach Mike Ditka hailed the Chicago Polish spirit when he called his hard-driving team "Grabowskis."
But perhaps no contribution is more a part of the everyday in Chicago than the Polish sausage, or kielbasa. You can of course find it in Polish restaurants served the traditional way with sauerkraut, but when it's split, grilled and topped with mustard and onions Maxwell Street-style, and slapped into a bun, the Polish transforms into something uniquely Chicago, a meal worthy of a fifth star on our beloved flag.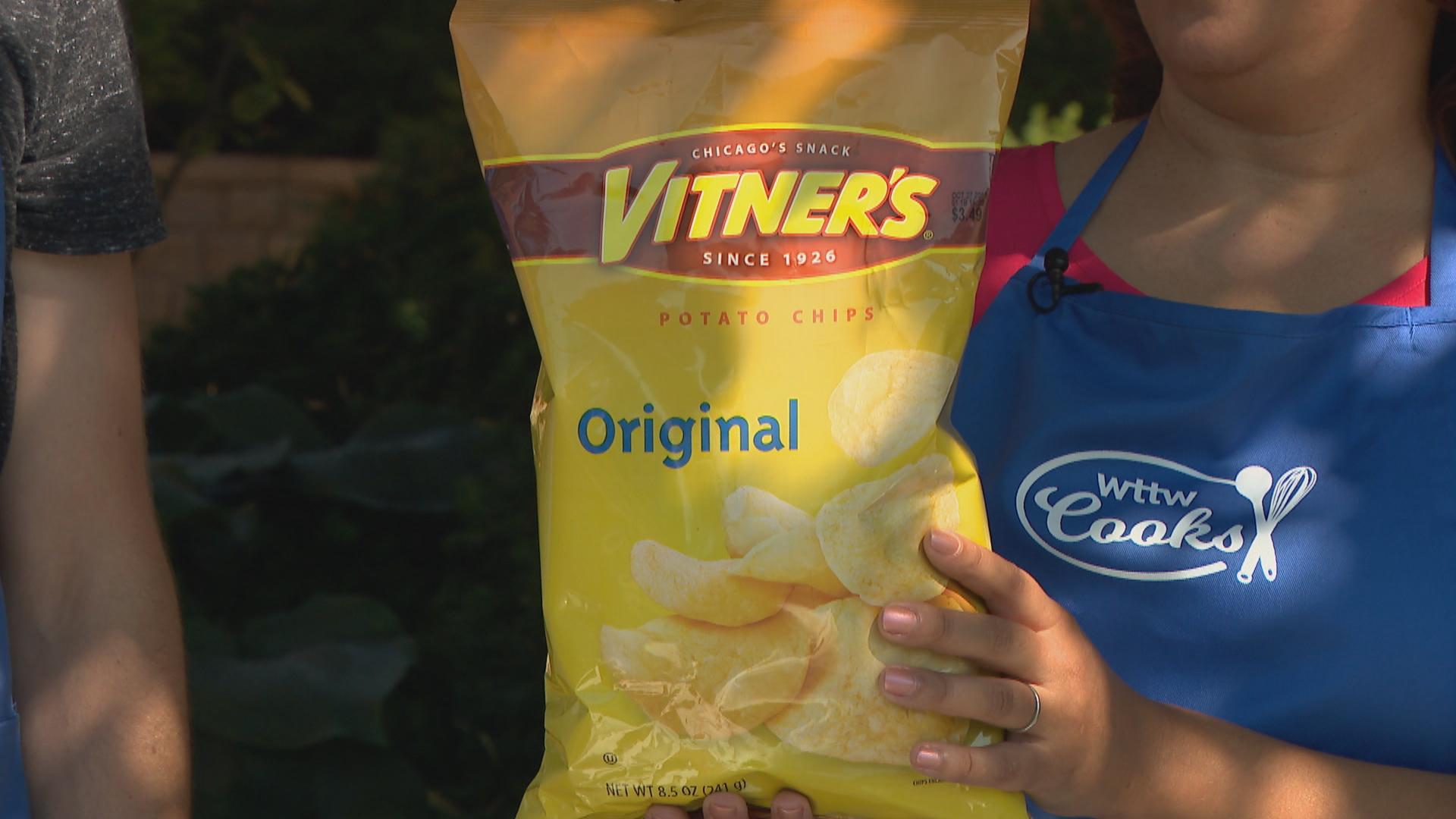 One of the neighborhoods Poles flocked to was Archer Heights on the South Side, which in the 1920s became home to potato chip company Vitner's Snacks, a brand familiar to any Chicagoan who's bought a Polish and chips from a corner hot dog stand. And what else would you top off that Polish with than another brand familiar to the sausage aficionado with Chicago origins: Plochman's mustard, available in the cute little yellow barrels at your local Jewel's.
Naturally we wondered, is it possible to make this classic combination … well, greasier? Where there's a fryer, there's a way. Get your tongs ready.
DEEP-FRIED POTATO CHIP-CRUSTED POLISH SAUSAGE
• 1 pound kielbasa, sliced into ½-inch rounds
• 2 eggs, beaten
• 2 cups finely crushed potato chips (this is also a good way to use up leftover potato chips, if such a thing exists in your household).
Slice the kielbasa into ½-inch rounds. Dip slices into beaten egg, then roll in potato chip crumbs. Fry in hot oil until golden. Top with a dollop of mustard and break out the fancy paper plates for an hors d'oeuvre worthy of the 16-inch softball championship game.
---
Related stories:
Deep Frydays: Fine, We're Doing Malort
Deep Frydays: Take a Pizza My Heart
Deep Frydays: Totally Tubular Tamales
Deep Frydays: Brownie Disaster
Deep Frydays' Maiden Voyage: Giardiniera Mix
---