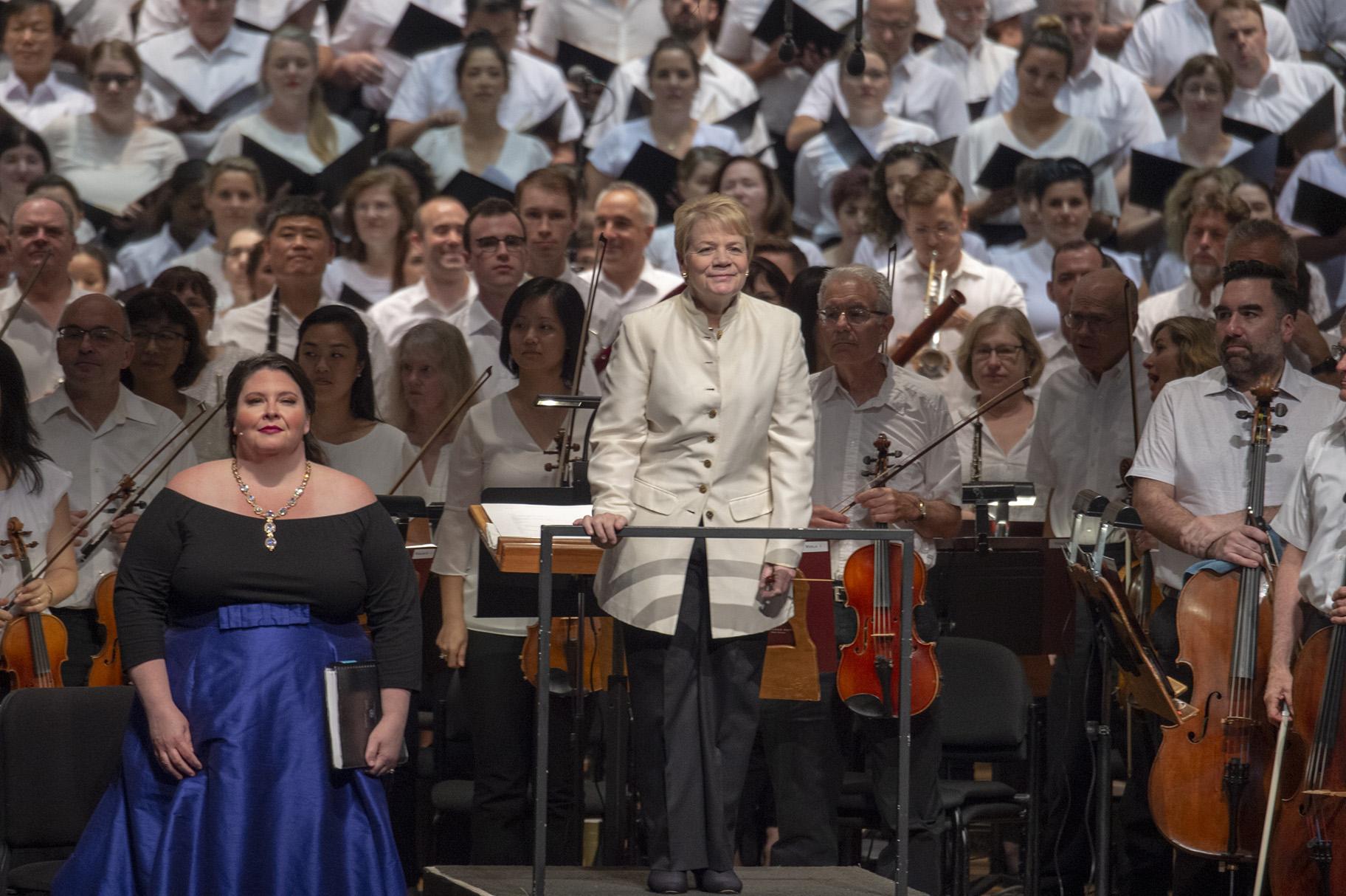 Conductor Marin Alsop, center (Credit: Ravinia Festival / Patrick Gipson)
Leonard Bernstein, the polymorphously gifted conductor, composer, educator and activist, was born in 1918. And the widely celebrated 100th anniversary of his birth that began last year is now in the midst of a grand-scale finale as the Ravinia Festival moves through its second summer of programs devoted to all aspects of his legacy.
This past weekend saw two monumental concerts that explored the man's career both directly and indirectly. Both were conducted by Marin Alsop, curator of Ravinia's Bernstein project, who also happened to be Bernstein's final protégé.
The first concert, on Friday night, brought together 398 instrumentalists and vocalists (the Chicago Symphony Orchestra and Chorus, the Milwaukee Symphony Chorus, the Chicago Children's Choir and eight operatic soloists), for a performance of Gustav Mahler's Symphony No. 8 (hyperbolically subtitled "Symphony of a Thousand"). Bernstein, of course, was a fervent interpreter of Mahler's work, so the choice of this symphony – a musically and philosophically complex piece that delves into the nature of spiritual and erotic love, intimations of death, the notion of redemption, the crucial role of women in faith, and even riffs on Goethe's "Faust" – was no accident. It also served as an intriguing counterpoint to Bernstein's massive "Mass," which Alsop had conducted just a week earlier.
The second program, on Saturday night – under the umbrella title of "Leonard Bernstein: Man for All Music" – was a wonderfully wide-ranging and affectionate portrait of the artist in all his musical guises. Along with the commentary supplied by his daughter, Jamie Bernstein, there were several priceless archival video clips projected on large screens, a trio of performances by three young artists who Bernstein would have adored, the sublime playing of the CSO, and singing by four vocal soloists and members of Windy City Performing Arts.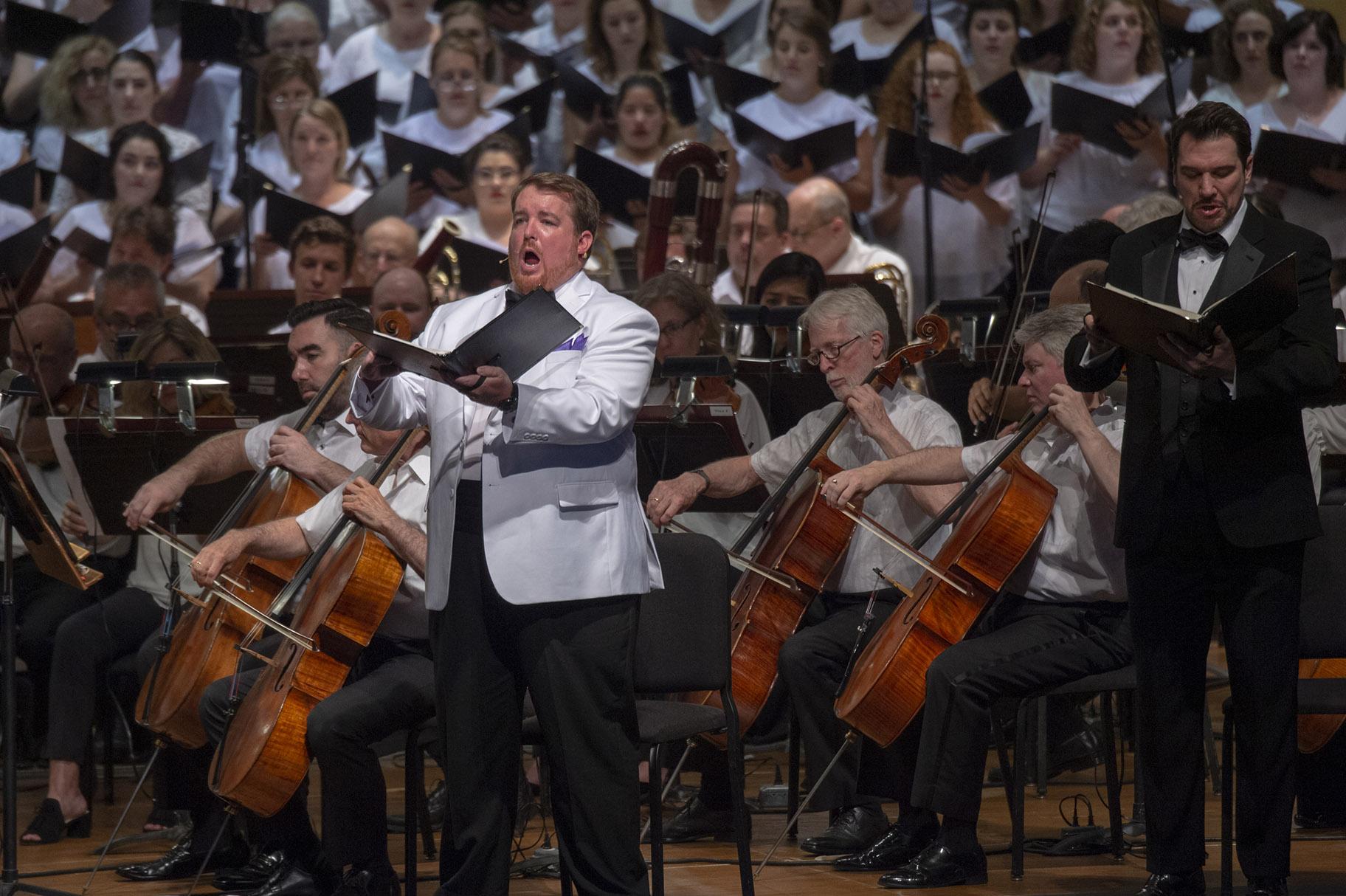 A performance of Gustav Mahler's Symphony No. 8 (Credit: Ravinia Festival / Patrick Gipson)
I confess I much prefer the haunting beauty of Mahler's Symphony No. 5. But the rich theatricality of the 100-minute Eighth was captured by the clarion voices of sopranos Angela Meade and Leah Crocetto, the brief but exquisite rendering of a meditative passage by Jeanine De Bique, the forceful singing of mezzo-sopranos Michelle DeYoung, Kelley O'Connor and the dramatic heft of tenor Clay Hilley, baritone Paulo Szot and lustrous bass-baritone Ryan Speedo Green.
The adult choir was radiant throughout. And the CSO – from clarinets and flutes, to horns and percussion, with a notably beautiful violin passage played to perfection by Stephanie Jeong – was superb. But most beguiling of all was the work of the 45 members of the Chicago Children's Choir, who sang without scores, and whose heavenly voices, expressive faces and rhythmic hand movements were a grandly redemptive, hope-inducing force in and of themselves.
Alsop, music director of both the Baltimore Symphony Orchestra (now besieged by a labor dispute not entirely different from that which faced the CSO earlier this year), and Brazil's São Paulo Symphony – and the newly named chief conductor of the Vienna Radio Symphony Orchestra – was impressive, not simply for the way she blithely yet energetically wielded control of every element of Mahler's grandiose work, but for her sheer endurance.
The Bernstein "survey" concert provided an ideal sampling of the composer's remarkable facility in every form of music, with his daughter explaining how his work on Broadway musicals, that most collaborative of forms, satisfied his hunger to interact with people and relieved the loneliness that came with the writing of symphonic works.
The program began with the rollicking Overture to Bernstein's quasi-operatic musical, "Candide," and ended with the soaring, anthemic-like finale to that show, "Make Our Garden Grow."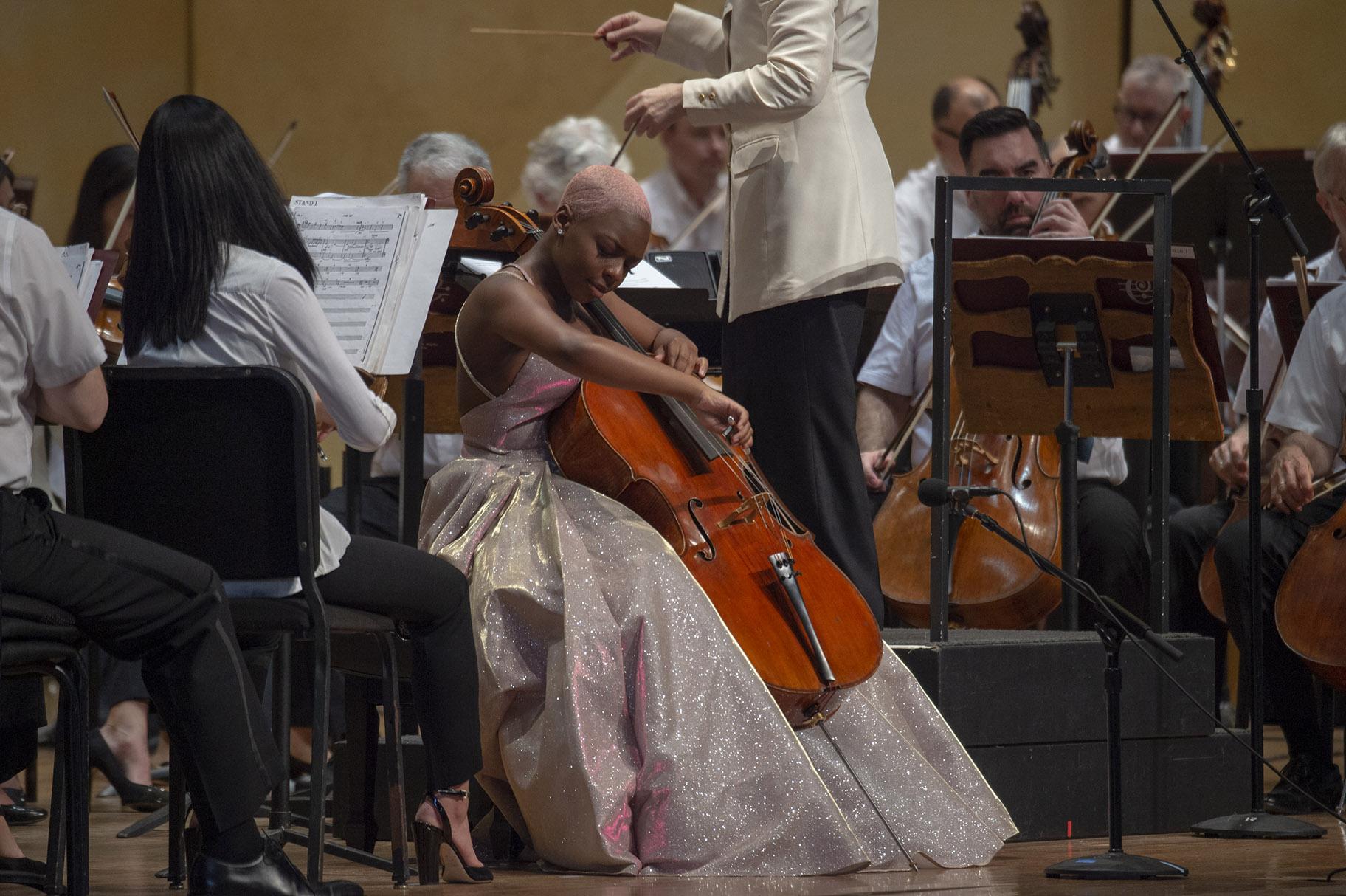 Chicago-born cellist Ifetayo Ali-Landing (Credit: Ravinia Festival / Patrick Gipson)
Along the way there was the scene-setting opening ballet music, "Times Square: 1944," from the musical "On the Town," and the lovely, "Simple Song," from "Mass," winningly sung by Szot in a manner true to the title. Also drawn from "Mass, was "Meditation No. 3," played with impressive fire by the 16-year-old Chicago-born cellist Ifetayo Ali-Landing (resplendent in a gold and rose gown, and hair to match).
But what truly stopped the show was a bravura, dazzlingly sophisticated performance by the 13-year-old pianist Harmony Zhu, who arrived on stage – a slender little beauty in a blazing red dress – and proceeded to give a knockout performance of "The Masque" and "The Epilogue" from Bernstein's Symphony No. 2 ("Age of Anxiety"), inspired by the W.H. Auden poem. Zhu's technical brilliance (she is as adept at a bravura jazz riff as she is with a classical line) is breathtaking, but her impeccable phrasing, and the pure, seemingly effortless delight she takes in playing are simply irresistible. It will be fascinating to see where this musician (who also happens to be a gifted composer), goes in the coming years.
A third young virtuoso, violinist Charles Yang (in sleek hipster garb and haircut) gave an ideally feverish performance of an excerpt from "Socrates: Alcibiades" from "Serenade," inspired by Plato's "Symposium" and its meditations on love.
(Bernstein, it should be remembered, introduced television audiences to both a 7-year-old Yo-Yo Ma and a 16-year-old André Watts.)
Opera singers often bring their volcanic voices to Broadway songs, but they don't always nail the style. Isabel Leonard came closest in excerpts from "West Side Story" (paired with with Szot). She also gave a winningly understated rendering of "So Pretty," a rarely heard anti-Vietnam War song first sung by Barbra Streisand.
(Credit: Ravinia Festival / Patrick Gipson)
Michelle DeYoung made a zesty stab at the comic, proto-feminist "One Hundred Easy Ways to Lose a Man" (from "Wonderful Town"), but I wish the honor had been given to Chicago actress Bri Sudia, who nailed the song so memorably in the Goodman Theatre production of the show a few years ago.
Among the brief video clips projected during the concert was one from Bernstein's fabled "Young People's Concerts." The series of 53 programs he made with the New York Philharmonic between 1958 and 1972 were televised on CBS, and appealed to adults every bit as much as to children. And watching the clip it was impossible not think that a whole new series of such concerts should be devised for this moment in the 21st century – a time when music education is so painfully missing in many schools, and symphony orchestras are under siege.
Of course, no single person could duplicate Bernstein, but a cross-section of orchestras and high-profile musical artists from many different fields could suggest the interconnection of musical styles and spin music history in creative ways. And a company like Netflix could underwrite the series, providing free usage of it to public schools. In the process it could even earn points for being an exemplary corporate citizen.
Follow Hedy Weiss on Twitter: @HedyWeissCritic
---
In 'Ghost Quartet,' a Maze of Stories Brought to Life With Haunting Music
American Blues Theater Reveals Luminous Glow of 'The Spitfire Grill'
Thoughts on a Trio of Musical Theater Classics
5 Chicago Theater Recommendations: 'Music Man,' 'True West' and More
---