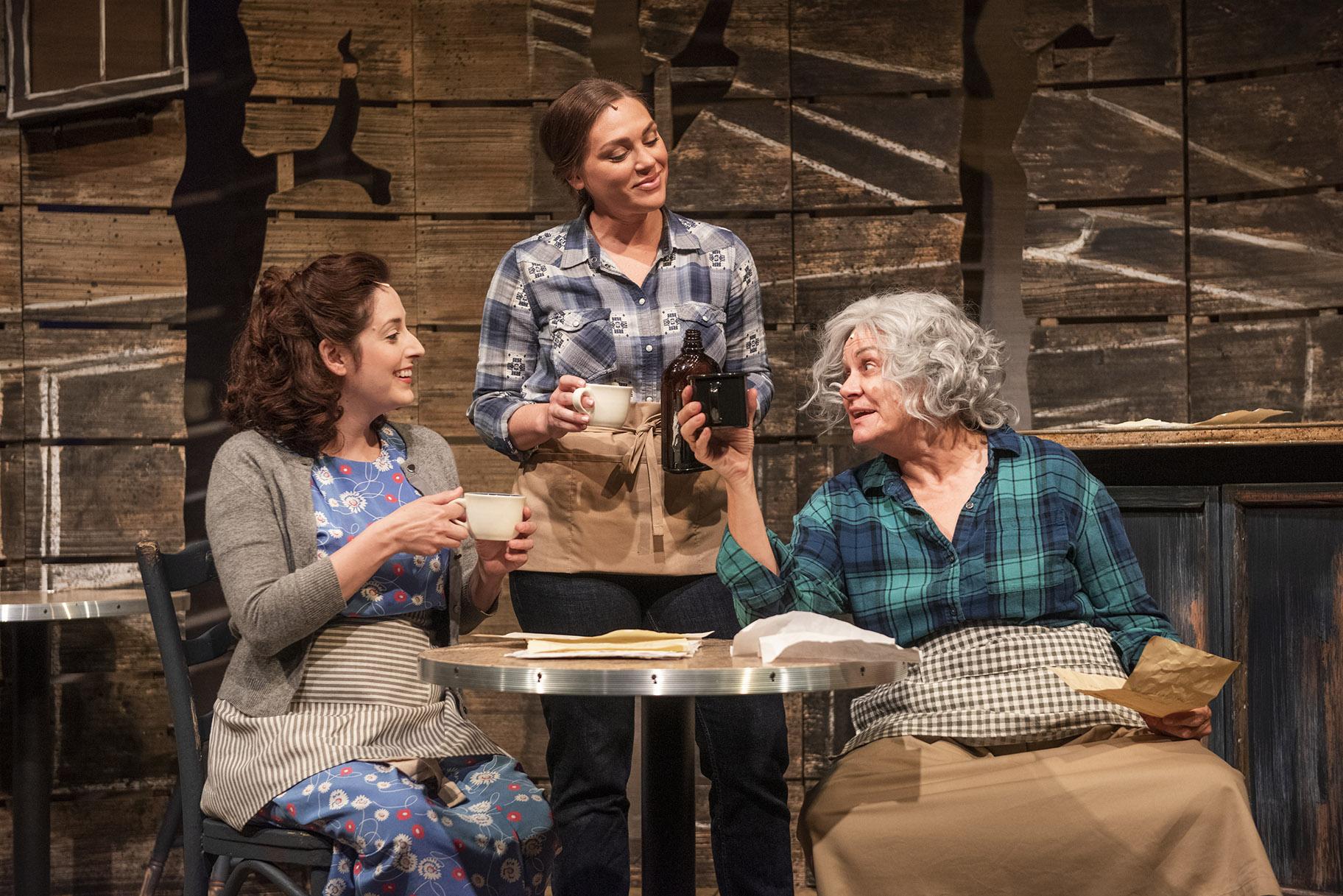 From left: Dara Cameron, Jacqulyne Jones and Catherine Smitko in "The Spitfire Grill." (Photo by Michael Brosilow)
Maybe it has simply been hiding in plain sight all along. Or maybe this just happens to be the ideal moment in which to bring it back to life. Either way, the altogether luminous American Blues Theater production of "The Spitfire Grill" – the 2001 musical with a soaring, intensely poetic score by James Valcq and Fred Alley based on the 1996 film by Lee David Zlotoff – is an uncannily timely beauty that deserves to be far better known. And this exquisitely rendered revival – expertly realized by director Tammy Mader, music director Malcolm Ruhl, and a uniformly ideal cast of seven – delivers both a rare emotional punch and a winning sense of forgiveness, redemption and love.
The musical (which includes a number of significant changes from the film), follows the fate of Percy Talbott (in a remarkable performance by Jacquelyne Jones), who has just been released after spending five years in prison. She hopes to remake her life in Gilead, a small town in rural Wisconsin (whose name is full of Biblical references) that captured her imagination when she saw an idyllic autumnal picture of the place in a book in the prison library.
Percy's arrival is met with anything but a warm welcome, and the town turns out to be something of a Rust Belt casualty whose fortunes turned sour when years earlier its quarries were closed, and the fate of the much-admired young son of a World War II hero who signed up to serve in the Vietnam War went awry. Her first encounter is with the sad-eyed, warm-hearted Sheriff Joe Sutter (Donterrio Johnson), who will be her parole officer. He manages to get her a job and lodging at The Spitfire Grill, the only diner in town, which has been run for decades by Hannah Ferguson (Catherine Smitko), a sour old woman with a bad hip and a dark secret. And while Hannah initially treats Percy with contempt, her attitude gradually changes after the young woman sees to it that she gets medical help after she breaks her leg in a bad fall.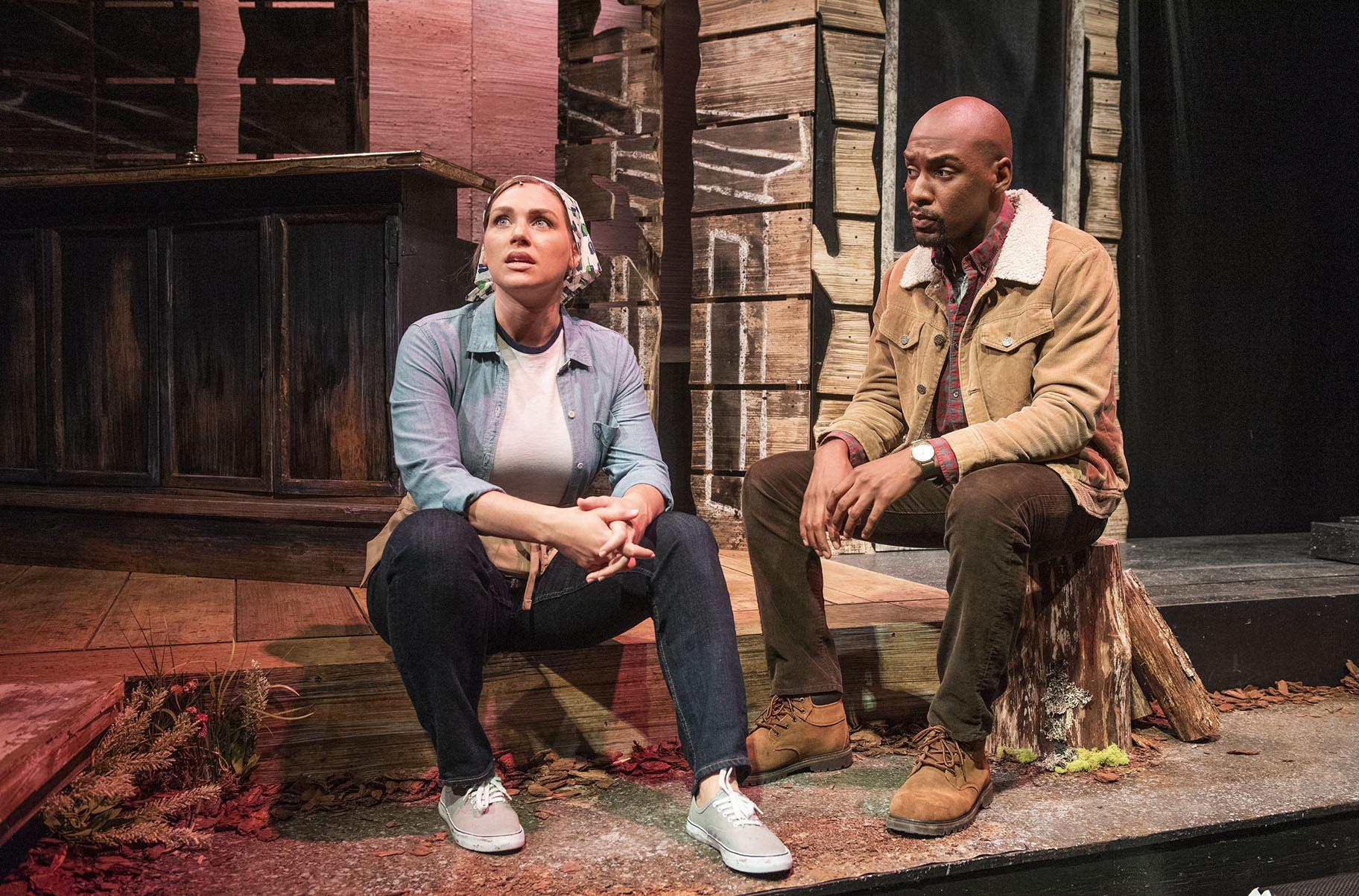 Jacquelyne Jones and Donterrio Johnson in "The Spitfire Grill." (Photo by Michael Brosilow)
Percy is no cook, so she is relieved when Shelby Thorpe (Dara Cameron), steps in to help keep the Spitfire going while Hannah is recovering. The job also happens to be the ideal escape for Shelby, whose husband, Caleb (Karl Hamilton), the town's bitter, unsuccessful real estate agent, takes his anger and frustration out on his wife.
The two women soon become friends and devise a plan for a national raffle contest that they believe will help Hannah sell the Spitfire. Applicants for the contest will have to send in a hundred dollars along with a letter explaining why they would like the property. The response is unexpectedly huge, suggesting that there are many people, like them, in search of a new life and a second chance.
Of course before it's all over there are countless twists and turns as Joe falls in love with Percy, as Percy's crime is revealed, as Shelby declares her independence, as Caleb vents his anger and his sense that America has failed him, and as Effy Krayneck (Gabrielle Lott-Rogers), the town gossip and nosy postmistress, actively spreads rumors. And then there is the matter of Hannah's ritual of leaving a loaf of bread outside the Spitfire each night – a loaf claimed by a mysterious "Visitor" (Ian Paul Custer).
The show's score is ravishing, with many heartrending ballads that range from semi-operatic arias and duets awash in heated emotions, to heartache-tinged country songs, to a lullaby. And just as the story moves through the changing seasons in Gilead, so do the songs ("The Colors of Paradise," "Forest for the Trees," "Wild Bird"), with lyrics full of the poetry of anguish and redemption, of hope and despair, of dreams both broken and newborn, and of the life-affirming wonders of nature. They also are expertly played by a band that includes Ruhl on accordion, Custer on keyboard, Greg Hirte on violin, Scott Sedlacek on guitar and mandolin, and Magdalena Sustere on cello.
From left: Jacqulyne Jones, Gabrielle Lott-Rogers, Karl Hamilton, Catherine Smitko and Donterrio Johnson in "The Spitfire Grill." (Photo by Michael Brosilow)
Jones, the formidable mezzo-soprano who won a Jeff Award for her performance as Mrs. Lovett in the Theo Ubique production of "Sweeney Todd," subtly but impressively suggests Percy's inner life and transformation, and brings to mind the difficulties faced by parolees. The clarion-voiced Cameron ideally captures the inner life of her character, as does Hamilton as her "make America great again" husband. And Smitko is a terrific actress who knows just how to hide her character's vulnerability.
The always-virtuosic Johnson is wonderfully low-keyed and vulnerable as the Sheriff with a forest full of dreams. Lott-Rogers is just sharp-edged and judgmental enough as Effy. And Custer is every bit as haunted as he must be.
Adding to the all-American fairy tale quality of "The Spitfire Grill" is designer Sarah E. Ross' abstract rustic set with its suggestion of raw wood, and Jared Gooding's painterly strokes of light that suggest the healing balm in Gilead.
All in all, a musical revelation.
The American Blues Theater production of "The Spitfire Grill" runs through Aug.17 at Stage 773, 1225 W. Belmont Ave. For tickets ($19-$39) call (772) 654-3103 or visit americanbluestheater.com. Running time is 2 hours with one intermission.
Note: Next up at American Blues Theater will be the Chicago premiere of "Five Presidents," about the rare day in history (April 27, 1994) when former presidents George H. W. Bush, Ronald Reagan, Jimmy Carter, Gerald Ford and then-President Bill Clinton gathered in the same room at the same time for a memorial service for former President Richard M. Nixon. The play is by Rick Cleveland, an early ensemble member of American Blues who went on to write for "The West Wing," "Six Feet Under" and "House of Cards." "Five Presidents" will run Sept. 6-Oct. 19 at Stage 773.
Follow Hedy Weiss on Twitter: @HedyWeissCritic
---
Thoughts on a Trio of Musical Theater Classics
5 Chicago Theater Recommendations: 'Music Man,' 'True West' and More
Preserving Musical History With a Rarely Revived Operetta
---