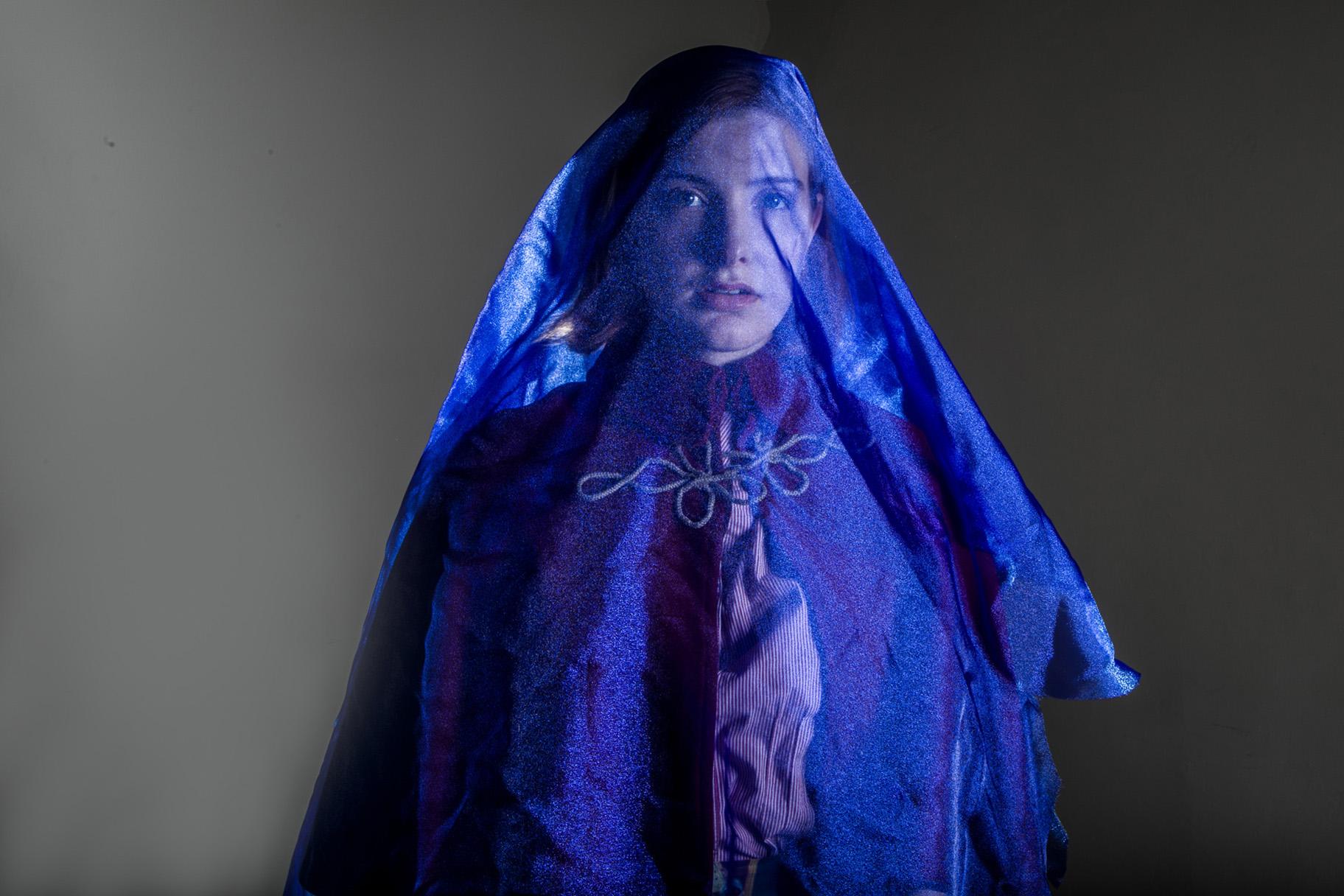 Rachel Guth in "Ghost Quartet." (Photo by Cole Simon)
And now for something completely different, yet at the same time very much in line with the haunting and haunted history of the smartly ghoulish theatrical adventures that have been staged by Chicago's Black Button Eyes Productions since its founding in 2014.
The work in question is "Ghost Quartet," a strangely tangled, time-warping web of a song cycle with music, lyrics and book by Dave Malloy, the creator of "Natasha, Pierre & The Great Comet of 1812," the electro-pop opera based on Tolstoy's "War and Peace" that came to Broadway in 2016.
I will confess that I frequently lost some of the show's many narrative threads as its four multi-talented actor-musicians, directed by Ed Rutherford, made their way through Malloy's maze of intertwined stories that riff on painful contemporary love affairs, Grimm Brothers-meet-Sondheim tropes, the tales of Scheherazade, Edgar Allen Poe's eerie visions and the piano music of jazz master Thelonious Monk. Suffice it to say that the literary ingredients in Malloy's brew deal with competing sisters, strange parents, a photographer's guilt, a subway murder, an astronomer, spirits (of the alcoholic variety), and the quest for love, revenge, stardom and truth over many centuries.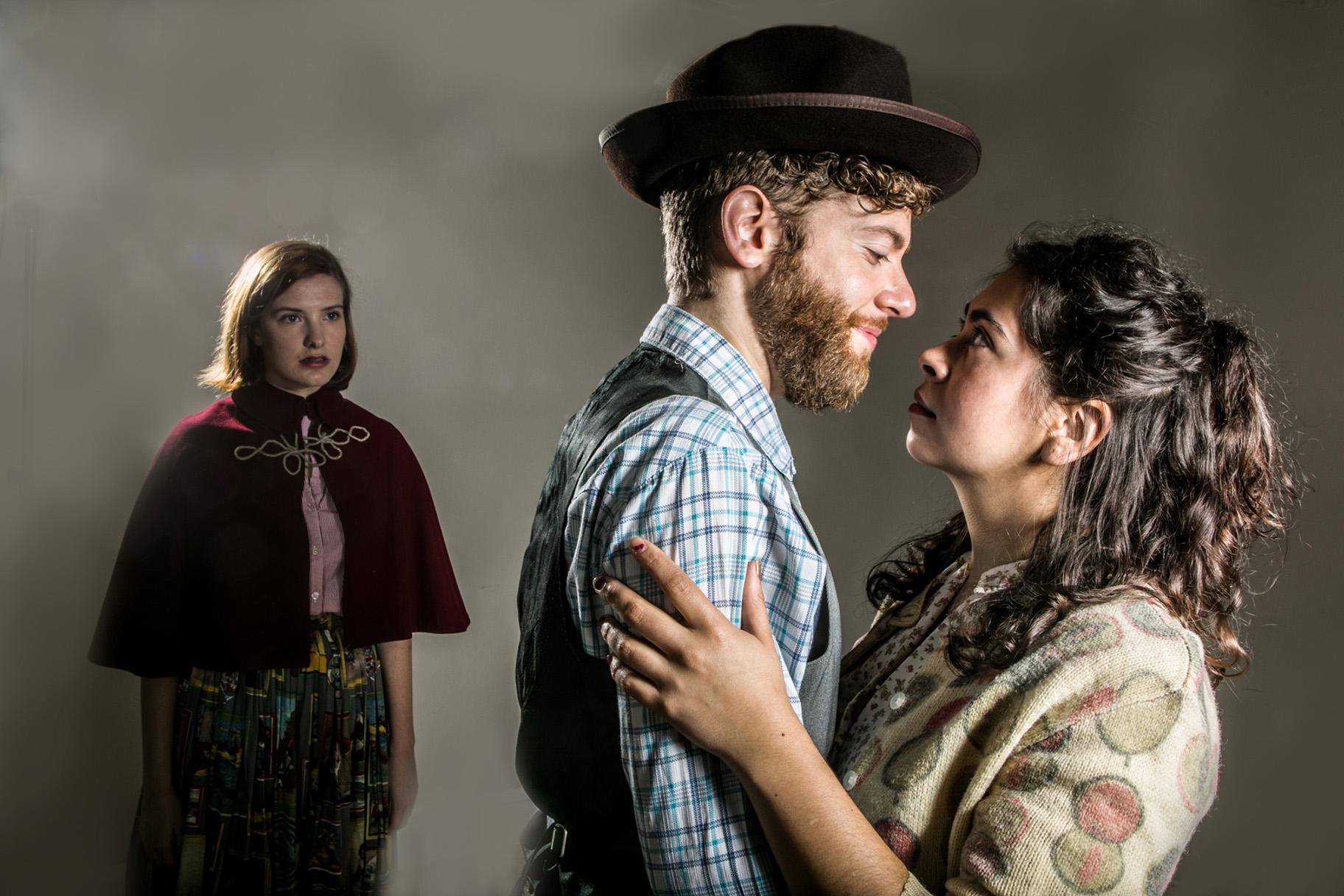 From left: Rachel Guth, TJ Anderson and Amanda Raquel Martinez in "Ghost Quartet." (Photo by Cole Simon)
Serving as the dominant thread in the story – whose various story lines and songs are announced as if they are the tracks on the sides of several records – is a romantic triangle. It is comprised of Rose Red (Rachel Guth), whose lover (pianist TJ Anderson, who also acts as a most welcoming narrator), leaves her in favor of her older sister, Pearl (Amanda Raquel Martinez).
But along the way there also are dead or stolen children, star-gazers, a train driver and more. And the music is as eclectic as the narrative lines, with everything from the semi-operatic and classical sequences (by way of the fine cellist, Alex Ellsworth), to bits of jazz and a tango. The superb music director, Nick Sula (seated backstage), adds musical heft on a second keyboard and percussion. And the women play on the autoharp, tambourine, rattles and more.
The powerful voices and fervent acting of the two actresses is mightily impressive, with Martinez full of fiery sensuality, star power and dark humor, and Guth ideally fraught in her sense of betrayal. Both finesse their demanding, shape-shifting roles with a sense of immediacy and conviction, easily incorporating Derek Van Barham's choreography. And despite the show's excessive number of endings, the performers sustain the tension and mystery of the piece with utter conviction.
The show fits ideally into the most intimate of Stage 773's several spaces, with designers Jeremy Hollis (set), Adrian Hadlock (props), Liz Cooper (lights), Robert Hornbostel (sound), Rachel M. Sypniewski (costumes) and G. "Max" Maxim IV (projections) collaborating to create something of an antiquarian collage that features everything from an ivory carving said to be made from a human breastbone, to a giant taxidermy specimen of a bear head, to a Persian rug and the whimsical suggestion of a train in motion.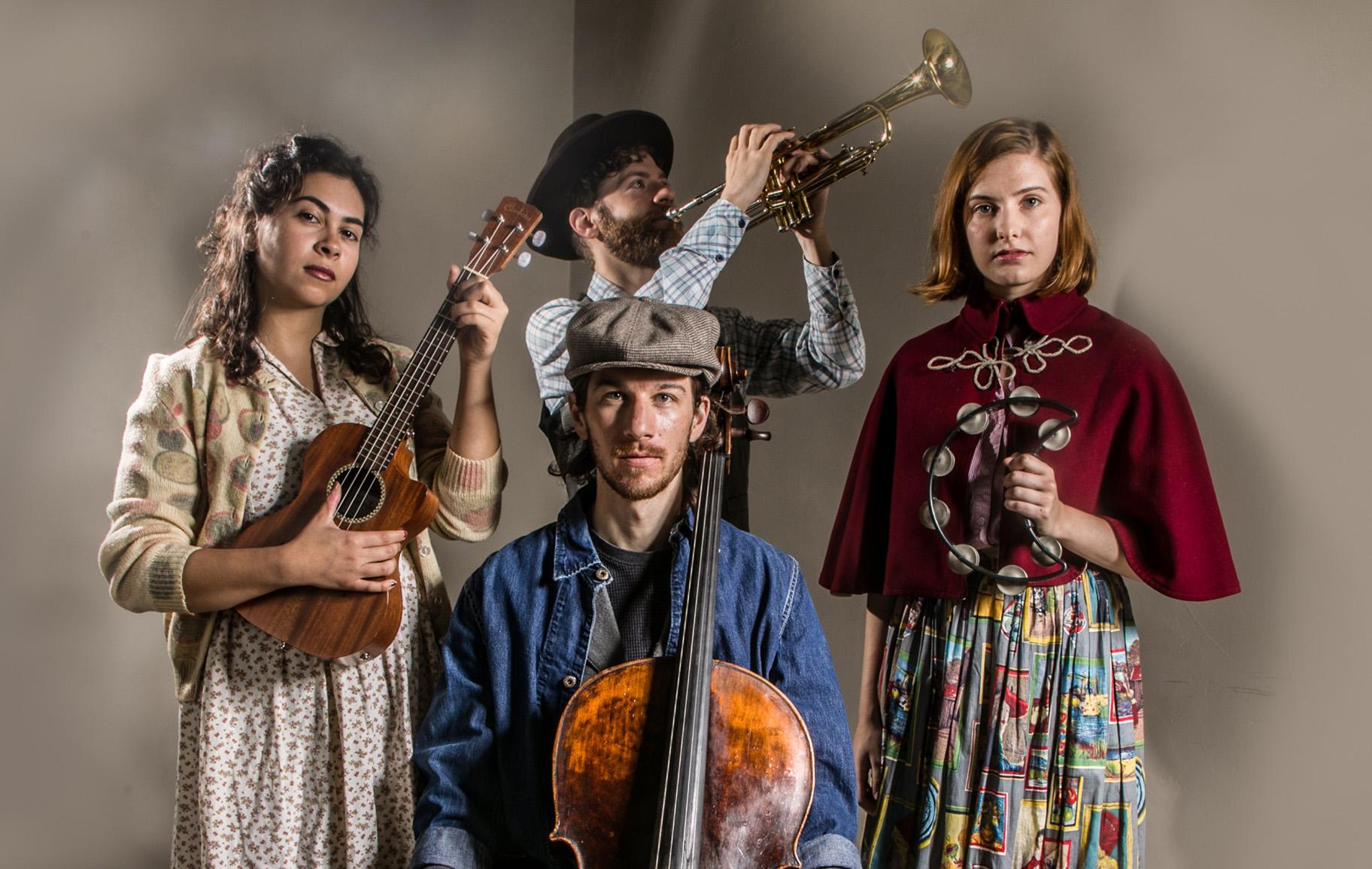 From left, front: Amanda Raquel Martinez, Alexander Ellsworth and Rachel Guth with TJ Anderson, center back, in "Ghost Quartet." (Photo by Cole Simon)
Black Button Eyes describes its mission as "the production of Chicago premieres and seldom-seen works in which the magical and surreal invade reality." With "Ghost Quartet" that mission is unquestionably accomplished.
"Ghost Quartet" runs through Aug. 17 at Stage 773, 1225 W. Belmont Ave. For tickets ($30) call (773) 327-5252 or visit www.stage773.com. Running time is 90 minutes with no intermission.
Note: The company's next production will be the Chicago premiere of "Whisper House," a musical with a score by Duncan Sheik (of "Spring Awakening" renown), and a book and additional lyrics by Kyle Jarrow. The show, which will run Jan. 10-Feb. 15 at the Athenaeum Theatre, is about a young boy whose father is shot down in the Pacific during WWII and is sent to live with his aunt in her remote and haunted lighthouse.
Follow Hedy Weiss on Twitter: @HedyWeissCritic
---
American Blues Theater Reveals Luminous Glow of 'The Spitfire Grill'
Thoughts on a Trio of Musical Theater Classics
5 Chicago Theater Recommendations: 'Music Man,' 'True West' and More
---