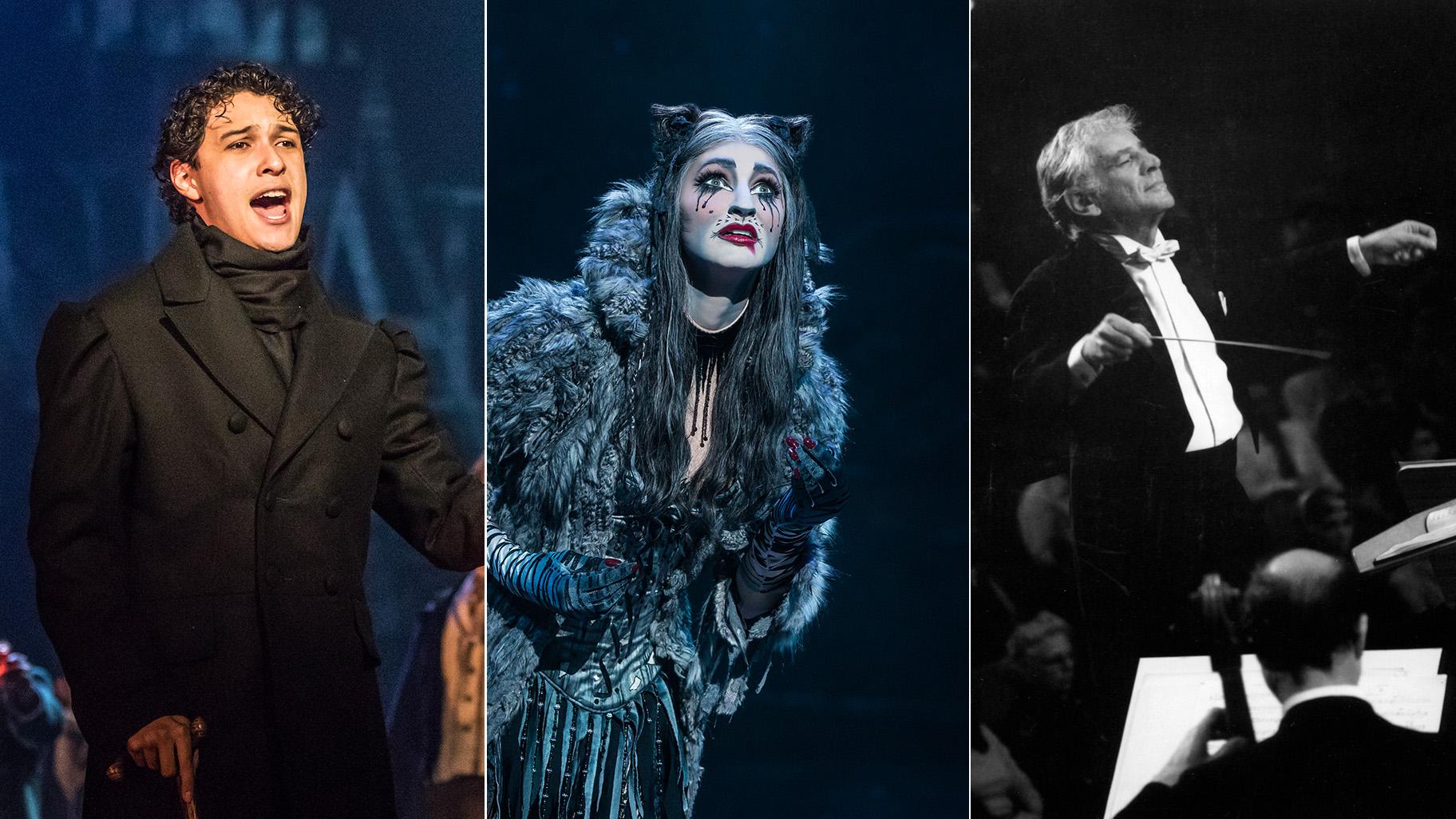 From left: Joshua Grosso in "Les Miserables"; Keri René Fuller in "Cats"; and Leonard Bernstein. (Photos by Matthew Murphy / Courtesy of Ravinia Festival)
"Cats" and "Les Miserables" – two classic musicals that have been seen by millions as they've run continuously in various productions throughout the world since the early 1980s – have both returned to Chicago this summer. And another classic, "West Side Story" – which debuted on Broadway in 1957 with a score by Leonard Bernstein and Stephen Sondheim, and groundbreaking direction and choreography by Jerome Robbins – is in the throes of a renaissance in a number of very different forms.
Within a single week I've seen the lavish national touring productions of the first two shows, which have arrived in Loop houses under the Broadway in Chicago banner. In addition, I caught a screening of the fabled 1961 movie version of "West Side Story," with the impeccably synchronized score of the show played live onstage at the Ravinia Festival by that always spectacular "pit band" known as the Chicago Symphony Orchestra.
For some in the audience, these productions will no doubt be "first time" experiences. But for many others, seeing such classic musicals for the umpteenth time releases a sort of personal "carbon dating" mechanism, with the imprint of many different productions and casts experienced over the years still clearly imprinted in one's memory.
Here are some brief impressions about all three musicals as experienced in their recent incarnations.
---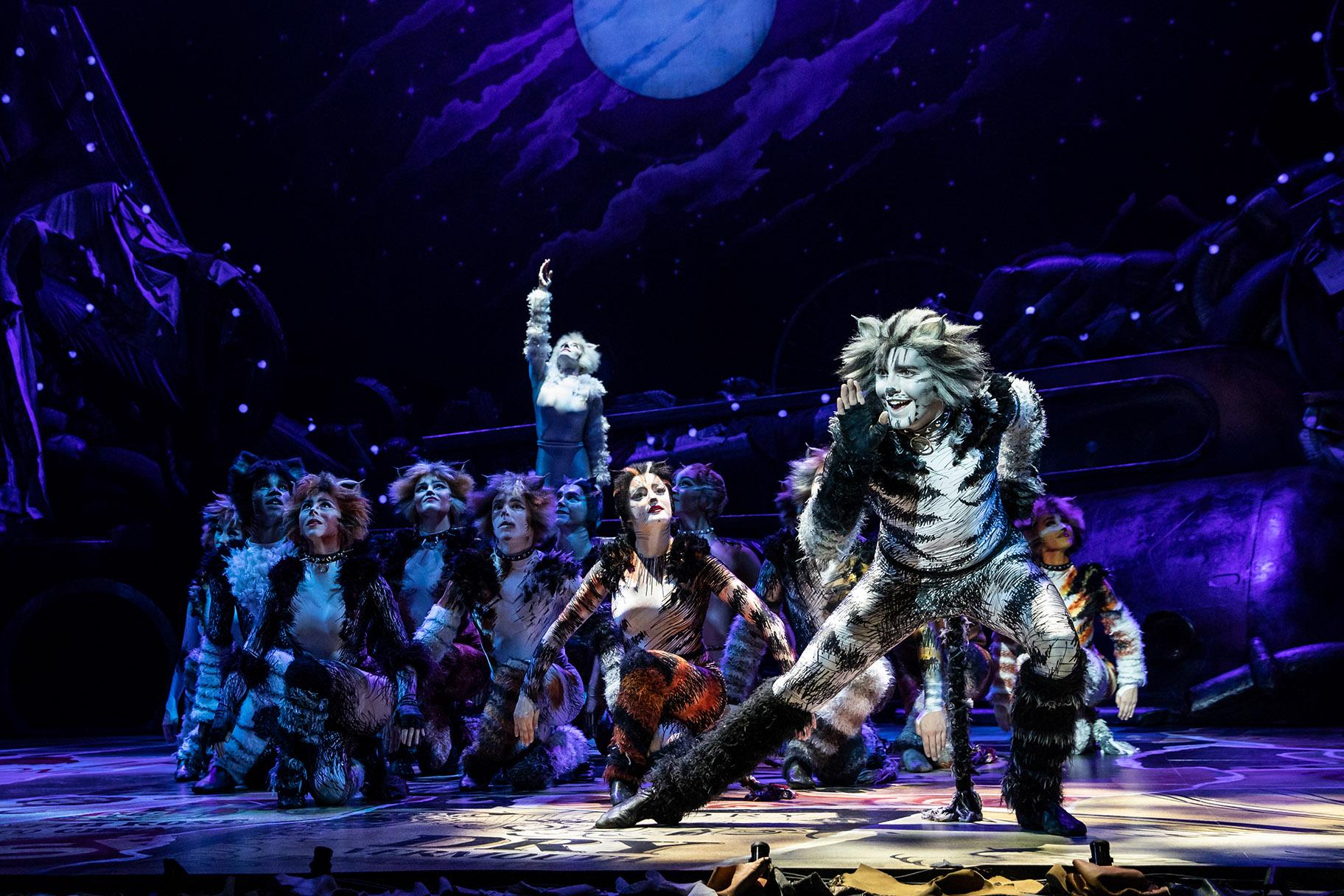 Dan Hoy as Munkustrap and the North American Tour of "Cats." (Photo by Matthew Murphy)
Andrew Lloyd Webber's musical, inspired by "Old Possum's Book of Practical Cats," a collection of whimsical yet philosophical poems penned by T.S. Eliot for his grandchildren, is about a community of cats called the Jellicles who inhabit a garbage dump, have very distinctive histories and personalities, and meet each year at a Jellicle Ball where they learn which cat will be granted the privilege of ascending to "The Heaviside Layer" and returning for a new life.
The show unspools in something of the English panto tradition, with many of the cats having the chance to move into the spotlight and reveal their character in song and dance, with a score that ranges from vaudeville to rock and opera.
It has been quite a number of years since I saw "Cats," with its original direction by Trevor Nunn and choreography by Gillian Lynne (who died last year at the age of 92). Now, with new choreography by Andy Blankenbuehler (of "Hamilton" renown) that expands upon Lynne's original, the show has morphed into even more of a full-out dance-theater work than it was before. And while it retains John Napier's original set (an elaborate junkyard with a hydraulically levitated tire, cracked clock face, giant work boot and even a quickly assembled train), and costumes that look sensational on the cast of two-dozen sleek-bodied actor-singer-dancers who possess exceptional ballet and acrobatic technique, there also is more elaborate, high-tech lighting design by Natasha Katz, the same magician who worked on the original edition of the show.
Among the uniformly excellent dancers here are the high-flying Tyler John Logan as Macavity, The Mystery Cat; Tony d'Alelio and Rose Iannaccone as the exuberant couple named Mungojerrie and Rumpelteazer; McGee Maddox as the hard rocking Rum Tum Tugger; Mariah Reives as the sinewy Cassandra, and Caitlin Bond as the alluring snowy white Victoria.
Timothy Gulan is charming as Asparagus ("Gus"), the elderly, palsied "theater cat" who recounts his great moments on stage. And Adam Richardson brings his commanding voice to the role of Old Deuteronomy, the sage leader of the Jellicles who champions the rebirth of Grizabella, the tattered and faded glamor cat.
As Grizabella, Keri Rene Fuller, decked out in silvery rags, hits all the right semi-operatic notes in the show's most iconic song, "Memory." But despite her makeup and stiff walk she is simply too young for this role which is all about experience, and the memory of one's glory days, the pain of aging and the promise of another existence. (In many ways Grizabella can be seen as a precursor to Lloyd Webber's 1993 musical, "Sunset Boulevard," and its central character, the faded film star Norma Desmond.)
All in all, however, "Cats" remains an entertaining reminder that, to borrow a line from the show, "A cat is not a dog."
"Cats" runs through Aug. 4 at the Nederlander Theatre, 24 W. Randolph St. For tickets ($30-$110) call (800) 775-2000) or visit www.BroadwayInChicago. Running time is 2 hours and 20 minutes with one intermission.
Note: An all-star film version of "Cats" (with Chicago-bred Jennifer Hudson as Grizabella), is scheduled to be released in late December.
---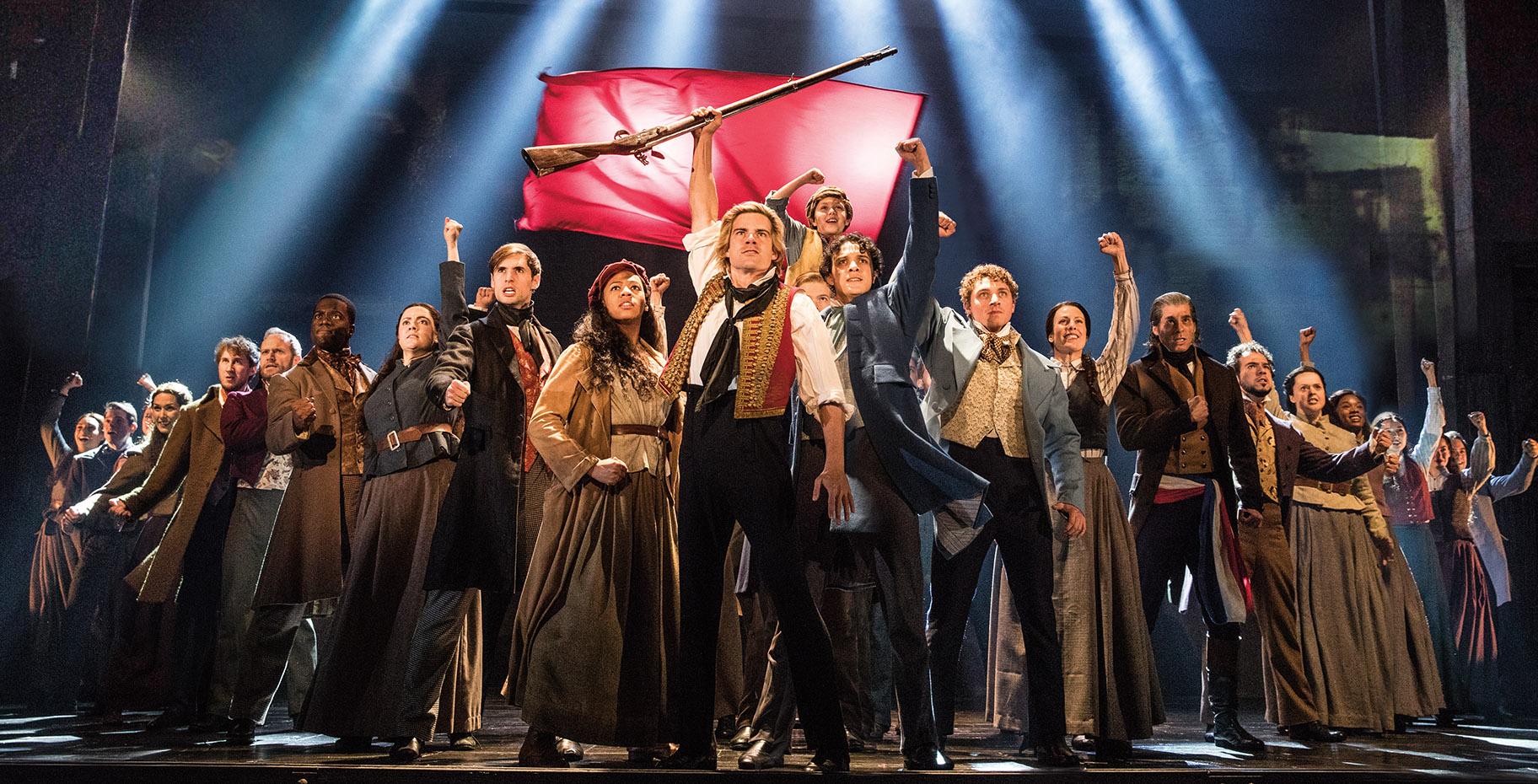 The touring cast of "Les Miserables." (Photo by Matthew Murphy)
Like "West Side Story," "Sweeney Todd" and "Porgy and Bess," the monumentally scaled "Les Miserables" – with its historically rooted story, and themes of injustice, revolution, faith and love drawn from the Victor Hugo novel – might be equally at home on a Broadway or opera house stage.
With its soaring score by Claude-Michel Schonberg (music), and lyrics by Herbert Kretzmer (from the original French text by Alain Boublil and Jean-Marc Natel), it is immensely demanding, and requires many powerful operatic voices. The current production delivers, most notably with sensational performances by Nick Cartell as Jean Valjean, a man who is unjustly sentenced to years of hard labor for stealing a loaf of bread in his youth and who finally finds redemption in a life of good deeds and love, and Josh Davis as Javert, his sadistic and unforgiving law-and-order nemesis. In addition, Jillian Butler's beautiful soprano and strong portrayal of Cosette, Valjean's beloved adopted daughter, is unusually strong.
Laurence Connor's overall direction is somewhat less satisfying. Not only does he exaggerate some of the scenes of brutality, but the complex story, which unfolds over many decades, sometimes feels muddled, and no program notes are supplied to help first-time viewers.
Nevertheless, this is a stirring show, and one that grandly transcends the many recent musicals overly obsessed with identity crises.
"Les Miserables" runs through July 27 at the Cadillac Palace Theatre, 151 W. Randolph St. For tickets ($35-$105) call (800) 775-2000 or visit www.BroadwayInChicago.com. Running time is 2 hours and 55 minutes with one intermission.
"West Side Story"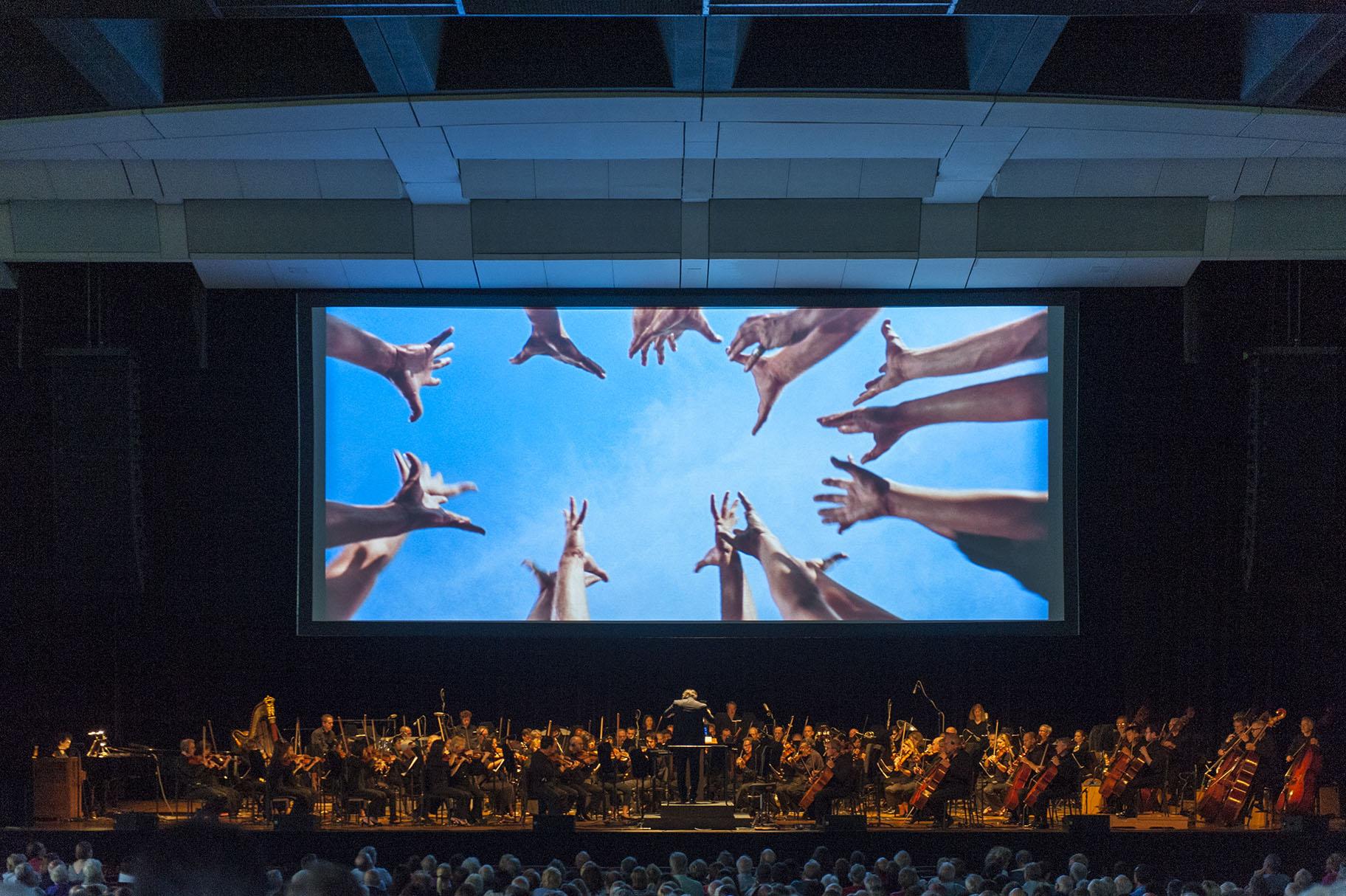 "West Side Story" (Photo courtesy of the Ravinia Festival)
Just a few days after seeing "West Side Story" at Ravinia I opened my copy of the Sunday New York Times and found an eight-page, full-color insert for the upcoming Broadway revival of the musical that is set to begin performances in December. At the helm of the production will be two much-touted Belgian-bred artists – director Ivo Van Hove and choreographer Anne Teresa De Keersmaeker. And while the show arrives with the credit, "entire original production directed and choreographed by Jerome Robbins," I confess I am a bit wary of where these "re-imaginers" might take it. The same is true of the new film version of the musical, also set to be released in December, with direction by Steven Spielberg and a screenplay "adapted" by Tony Kushner.
This past spring's revival by Lyric Opera of the musical was ideally faithful to the film version of the show which is deeply rooted in its time and place (the mean streets of Manhattan's West Side in the 1950s), even though these days, with the political upheaval underway in Puerto Rico, and the ongoing immigrant controversy raging at the Mexican border, it seems that not all that much has changed in the past 60 years or so.
My hope is that neither the new Broadway nor Hollywood versions of the musical will warp the incomparable original, which is very much a perfect period piece yet wonderfully relevant in its own way. Of course the creators of the show "lifted" the basic element of the plot line from Shakespeare, but they made something completely new. My motto: Let it be as it was meant to be. And if you have something to say about this moment find another group of artists to start from scratch.
One final note: While the Ravinia Festival's "West Side Story" presentation was a one-night only event, you have a chance to hear the CSO play another Bernstein film score. On Aug. 8, the orchestra will accompany a screening of "On the Waterfront," the 1954 classic starring Marlon Brando and Eva Marie Saint. For tickets visit www.Ravinia.org.
Follow Hedy Weiss on Twitter: @HedyWeissCritic
---
5 Chicago Theater Recommendations: 'Music Man,' 'True West' and More
Preserving Musical History With a Rarely Revived Operetta
Yes, There is Still a Formidable Audience for Classical Music
---