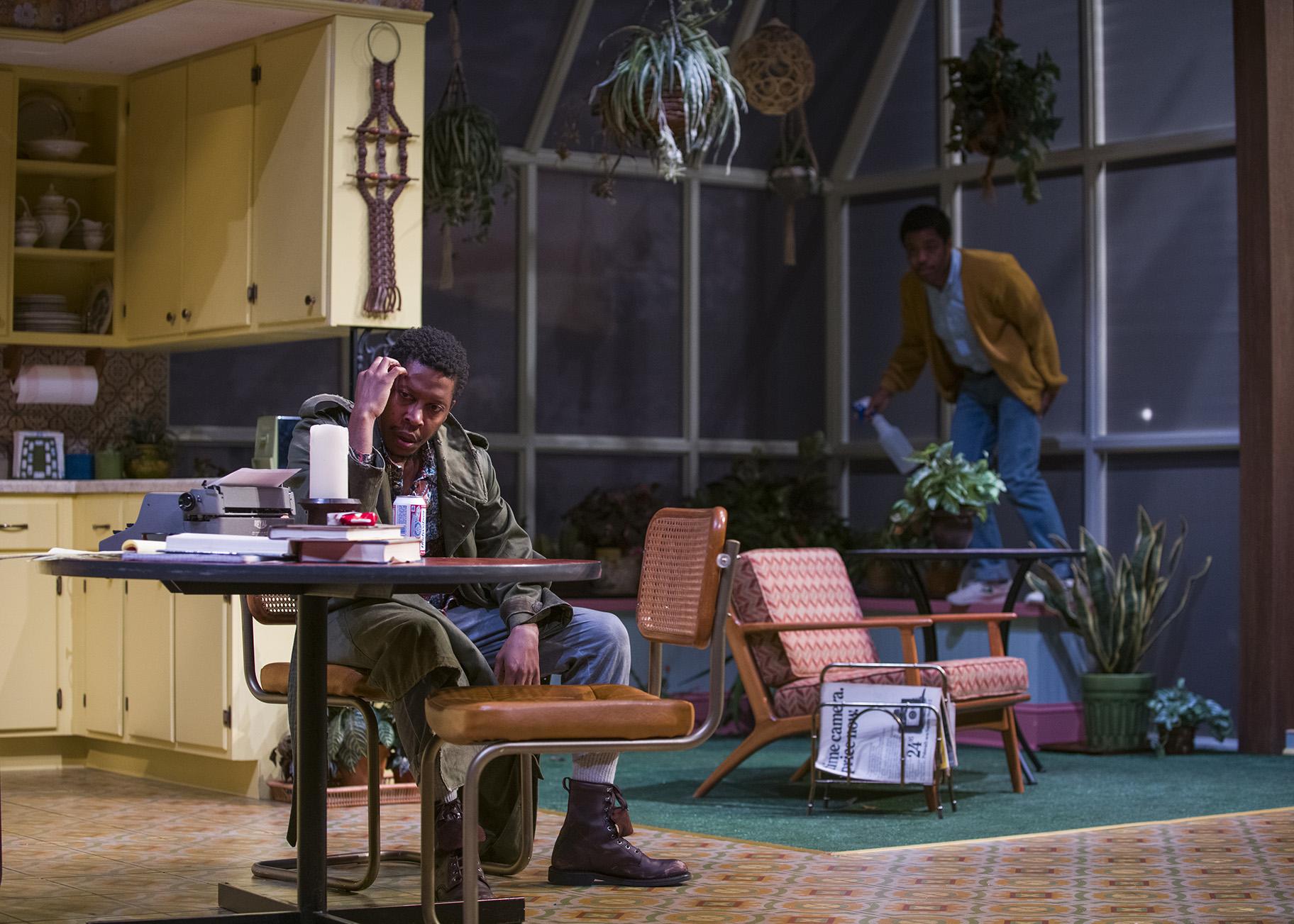 Namir Smallwood (left, and Jon Michael Hill in Steppenwolf's production of "True West" by Sam Shepard. (Photo by Michael Brosilow)
Maybe it's something lodged in the genes of the play, or in the DNA of Steppenwolf Theatre. But from the very start there seems to have been an almost preternatural connection between Sam Shepard's "True West," the tale of two radically different brothers who gradually morph into each other's identity, and the company's actors.
Steppenwolf's fabled 1982 production of the play, which moved to off-Broadway and catapulted actors John Malkovich and Gary Sinise into the national spotlight, is a foundational part of Chicago theater history. And now, nearly four decades later, two of the company's "next generation" of actors – Jon Michael Hill and Namir Smallwood – are bringing their own high-octane (at moments life-threatening) intensity to Shepard's darkly comic, physically punishing tale that explores ambition, competition, authenticity, nostalgia, and the tension between formal education and authentic experience with an almost demonic glee. This revival may unfold on a far grander stage and with a far more elaborate set than the Steppenwolf "original," and the use of a manual typewriter and calls made to an operator to retrieve a phone number clearly suggests an earlier time. But the essential madness of the story, and the explosiveness of the acting, has not changed.
As the production begins, a classic cowboy melody mixes with the cries of coyotes and the racket made by crickets. And we see Austin (Hill), seated at his typewriter on the kitchen table of a spotless suburban house in a Los Angeles suburb. His mother is away on a cruise in Alaska, and he is house-sitting and has left his wife and kids at home "up north" to take advantage of a quiet place where he can complete what he hopes will be his career-making screenplay.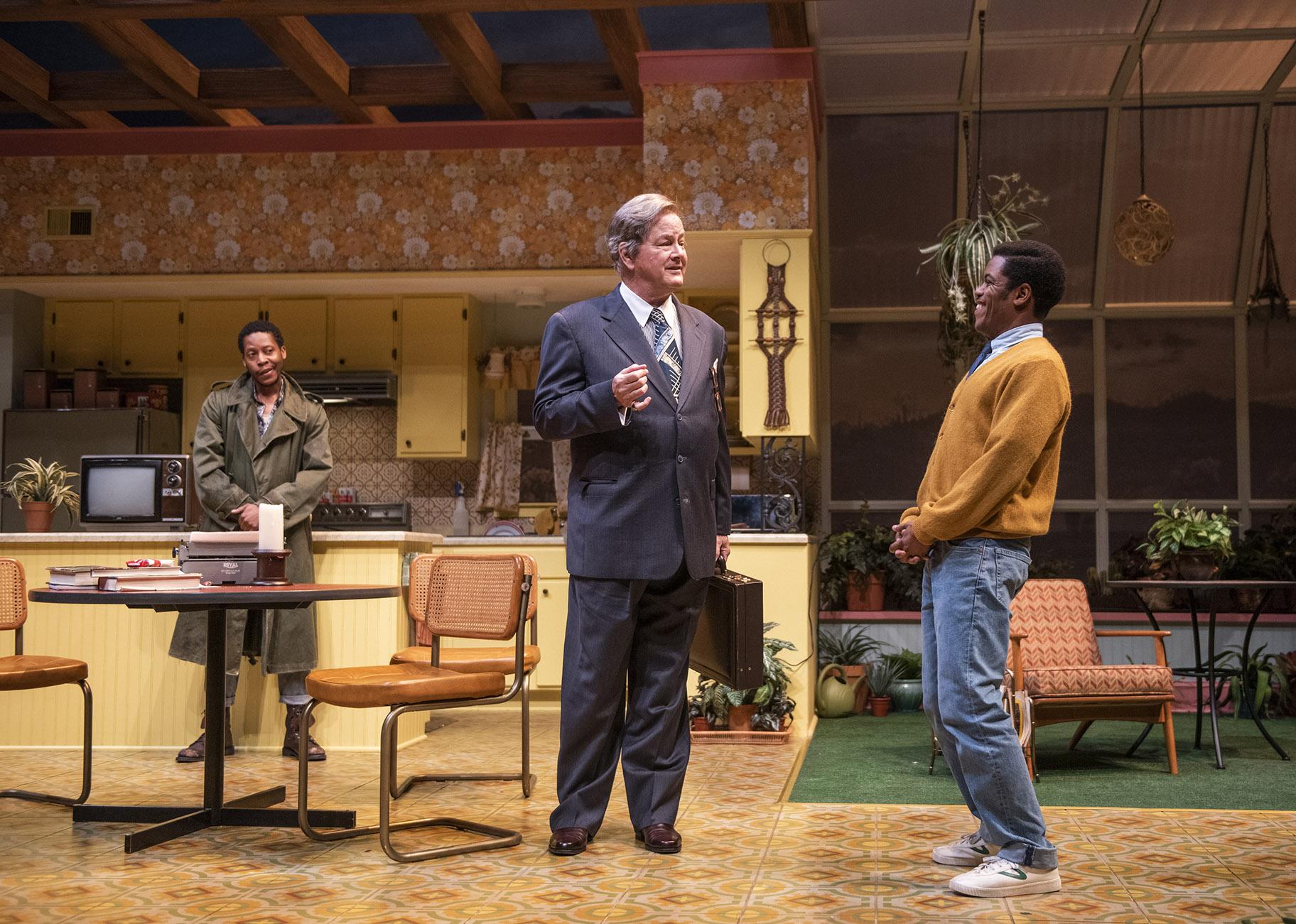 Namir Smallwood (left), Francis Guinan (center) and Jon Michael Hill in "True West." (Photo by Michael Brosilow)
Enter Lee (Smallwood) – quite a surprise given the brothers' five years of estrangement. Lee's initial plan is to borrow Austin's car and rob some of the upscale houses in the affluent nearby neighborhoods that night. But when Lee learns that his brother is about to meet with a powerful Hollywood producer, Saul Kimmer (Francis Guinan, deftly reprising the role he played in 1982), he has no intention of missing his own opportunity for fame and fortune. Lee, after all, is a practiced storyteller and a shrewd operator who has lived on the edge for years. And, much to Austin's chagrin, he knows exactly how to charm and disarm Saul. And the almost overnight shift in power and influence between the brothers begins to emerge as Shepard cleverly limns the difference between the artist who is the product of formal training, and the artist with a visceral connection to life. Not surprisingly, it will lead to a cataclysmic, Cain and Abel-like conflagration.
Under the direction of Randall Arney (the veteran Steppenwolf ensemble member who served as the company's artistic director from 1987 to 1995), the actors dive into their roles with impeccable control and terrifying abandon, with Ned Mochel's terrifying fight choreography the ultimate survival test.
Hill expertly modulates his transformation from balanced citizen to unhinged warrior. And Smallwood, a hypnotic actor, brings the perfect mix of time-bomb personality and searing, charismatic, sarcasm-laced manipulativeness and charm to Lee. Along the way, every classic moment in the play – from the weapon-like use of a golf club, to a butter-slathered tower of toast described as "salvation" – is impeccably finessed.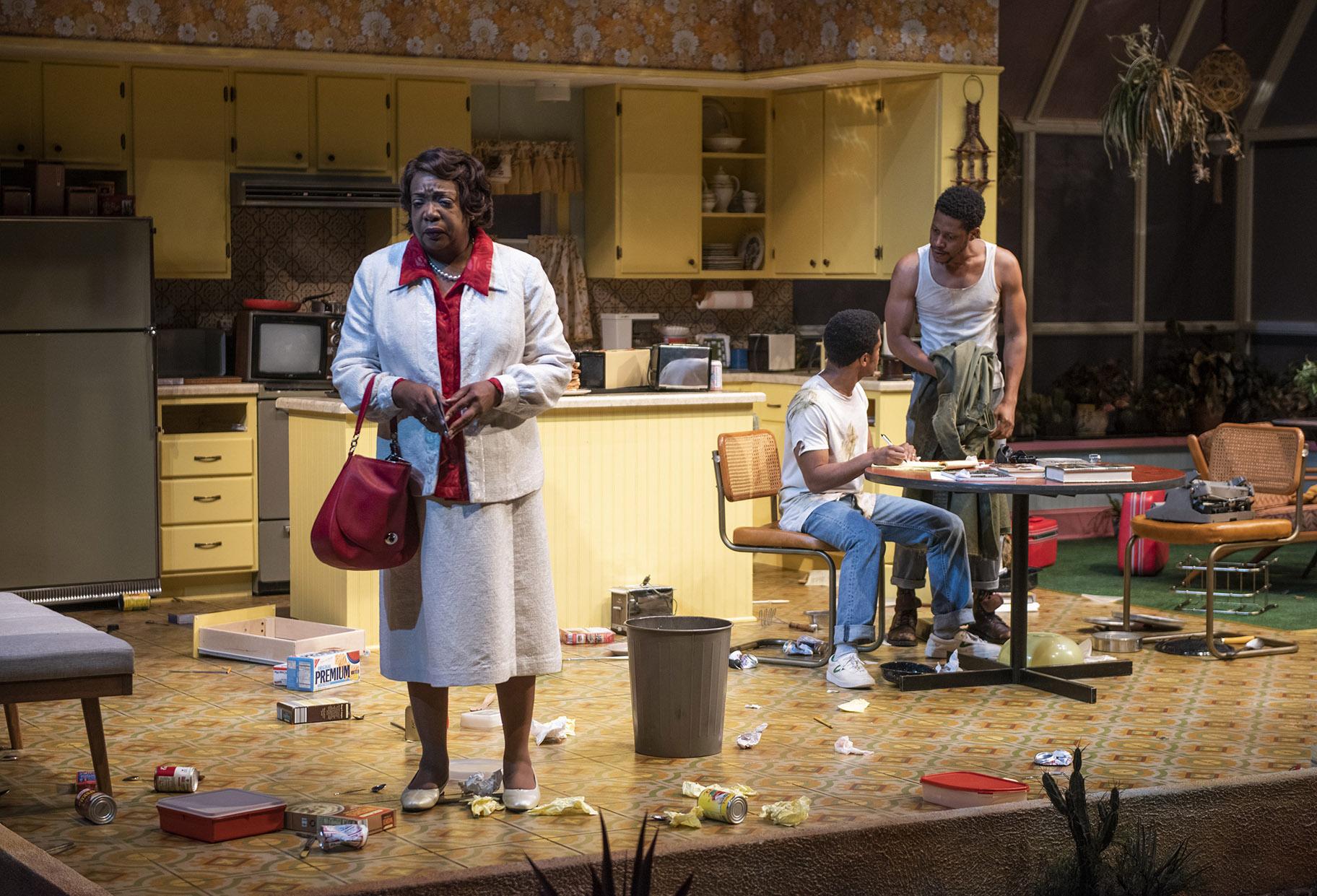 Jacqueline Williams with Jon Michael Hill (center) and Namir Smallwood in "True West." (Photo by Michael Brosilow)
As for the last-minute arrival of the brother's mother, it is as droll and bizarre as ever, with a shell-shocked Jacqueline Williams (in a role played in 1982 by a far too young Laurie Metcalf) invoking the name of Picasso, and earning laughs with her admonition to her sons: "Stop fighting boys."
With its 1970s vibe complete with macrame wall-hanging, Todd Rosenthal's kitchen set (with lighting by Ann G. Wrightson, distressed costumes by Trevor Bowen and evocative sound and music by Richard Woodbury), is pure Americana, and a glass-paned conservatory-like patio turns out to be an ideal cemetery for Mom's once healthy green plants.
Shepard, the "rock and roll cowboy" playwright and actor who liked nothing better than hitting the open road, died in 2017 at the age of 73. A canny combination of authenticity and self-styled theatricality, he remains an American original.
"True West" runs through Aug. 25 at Steppenwolf Theatre, 1650 N. Halsted St. For tickets ($20-$96) call (312) 335-1650 or visit www.steppenwolf.org. Running time is two hours with one intermission.
Note: A special discussion, "'True West' Through the Decades: A Multigenerational Reflection on Launching and Revisiting a Legendary Work," is scheduled for Aug. 5 at 7 p.m. and will feature Arney, Hill, Smallwood, and Steppenwolf co-founder Jeff Perry, with ensemble members Glenn Davis and Caroline Neff as moderators. Tickets are $40.
Follow Hedy Weiss on Twitter: @HedyWeissCritic
---
Fiercely Immersive 'Recommendation' Explores Privilege, Justice and Moral Relativism
Salesmanship Cedes to Love in 'The Music Man'
New Musical 'Darling Grenadine' a Sobering Look at the Quest for Happiness
---