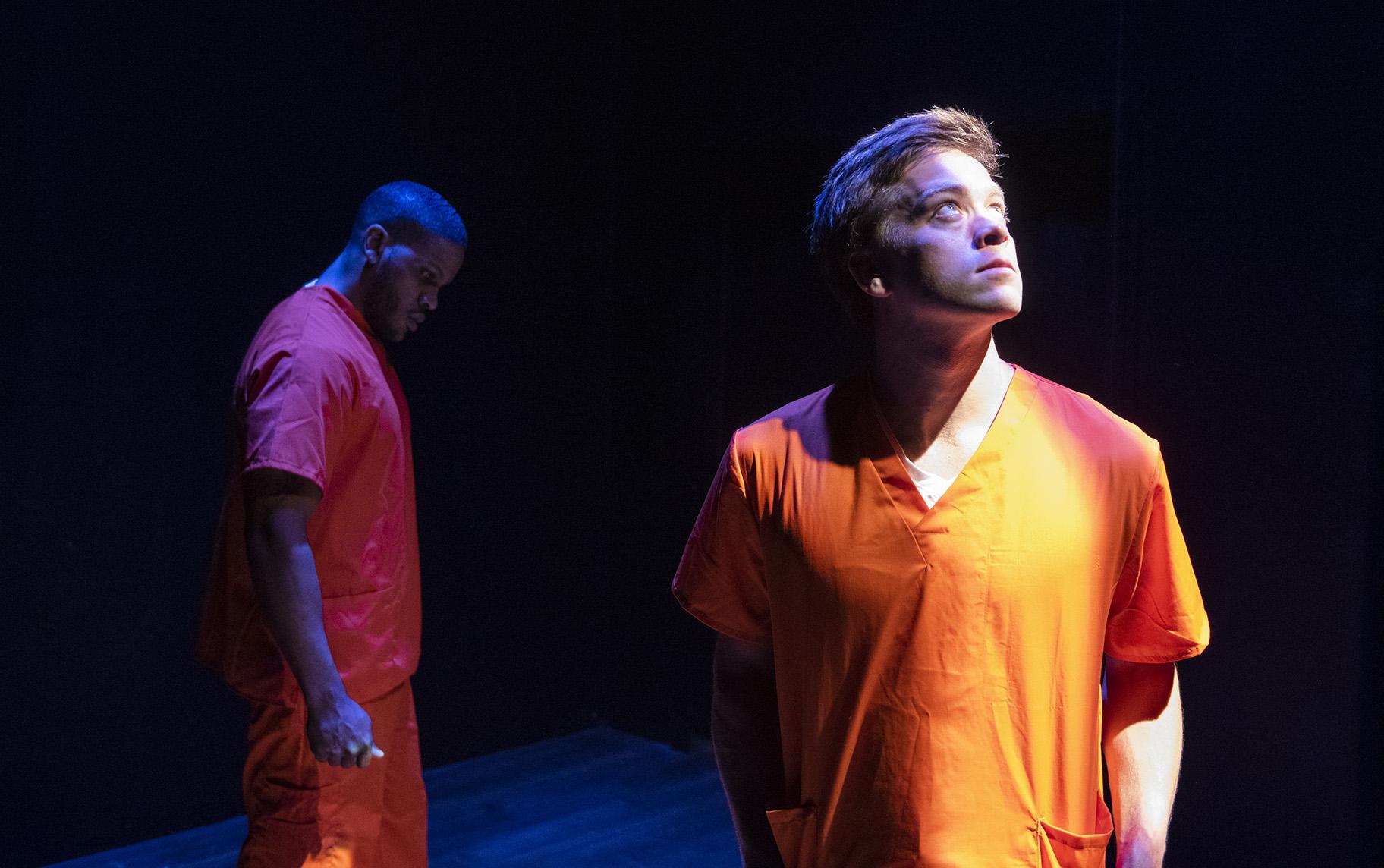 Brian Keys, left, and Julian Hester in "The Recommendation" at Windy City Playhouse. (Photo credit Michael Brosilow)
With such productions as "Southern Gothic" and "Noises Off" – and now, with its volcanic staging of Jonathan Caren's play, "The Recommendation" – Windy City Playhouse has carved out a unique niche for itself in Chicago with a style dubbed "immersive theater."
Productions that involve the physical presence of the audience in a way that is far more visceral than simply watching from one's seat are not new. The term originally applied to such an approach was "promenade." But that would be far too fanciful a word to use in the case of Caren's play – an emotionally volcanic, intensely physical work that requires the audience (limited to 34 people per performance) to move in and out of set designer Lauren Nigri's 10 different, brilliantly designed locations, often at less than an arm's distance from a trio of actors who operate at (and beyond) the boiling point.
"The Recommendation" was not originally devised to be "immersive," but it has been superbly reimagined to fit that approach by Caren and Amy Rubenstein, Windy City's artistic director. (The sheer logistics of the enterprise boggles the mind.) And under the searing, no-holds-barred direction of Jonathan Wilson, who has elicited bravura turns from his three actors, the feverish interlocking dramas of Caren's characters blast their way into your consciousness. (The play, which debuted at San Diego's Old Globe Theatre this past January, is all the more astonishing in that in many ways it anticipated the admissions scandal involving Hollywood stars who tried to buy their kids' way into prestigious universities.)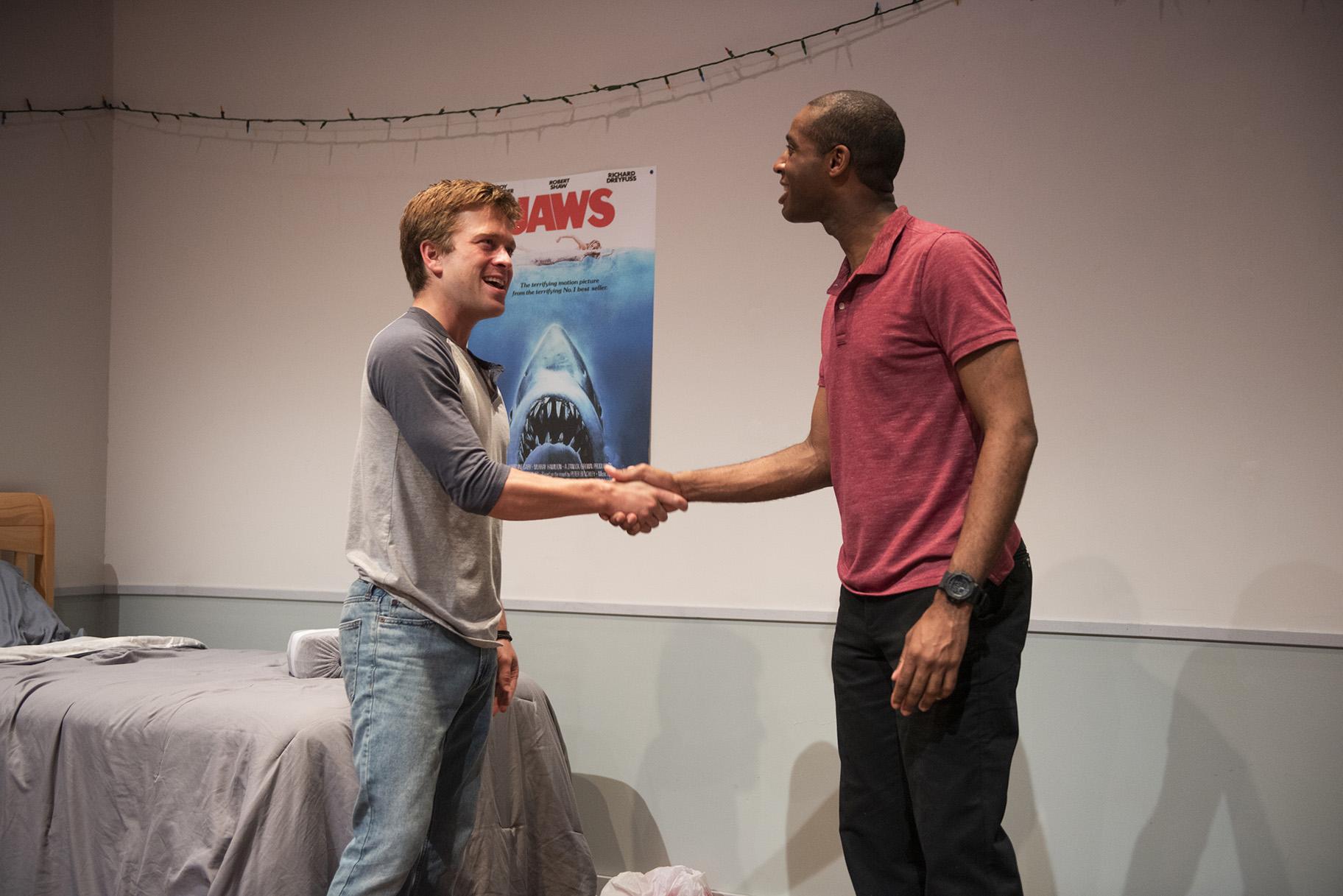 Julian Hester, left, and Michael Aaron Pogue in "The Recommendation." (Photo Credit Michael Brosilow)
At the center of "The Recommendation" are two college roommates at Brown University, the Ivy League school in Rhode Island. Iskinder ("Izzy") Iodouku (Michael Aaron Pogue), who serves as narrator, is the immigrant son of a wisdom-dispensing Ethiopian father who advises him to always follow his heart. Sharing his dorm room is Aaron Feldman (Julian Hester), a hunky, smooth-as-silk operator whose father is a hotshot Los Angeles lawyer.
Izzy, who is planning for a career in law, has little money and no connections, and is awed by Aaron's ability to finesse life. The two bond when bad-boy Aaron, who hopes to become a filmmaker, learns that the stash of peanut butter jars Izzy has brought along for sustenance also contain marijuana, which will supply him with much-needed cash.
Fast forward to Los Angeles, where Izzy is now in law school at UCLA – thanks to his excellent grades, as well as a strong recommendation letter from Aaron' father. At the same time, Aaron is luxuriating on the patio of a wealthy Hollywood producer – working as "assistant" and house sitter (a gig he clearly nabbed thanks to his father's connections), and trying to write a screenplay.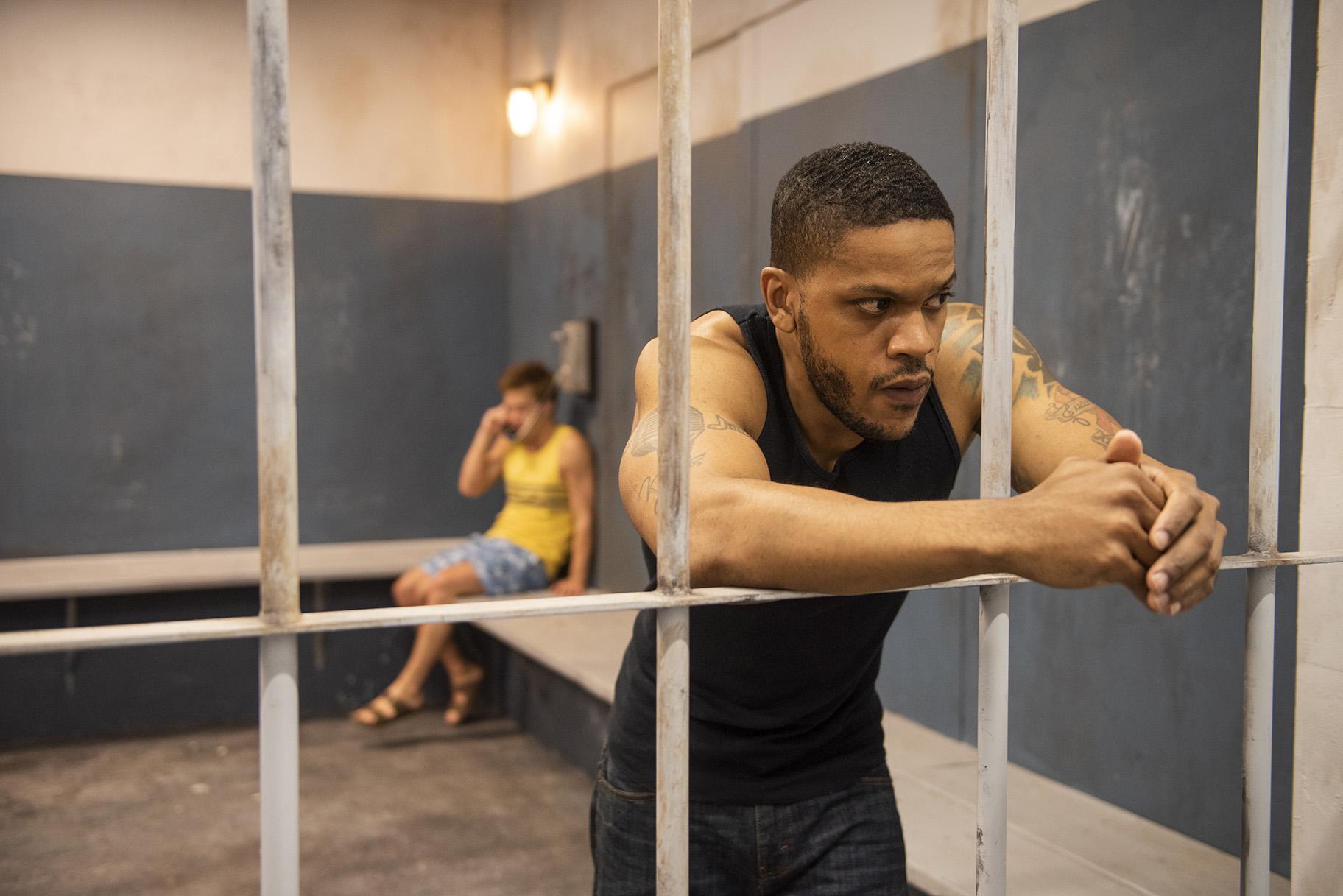 Julian Hester, left, and Brian Keys in "The Recommendation." (Photo Credit Michael Brosilow)
And then it happens. Aaron is stopped by the police for a traffic violation and ends up in a prison holding cell where his new "roommate" is Dwight Barnes (Brian Keys), an impossibly buff, flamboyant, heavily tattooed African American who clearly knows the ropes in such a place (and also has a storyteller's imagination that far outstrips Aaron's).
In a state of extreme panic (after his mother, quite unbelievably, fails to show up with bail money), Aaron bonds with Dwight and begs him to teach him how to survive if they are locked up in the fearsome county jail. In return, he promises to have his father arrange for a lawyer to plead his case. Along the way, Aaron also divulges some personal history that he will sorely regret. And though far less naive than Izzy, Dwight comes to learn a thing or two about what greases the wheels of upward mobility. He also comes to the rescue of Aaron.
Fast forward again, by about five years, and Izzy is working in a prestigious law firm, Aaron is making mediocre movies, and Dwight is still sitting in prison. And as the fates would have it, Izzy takes on a pro bono assignment in support of Dwight.
Nothing more should be revealed at this point, but suffice it to say that everything finally erupts in the wood-walled sauna of a posh athletic club in what is (quite literally) a knockout scene that will leave you sweating.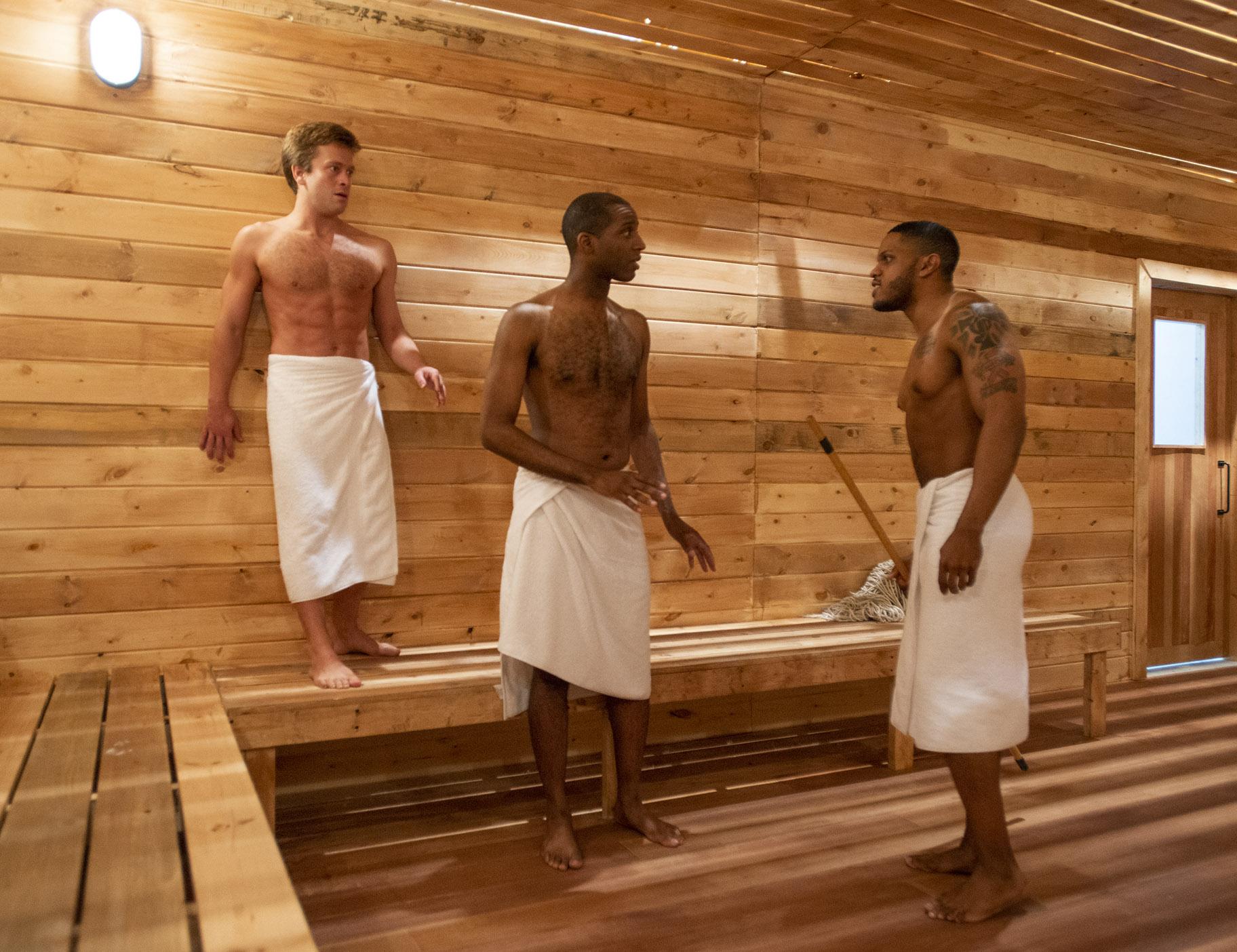 Julian Hester, left, Michael Aaron Pogue, center, and Brian Keys in "The Recommendation." (Photo Credit Michael Brosilow)
The three actors are uniformly sensational, with the impeccably controlled Pogue, the high octane Hester and the fabulously charismatic Keys creating the ideal chemistry. In fact, there are moments when you fear for their lives, and wonder how they will survive the next two months of the run. The uncredited fight director has gone full force, but that is the perfect metaphor for a play in which no one is morally pure, and notions of privilege, ambition, self-destruction, manipulation, broken promises, innate character, testosterone and survival are all in play in what is, on every count, a fully immersive piece of theater.
(Be advised: Although Nigri's rooms, from a dorm and a patio, to a cafe and a prison cell, have been outfitted with clever forms of seating in most of the scenes, you should be prepared to do a certain amount of standing, too.)
"The Recommendation" runs through Sept. 22 at the Windy City Playhouse, 3014 W. Irving Park Road. For tickets ($80-$100) call (773) 891-8985 or visit www.WindyCityPlayhouse.com. Running time is 2 hours and 30 minutes with one intermission.
Follow Hedy Weiss on Twitter: @HedyWeissCritic
---
Salesmanship Cedes to Love in 'The Music Man'
New Musical 'Darling Grenadine' a Sobering Look at the Quest for Happiness
In 'Ada and the Engine,' a Woman Far Ahead of Her Time
---