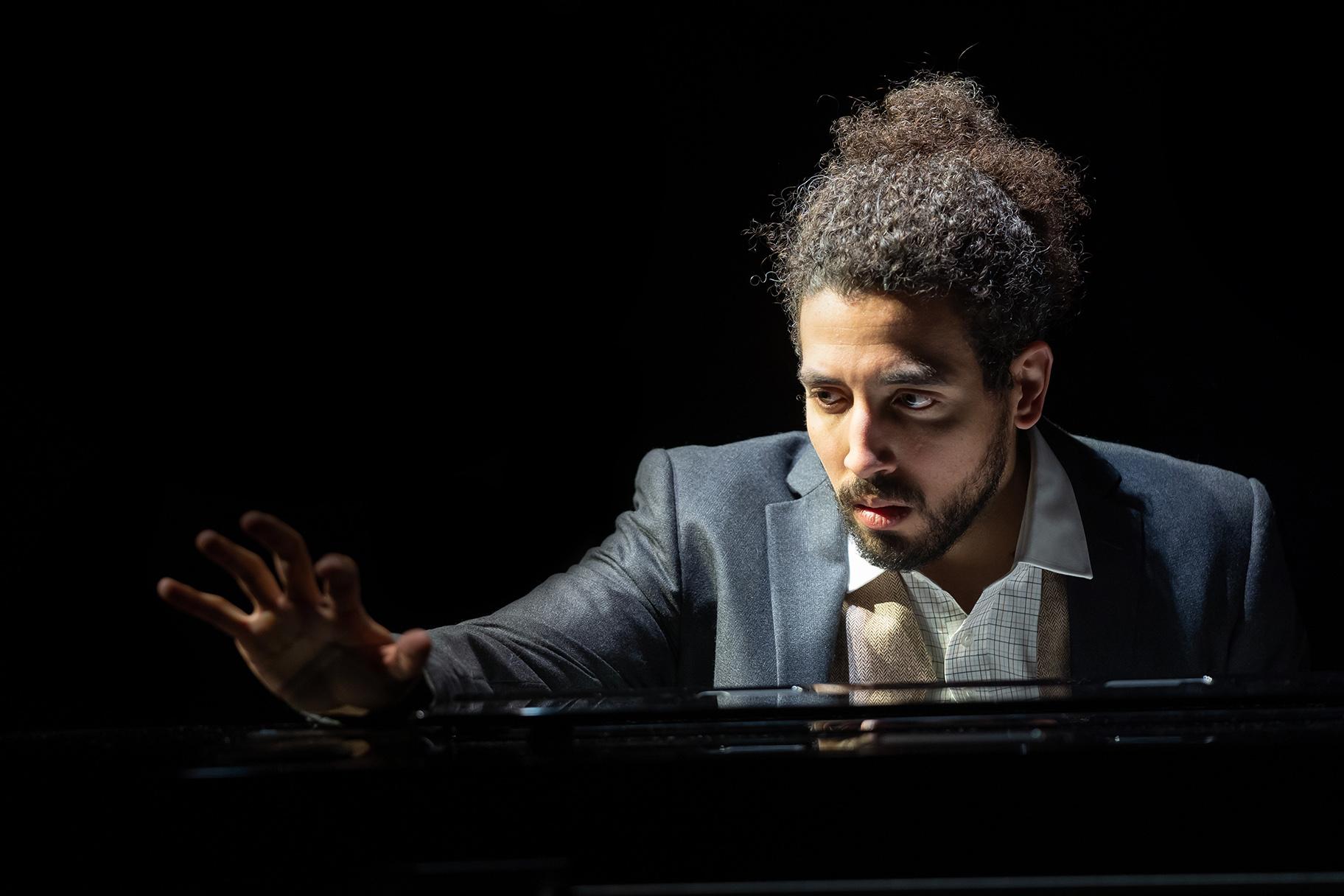 Heath Saunders in "Darling Grenadine." (Photo by Liz Lauren)
The lion's share of new musicals these days tend to be jukebox bios of pop stars and fabled groups, adaptations of hit movies, or savaged versions of great Broadway classics (I will refrain from naming an example of the latter). So attention should be paid to the arrival of a show as wholly original and emotionally real as "Darling Grenadine," the intimate musical now receiving its Midwest premiere in a beautifully realized production at the Marriott Theatre.
With an ideally unified book, music and lyrics by the young singer-songwriter Daniel Zaitchik (whose work was wholly unfamiliar to me until now), "Darling Grenadine" might not be a Broadway-style blockbuster. But with its sophisticated score and achingly honest contemporary storytelling it very skillfully mixes romantic comedy tropes with an uncompromising look at self-destructive behavior, self-doubt, alcoholism and complex friendships. And like many of the best musicals, it deals with the world of show biz itself and artists' love-hate relationship with New York. Beyond all that, and a first-rate cast deftly directed and choreographed by Aaron Thielen, it includes two of the best performances by dogs you might ever encounter.
"Darling Grenadine," which takes its clever title from the pomegranate-based syrup often used in cocktails, is set in Manhattan, where artistic fame and fortune are the chief, invariably elusive, and often soul-crushing currency in play.
Among the artists here is Harry (Heath Saunders), a musician who has made considerable money from a jingle he wrote for a burger chain. He now plays piano at a bar in midtown, and dreams of writing a musical, but for various reasons, he never gets down to work. And then there is Louise (Katherine Thomas), who has a role in the chorus of a hit Broadway musical, "Paradise," but could easily be playing the lead, for which, in fact, she is the understudy. Like Harry, she is short on a certain self-confidence.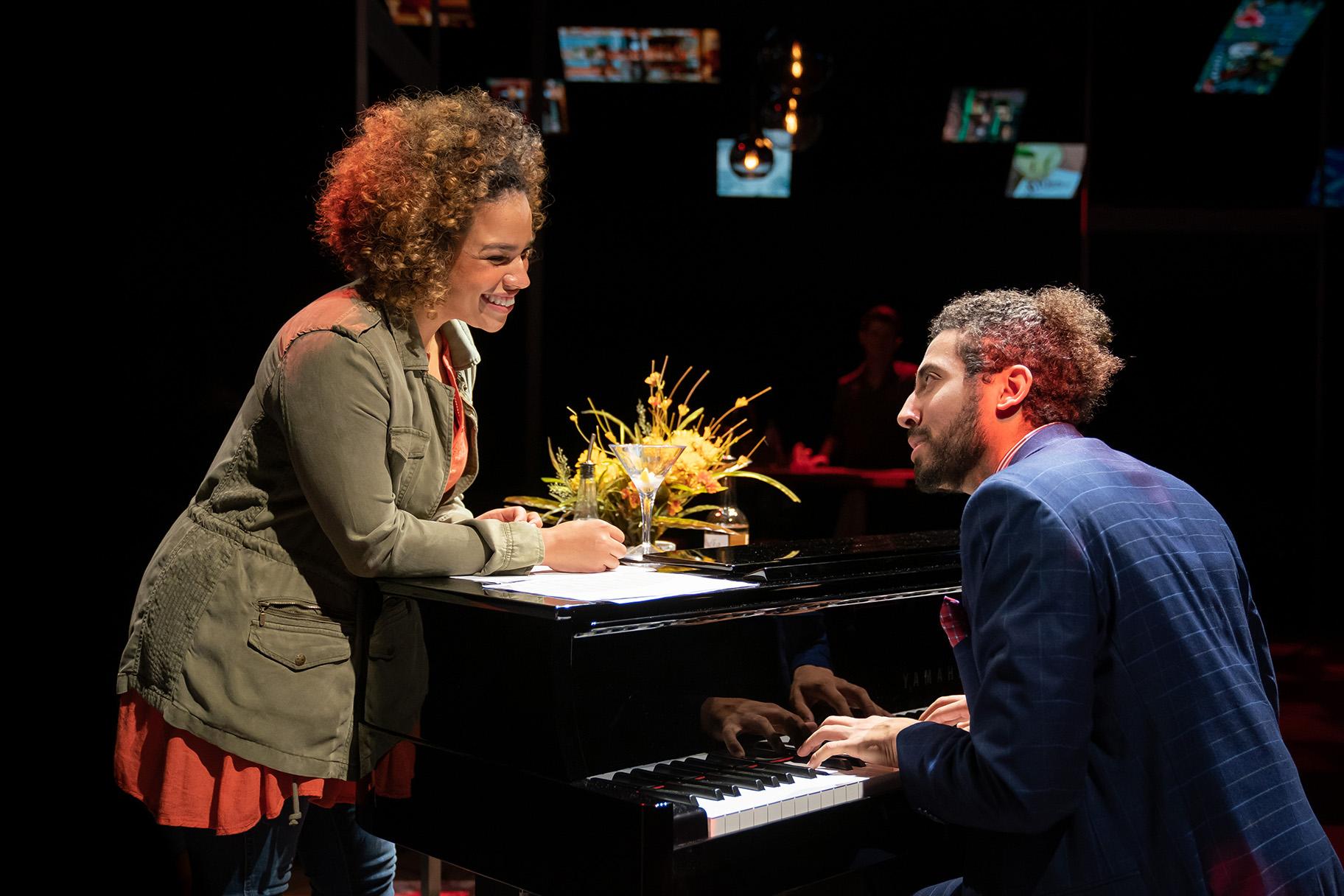 Katherine Thomas and Heath Saunders in "Darling Grenadine." (Photo by Liz Lauren)
Harry has seen her in the show and, impressed by Louise's comic flair, he pursues her at the stage door. They meet cute (she lint-rolls his suit jacket to remove the hairs of his beloved dog, Paul). And clearly there is chemistry between them. But things are not quite as ideal as they might seem at the start. For starters, despite all his charm, Harry has a drinking problem, and for all her talent, Louise is wary about aiming for stardom. Love is a temporary balm, but it also comes with serious complications.
Harry's backstory explains a great deal. While in an interview Zaitchik said he initially wrote this musical for himself and actress Emily Walton (both of whom are white), at Marriott they are played by African American actors. And while the word "race" is never spoken, the casting adds a frisson of meaning to the complex relationship between him and Paul (Nick Cosgrove), the gay (white) bartender. Both men refer to each other as literal brothers. (Spoiler alert: Paul's father, a Broadway conductor, brought Harry into the family, saving him from an alcoholic father and encouraging his musical talents. And in turn, Harry protected Paul during their school years, when Paul was bullied for being gay. Later, Harry also helped pay Paul's bills with the windfall from his burger jingle.)
There are, in fact, two characters named Paul in the show. The other one is Harry's beloved dog, a Labrador retriever, who is brilliantly brought to life in marionette form by the renowned puppeteer Phillip Huber, and who easily steals every scene with his marvelously expressive gait, face and tail. Talk about star quality. (There is another surprise performance by a canine not to be revealed here.)
Heath Saunders, left, and puppeteer Phillip Huber in "Darling Grenadine." (Photo by Liz Lauren)
As Harry, the graceful and warm-voiced Saunders is an ideal mix of charm, manipulation and despair as he swings between sobriety and drinking binges. And Thomas (so memorable as Sarah in Griffin Theatre's production of "Ragtime" a couple of seasons back) is sublime as the woman torn between her career and a love that is as damaging as it is alluring. Thomas' exceptional vocal and dramatic range, which enables her to shift easily from the sassy to the vulnerable, brings to mind a young Audra McDonald.
Cosgrove is ideally intense, likeable and understated as the well-balanced Paul, who is eventually able to free himself of a certain co-dependency with Harry. Both Allison Sill (recently seen in "Miracle," the Cubs-themed musical at the Royal George), and Brandon Springman, slip seamlessly in and out of several supporting roles. And actor-musician Mike Nappi adds just the soulful sound needed as the onstage Trumpet Player.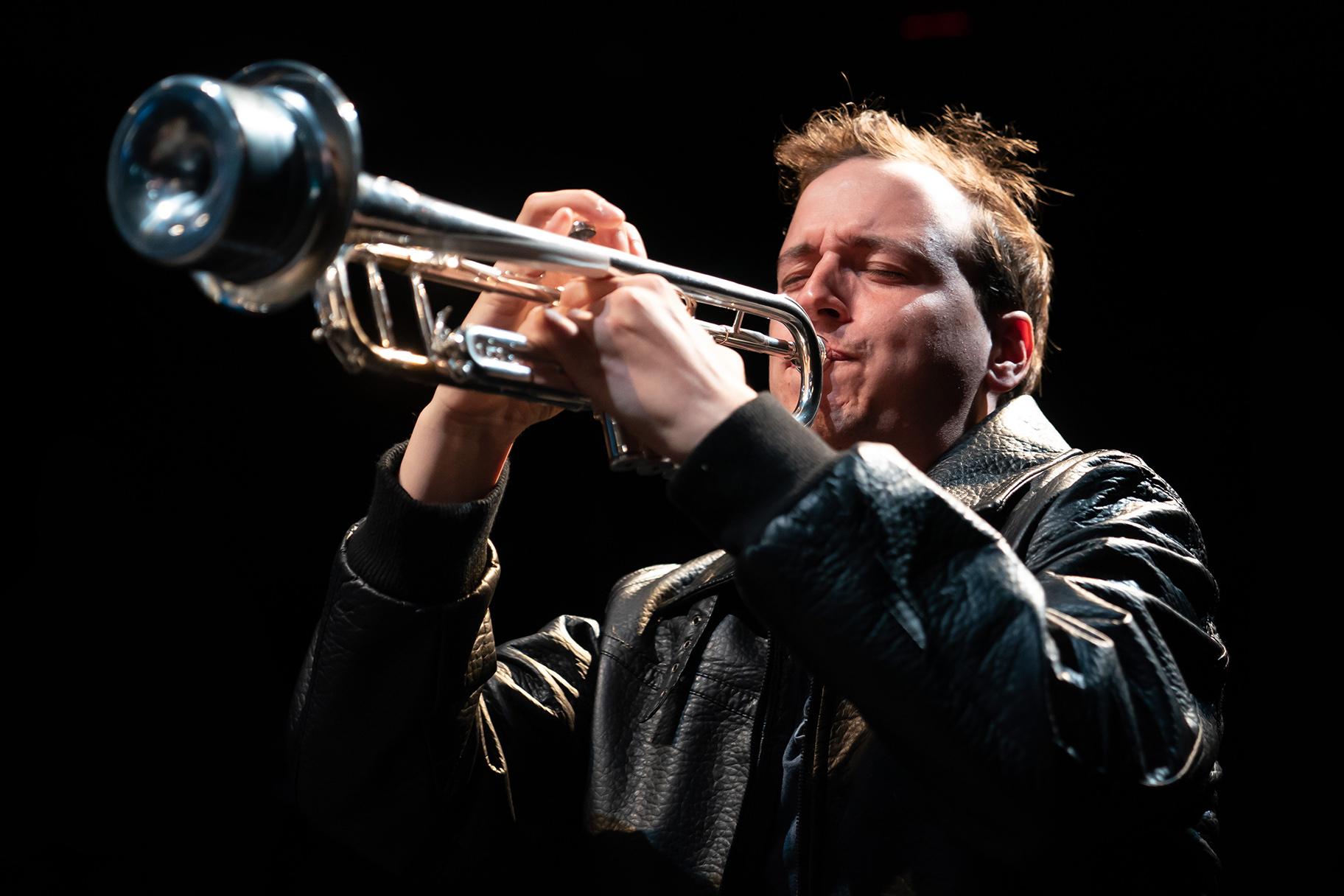 Mike Nappi in "Darling Grenadine." (Photo by Liz Lauren)
Overseeing the essential, nuanced performance of Zaitchik's impressively poetic and melodic score (expertly orchestrated by Matt Moisey) is musical director Ryan T. Nelson, with a six-piece orchestra led by Patti Garwood, Marriott's ever-flawless conductor/keyboardist. Several of the show's songs – from the beguiling "Every Time a Waitress Calls Me Honey," to "Suspended" and "New Year's Eve," could easily become classics.
With its in-the-square configuration, the 886-seat Marriott Theatre also happens to be an ideal fit for this chamber musical that is ideally complemented by Jeffrey D. Kmiec's industrial modern set, Jesse Klug's lighting, and Anthony Churchill's evocative projections on a checkerboard skylight structure.
And do not mistake the term "chamber musical" as a measure of the quality and heartbreaking appeal of "Darling Grenadine." Instead, take it in the spirit of a line by penned by Zaitchik himself: "Someone likes me for just being alive."
"Darling Grenadine" runs through Aug. 18 at the Marriott Theatre, 10 Marriott Drive, Lincolnshire. For tickets ($50-$60) call (847) 634-0200 or visit marriotttheatre.com. Running time is 2 hours and 30 minutes with one intermission.
Follow Hedy Weiss on Twitter: @HedyWeissCritic
---
In 'Ada and the Engine,' a Woman Far Ahead of Her Time
Preserving Musical History With a Rarely Revived Operetta
In 'Hedwig,' Divided Cold War-Era Germany Gives Birth to Even More Divided Identity
---