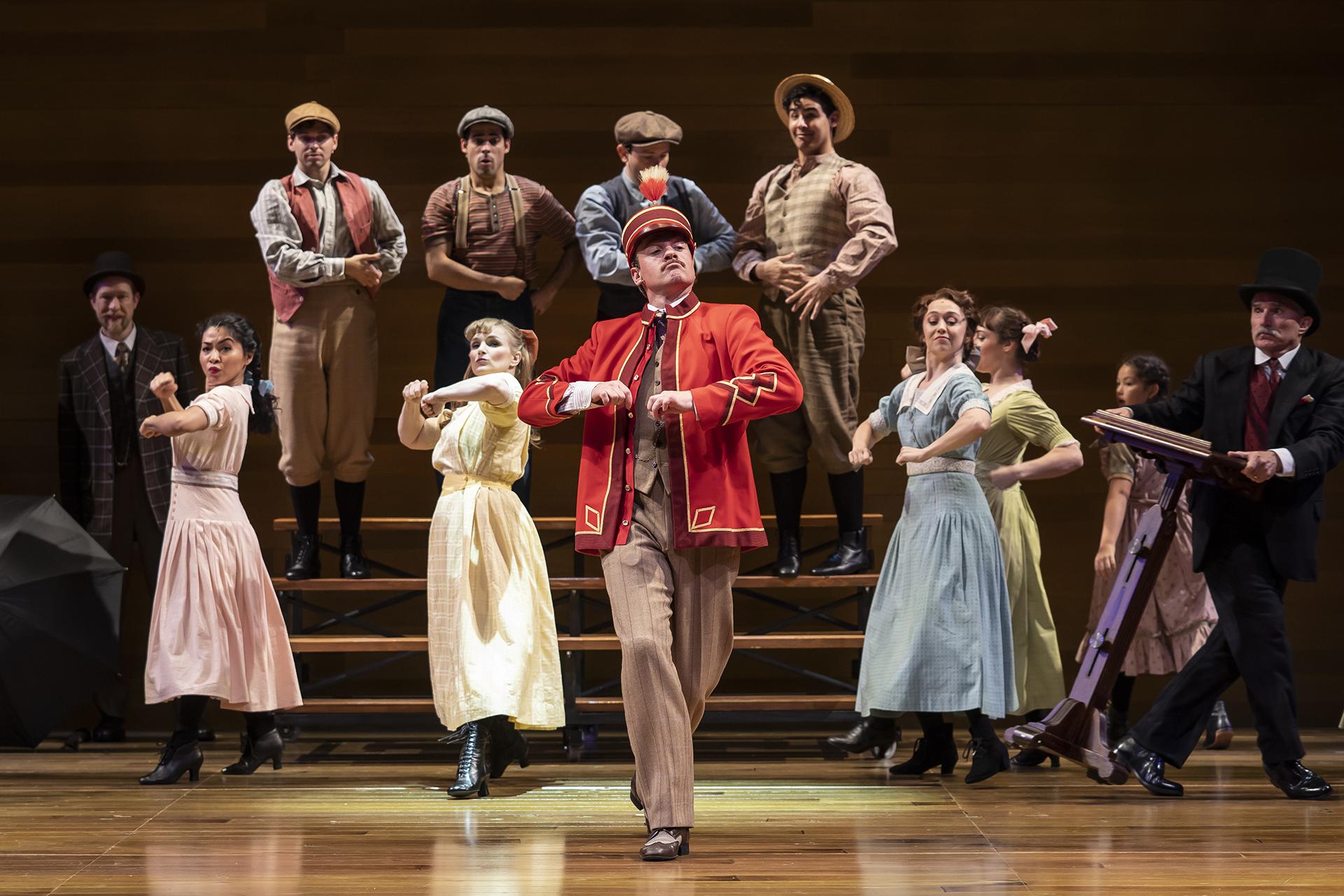 James Konicek, Ayana Strutz, Matt Casey, Tommy Rivera-Vega, Kelly Felthous, Christopher Kale Jones, Geoff Packard, Alejandro Fonseca, Laura Savage, Adrienne Velasco-Storrs, Sophie Ackerman and Ron E. Rains in "The Music Man" at the Goodman Theatre. (Photo by Liz Lauren)
The two principal contenders for best musical at the 1958 Tony Awards were "The Music Man" and "West Side Story." Guess who marched away in full regalia with the top prize. If needed, here's a hint: A story about how love ultimately triumphed over money beat a tale of how love was ravaged by prejudice.
It would be easy to classify Meredith Willson's irresistibly satirical, playfully cynical, yet joyfully upbeat work as a good old-fashioned piece of classic Americana—a look at how the deceptively named professor Harold Hill, a shrewd but impossibly charming scoundrel who manages to seduce a town of contentious, moralistic Midwesterners (circa 1912) to part with their money and who, in the process, learns about the power of love. Meanwhile, of course, the citizens of River City, Iowa, learn how to bask in the glory of brightly colored uniforms, shiny brass marching band instruments, and the promise (that never materializes) of musical instruction that will enable them to loudly blow their horns. And Marian Paroo, the town's fiercely independent-minded librarian and piano teacher, learns to seize the day.
Related: Mary Zimmerman Reimagines 'The Music Man' at Goodman Theatre
True, "The Music Man" might not have the volcanic cross-cultural snap and cool of "West Side Story." But just listen to its opening number, in which a train full of fast-talking salesmen bicker at rapid-fire speed about their stock-in-trade. Set to the rhythms of the train on the tracks, it is enough to make you quickly realize that it was Willson, not Lin-Manuel Miranda, who wrote Broadway's first rap song, and he was a good six decades ahead of his time. And you can detect much more of Willson's musical invention in the Goodman Theatre's revival of the show which is now receiving a high-spirited, grand-scale production laced with Mary Zimmerman's exuberantly farcical direction (and characteristic streak of rueful romanticism), Jermaine Hill's zesty musical direction, and above all, the bravura, highly original, superbly executed dance sequences of award-winning choreographer Denis Jones that are its greatest glory.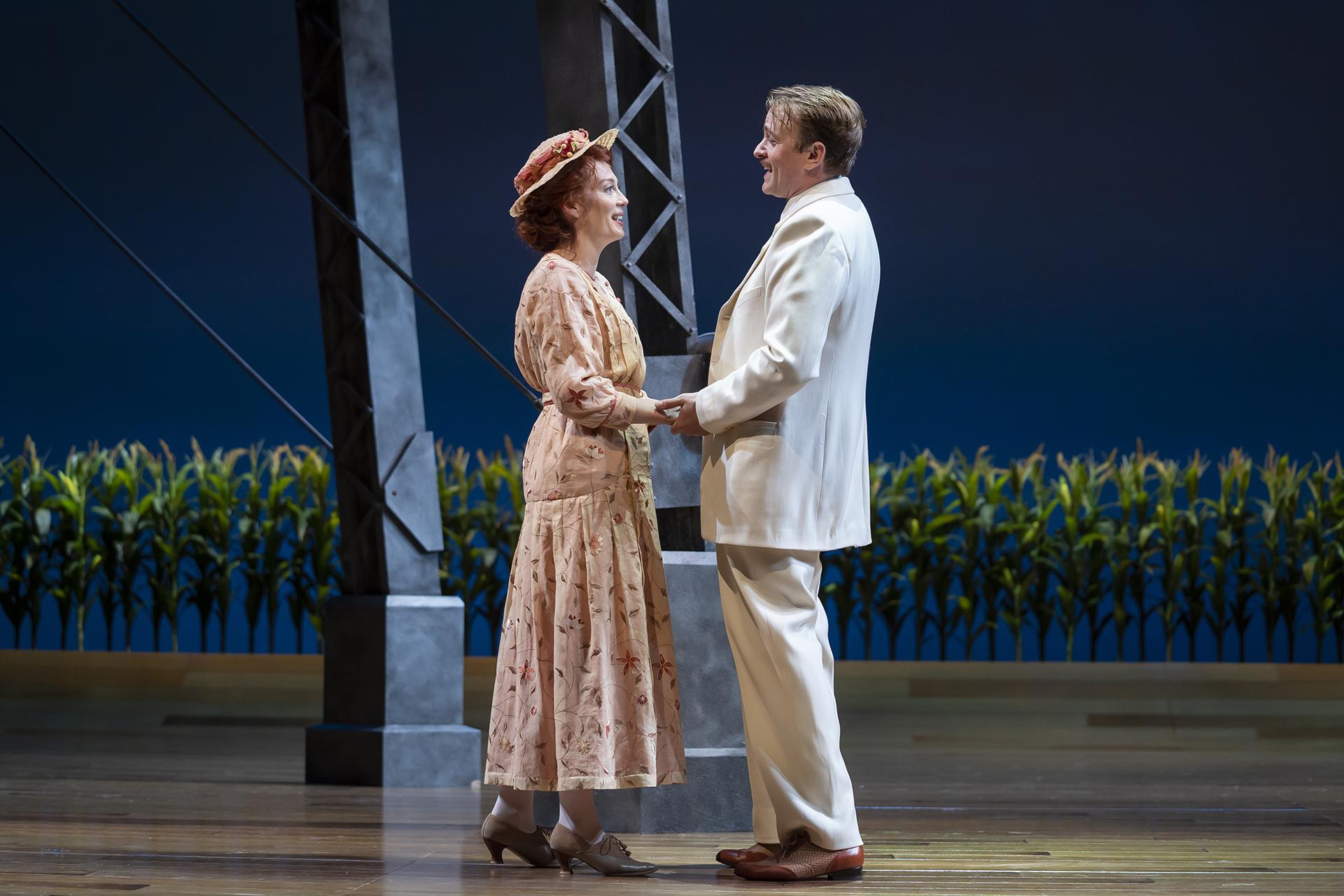 Monica West (Marian Paroo) and Geoff Packard (Harold Hill) in "The Music Man" with music and lyrics by Meredith Willson and a book by Meredith Willson and Franklin Lacey, directed by Mary Zimmerman. (Photo by Liz Lauren)
The overall pacing of this bear of a show can sometimes feel a bit off, as can the balance in volume between the singers and orchestra. The relationship between Harold and Marian can sometimes get lost amid all the excitement, although, at its best it is lovely and real. And the final moments of the musical could use greater punch—something more celebratory and all-embracing than the standard lowering of a curtain.
At the same time, there is such a sense of pure jubilation about this production that its imperfections are easy to overlook. And Willson, who wrote the music, lyrics and (with Franklin Lacey) book of this seamless show, was masterful with his ballads ("My White Knight," "Till There Was You," and "The Sadder But Wiser Girl") and his brilliant patter songs (the rollicking "Ya Got Trouble," the gossipy "Pick-a-Little, Talk-a-Little," and the zany dance-fest, "Shipoopi"). (Earlier in his career, Willson was part of John Philip Sousa's band, played flute with the New York Philharmonic, and wrote the score for Charlie Chaplin's film, "The Great Dictator.")
As for "Marian the Librarian," thanks to Jones, it has never received a more spectacular staging, with everything from the bookshelves and books to the dancers set into dizzying perpetual motion as Hill relentlessly pursues Marian. (If the Goodman posted a full video of the number on the internet, it would easily go viral.)
As Hill, the masterful, fast-talking scam artist, Geoff Packard brings enormous energy and intelligence to everything he does, and there is an impressive effortlessness to his singing and dancing in what is a truly marathon role. He also deftly suggests Hill's innate sense of what is missing in people's lives, whether dealing with Tommy, the town delinquent; Winthrop, Marian's little brother who suffers from a lisp; or the ever-squabbling men of the school board who suddenly find blissful harmony as a barbershop quartet. More than the flamboyant showman, Hill is the insightful psychologist who only realizes what is missing in his own life when he finally falls in love.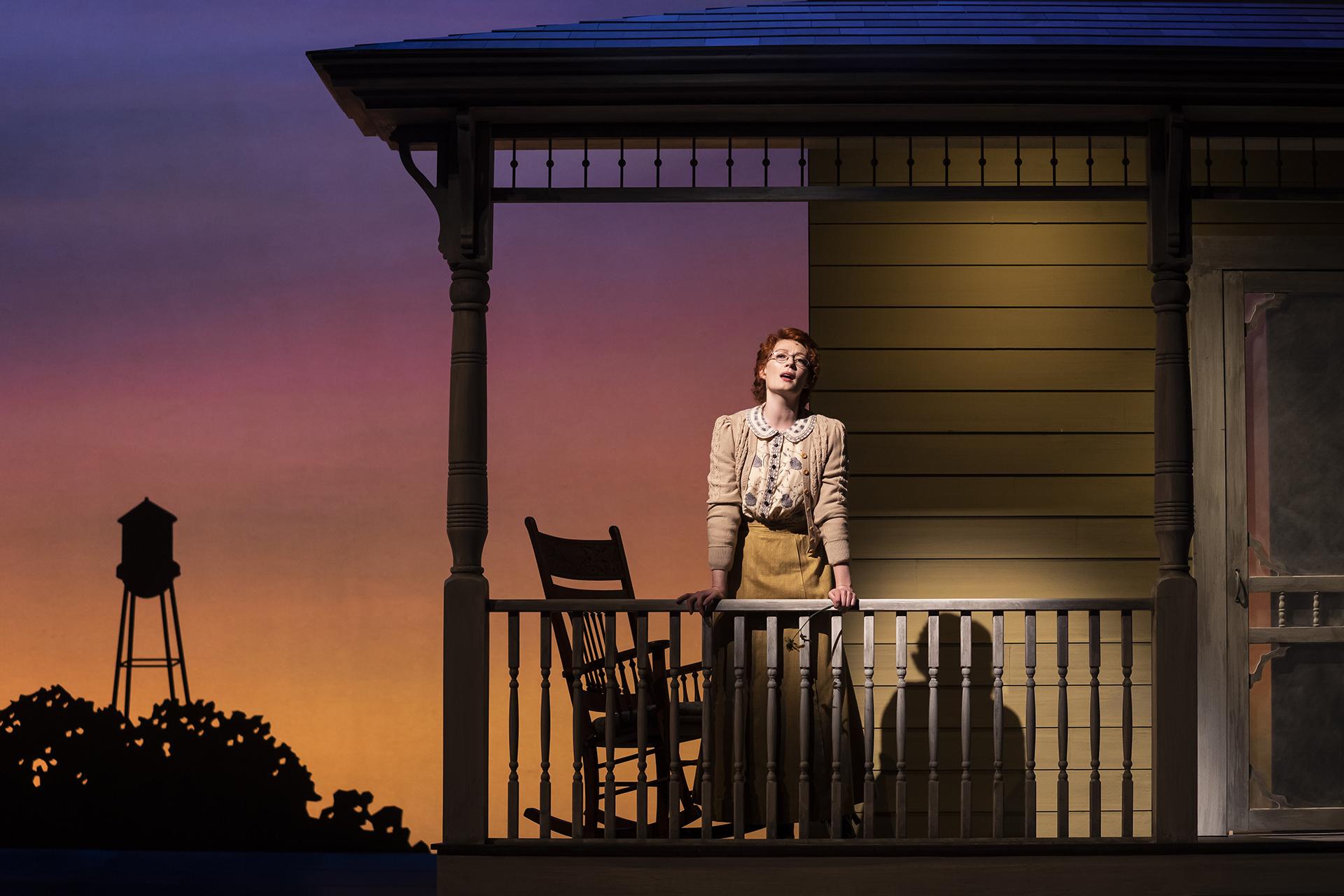 Monica West (Marian Paroo) in "The Music Man" with music and lyrics by Meredith Willson and a book by Meredith Willson and Franklin Lacey, directed by Mary Zimmerman. (Photo by Liz Lauren)
With her clear, delicate soprano, Monica West, brings a particular beauty to her performance of "My White Knight" and cannily suggests Marian's pride and sharp self-awareness, avoiding the clichéd bookish primness that often defines the character. She gives us an attractive, educated woman who will not settle, and who understands very well why she is something of an outcast in her provincial town. And while she falls for Hill and rescues him, you sense she also is quite aware that he is a traveling salesman who might very well head for the road again.
There are marvelous performances in the musical's many supporting roles and large ensemble as well. Matt Crowle brings his phenomenal dancing and terrific clowning to the role of salesman Charlie Cowell, Hill's nemesis. Mary Ernster is terrific as Marian's earthy Irish mother who takes quite a liking to Hill. Jonathan Butler-Duplessis is full of fire and vocal heat as Hill's old friend, Marcellus. Jonathan Schwart, Jeremy Peter Johnson, Christopher Kale Jones and James Konicek are perfection as the old-timey barbershop quartet. And there are fine turns by Heidi Kettenring as the mayor's drama queen wife, Tommy Rivera-Vega as the bad boy who hooks up with the mayor's daughter, and child actors Carter Graf, Sophie Ackerman and, best of all, Milla Liss, the tiny girl who plays Gracie (the mayor's youngest daughter) with the feverish concentration and panache of a Broadway veteran.
Set designer Daniel Ostling (Zimmerman's longtime collaborator) has created a geometrically stylized, "minimalist industrial" set with bleacher seating used for dance antics, and the pairing of a movable toy and life-size Wells Fargo wagon that cleverly plays with scale (a Zimmerman and Ostling trademark that invariably delights audiences). And Ana Kuzmanic's vintage costumes are full of color and whimsy.
As for the enduring allure of "The Music Man," it seems custom-made for this moment of corruption, greed and general dyspepsia when the calming, unifying balm of music, even if it's just Professor Hill's brand of "think music," can work its magic.
"The Music Man" runs through Aug. 18 at the Goodman Theatre, 170 N. Dearborn St. For tickets ($25-$142) call (312) 443-3800 or visit www.GoodmanTheatre.org. Running time is 2 hours and 45 minutes with one intermission.
Follow Hedy Weiss on Twitter: @HedyWeissCritic
---
New Musical 'Darling Grenadine' a Sobering Look at the Quest for Happiness
In 'Ada and the Engine,' a Woman Far Ahead of Her Time
Preserving Musical History With a Rarely Revived Operetta
In 'Hedwig,' Divided Cold War-Era Germany Gives Birth to Even More Divided Identity
---