Audience members enter Symphony Center on opening night of Verdi's "Aida" on June 21, 2019. (Credit: Todd Rosenberg)
The world's major symphony orchestras (and opera houses) plan their schedules long in advance. Yet there seemed to be something uncannily preordained about the two radically different concerts that signaled the final week of the Chicago Symphony Orchestra's 2018-2019 season during the past few days.
It was, of course, a season that saw a long and painful strike, with all the usual dire warnings sounded about "the demise of the audience for classical music."
So how do you explain the fact that more than 20,000 people flocked to Millennium Park last Thursday evening to hear the remarkable cellist Yo-Yo Ma play Bach's "Six Suites for Unaccompanied Cello" – a concert that served as a grand finale for his nearly decadelong tenure as the CSO's invaluable creative consultant. And what does it say when the three concert-style performances of Verdi's "Aida" at Symphony Center – a monumental undertaking that brought together Maestro Riccardo Muti and the CSO, along with the orchestra's dazzling chorus and a large ensemble of operatic soloists – attracted sell-out crowds? (The last of those three "Aida" concerts is Tuesday evening.)
The takeaway is this: Despite all the talk, there is still a formidable audience for classical music, whether veteran fans or "newbies." True, the price of a ticket often can be a barrier. (Yo-Yo Ma's concert was admission free.) But there also is a significant audience in this city that values this foundational and incomparable art form, and is capable of paying for tickets to concerts that involve a vast assemblage of stellar musicians.
Like Yo-Yo Ma's concert, Muti's traditional free season opener (whether in Millennium Park or at other sites, including Lane Tech High School) has proven to be a great audience magnet – and in many cases both an introduction and enticement to further concertgoing. The success of such events should convince foundations and corporate sponsors to underwrite even more frequent free concerts as an invaluable means of building new audiences while at the same time reigniting a spark of divine fire in veteran concertgoers.
Meanwhile, here is a closer look at both events.
---
The Music is the Drama in CSO's Grand Concert Version of "Aida"
Soprano Tasha Koontz (CSO debut), tenor Issachah Savage (CSO debut) and bass-baritone Eric Owens after the conclusion of Act II of Verdi's "Aida" on June 21, 2019. (Credit: Todd Rosenberg)
There is something truly revelatory about hearing an opera without the trappings of a stage director's sometimes distracting conceptual whims and a designer's grand-scale, eye candy-filled spectacle, no matter how richly theatrical all that might be.
Pared down to the musicians and the vocalists – a mighty contingent in and of themselves – the composer's work is of the essence, and in the case of "Aida" you are able to hear Verdi's score in a whole new way. The drama emerges not from "the staging" but from the music alone, and from the intimacy of that music as it takes the form of soliloquys, scenes between lovers, the exchange between a father and daughter and more. This is precisely what happened as Muti led the classic story of love and war, betrayal and forgiveness, and the tension between loyalty to one's homeland versus love for another human being.
The music is magnificent – from the surprisingly quiet, almost conspiratorial hum of the violins at the very start, to the sense of imagined glory by a warrior who believes he can win his forbidden true love's heart through military grandeur, to a heavenly choral plea for victory, to the opera's iconic triumphal march, to a gorgeous single cry for peace from a victim of tragic, unrequited love. And the musicians, all but hidden when playing in the orchestra pit of an opera house, are now in full view, as is the utterly sublime chorus under the direction of Duain Wolfe.
One conclusion: If this rendering of "Aida" is the true measure of the work, the opera should be retitled "Amneris." The daughter of the King of Egypt, Amneris adores Radames, King of the Guards who she realizes is in love with Aida, the Ethiopian princess captured and enslaved by the Egyptians. And Anita Rachvelishvili, the statuesque, raven-haired, powerhouse mezzo-soprano used her formidable presence and stirring voice to superb effect as she captured the heartbreak and nobility of her character.
Soprano Krassimira Stoyanova was often a bit shaky as Aida, but rose to the challenge in her exchange with her father, Amonasro, King of Ethiopia (a vivid portrayal by the outstanding baritone Kiril Manolov), and with her beloved, Radames (the rich-voiced tenor, Francesco Meli). There also were notable performances by bass Ildar Abdrazakov as Ramfis, Chief of the Priests, bass-baritone Eric Owens as the King of Egypt, and soprano Tasha Koontz as a High Priestess.
The orchestra, with its massing of horns, impeccable winds and strings (including harpist Sarah Bullen), and fleet percussionists and timpanists, was in top form, with Maestro Muti tapping into the ever-shifting emotional landscape of those at war with themselves and their enemies.
This CSO concert will be repeated Tuesday, June 25 at 7:30 p.m. at Symphony Center, 220 S. Michigan Ave. For tickets call (312) 294-3000 or visit www.cso.org. Running time is 3 hours and 15 minutes including two intermissions.
Note: While this season's CSO concerts at Symphony Center are about to come to a close, the orchestra will be at the Ravinia Festival throughout the summer with a slew of different programs. Among them are several concerts devoted to works by Leonard Bernstein (including live performances of his film scores to accompany screenings of "West Side Story" and "On the Waterfront"), a gala concert featuring Oscar and Grammy winner Jennifer Hudson, a repeat performance of his "Mass," and concerts that will include works by Mahler, Gershwin, Beethoven, Brahms and many more. For tickets call (847) 266-5100 or visit www.ravinia.org.
Yo-Yo Ma Mesmerizes His Audience With Bach's Evolving Formal Experiments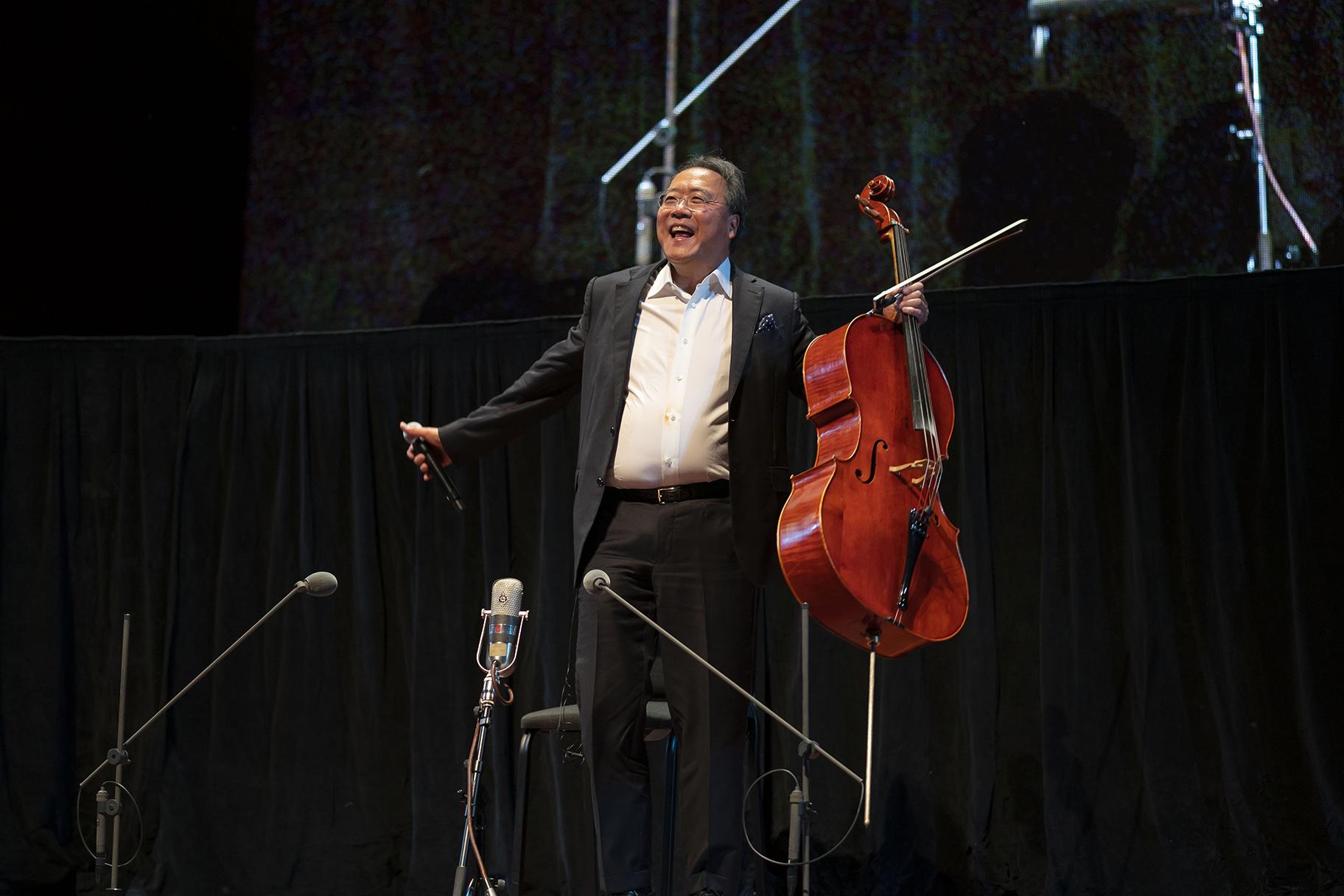 Yo-Yo Ma acknowledges the audience following the performance of J. S. Bach's complete Cello Suites in a free concert at Millennium Park's Jay Pritzker Pavilion on June 20, 2019. (Credit: Todd Rosenberg)
A few weeks before Yo-Yo Ma's Millennium Park concert I happened to hear a story on NPR about Dan Tepfer, the pianist and coder who has experimented with composing music with the help of artificial intelligence. Tepfer told his interviewer: "If you look at Baroque classical composers like Bach their music lives at the intersection of the algorithm and the spiritual – equal parts rules and intuition – a musical fusion of the human and the machine."
As someone with a passion for music and a loathing for the current tyranny of the algorithm, I dismissed the notion. But it came back to me while listening to Yo-Yo Ma make his way through Bach's "Six Suites for Unaccompanied Cello," with their formal sections (Prelude, Allemande, Courante, Sarabande, and various other dance forms from Menuet, to Bourree, to Gavotte and Gigue).
This music has clearly become part of the cellist's DNA, and in addition to the luminous playing of the works, there was the expression of intense joy that radiated from his face and was magnified on the giant screen that made his performance clearly visible to the most distant member of the audience. It was a spiritual experience, not a mathematical one. And yet, in following Bach's variations, with their mood-shifting elements that captured the full range of human emotions – melancholy, introspection, exuberant energy, and determination, all within a certain formal structure – I began to sense what Tepfer was talking about. And then there was the great surprise that came with the sixth and final Suite in which you could hear the genesis of a new style for Bach – a fascinating evolution into what almost sounded like the beginnings of Romanticism.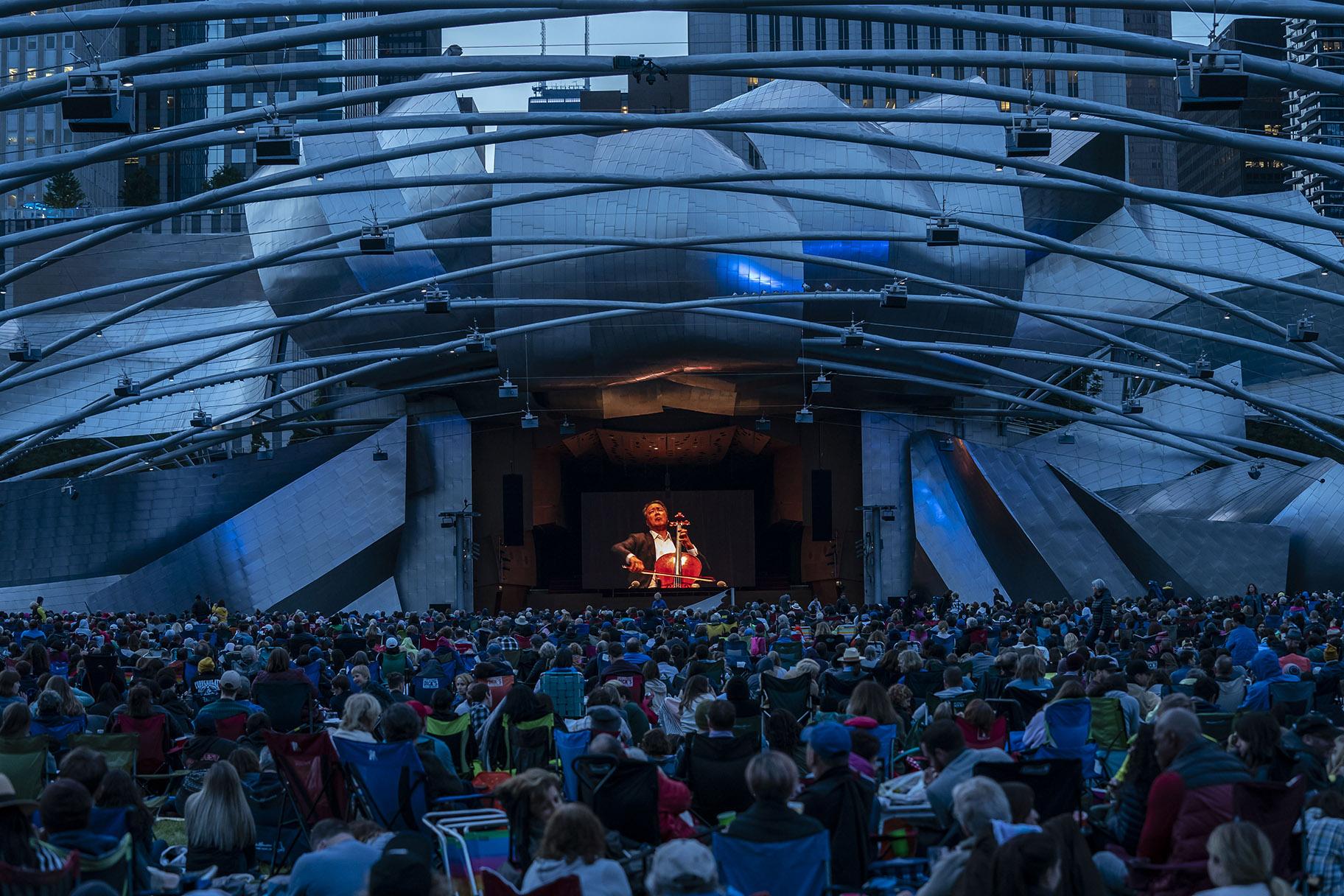 Yo-Yo Ma performs at Jay Pritzker Pavilion in Millennium Park as part of his 36-concert Bach Project on June 20, 2019. (Credit: Todd Rosenberg)
Yo-Yo Ma is the most innately humanistic of musicians (and human beings), but he also possesses an undeniable rock star charisma, both figuratively and literally, plus a good bit of mischief. Following his marathon performance of the Bach suites he was joined onstage for a surprise "encore" with Jim Peterik (the violet-haired founder of the rock band Survivor, and composer of "Eye of the Tiger," the hit theme song for the film "Rocky III"). And together with a terrifically talented young teen band nurtured by the Little Kids Rock program, they played that pop classic. And in a moment of hard rock euphoria Yo-Yo Ma even lifted his beautifully burnished Moes & Moes cello high above his head.
Follow Hedy Weiss on Twitter: @HedyWeissCritic
---
Related stories:
Yo-Yo Ma Visits West Side Park to Play Bach, Plant Trees
List: Free Summer Concerts in Millennium Park's Pritzker Pavilion
A Winningly Eclectic CSO Concert Mixes Contemporary, Classic Works
Violinist Hilary Hahn Elicits a 'Wow,' and More, at CSO Concert
A Week of 3 Remarkable Concerts in Chicago and Beyond
After an Agonizing Strike, the CSO is Back – and in Glorious Form
---