Music Director Riccardo Muti leads the CSO in Respighi's "Pines of Rome." (Photo © Todd Rosenberg)
If ever you needed proof of the maxim that "absence makes the heart grow fonder," you could find it at Thursday night's concert by the Chicago Symphony Orchestra, which marked its return to Symphony Center after a bruising seven-week strike.
There was a palpable sense of relief and joy, and a mix of broad smiles and tears on the faces of the musicians, the audience, and all those who work at the hall. The sight of a charming homemade sign saying "Welcome Home," perched against the wall behind the trombone players, added a winning touch. And the great round of applause that welcomed the orchestra, its concertmaster Robert Chen, and Maestro Riccardo Muti – along with the playing of "The Star Spangled Banner" (something usually reserved for the opening of the season) – suggested that this concert did, indeed, herald a new beginning.
Of course in the final analysis, it is the music that matters most. And the full glory of the CSO's music-making was on display in a program that offered an unusual mix of travelogue (Bizet's "Roma"), blazing Shakespearean-style theatricality (Berlioz's stunning "The Death of Cleopatra"), and a wholly wondrous explosion of sound (Respighi's "Pines of Rome").
"Roma," Bizet's tone poem (played for the first time by the Chicago Orchestra in 1894, and not repeated in its entirety until this concert), was inspired by his travels to that historied city, but frankly, it felt more French (or, stretching things a bit, more Neapolitan or Venetian) than weighty Roman. (The performance also was somewhat marred by a high-pitched ringing sound triggered by a hearing aid – an issue that was immediately dealt with at intermission.)
Nevertheless, there was much pleasure to be had – from the moment the French horns sounded, followed by the rapturous winds, and then the full complement of strings (including a pair of harps and an unusual use of the basses), all culminating in a sense of something grandiose. The second movement of this sonic painting was full of color, and then ceded to a third movement driven by a reverie-like melody, with a beautiful clarinet solo appended by the warmth of other wind instruments. And with a great punch of sound, the final movement burst into a sun-kissed frolic, full of energy and pageantry.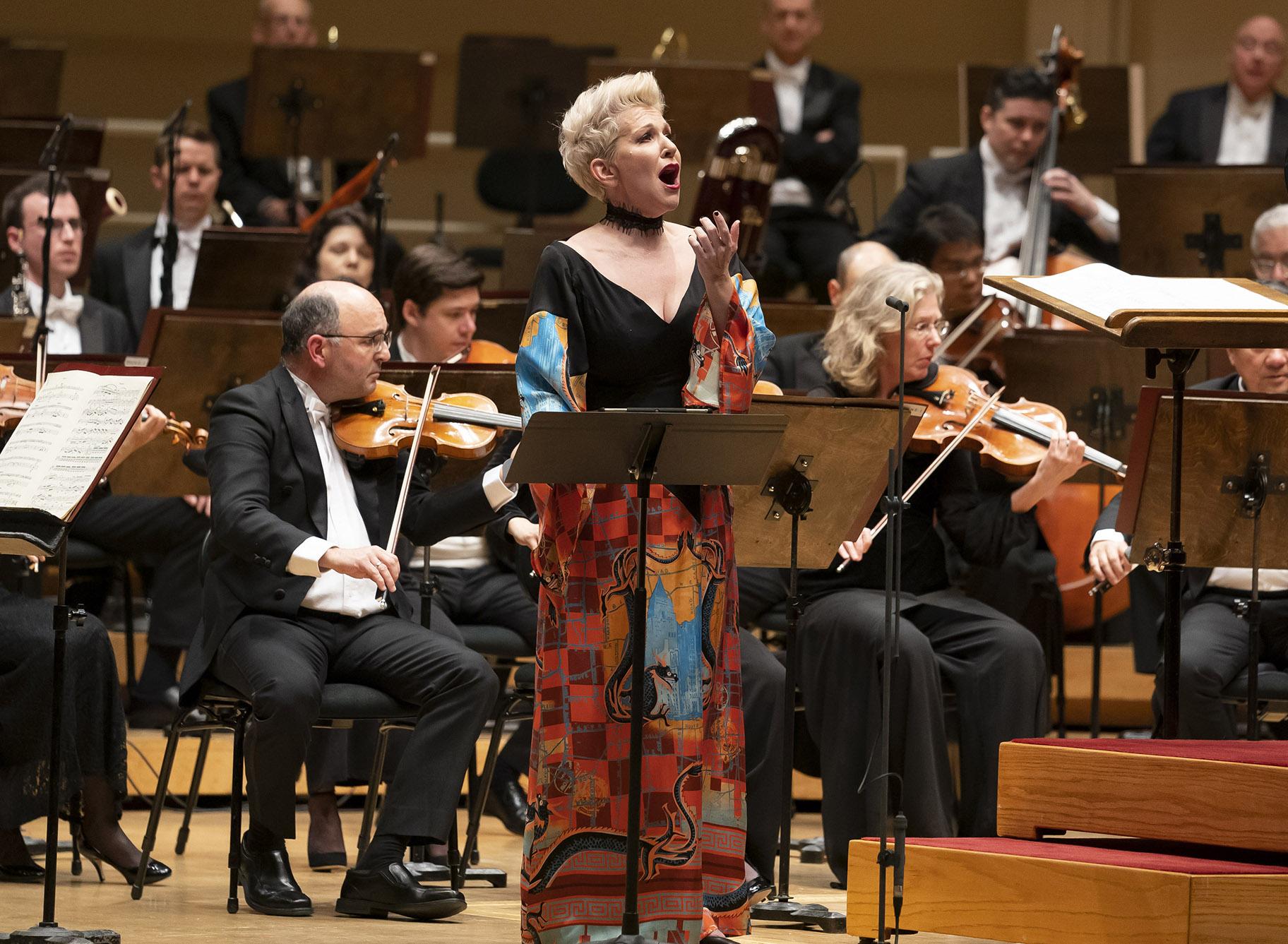 Mezzo-soprano Joyce DiDonato is soloist with the CSO in Berlioz's lyric scene "The Death of Cleopatra." (Photo © Todd Rosenberg)
The concert's second half began with an altogether breathtaking performance by Joyce DiDonato, the Grammy Award-winning American mezzo-soprano. Her vocal and dramatic rendering of "The Death of Cleopatra," which is essentially a brilliant interior monologue/soliloquy featuring a French text by Pierre-Ange Vieillard (but with all the majesty and force of Shakespeare's character in Berlioz's music), was a revelation.
The scene finds Cleopatra, queen of Egypt and the widow of Mark Antony and Caesar, in a state of rage and total despair as she realizes that her power – both political and erotic – has been destroyed by the victory of Octavius. Left "conquered and dishonored," she also realizes that death is her only recourse.
DiDonato, who is tall and slender, with cropped ivory blonde hair, was dressed in a simple but dramatically patterned gown, and she grabbed hold of her character's fate from the moment she arrived on stage. I would easily put her acting up against that of Glenda Jackson's (who is now playing King Lear on Broadway), with her powerful, richly expressive voice raising the musical stakes to the level of sheer perfection. Stunning on every count, Muti and a reduced orchestra were in ideal synchrony with the high drama. Even the doom-laden sound of the basses that bring the work to a close were the essence of pure theater.
Last but by no means least was "Pines of Rome," a fantastical work of pure enchantment dating from 1924 that turns the orchestra into a great feast of sonic delight. Along the way it deploys a full complement of winds and brass, as well as strings, piano, organ and celeste, and a fabulous array of percussion (all brilliantly played) from timpani and bass drum to cymbals, triangle, tambourine, rattle, bells and even the sound of a recorded nightingale.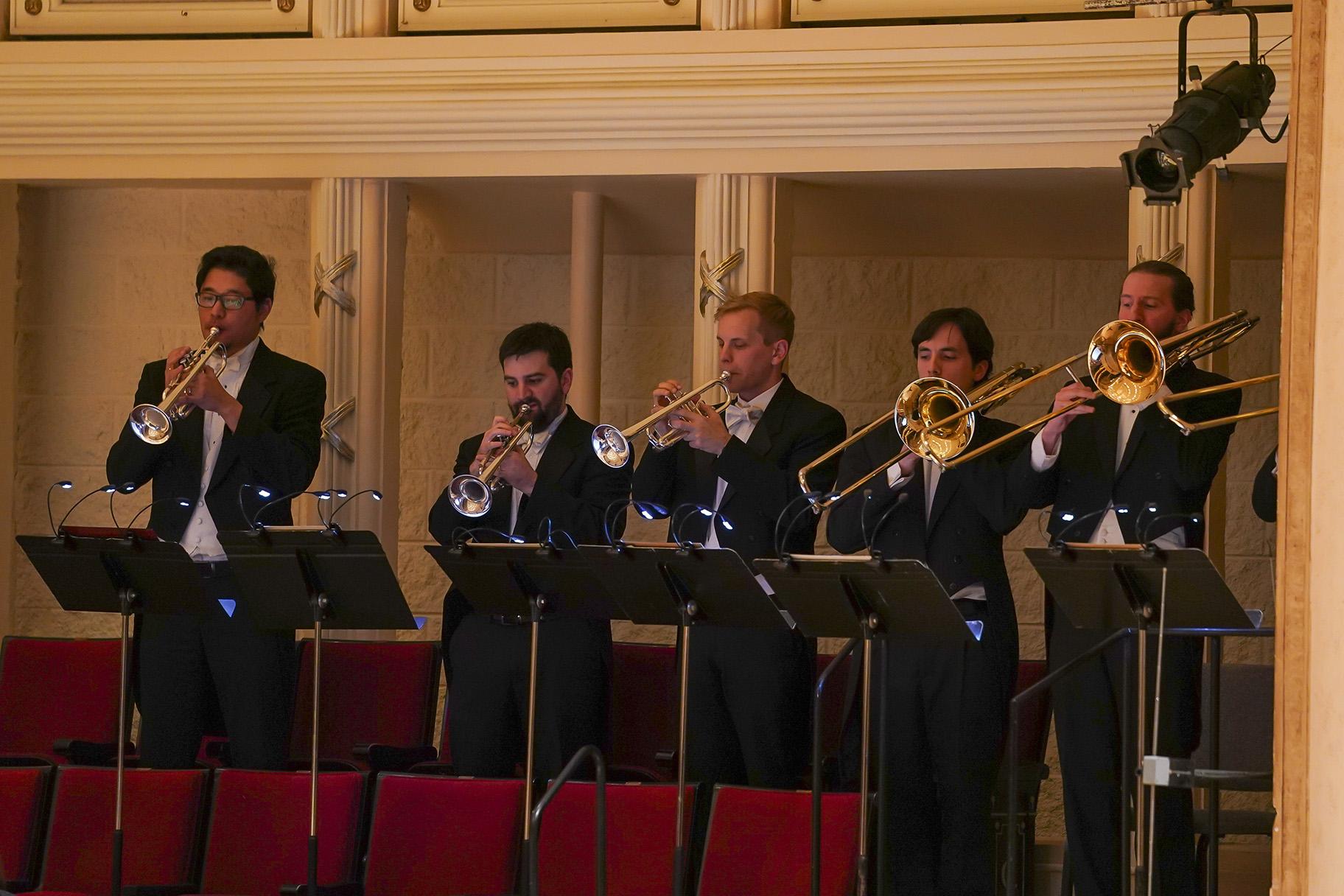 Guest musicians positioned in the terrace of Orchestra Hall join the CSO for the performance of Respighi's "Pines of Rome." (Photo © Todd Rosenberg)
The work finds the orchestra shifting from a magical lightness to a madhouse dissonance. But at moments there also is a dreamy solemnity as the low strings weave a spell, flutes sound, the timpani hums, and there is a ravishingly slow melody for the clarinet. Together, the orchestra suggests an airy, Debussy-like suspension of time and space that moves into a full-blown awakening of nature.
"Pines of Rome" is one of those pieces that serves as a reminder of the exceedingly rare human endeavor that is at the very core of an orchestra: The astonishing act by which close to 100 artists can come together in a flawless meeting of technique and emotion. Happily we can now all breathe a sigh of relief that such magic was not lost.
This concert will be repeated at Symphony Center, 220 S. Michigan Ave. on May 4 at 8 p.m. and May 7 at 7:30 p.m., as well as at suburban Wheaton College on May 3 at 7:30 p.m. For tickets, call (312) 294-3000 or visit cso.org.
Note: The next series of concerts with the CSO and Maestro Muti are May 9-11, with pianist Mitsuko Uchida playing Mozart's "Concerto No. 20." Also on the program will be Mozart's Overture to "The Marriage of Figaro," and suites from two ballets by Igor Stravinsky – "The Fairy's Kiss" and "The Firebird."
And there will be more Stravinsky on tap (May 30 and 31 and June 1), when the CSO and the Joffrey Ballet embark on their first collaboration with a program featuring a world premiere commission by choreographer Stephanie Martinez set to the "Dumbarton Oaks Concerto" and Christopher Wheeldon's piece set to a suite from "Pulcinella." Works by Ravel and Rossini also will be on the program.
Follow Hedy Weiss on Twitter: @HedyWeissCritic
---
Related stories:
Perlman and Kissin Bring the Music Back to Symphony Center
Striking Chicago Musicians Approve 5-Year Contract
CSO's 2019-20 Season Celebrates Beethoven's 250th Birthday
---