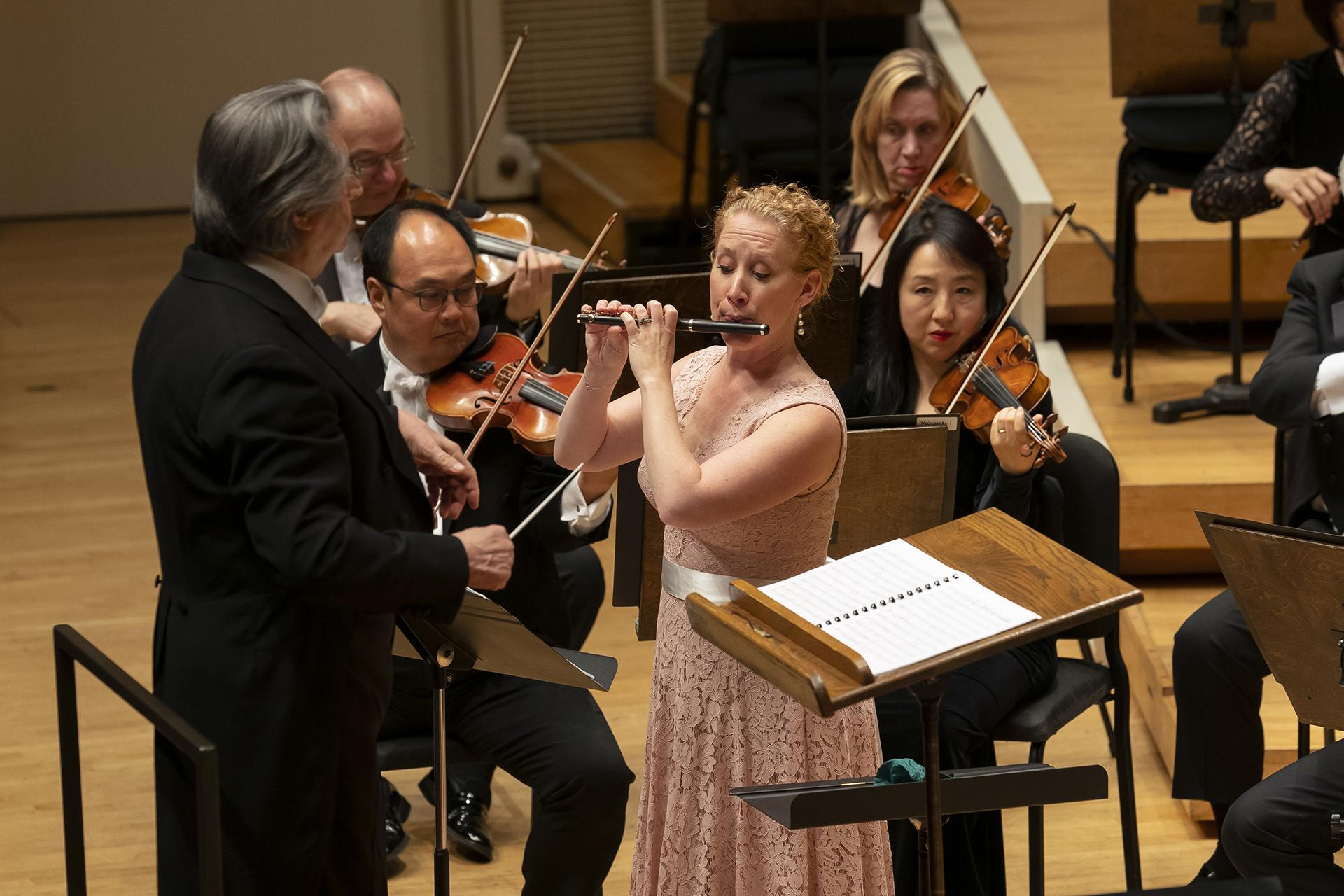 CSO Piccolo Jennifer Gunn is the soloist in Ken Benshoof's "Concerto in Three Movements" with Music Director Riccardo Muti and the CSO. (© Todd Rosenberg)
At first glance it seemed like the most unlikely combination of pieces, and somewhat of a departure from Maestro Riccardo Muti's programming for a Chicago Symphony Orchestra concert. But as it turned out, this weekend's program at Symphony Center was full of delightful surprises and unexpected revelations – an eclectic treat that showcased intriguing works by two relatively unfamiliar composers with Midwestern roots (and simultaneously shined a spotlight on two of the orchestra's superb musicians), while also delivering notably fresh and dazzling performances of works by Beethoven and Gershwin.
First, the contemporary pieces. Following a technically bravura Baroque era "warm-up" courtesy of the "Piccolo Concerto in C Major" – Vivaldi's work for solo piccolo, string orchestra and harpsichord – the CSO's Jennifer Gunn finally got to perform Ken Benshoof's "Concerto in Three Movements for Piccolo and Orchestra," which she was initially scheduled to play in March, just as the CSO went on strike.
Gunn debuted the work in 2016, but this marks its first performance by the CSO and it is a beauty. Unspooling in a series of three richly evocative, mood-shifting "landscape paintings" described simply as "Improvisational, freely flowing," "Calm" and "On the move" the concerto is full of motion, emotion and poetry, and suggests the now 86-year-old composer's youth, which was spent on a Nebraska farm, is still very much with him.
Benshoof has tapped into the more natural sound of the piccolo (and the other winds), rather than taking the decorative approach of Vivaldi. And Gunn expertly suggested the more interior quality of which her instrument is capable. True to its title, the "Calm" section of the piece had a dreamy quality, emphasizing the less birdlike aspects of the piccolo and suggesting a more human voice in conjunction with the subtle undertow of the orchestra's strings. The final section of the 17-minute work was indeed "On the move," with the strings setting things in motion, and wonderfully jazzy, yet lyrical writing for the piccolo. The concluding speed and urgency even suggested elements of the final work on the program: Gershwin's "An American in Paris." As the composer himself wrote in a program note, "Perhaps the simplest overview of the three movements could be a morning walkabout, an indoor afternoon (with a little romance), and a party for the evening."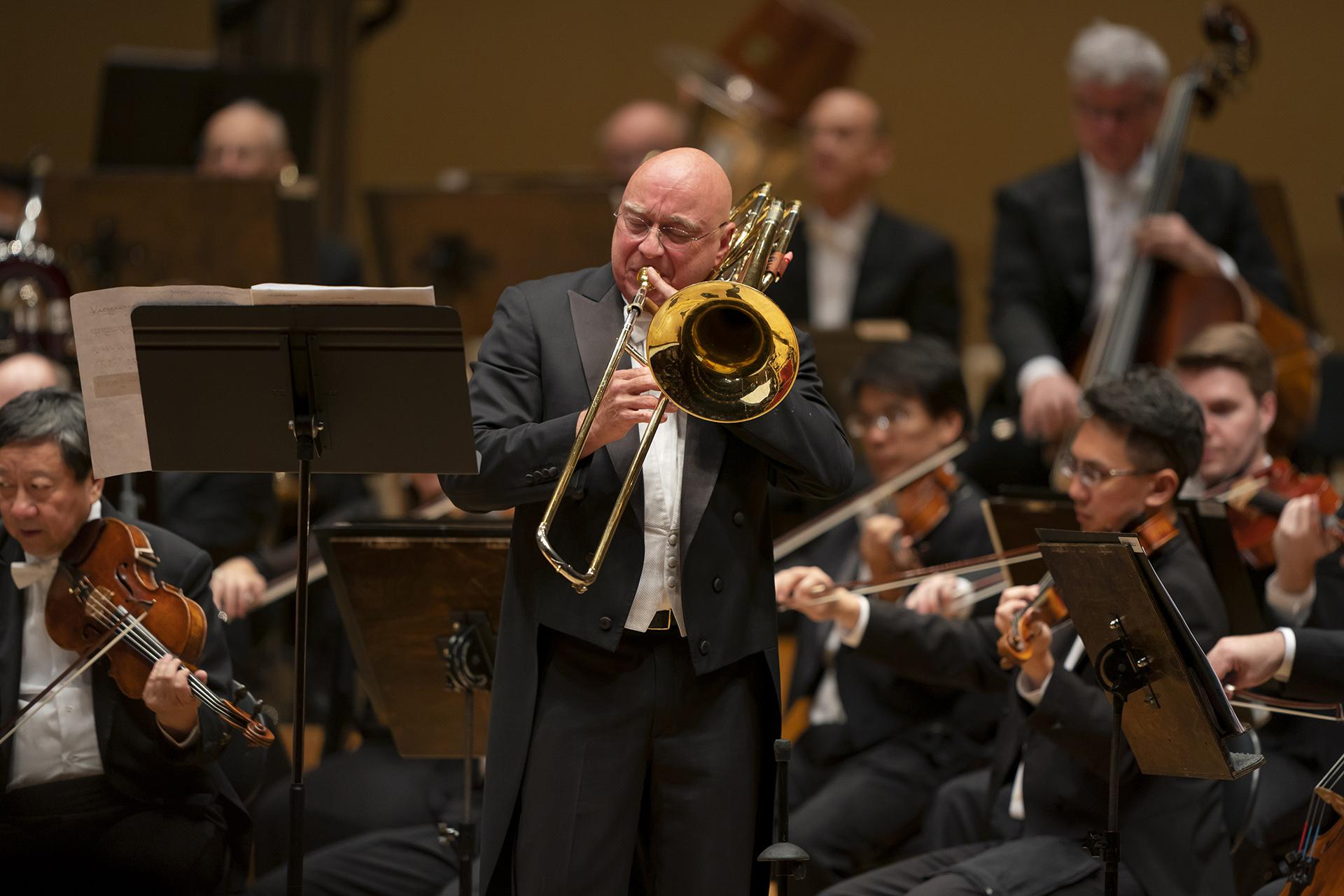 CSO Bass Trombone Charles Vernon is the soloist in the world premiere performance of James Stephenson's CSO-commissioned "Bass Trombone Concerto" with the CSO. (© Todd Rosenberg)
The other CSO musician in the spotlight was its bass trombone player, Charles Vernon, who performed the specially commissioned world premiere of James Stephenson's grand scale "Bass Trombone Concerto" with gusto.
Stephenson, who was born in Joliet, Illinois in 1969, grew up in Lockport, and early on became hooked on the CSO, has created a thrilling work that deploys the full orchestra (including a fabulously busy percussion section led by Cynthia Yeh, as well as a big brass component), and it conjures an elaborate curtain of sound with great energy and invention. Vernon expertly captured the rarely exploited sensual sound and deep "voice" of the trombone – an instrument most often used to declare a certain triumphalism.
Stephenson's concerto – divided into two sections dubbed "Chapter I" and "Chapter II – Epilogue" –  is full of passion, with riffs on the vibraphone, xylophone, wood blocks, bass drum and more, and it builds to a frenzy complete with crashing cymbals at the end of its first movement. The sound of timpani opens the second movement, and deploys the full orchestra in a swirl of rhythmically complex sound, with the trombone given a modernist twist from the lowest tones, along with the sounding of chimes, a lyrical passage for trombone and reeds, and then a mournful riff that cedes to great spirals of echoing music. A dazzling piece, played brilliantly under the baton of Maestro Muti. And both Benshoof and Stephenson were on hand to take their well-deserved bows at the Friday matinee I attended.
For those in search of even more "contemporary" music, or perhaps the more accurate word is "timeless" music, there was Beethoven's "Symphony No. 2 in D Major."
Yes, Beethoven. And the CSO's galvanic performance of his 1803 work suggests that the orchestra's 2019-2020 season, which will include performances of all the Beethoven symphonies in honor of the 250th anniversary of the composer's birth, will serve as a reminder of just how modern his work can sound. Of course his use of the orchestra to evoke every human emotion in a way that also charts his own mercurial heart and psyche is incomparable, and Muti and the orchestra shifted seamlessly from lyricism to feverishness, tapping into the full glory of Beethoven's gorgeous melodies, moments of playfulness, hints of mystery, and sense of agitation and urgency with all the fury, excitement and virtuosity required.
Last but by no means least there was "An American in Paris," Gershwin's irresistible "urban walkabout" dating from 1928 – a work of pure rhythmic and sonic genius that can only be fully appreciated when heard in a live performance played by a world class orchestra.
To be sure, this is the work of a man-about-town attuned to every street sound and jazzy, syncopated rhythm of his time, and it brings the boundless energy of the Roaring '20s to vivid life with Franco-American flair. And, like Beethoven, Gershwin understood how to tap into the essence of every instrument, transforming the orchestra into a great force for capturing the human adventure.
One of the great delights of this concert was to sense the way all these disparate works somehow coalesced into an intriguing maze of connections. A case of achieving unity by way of difference.
Follow Hedy Weiss on Twitter: @HedyWeissCritic
---
Violinist Hilary Hahn Elicits a 'Wow,' and More, at CSO Concert
Pianist Evgeny Kissin Brings Down the House at Symphony Center
A Week of 3 Remarkable Concerts in Chicago and Beyond
After an Agonizing Strike, the CSO is Back – and in Glorious Form
---