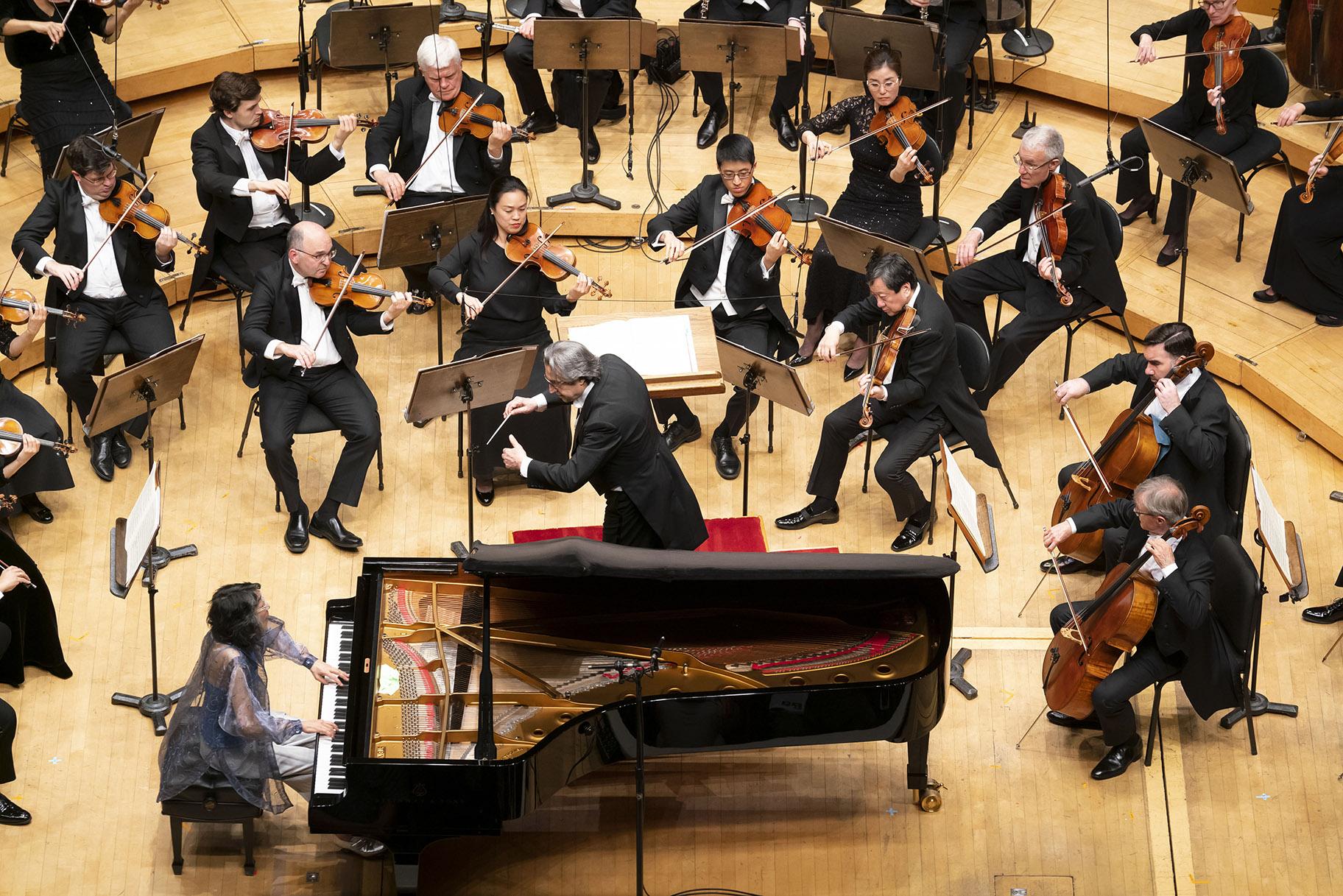 Zell Music Director Riccardo Muti leads the CSO in a performance of Mozart's Piano Concerto No. 20 with Mitsuko Uchida as soloist. (Photo credit: Todd Rosenberg)
A concert by the Chicago Symphony Orchestra featuring the transcendent Mitsuko Uchida in a Mozart Piano Concerto, and two works by Stravinsky. A visit by Maestro Riccardo Muti and several master musicians to a juvenile detention center in Warrenville. And a virtuosic chamber concert at the Harris Theater for Music and Dance that fully lived up to its theme of "the transfigurative."
Here is a closer look at three extraordinary concerts performed in Chicago (and a bit beyond) this week.
The Chicago Symphony Orchestra
A visible love affair was enacted between orchestra and soloist Thursday night as Maestro Muti led the CSO and pianist Mitsuko Uchida in Mozart's hauntingly beautiful, mood shifting "Piano Concerto No. 20 in D Minor." It is a work that, as Phillip Huscher explained in his program notes, so enchanted Beethoven that it was the only one of Mozart's more than 20 piano concertos that he played in public, and the only one for which he wrote a cadenza (which, as it happens, is the one Uchida played).
The concerto, which opens with an immediate sense of dark urgency and subtle angst, is a thing of beauty. And Uchida's playing was simply transcendent as she seamlessly shifted dynamics and moods, bringing the most eloquent, crystalline singing, and at moments intimately conversational tones, to everything she played. The visible communication between Muti and Uchida, and the exquisitely fluid interplay between soloist and orchestra was palpable from the start. It was as if they all had been coached by Hamlet, who famously advised a troupe of actors to speak their words "trippingly on the tongue." Uchida's impeccable articulation, combined with a speed and lightness of touch, are thrilling, and make you listen in the most careful way.
The dreamy lines of the piano in the second Romanza movement could not have been more fluid or more perfectly blended with the orchestra, with a wavelike delicacy infusing even its most ferocious, dramatically heated sequence. Uchida is lyrical to the bone, yet she exudes strength in every moment of her playing. The work's final Rondo section, with its fast and furious sweep, found Uchida in an almost teasing mood, and the orchestra – with exemplary playing by the winds and horns – drove the work to an exciting climax.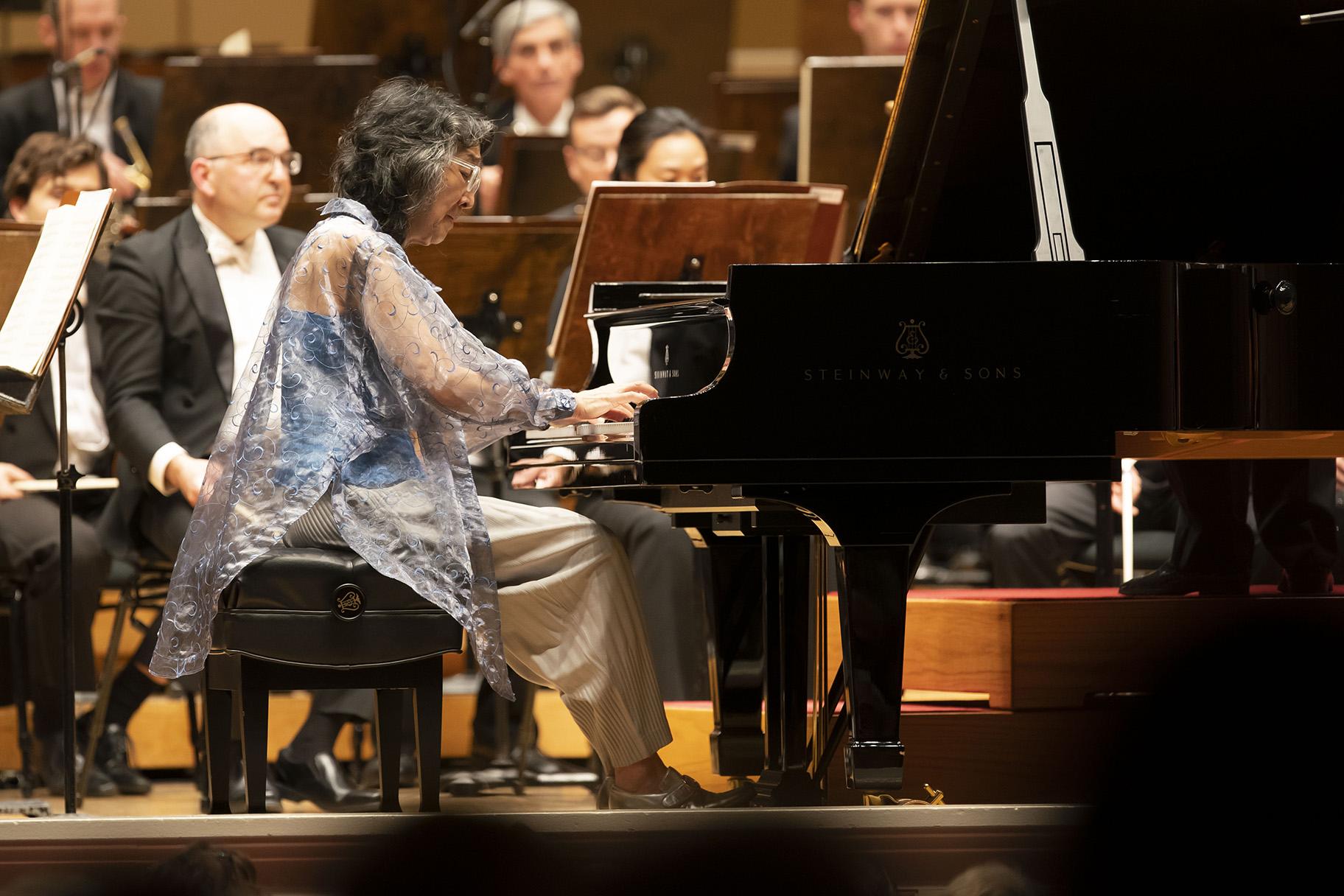 Pianist Mitsuko Uchida is soloist in Mozart's Piano Concerto No. 20 with the Chicago Symphony Orchestra. (Photo Credit: Todd Rosenberg)
The program began with Muti and the orchestra clearly exulting in the energy and exuberance of Mozart's Overture to "The Marriage of Figaro" – a brief "warm-up" that served as a reminder of the composer's ability to suggest the human voice embodied by musical instruments.
The second half of the concert did a perfect stylistic about-face with two works by Stravinsky – the "Divertimento, Suite from 'The Fairy's Kiss' ballet of 1928, and the earlier "Suite from 'The Firebird,'" the composer's breakthrough 1910 ballet that presaged the arrival, three years later, of the revolution "The Rite of Spring."
Sounding echoes of Russian folk dance themes, with gorgeous passages by the orchestra's winds, strings, brass and percussion, the work begins with an almost Mendelssohn-like enchantment, flirts with some syncopated rhythm, and sounds a melody that might have been lifted from his own 1911 ballet, "Petrouchka," with its carnival aura and sense of childlike wonder. Muti himself danced through the surprising burst of music in the Danses suisses, and there was exquisite playing by John Bruce Yeh on clarinet and the flutes in the Scherzo, and powerhouse turns by timpani, French horns and other brass in the final boisterous pas de deux.
Zell Music Director Riccardo Muti leads the Chicago Symphony Orchestra in Stravinsky's Suite from "The Firebird." (Photo credit: Todd Rosenberg)
Stravinsky's "The Firebird" is a work of pure fairytale magic. You can hear it fully in the suite which begins with the hum of the low basses and other strings and signals an awakening with the sound of the bass drum. Something is brewing. The presence of a bird is captured by the flute and piccolo. There is a rapturous frenzy of dancing that makes use of everything from a vibraphone and cymbals to a tuba and other brass, and then a spellbinding riff by the bassoon and clarinets followed by the stardust sound of the harp, and a quick grand finale. pure sonic bliss.
This CSO concert will be repeated Friday and Saturday at 8 p.m. at Symphony Center, 220 S. Michigan Ave. For tickets call (312) 294-3000 or visit www.cso.org. Running time is two hours with one intermission.
---
Inon Barnartan, Sergey Khachatryan, Alisa Weilerstein and Colin Currie in "Transfigured Nights" at the Harris Theater for Music and Dance
Four extraordinary virtuosos gathered on the Harris Theater stage last Monday evening for a concert that cellist Alisa Weilerstein noted "was conceived to explore the themes of transfiguration, transcription and collaboration."
First, the theme of collaboration. Watching and listening to Weilerstein, violinist Sergey Khachatryan and pianist Inon Barnaton play together is a marvel of musical interaction. While clearly very different personalities they seem to breathe as one when performing, bringing a volcanic passion and fire to each work they tackle.
The stunning program began with Beethoven's Piano Trio No. 5 in D Major ("Ghost"), and immediately demonstrated the fervor of the three musicians as they made their way through the powerful first movement of the work with its surprising dissonances, dove into the slower, more mysterious, introspective beauty of its diaphanous passages, and then built to a feverish release.
Two riveting works transcribed for smaller ensembles followed: Schoenberg's "Verklarte Nacht," inspired by Richard Dehmel's shattering and sensual poem about a pair of lovers who must confront a dark secret, and Shostakovich's Symphony No. 15 for Piano Trio and Percussion.
Suffice it to say I have never heard a more sensual, quietly breathtaking, deeply moving interpretation of the Schoenberg masterpiece. It was hypnotic. The Shostakovich (with the trio joined by master percussionists Currie, Doug Perkins and Michael Werner) was a great, moody revelation, laced with everything from quotations from other composers (including the "William Tell Overture" of Rossini), to the use of vibraphone, to an anguished solo for cello.
Also on the program was "Realismo magicos" ("Magical realism") for solo marimba by Norwegian composer Rolf Wallin. Structured as a series of what might be described as nearly a dozen separate "poems for mallets," it was played with cool virtuosity by Currie.
---
A Visit to Warrenville
Last Monday afternoon, Maestro Muti and a group of his beloved musicians – mezzo-soprano Joyce DiDonato, principal percussionist Cynthia Yeh and assistant principal clarinetist John Bruce Yeh – visited the Illinois Youth Center in west suburban Warrenville, a coed juvenile correctional facility for teens that makes the arts a crucial part of the healing process.
Joyce DiDonato and John Bruce Yeh (Photo credit: Todd Rosenberg Photography)
Muti is not one to talk down to his audience, and the 26 young people who came to the performance held in an intimate library room were clearly enthralled by DiDonato's bravura renderings of arias by Mozart, Stefano Donaudy and Ernesto De Curtis. And in a mind-boggling display of rhythm and coordination, Yeh played two modern works for vibraphone (by Robert Honstein and Mark Glentworth) that involves an amazing use of mallets, a bow and the vibrations from a piece of tin foil and an ordinary file folder.
The young audience (a number of whom participate in Story Cathcher Theatre and performed a brief dramatized song for their guests) was enthralled, with one of them so attentive throughout that I had to talk to him after the concert. He said he was learning the cello ("I started with the violin but it felt too small for me," he said), and if you needed any proof of the power of classical music to change a life, this was it.
Follow Hedy Weiss on Twitter: @HedyWeissCritic
---
Why One Musical Works, and Another Doesn't
Bravura Revival of 'West Side Story' Marks Lyric's Finest Broadway Venture
After an Agonizing Strike, the CSO is Back – and in Glorious Form
---