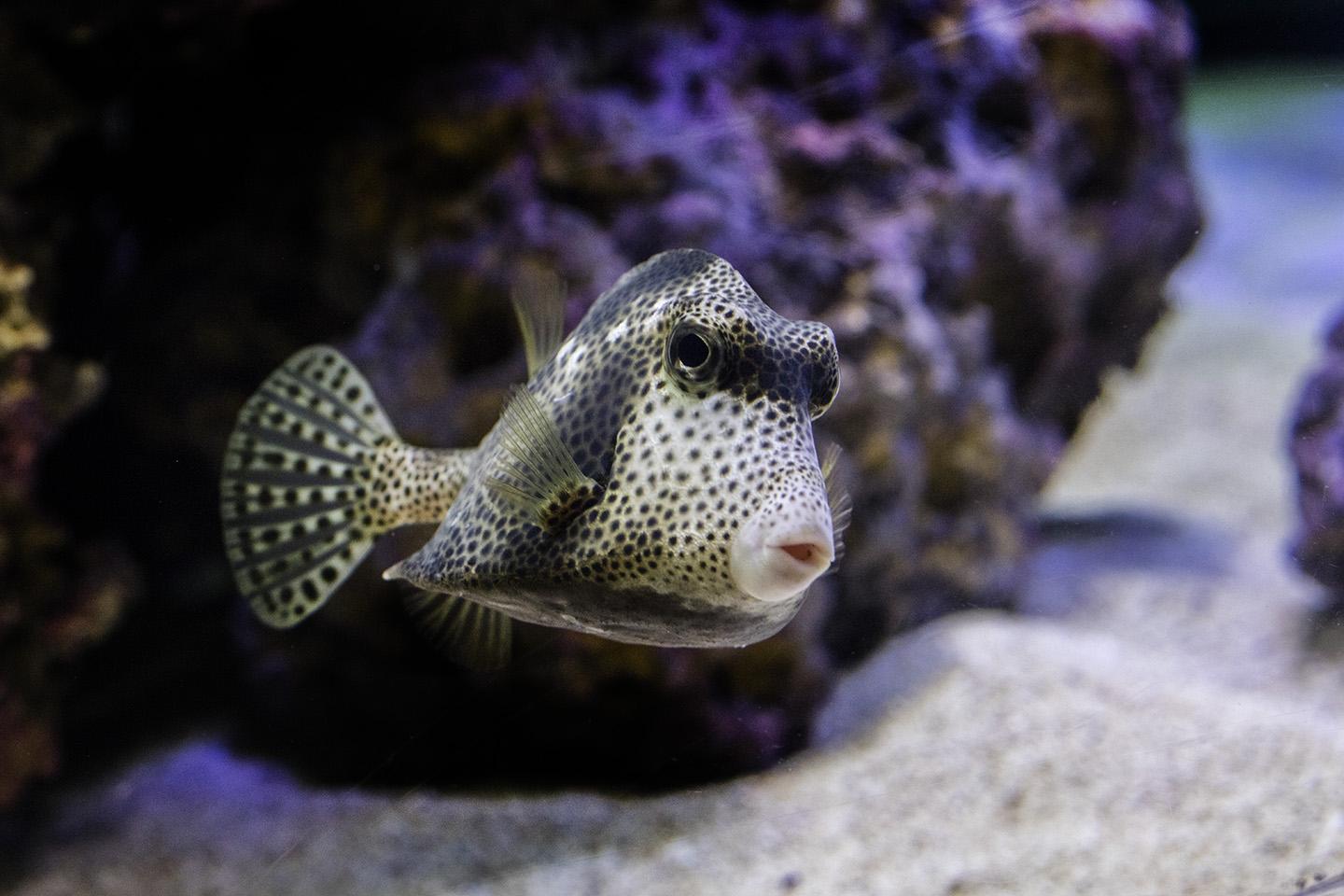 A spotted trunkfish at Shedd's special exhibit "Underwater Beauty." (Courtesy Shedd Aquarium)
Tens of thousands of animals live at Shedd Aquarium, the 450,000-square-foot marble building on Chicago's Museum Campus. Inside, you'll find a dazzling array of creatures, including one of the world's longest snakes (a green anaconda), two species of sharks that never stop swimming (sandbar and black tip reef) and thousands more that float, dive, slither and squirm.
This Chicago aquarium was the world's largest when it opened to the public on May 30, 1930. Below, more fun facts about the Shedd.
---
5 million Gallons of water held in the aquarium's habitats.
Today, all of the water Shedd uses comes from Lake Michigan or the city. But from 1930 through 1970, the aquarium relied on trains to transport saltwater 1,600 miles, from the Florida Keys to Grant Park, where it was pumped into Shedd's massive reservoirs. These days, saltwater is created using a salt solution called Instant Ocean. "All the saltwater is manufactured in house in gigantic wells in the sub-basement where they create an artificial saltwater of various salinities," said Kelsey Ryan, Shedd's manager of conservation communications.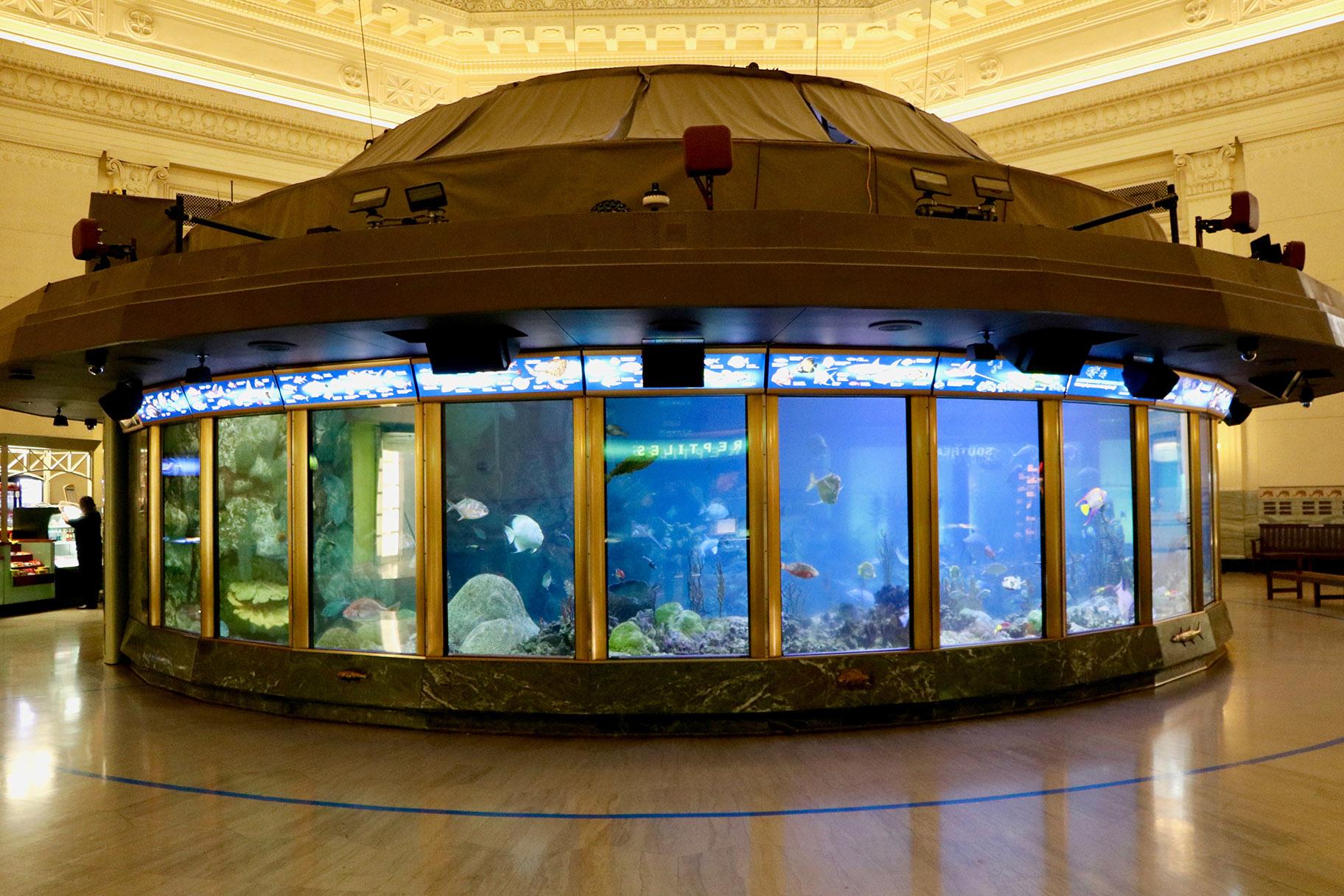 The 90,000-gallon Caribbean Reef Habitat is one of the first exhibits Shedd visitors encounter. It's located directly in front of the main lobby. (Evan Garcia / WTTW News)
3 Baby caiman lizards that hatched at Shedd in 2005, making it the first North American institution to successfully breed the animals in captivity.
At the time, Shedd was one of just six zoos or aquariums in North America that had animals in their collections, according to a 2005 Chicago Tribune article about the successful breeding. That story described a courtship ritual which included mutual biting. In 2016, Hiss Majesty, one of Shedd's caiman lizards, was fitted for a 3-D-printed prosthetic leg after the lizard developed a cancerous tumor the previous year. Even after part of his leg was amputated, staff said Hiss Majesty maintained his role as alpha lizard of the aquarium's caimans.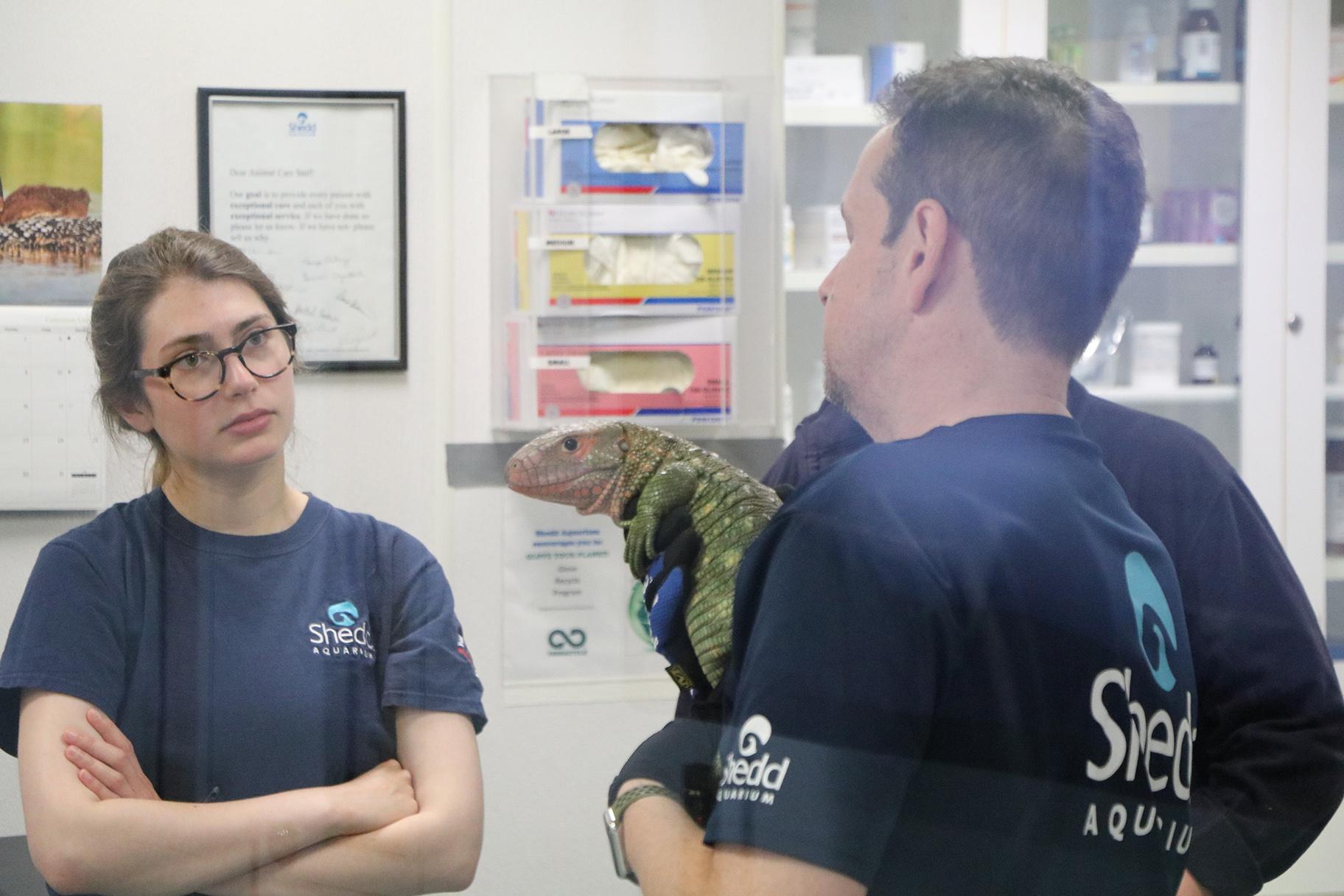 A caiman lizard undergoes a routine blood test at Shedd's animal hospital. (Evan Garcia / WTTW News)
5 Amount of money (in cents) found in the throat of Nickel, a green sea turtle rescued off the Florida Gulf Coast in 1998.
A boat is believed to have seriously injured Nickel, creating a gash on her upper shell and causing buoyancy issues that made survival in the wild difficult, if not impossible. Five years after her recue, Nickel was added to Shedd's 90,000-gallon Caribbean Reef habitat. And, if you haven't guessed already, the turtle was named for the coin found inside her throat. 
According to the aquarium, a marine biologist in Florida discovered Nickel floating lifelessly by mangrove trees in 1998. (Courtesy Shedd Aquarium)
85 The minimum estimated age of Granddad (in years) at the time of his death in 2017.
An Australian lungfish, Granddad was believed to be the oldest fish held in captivity within any public aquarium or zoo in the world. The Australian lungfish came from Sydney's Tarongo Zoo and made his Chicago debut in 1933 as the aquarium took part in the Chicago World's Fair. Granddad's exact age isn't known, but since he arrived at the aquarium as an adult, Dr. Bill Van Bonn, Shedd's vice president of animal health, says the fish was at least 85 years old when he died.
Soon after Granddad gasped his last breath (yes, this ancient species has a single lung along with gills for breathing purposes), Australian scientists asked Shedd for a specimen from Granddad in order to ascertain his exact age and Australian river of origin. "They have a couple of scales and a little piece of muscle tissue, so they can do some sophisticated muscle tests to determine how old he was," Van Bonn said. And in case you're wondering, the oldest living fish in captivity today may be another Australian lungfish named Methuselah, who lives at Steinhardt Aquarium in San Francisco. Experts believe Methuselah is between 85 and 90 years old.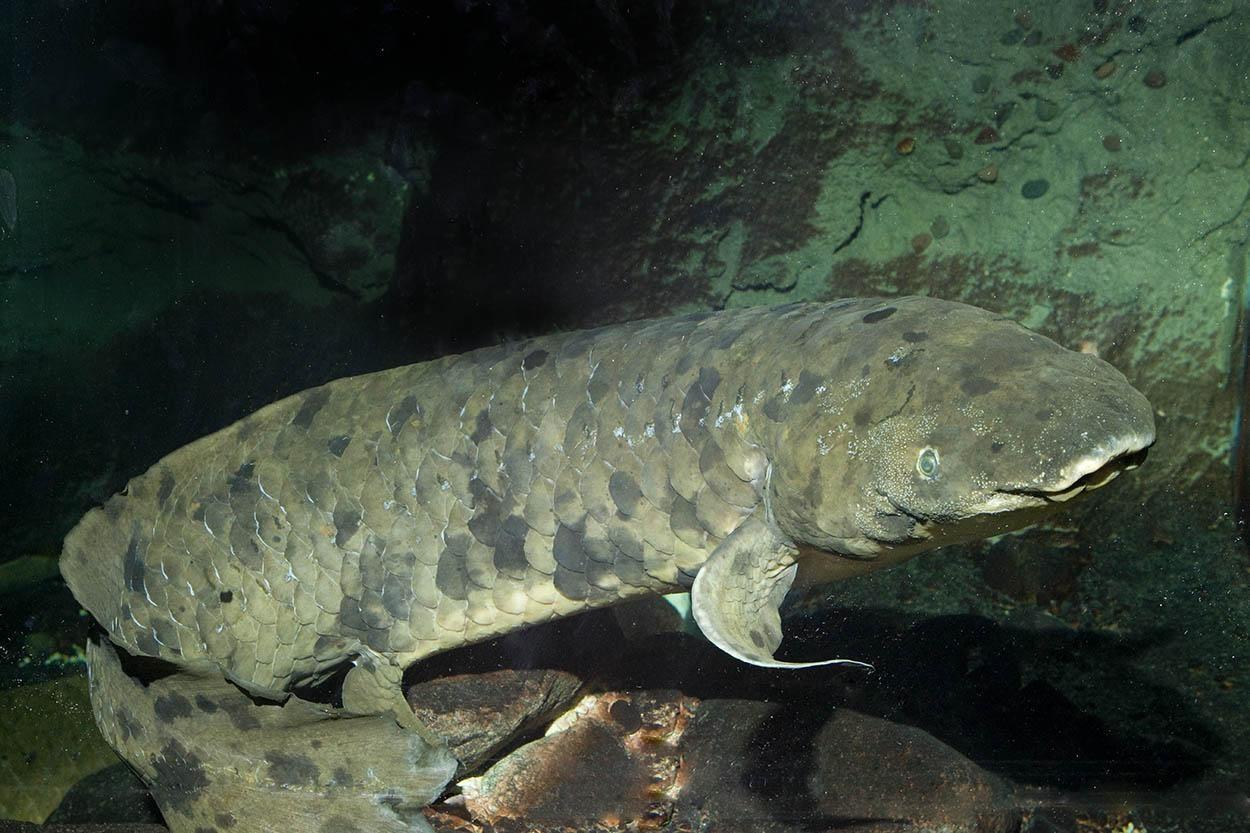 In 2016, a year before Granddad died, Shedd senior aquarist Michael Masellis affectionately likened his behavior to that of a "fallen log." (Courtesy Shedd Aquarium)
14-15 The gestational period (in months) of a Beluga whale (i.e., the time it takes from conception to birth).
On July 5, the 38-year-old Beluga whale Mauyak gave birth to a healthy calf. Shedd said the delivery took 33 minutes and that "both mother and calf are progressing well and will remain under 24-hour observation by Shedd's animal care team for several months." Prior to the birth, a veterinarian had been on hand around the clock to monitor Mauyak, who in 2012, quietly gave birth to Kimalu in the middle of the night with no veterinary staff present. "She didn't show us any signs of labor prior to us leaving the night before," Shedd trainer Tim Ward said of that earlier birth.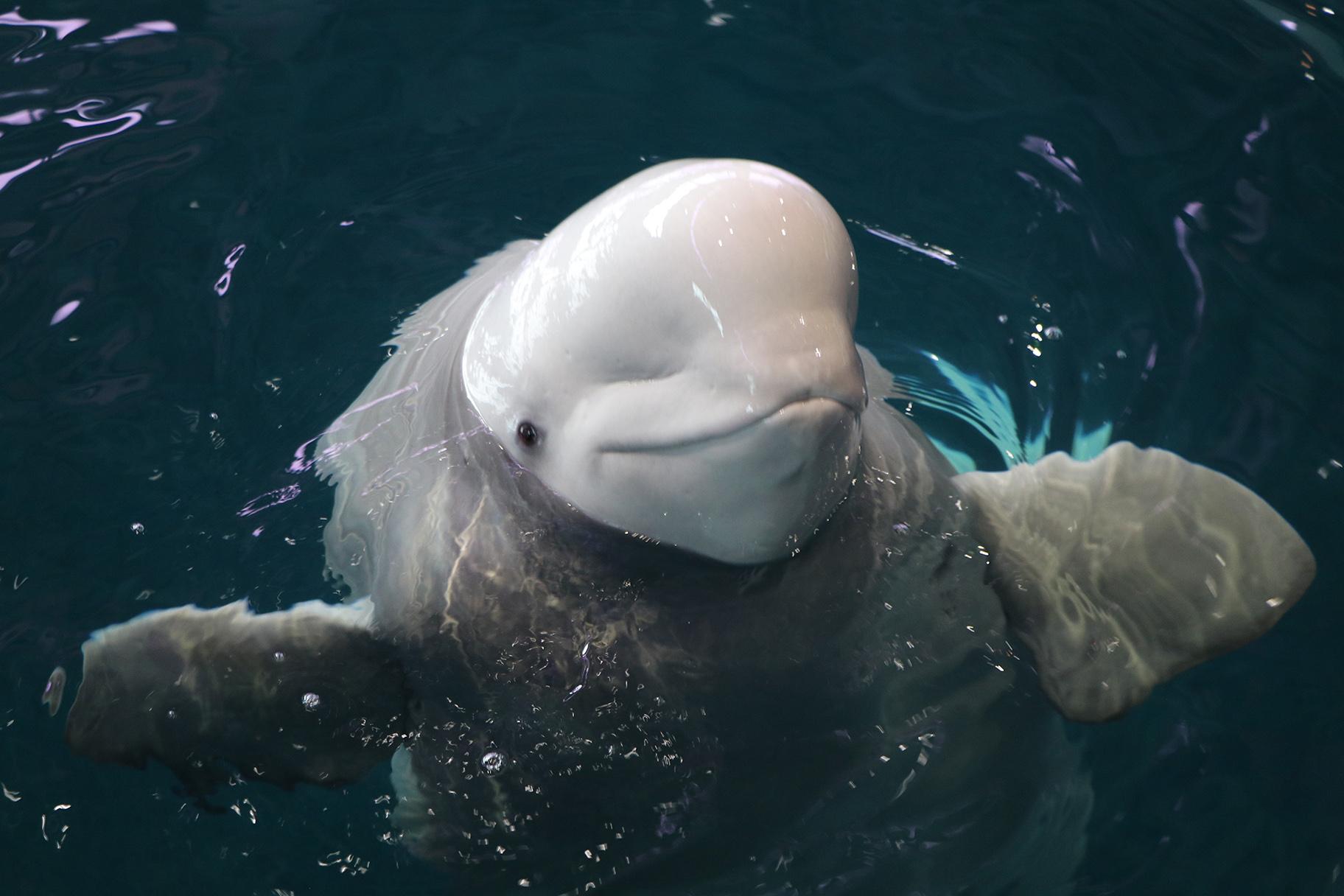 Mauyak, a Beluga whale, greets WTTW News inside Shedd's oceanarium. At the time, she was pregnant. (Evan Garcia / WTTW News)
50 The estimated speed (in MPH) of the peacock mantis shrimp's wicked-fast punch.
This colorful crustacean packs the most powerful punch in the animal kingdom, according to researchers who used high-speed images to study the striking speed of its raptorial appendages – forelimbs designed for feeding and defense. According to scientists, the shrimp's punch, which smashes open snail and crab shells for food, "rivals highway traffic moving at 69 miles per hour."
Shedd reinforces the peacock mantis shrimp's enclosure with acrylic, given the animal's ability to smash through aquarium glass. The Stomatopoda order that peacock mantis shrimp belong to is distantly related to crabs, shrimp and lobster. Based on their striking techniques, the aggressive crustaceans are divided into "spearers" and "smashers" – the latter of which includes the peacock mantis shrimp. Inside its claw are special molecular fibers that keep it from breaking upon such fast impact – researchers are even experimenting with using the extra-tough material in the aerospace industry. 
Mantis punch! The peacock mantis shrimp has a mighty technique for snatching its food—a lightning-fast and incredibly powerful punch. This colorful invertebrate keeps its boxing arms coiled up until it needs to strike, with a punch that can travel 50 mph. #UnderwaterBeauty pic.twitter.com/lZIcehpv6w

— Shedd Aquarium (@shedd_aquarium) January 28, 2019
---
100 The number of species featured in Shedd's "Underwater Beauty" exhibit.
The first display of the exhibit features the glimmering light cast by silversides, a slim schooling fish that "initially came in as a food source for us to be able to culture to feed other animals in the building," said senior aquarist Erika Moss. "We use them as a display because they do shimmer, which is how they got their name." The exhibit showcases how aquatic species from the planet's oceans, lakes and rivers use bright colors, camouflaging patterns and rhythmic movements to survive underwater.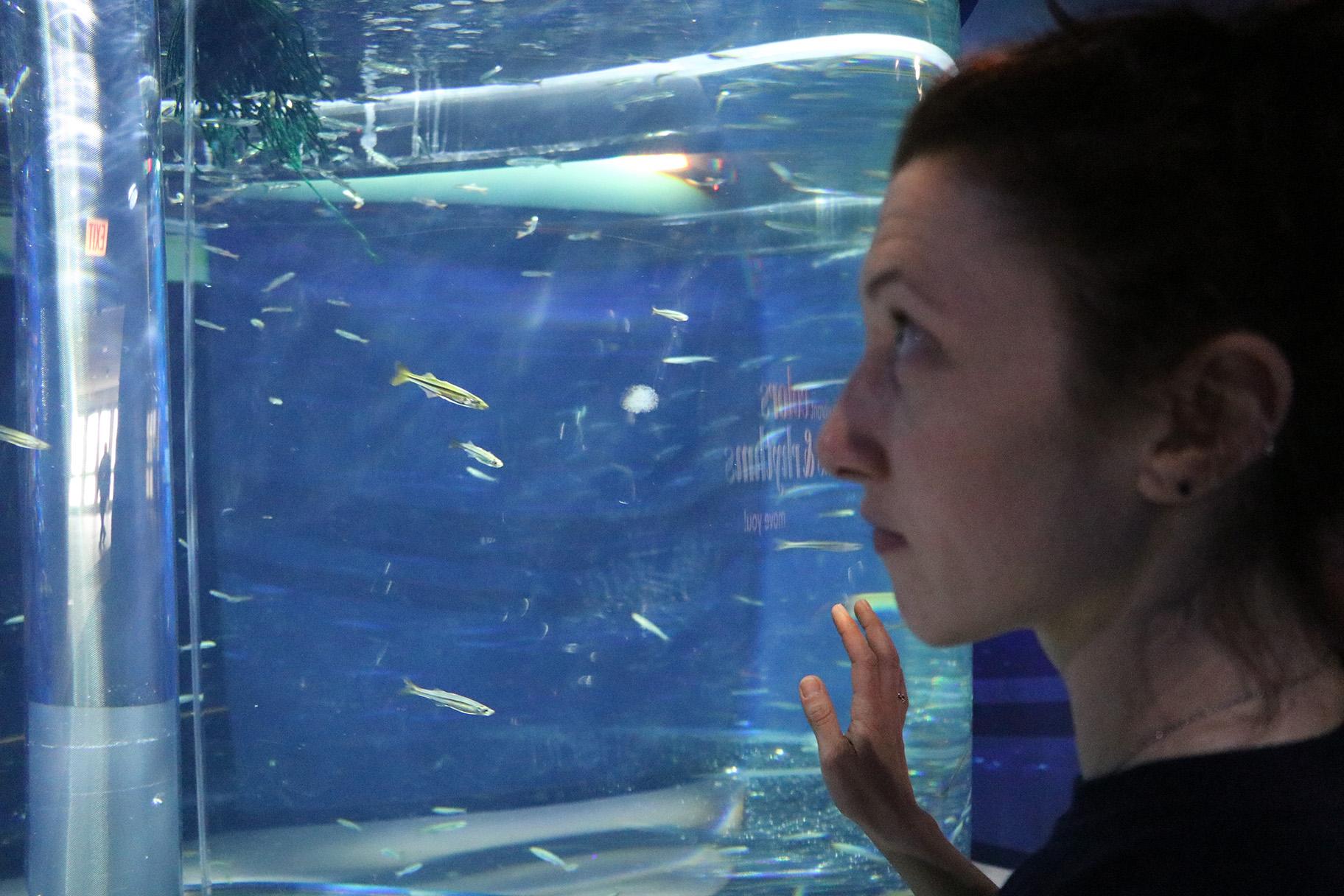 Senior aquarist Erika Moss observes silversides, schooling fish which attract many predators. (Evan Garcia / WTTW News)
25 The percentage of a sea otter's body weight the marine mammal is capable of eating every day.
Shedd's largest sea otter, Yaku, weighs nearly 80 pounds – meaning he can scarf down about 20 pounds of fish, shrimp, clams, crab and squid on a daily basis. In March, Shedd began selling "Otter Encounter" tickets, which give visitors a chance to feed and pet the aquarium's otters through a clear acrylic partition. While tickets aren't cheap (they cost about $110 for adults), the attraction is apparently wildly popular – tickets for this summer sold out in a matter of hours.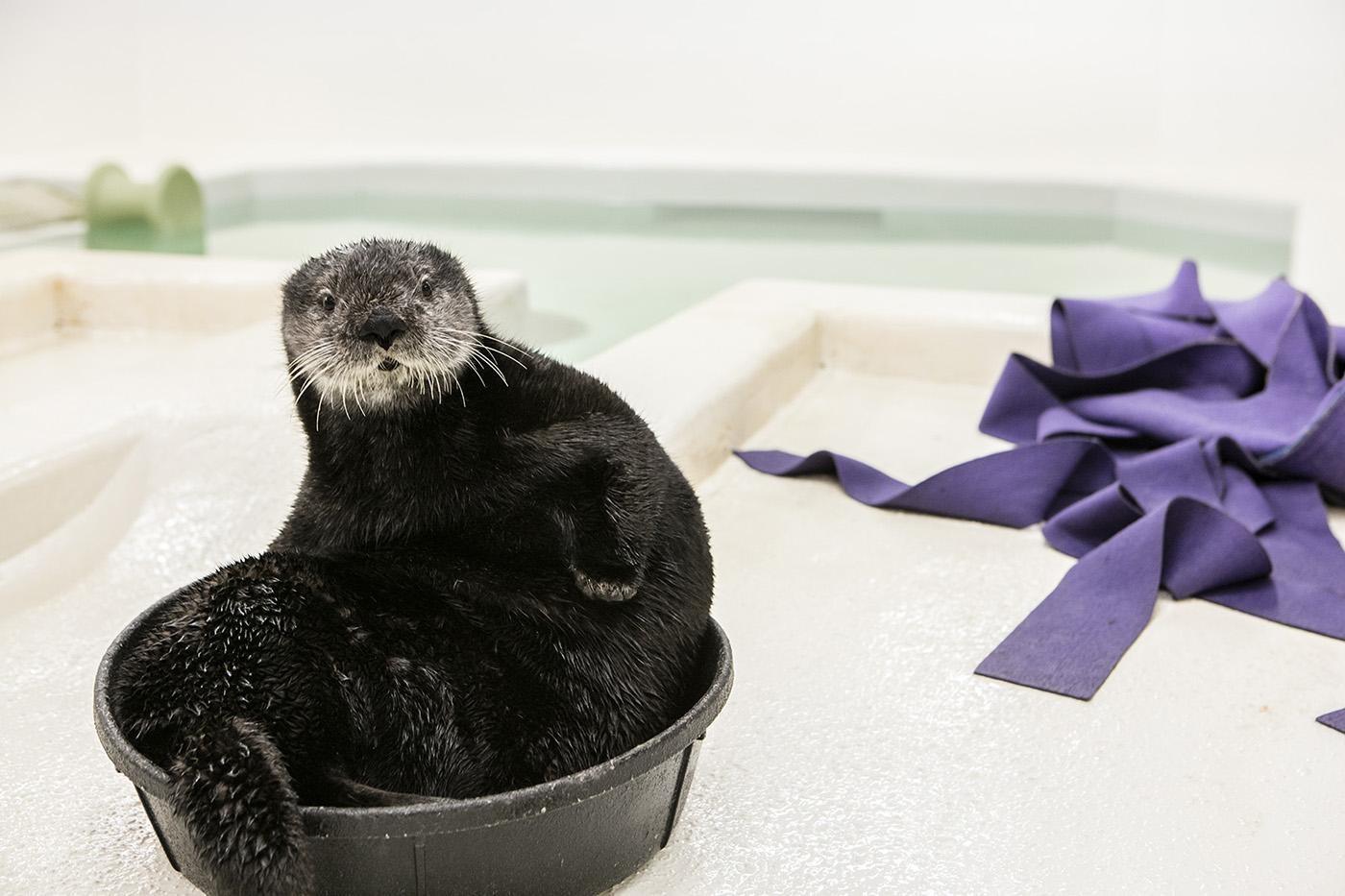 In 2014, Luna, one of the Shedd's sea otters, was rescued off a California coast at just one week old. Wildlife officials believed she'd been separated by her mother and in "dire need" of food. (Courtesy Shedd Aquarium)
22 million Pounds of plastic that end up in the Great Lakes ecosystem every year, according to a 2016 study.
Plastic pollution in Lake Michigan alone accounted for half of the total: 11 million pounds. To mitigate the harm caused by plastic straws, an item commonly found on Great Lakes beaches, the aquarium has adopted a Shedd the Straw campaign, imploring others to avoid single-use plastic straws.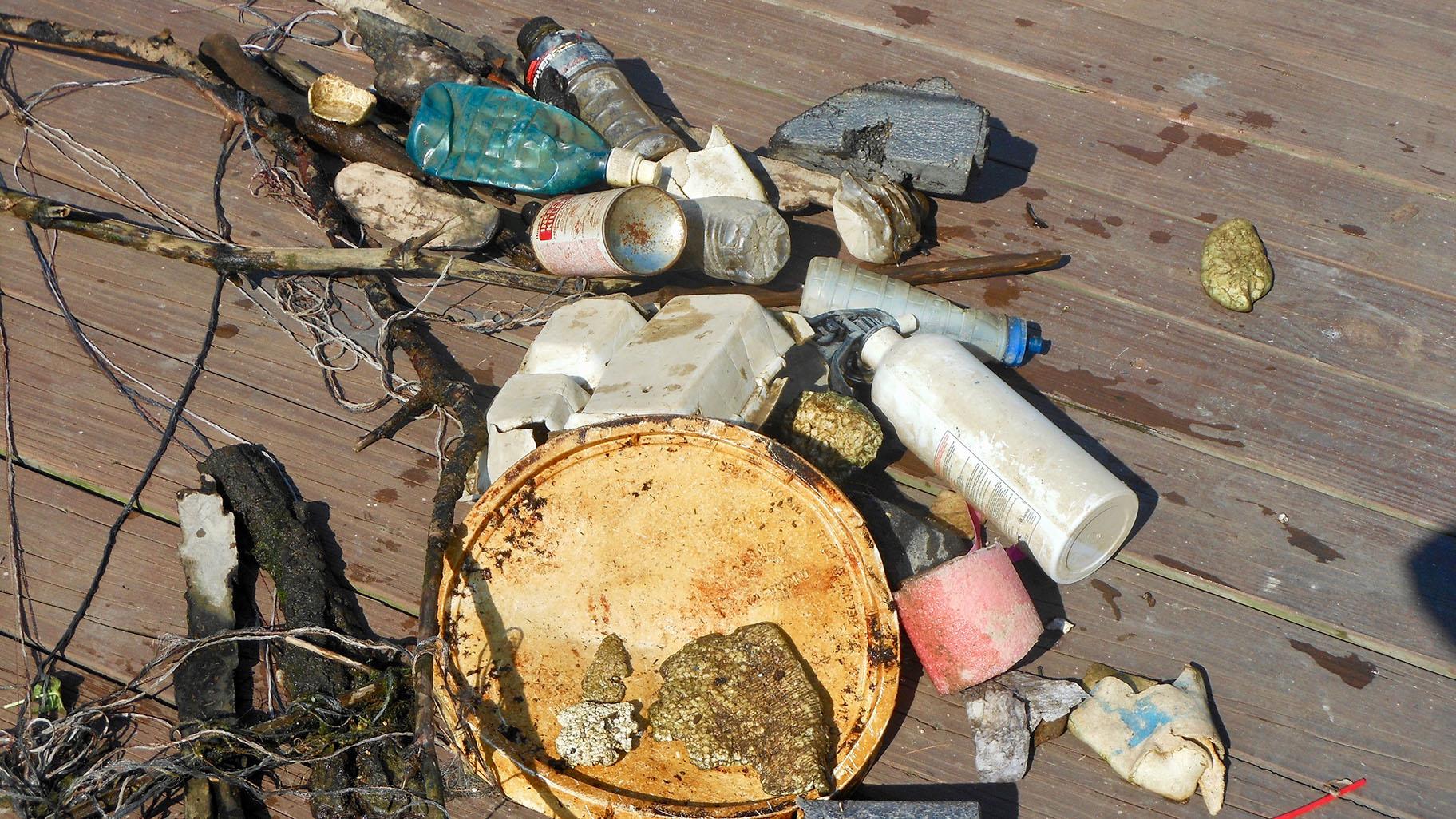 Plastic debris pulled from a Lake Erie marina in 2012. (Courtesy National Oceanic and Atmospheric Administration)
1.8 billion The estimated annual monetary value (in U.S. dollars) that coral reef barriers provide in flood protection to the U.S. and its island territories, according to a recent study by the U.S. Geological Survey, among others.
Above-average seawater temperatures driven by global warming cause coral bleaching, a serious threat to coral reefs. Corals have a symbiotic relationship with microscopic algae that live in their tissue, feeding coral polyps and giving them color. Increased ocean temperatures strain that relationship, causing the algae to leave the coral tissue, which deprives it of a food source, turning it white and making it more susceptible to disease. Aboard R/V Coral Reef II, the aquarium's aptly named research vessel, research biologist Ross Cunning studies Caribbean coral best equipped to withstand higher temperatures. "So you may have one coral that's thermally tolerant and another that's not and by comparing the DNA from those individuals, we can ask, 'What genes are unique to this thermally tolerant coral that gives it that trait?'" Cunning said.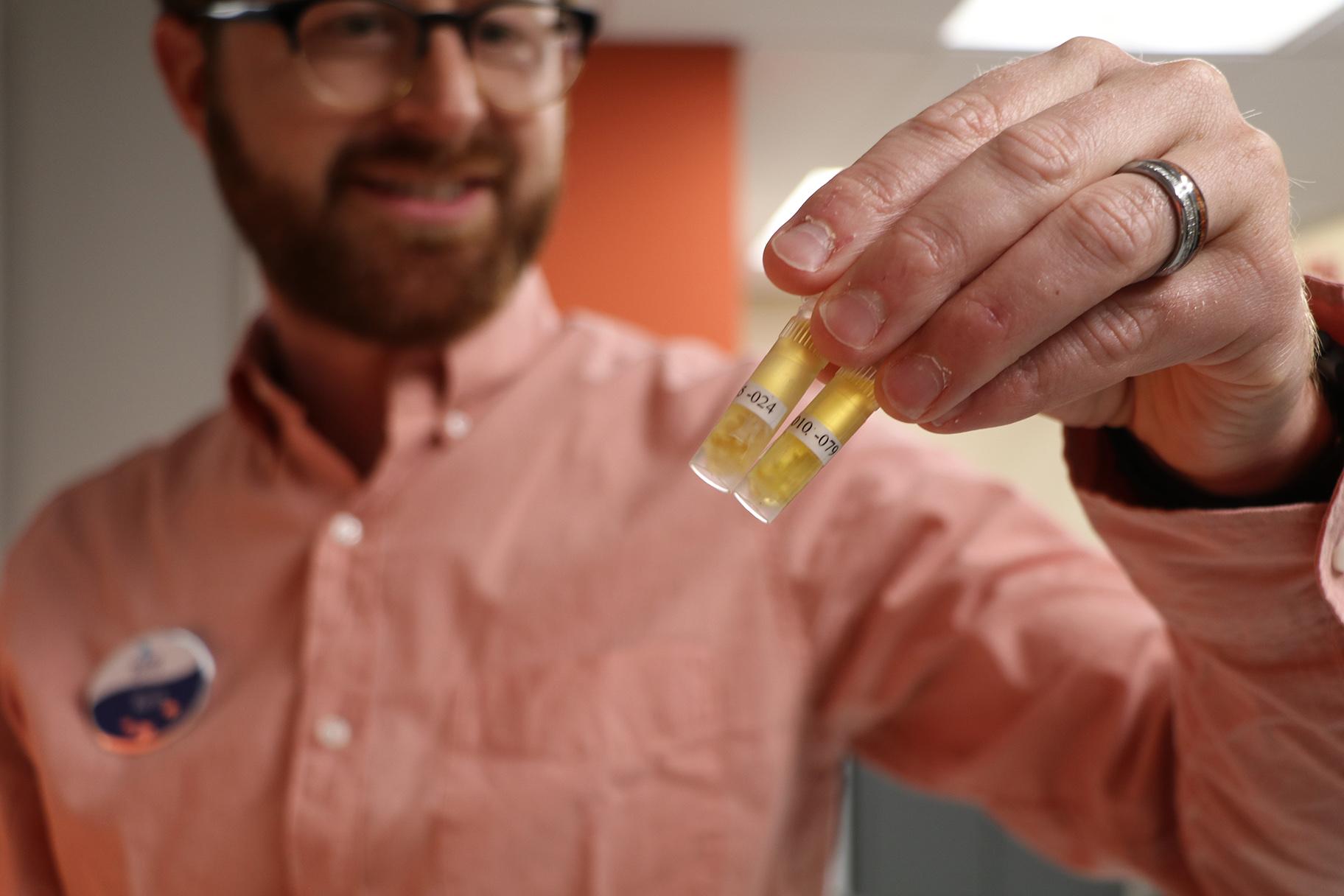 Coral reef biologist Ross Cunning holds two coral specimen collected from the Abaco Islands in the northern Bahamas. (Evan Garcia / WTTW News)
Follow Evan Garcia on Twitter: @EvanRGarcia
Note: This story was originally published June 26. It has been updated to include details about Mauyak's successful delivery.
---
Related stories:
Shedd Kayak Trips Encourage Paddlers to Explore and Restore Chicago River
Sibling Penguin Chicks Born at Shedd Aquarium
Pregnant Beluga Whale Gets Ultrasound at Shedd Aquarium
How Shedd Aquarium Uses Egg Candling to Monitor Developing Penguin Chicks
---