Restoring the Chicago River as a natural resource has been a project many decades in the making. One of many organizations taking part in that effort offers a water-level view of the work underway.
The idea behind the Shedd Aquarium's Kayak for Conservation program, which launched last year, is to take kayakers on a mini-river tour, get them involved in Shedd's conservation efforts and show that the Chicago River is a living ecosystem.
"We have seen such a variety of wildlife, and it's been really exciting to see that. Just today, we've seen a number of ducklings, yesterday we saw about eight turtles out on the Chicago River," said Jaclyn Wegner, Shedd's director of conservation action. "We're really helping people understand it as a habitat, and also as something that they should and can be part of conserving and re-wilding and making it a natural space again."
Part of that effort – and one of the stops on the Shedd's kayak trips – is a floating island installed about a year ago. The island is part of a larger project called the Wild Mile, a vision to create a milelong floating eco-park on the river. The Shedd island serves as food and shelter for insects, waterfowl, invertebrates, fish, and even some mammals, like muskrats.
"We also last year planted a couple trees, but when we came back in the spring, we saw that the trees were missing and had clearly been chewed down by beavers," Wegner said.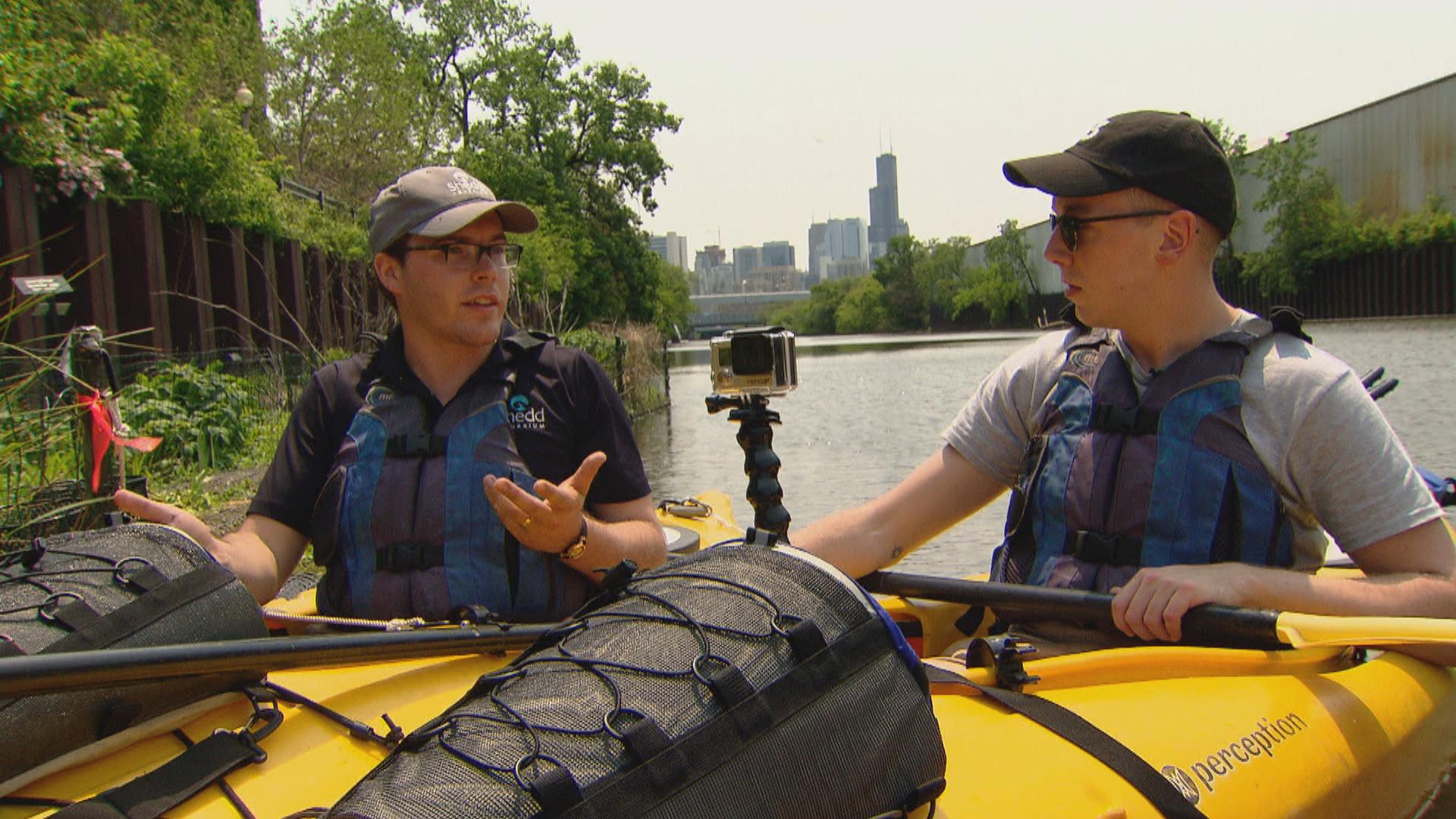 The Kayak for Conservation program has space for kayakers of all skill levels, from beginners to more advanced kayakers who can help with trash collection – as well as some data collection.
"We are tracking what we find, because we want to learn more about what types of litter are out here, and where might they be coming from," Wegner said. "That's going to allow us to hopefully help cut off the source."
Kayakers also get to help with wildlife monitoring. "Pollinators that are visiting the floating wetlands on the river, we're looking for turtles, and waterfowl, as well as fish and crayfish that are living underneath the water's surface," Wegner said.
A little ways down the river, near a more-established island installed by the group Urban Rivers, the Shedd has fish traps that help them learn just what is swimming around. On the day we went out, they found a couple of native fish as well as some round gobies, an invasive species.
"We find them in pretty much all of our rivers, lakes, ponds at this point. They're really good at out-competing and out-eating all the other native fish in the area," said Edward Warden, a conservation stewardship facilitator at the Shedd. "It's not great that these guys are here, but it shows that fish can survive in this river, that there are enough resources and oxygen in the water now for fish, even if they're not necessarily a good one."
The program was inspired in part by the increase in recreational kayaking in recent years. About 400 participants took part last year, and Wegner says she was impressed by "the energy that people had around the work that they were doing. People know the Chicago River needs help but they don't always know how to help it. … Spending time out in these spaces really gives people a chance to connect to it and also to find ways to conserve or care for it as well."
And, Wegner says, kayakers are encouraged to come out on multiple paddles.
"The environment changes throughout the seasons, so it's really awesome to get to see different flowers blooming at different times of the year, and different wildlife that are coming through and using the Chicago River ecosystem," Wegner said.
Kayak for Conservation sessions take place Mondays and Saturdays through Sept. 28. Visit Shedd's website for additional information.
Note: This story was originally published June 3, 2019. It has been updated.
---
Related stories:
An 'Open Swim' in the Chicago River is in the Works for September
6 Weekend Ideas for a Summer Road Trip or Chicago Staycation
Trash Removal Project Adds 7-Mile Stretch of Chicago River
---