The incubator is set to 97 degrees Fahrenheit, which years of research shows is just about right to mimic a cozy spot tucked underneath mom or dad's feathery belly.
Inside the machine in the bowels of Shedd Aquarium are 10 or so Magellanic penguin eggs, arranged neatly on a series of shelves, with each egg's position indicated on a sticky note kept nearby. Another incubator stationed feet away holds a separate collection of eggs.
Lana Gonzalez opens the door on the first device and pulls out an egg labeled MAG 063, which she places gently into a plastic container lined with a white towel. Wearing white latex gloves, Gonzalez holds the egg up to a high-powered light and asks a helper to switch off the other lights in the room.
Suddenly the inside of the egg is illuminated. A marble-sized red dot appears up against the egg's shell, with thin red lines branching off in all directions.
"You can see the little embryo," says Gonzalez, Shedd's manager of penguins and sea otters, while pointing to the red dot. "That's the eye right there, and it's moving and the veins are developing and spreading throughout the egg. And you can see movement, which is always positive because you know it's still alive. Sometimes they get to a certain age and they stop developing."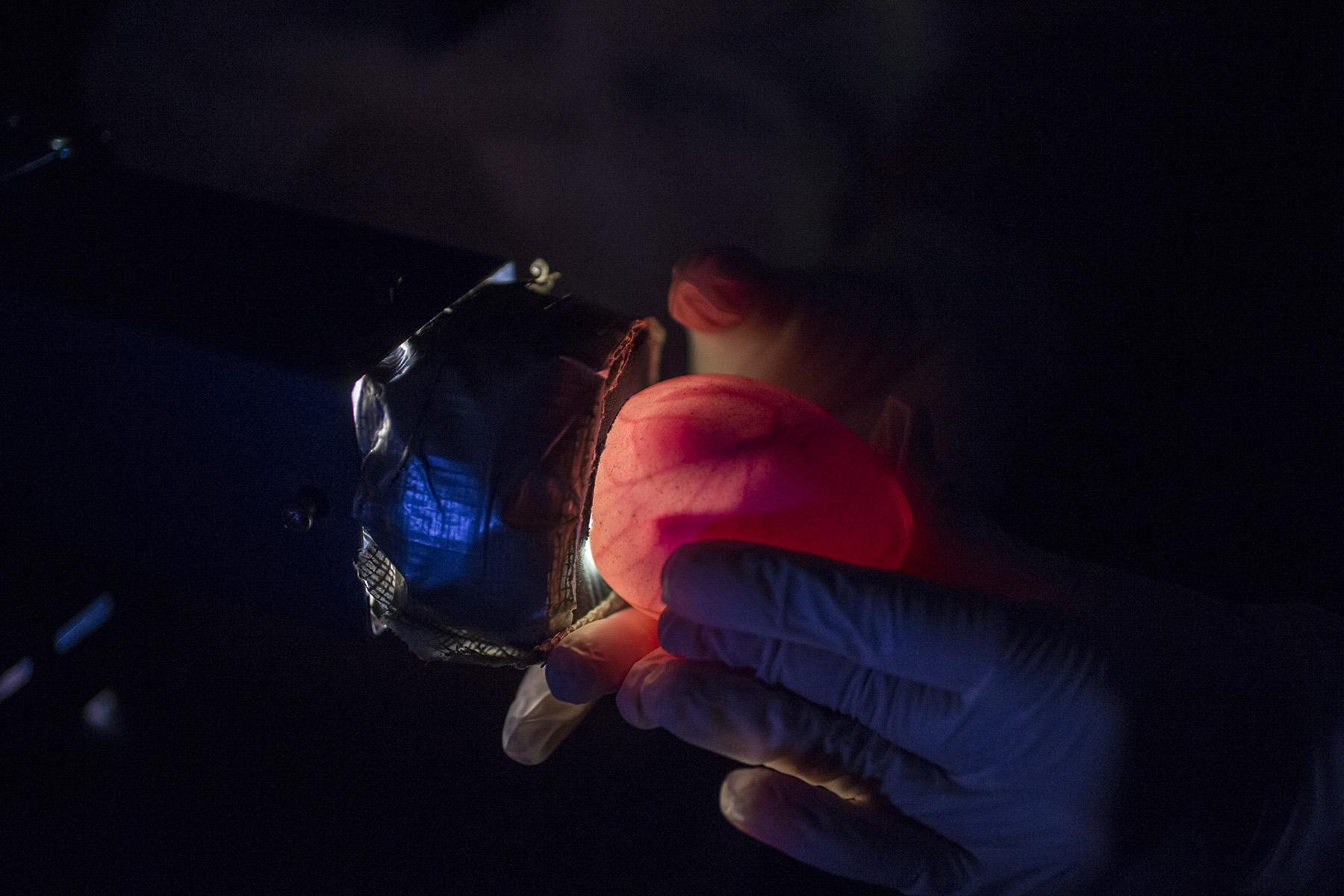 To monitor the development of penguin eggs, Shedd Aquarium staff use a process known as candling, which involves holding a strong light to the egg to observe inside. (Brenna Hernandez / Shedd Aquarium)
About this time each spring, Shedd's animal care staff conduct a process known as egg candling, where Gonzalez and her team use a special lamp to observe the inside of developing penguin eggs to determine whether they are fertile and monitor their growth.
The process, which involved actual candles before the special lights were developed, typically begins in April, when Shedd's Magellanic penguins start laying their eggs. In addition to 23 Magellanic penguins, the aquarium is home to eight Rockhopper penguins, which tend to lay eggs a bit later in the year, usually in May.
Before and after the candling checkups, which take place about once a week until a chick hatches, the eggs are kept in incubators equipped with sensors that send alerts to Gonzalez's phone if the temperature or humidity is out of the desired range. The eggs are also weighed before each candling.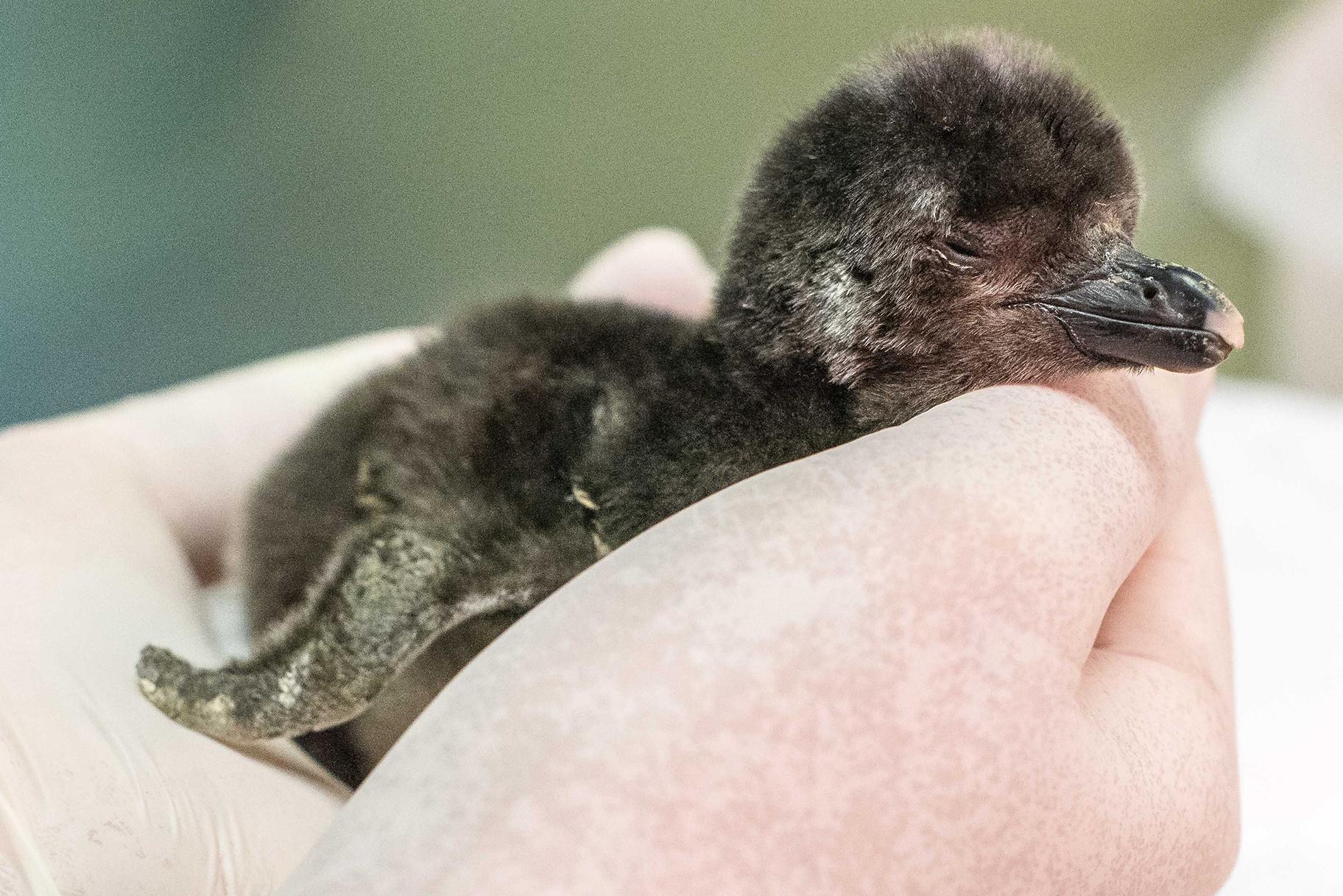 A Magellanic penguin chick hatched on May 12, 2018, at Shedd Aquarium. (Brenna Hernandez / Shedd Aquarium)
You might be wondering why the penguins need help tending to their eggs in the first place. Can't they do it on their own?
In some cases, yes. More experienced parents are often allowed to watch over their own eggs. Mom and dad penguins take turns incubating the eggs throughout the gestation period, which lasts five to six weeks, leaning over the egg and keeping it snug under their lower chest, Gonzalez said.
Shedd staff can even monitor this process remotely. Behind the penguin exhibit is a series of windows that offer views into nests built by mating pairs. Cameras record the activity inside each nest, and the video feed can be viewed from a computer or on a phone.
"We could sit here and we could watch, but the information we're going to get with just a camera and no humans around is really helpful," Gonzalez said.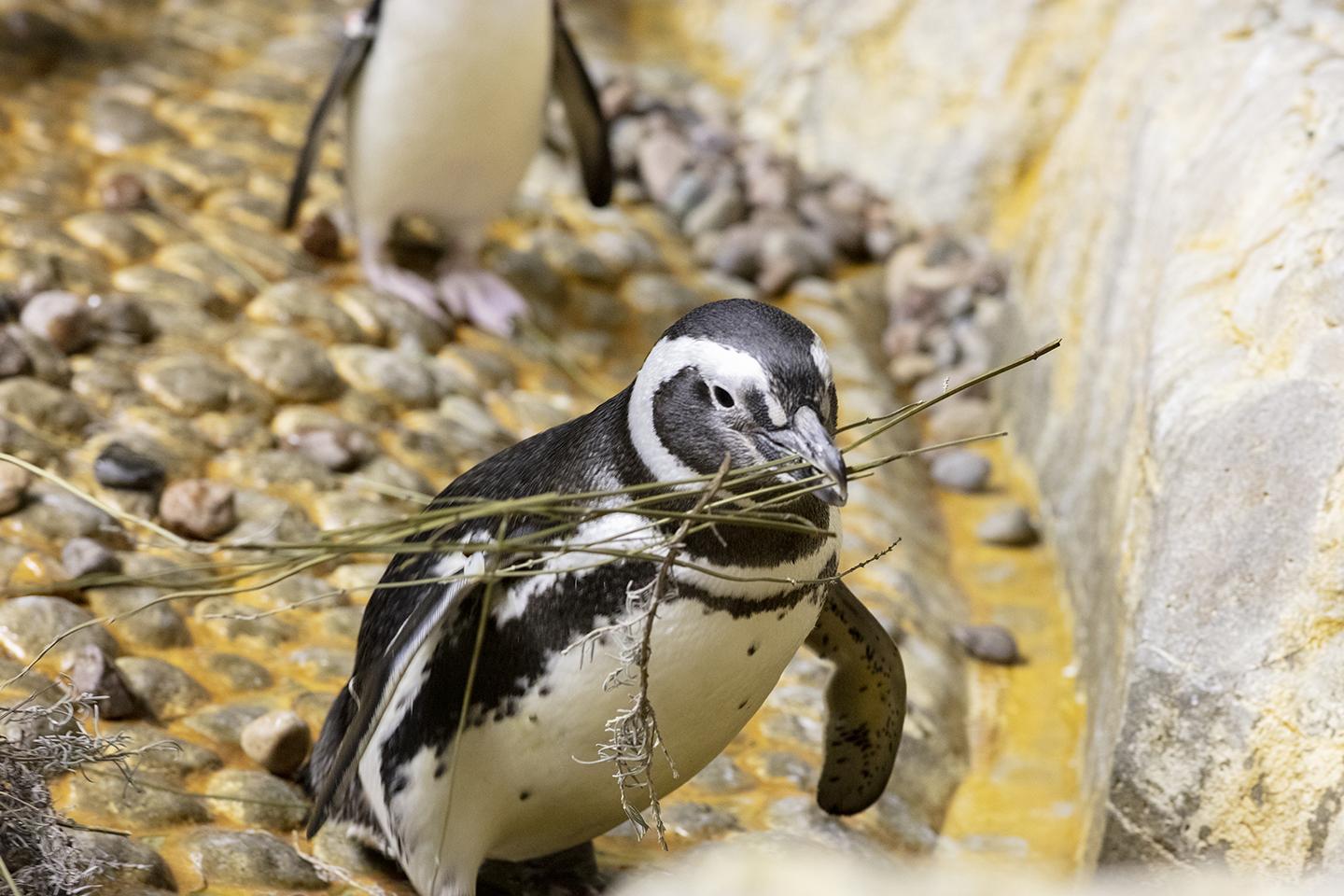 Magellanic penguins use twigs and other branchy materials to build their nests. (Brenna Hernandez / Shedd Aquarium)
Not all penguins are ready to incubate eggs on their own, however. The candling process is helpful when it comes to first-time or less-seasoned parents, which might accidentally step on their egg or leave it unattended.
"Sometimes it takes a little while for them to learn how to incubate the egg as tightly as [they need to]," Gonzalez said. "So what we'll do especially if they're newer pairs is we'll give them a fake egg and we'll see how they incubate it. Because ideally, you want to see the male and the female switching on the egg, just like they would out in their natural habitat where [one] would have to go out and feed."
The only potential downside of incubating eggs for the penguins is that once chicks are born, they might miss out on nutrients from their parents. Penguins feed their chicks by regurgitating food – for Shedd's penguins, freshly frozen fish – into their young's mouth.
But staff can hand-raise chicks just fine, Gonzalez said, and the aquarium has a penguin formula recipe that keep the chicks healthy. 
In some cases, instead of moving eggs to the incubating machines, Shedd will give them to older penguins that serve as foster parents. One penguin, a 32-year-old female Rockhopper, and her male partner (also 32) have been particularly skilled foster parents, Gonzalez said.
"It doesn't really matter if it's their biological chick," she said. "They're not going to know."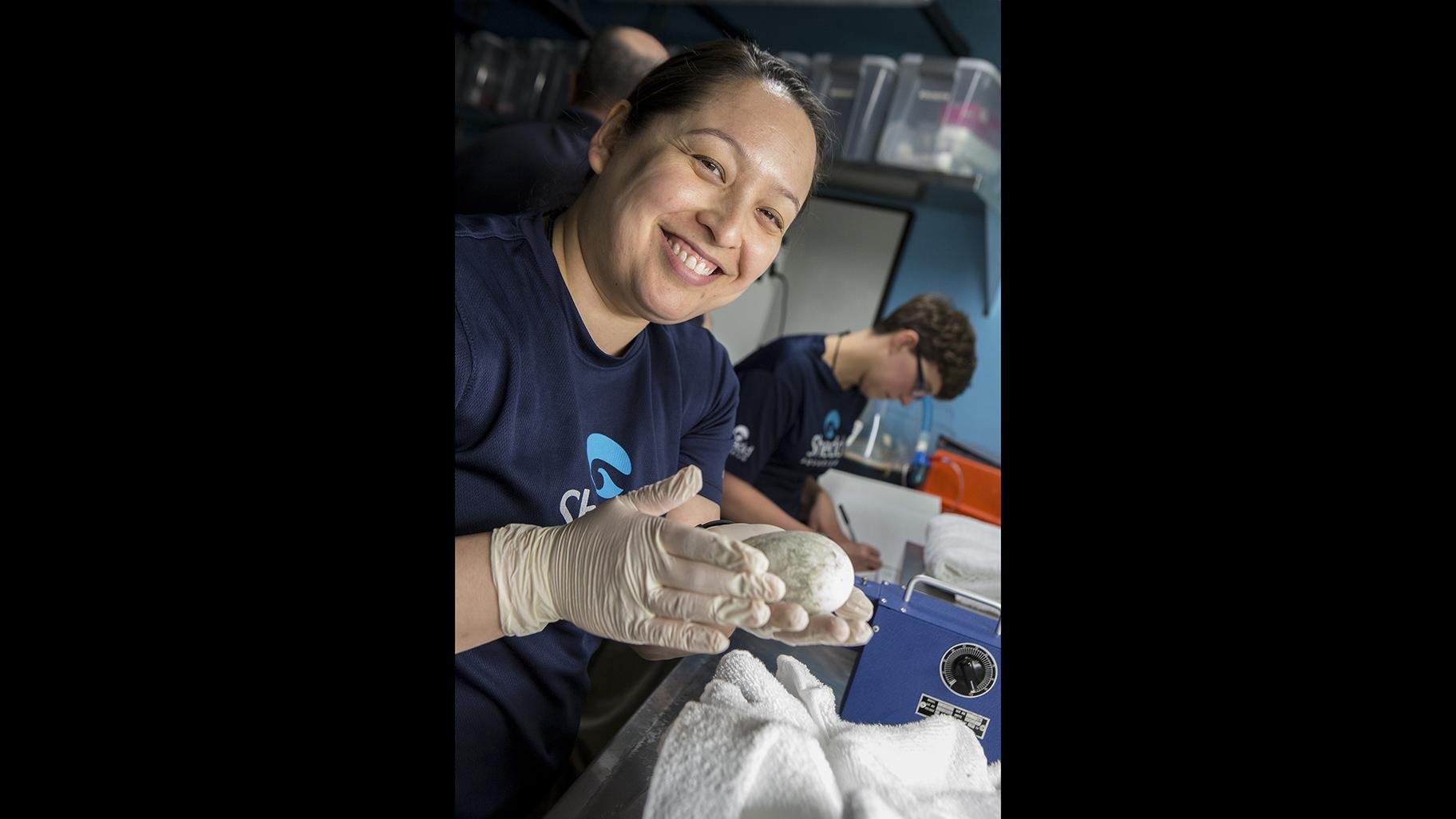 Lana Gonzalez, Shedd Aquarium's manager of penguins and sea otters, holds a penguin egg. (Brenna Hernandez / Shedd Aquarium)
Many of the eggs that Shedd incubates do not end up being fertile, but staff can give them to beginner parents to see how they fare trying to keep it warm. If mom and dad prove themselves by sitting on the egg nice and tightly and taking turns, staff can decide to bring the egg back from the incubator and let the penguins watch over it the old-fashioned way.
"As long as there's a good experience for the chick," Gonzalez said.
Contact Alex Ruppenthal: @arupp | [email protected] | (773) 509-5623
---
Related stories: