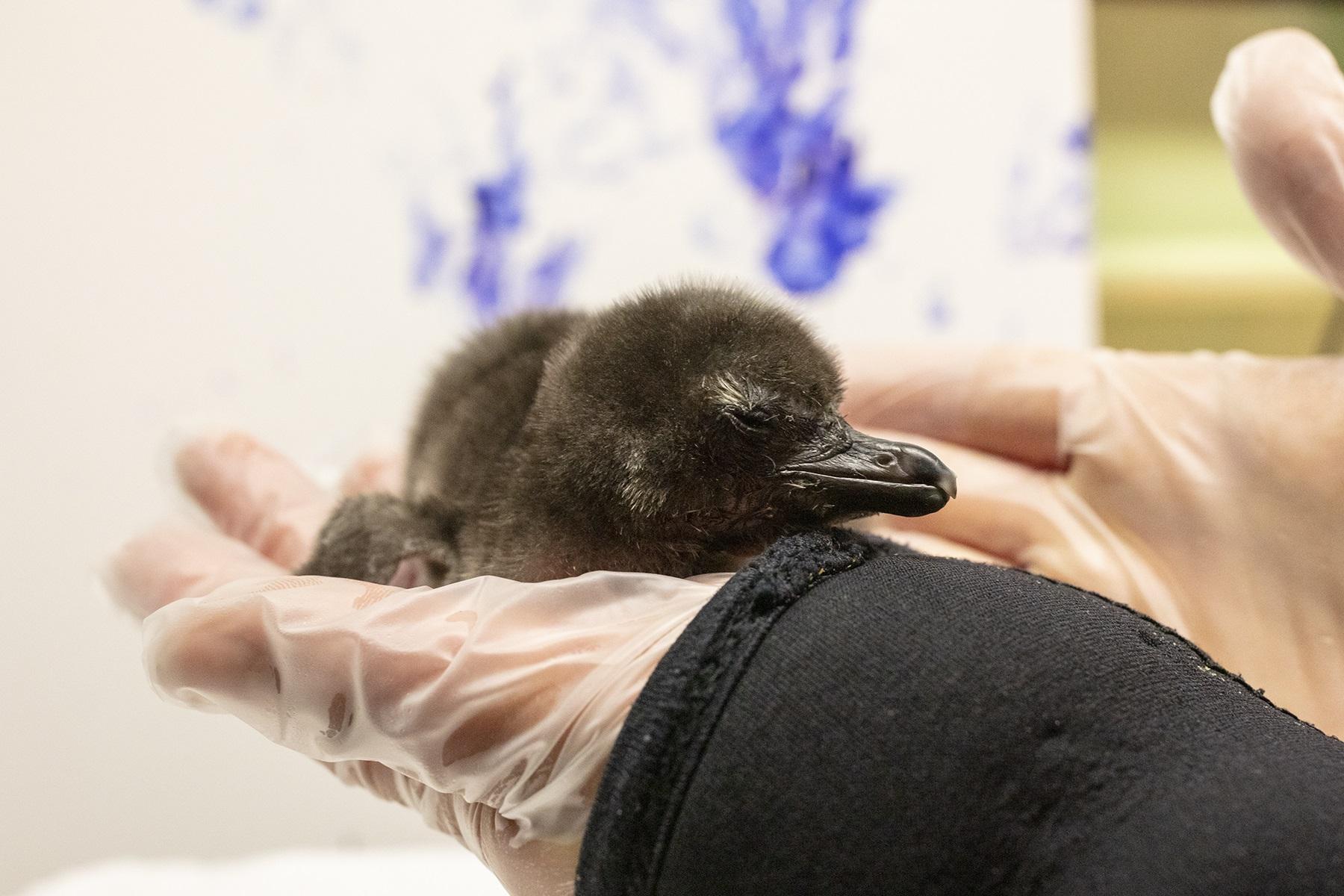 A pair of sibling Magellanic chicks hatched this month at Shedd Aquarium. (Brenna Hernandez / Shedd Aquarium)
Two Magellanic penguin chicks hatched this month at Shedd Aquarium following the annual penguin breeding season, which began with nesting in late March.
Both eggs were laid by the same pair of penguins, Chile and JR. The first chick hatched on Friday and immediately began bonding with its biological parents, and the chick remains in the nest with both adults, which will rear the newborn.
The second egg was given to a set of foster parents, Howard and Georgia, to raise. The chick hatched on Monday, and the foster pair have been taking turns feeding and incubating the young penguin as if it were their own.
Attending to chicks is a round-the-clock job for penguin parents, which typically take turns caring for their newborn. By having the sibling chicks raised by two different pairs, each chick will get the attention it needs to thrive, according to Shedd.
"Having a chick successfully hatch from its egg is just the first of many milestones that we look for in these first few weeks, but our team is cautiously optimistic," said Lana Gonzalez, Shedd's manager of penguins and sea otters, in a statement. "We'll continue to monitor both chicks closely over the next few weeks, looking for consistent weight gain and to see how the parents are doing with sharing their responsibilities."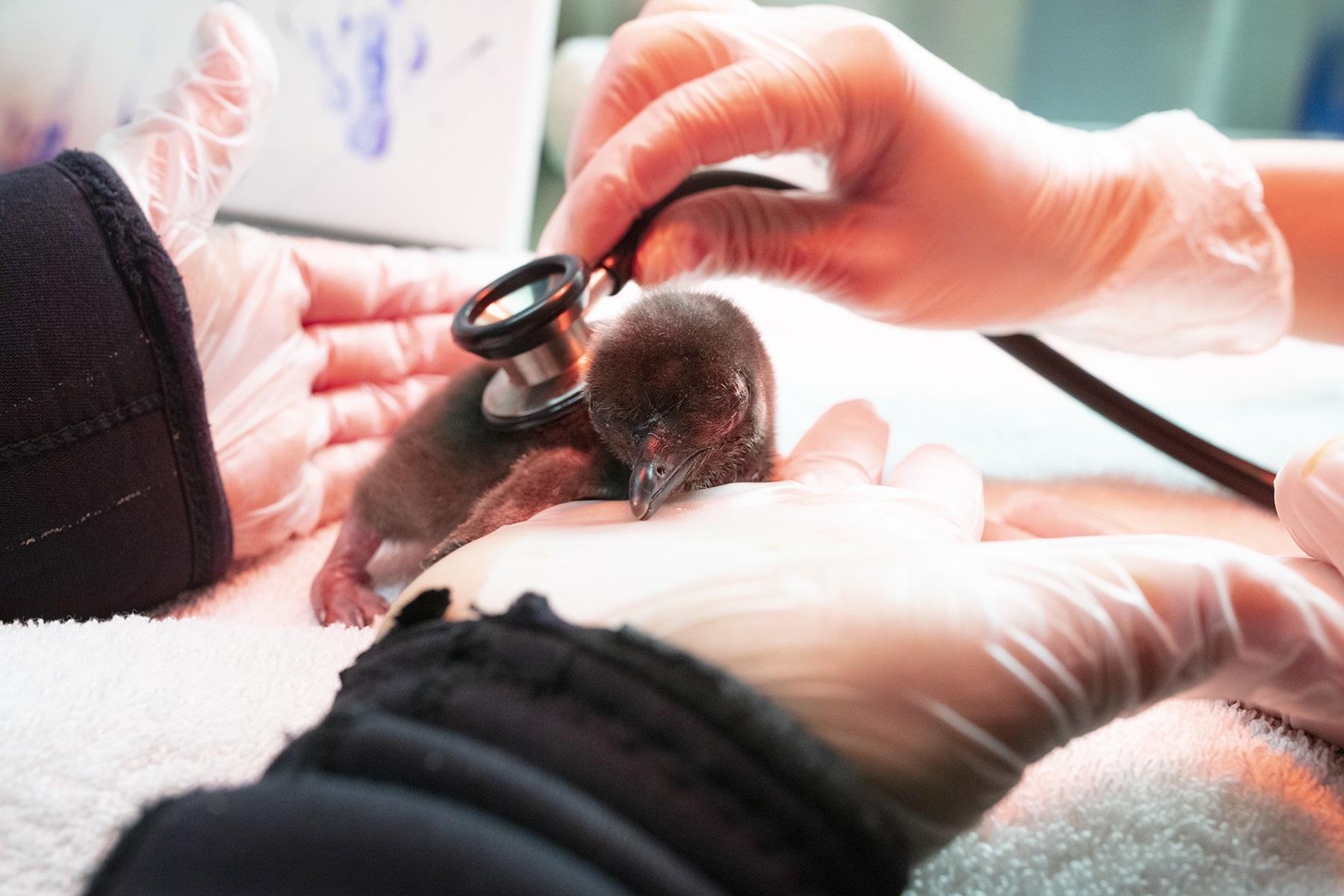 Shedd Aquarium staff are monitoring a pair of Magellanic penguin chicks born earlier this month. (Brenna Hernandez / Shedd Aquarium)
Upon hatching, the first chick – which is unnamed but labeled as Chick No. 420 – weighed 76 grams. The second chick, Chick No. 421, hatched at 64 grams. 
Shedd's animal care staff will monitor the birds remotely with the help of video cameras and sensors stationed behind the penguin habitat. Cameras record the penguin activity inside each nest, and the feed can be viewed by staff from a computer or on a phone.
The penguin chicks are expected to be fully grown within two to three months. Until then, Shedd's penguin trainers will continue to monitor the hatchlings and make sure they hit various milestones. Staff will also track the penguins' vocalizations, hydration levels, grooming and other aspects of their development.
The sibling chicks are the second and third Magellanic penguins born and bred at Shedd. Nia, the first Magellanic penguin born at the aquarium, turned 1 year old earlier this month.
Shedd has been home to Magellanic penguins since 2009, when it began hand-raising chicks after receiving eggs from San Francisco Zoo. Those chicks are just now reaching reproductive maturity and beginning to pair off and breed.
In the wild, Magellanic penguins live on the rocky shores of the Falkland Islands, Argentina and Chile, with some migrating to Brazil. These penguins are burrowers, using twigs and other branch materials to build their nests.
In addition to its 23 Magellanic penguins, Shedd is home to eight Rockhopper penguins, which tend to hole up in rocky surfaces when they nest.
Contact Alex Ruppenthal: @arupp | [email protected] | (773) 509-5623
---
Related stories: