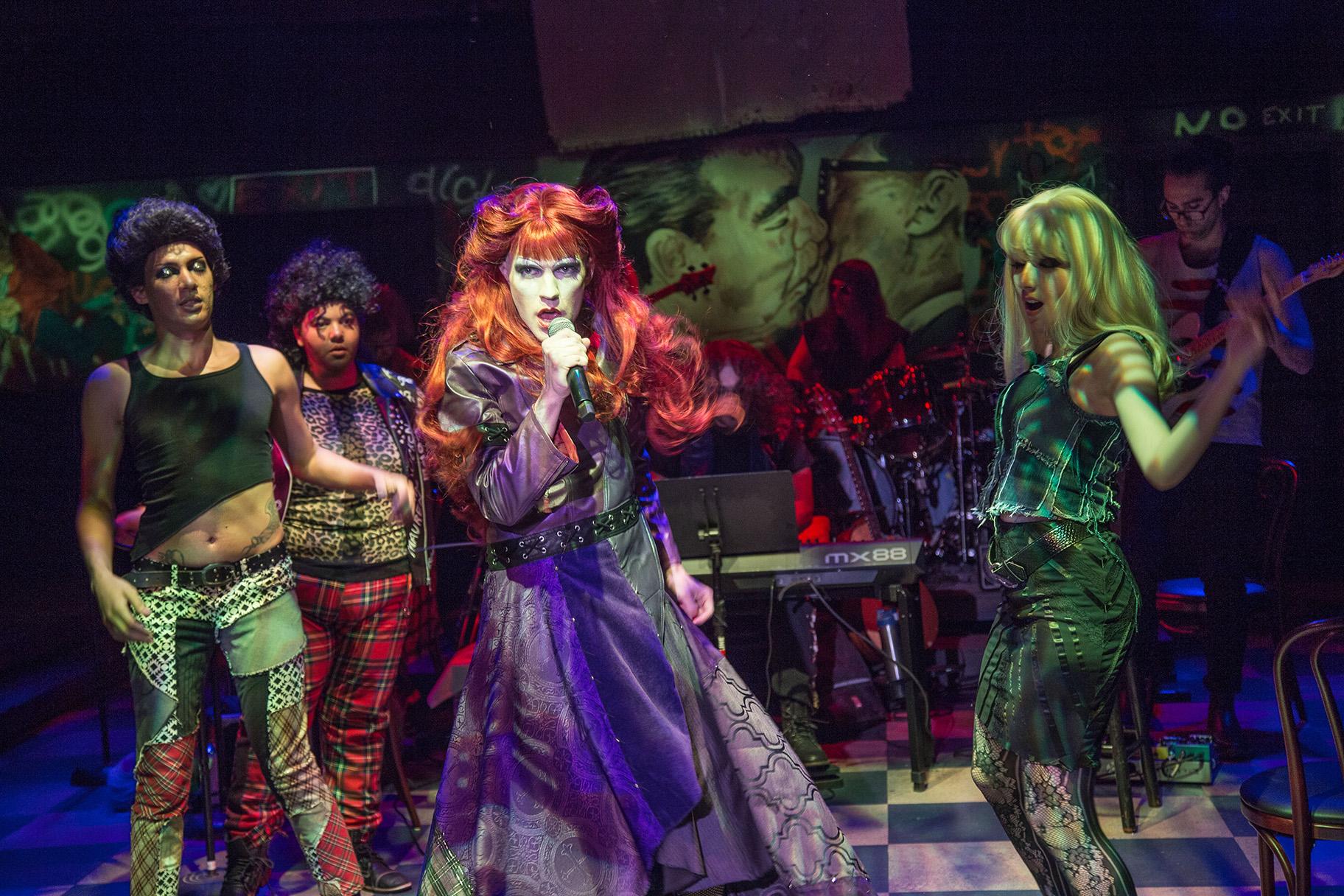 From left, front: Jacob Gilchrist, Brittney Brown, Will Lidke and Adriana Tronco in "Hedwig and the Angry Inch." Background: The Angry Inch Band. (Photo by Austin D. Oie Photography)
Matters of sexual identity have become a prime subject of the American musical ever since the 1960s, although as "Cabaret" suggested, the subject was a hot topic for the stage ever since the Weimar era flourished in Germany between 1918 (the end of World War I) and 1933 (the rise of Nazism).
Among the more iconic shows dealing with the subject (and certainly the one bearing the most provocative title), is "Hedwig and the Angry Inch," the 1998 off-Broadway hit with a book by actor John Cameron Mitchell (a Northwestern University alum and son of a U.S Army major general), and a raw and rousing hard rock-meets-glam rock score by Stephen Trask. Originally a bravura showcase for Mitchell, it is now receiving a knockout of a virtuosic performance by Chicago actor Will Lidke who is starring as Hedwig in Theo Ubique Cabaret Theatre's aptly brash and bawdy production.
Arriving at Theo Ubique as the final show of the theater's first season in its spacious new Evanston home (and just after its luminous production of "The Bridges of Madison County" was named best musical production at the Non-Equity Jeff Awards), "Hedwig" serves as definitive proof that this company can finesse anything and everything in the musical theater repertory.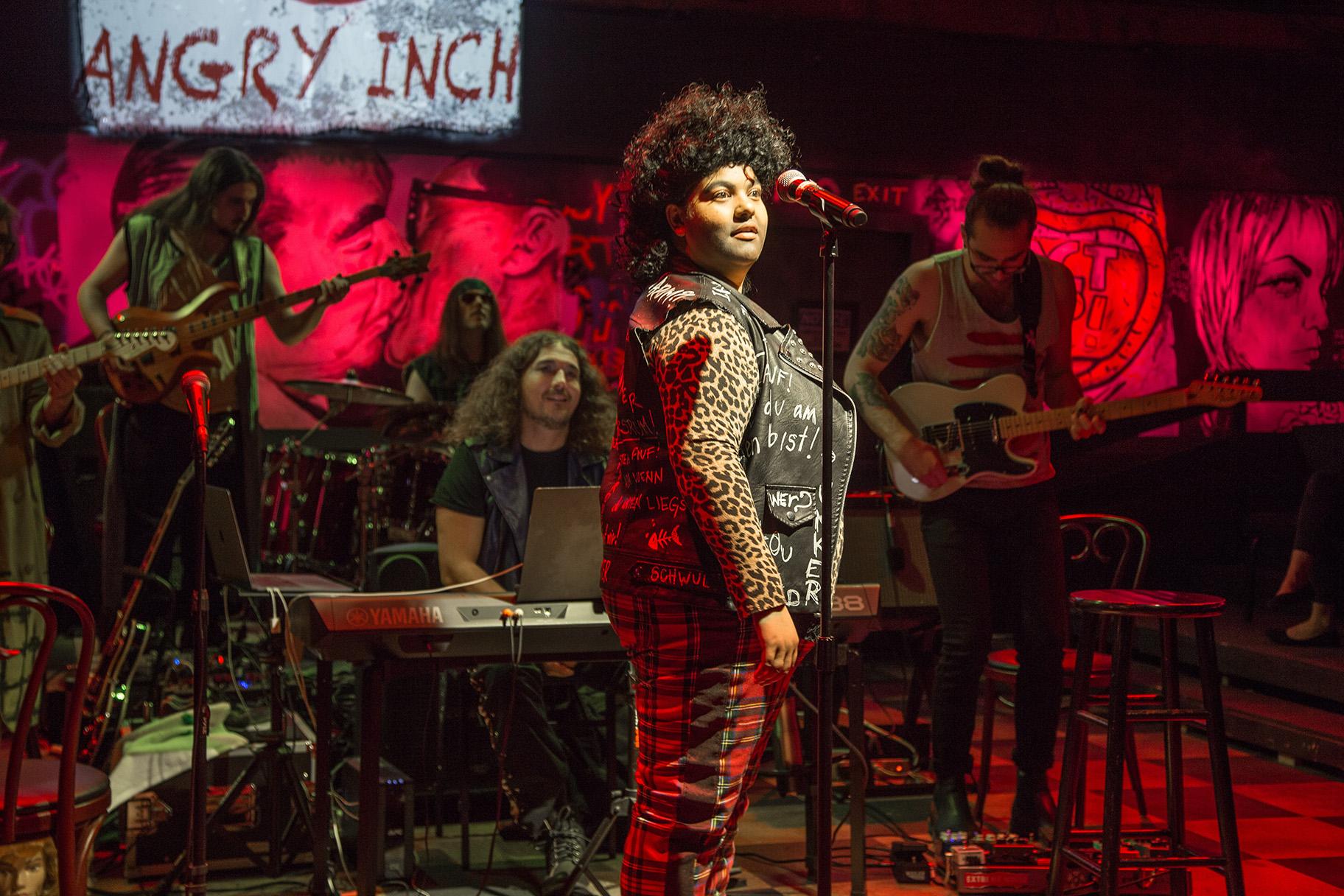 Brittney Brown, center, in "Hedwig and the Angry Inch." Background: Perry Cowdery, Joseph Drzemiecki, Carlos Mendoza, Jeremy Ramey and Jakob Smith. (Photo by Austin D. Oie Photography)
The show is set briefly in East Germany (shortly before the fall of the Berlin Wall in November 1991, at a time when listening to Western pop music had to be done covertly). And then it moves to a trailer park in Junction City, Kansas, where Hedwig (born Hansel Schmidt) arrives after undergoing the botched sex change operation that will permit "him" to marry Luther Robinson, a U.S. soldier, and flee his witchlike mother (power-voiced Adriana Tronco, who also serves as a background singer), and communist East Germany's oppressive society. (Colt Frank's graffiti-strewn set, lit by James Kolditz, even reproduces the famous photo-turned-Berlin Wall fresco of Soviet leader Leonid Brezhnev who is locked in a "socialist fraternal kiss" with East German president Erich Honecker.)
Hedwig is as divided as Germany – a tortured figure of androgyny who realizes he/she fled East Germany just a bit too soon, and whose American husband soon leaves her for a man. Her next relationship is with Tommy Speck (the deftly androgynous Jacob Gilchrist), to whom she gives the stage name Tommy Gnosis, based on the Greek term for "knowledge." A naive, fervently Christian teen with whom she collaborates on songs, and who she believes to be her soulmate, Tommy also leaves Hedwig after discovering her biological roots. And he will go on to enjoy monumental pop music success, while Hedwig, consumed by jealousy and pain, is condemned to perform in dives with her band, The Angry Inch.
Meanwhile, along the way, Hedwig hooks up with Yitzhak (Brittney Brown), a Jewish drag queen from Croatia who serves as her backup singer and "husband," and with whom she has a twisted passive-aggressive relationship. Brown has a terrific voice and formidable presence, but is something less than convincing in her character's all-important and deeply ironic Jewish identity.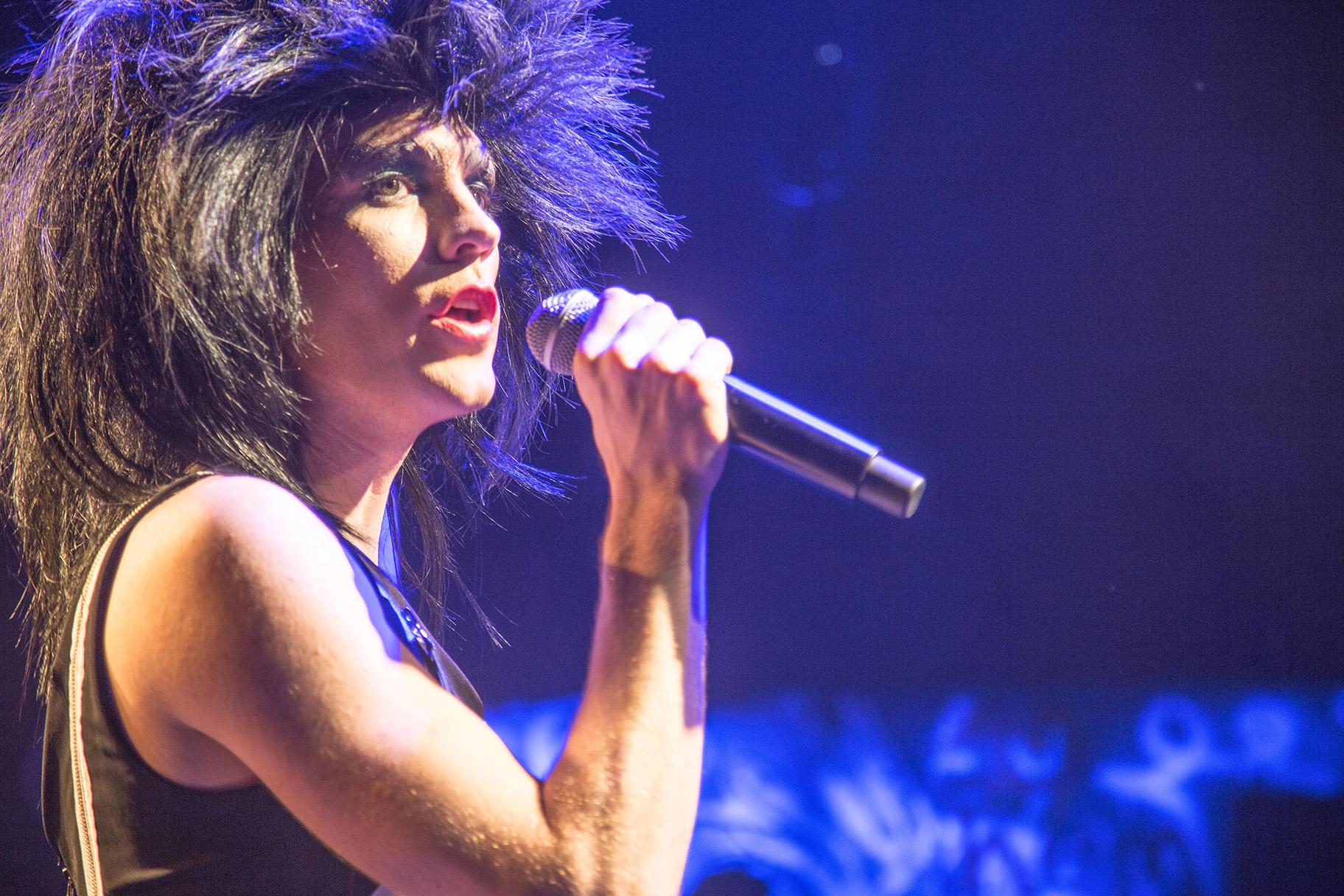 Will Lidke in "Hedwig and the Angry Inch." (Photo by Austin D. Oie Photography)
But back to Lidke, a tall, leggy, rail-thin actor who I last saw as Seymour in the 2018 Drury Lane Theatre production of "Little Shop of Horrors." His vocal and physical endurance in the marathon role of Hedwig is so ferocious and fearless that it is difficult to believe he is the same person who could have played nerdy Seymour. With his power voice, remarkable body language (enhanced by high-heeled boots, fishnet stockings and countless wig and costume changes), and sheer unrelenting intensity, he commands every moment, and you might well find yourself wondering how he will ever make it through the show's run in one piece. Of course it is a fabulous showcase.
Director Toma Tavares Langston makes fine use of Theo Ubique's nearly in-the-round stage, with just enough of the action spilling into the audience. But at times he lets aspects of the storytelling become a bit murky.
As always, music director/pianist Jeremy Ramey does a phenomenal job of shaping the volcanic score, with The Angry Inch Band (seated in full view as part of the action) comprised of top-notch musicians Perry Cowdery and Jakob Smith on guitar, Joseph Drzemiecki on bass, and Carlos Mendoza on drums. Robert Hornbostel's sound design is unquestionably loud, as it must be, but while earplugs are available at the door they are not needed.
The other absolutely essential stars of the show are costume designer Robert S. Kuhn and wig designer Keith Ryan who have created a sensational array of eye candy. And nobody could wear it all with quite the panache and flash of Lidke's Hedwig.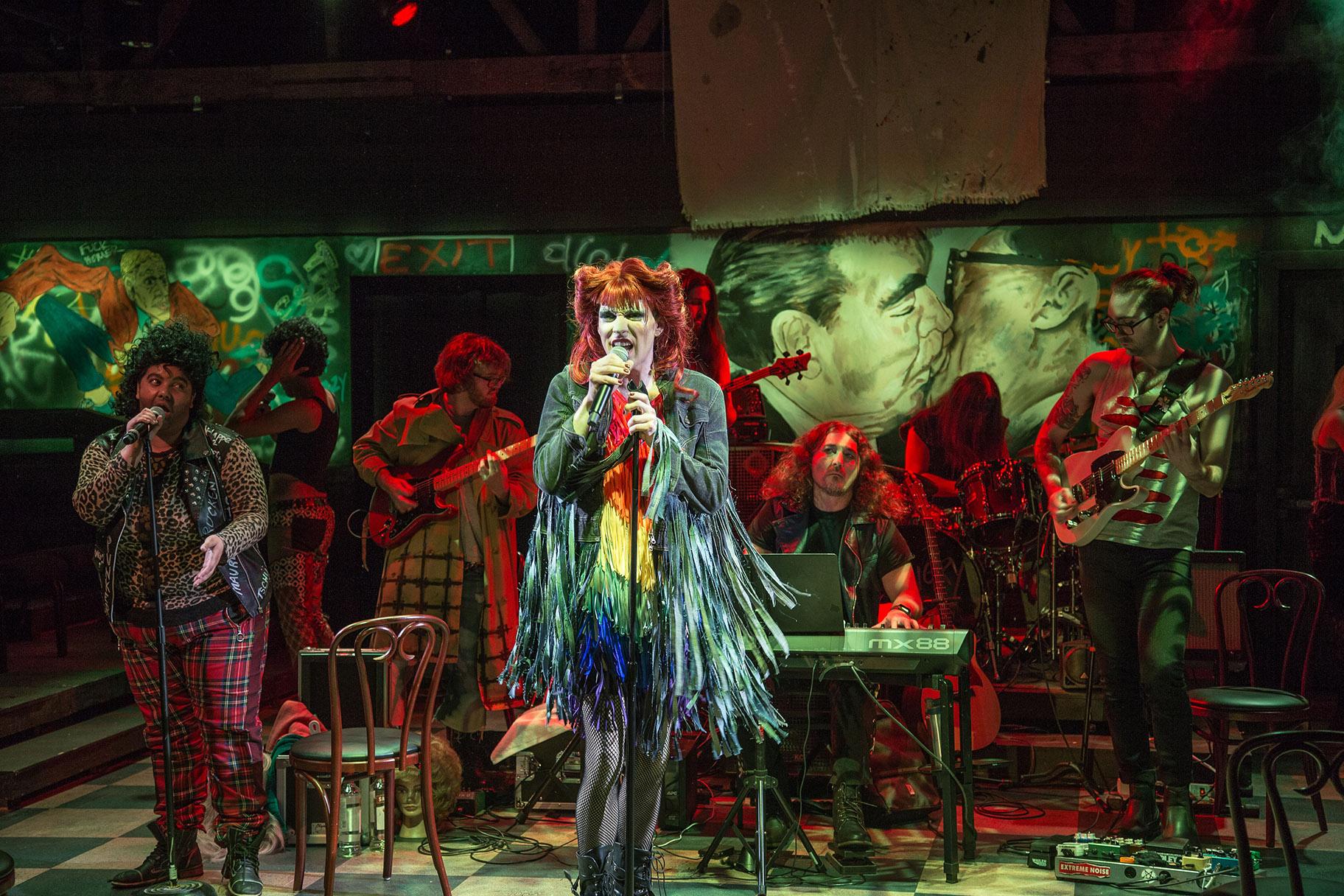 Front, from left: Brittney Brown, Will Lidke. Background, from left: Jacob Gilchrist, Perry Cowdery, Joseph Drzemiecki, Jeremy Ramey, Carlos Mendoza and Jakob Smith. (Photo by Austin D. Oie Photography)
"Hedwig and the Angry Inch" runs through July 28 at Theo Ubique Cabaret Theatre, 721 Howard St., Evanston. For tickets ($34-$54) call (773) 347-1109 or visit www.theo-u.com. Running time is 95 minutes with no intermission.
Note: Theo Ubique's 2019-2020 season will include Michael John LaChiusa's musical "Hello Again," directed by Brenda Didier; an updated version of "Working," based on the Studs Terkel book, and featuring much of the original score by Stephen Schwartz and others, plus new songs by Lin-Manuel Miranda, and direction by Christopher Chase Carter; "Grey Gardens," the Doug Wright, Scott Frankel and Michael Korie musical about Jacqueline Kennedy's eccentric relatives, directed by Theo Ubique artistic director Fred Anzevino; and a fourth production to be announced soon.
Follow Hedy Weiss on Twitter: @HedyWeissCritic
---
Rarely Produced British Play a Bitter Reminder of Veterans' Fates
In 'Ms. Blakk,' a Raucous Campaign for a Queer Nation Candidate
There is True 'Greatness' in Firebrand's 'Queen of the Mist'
---