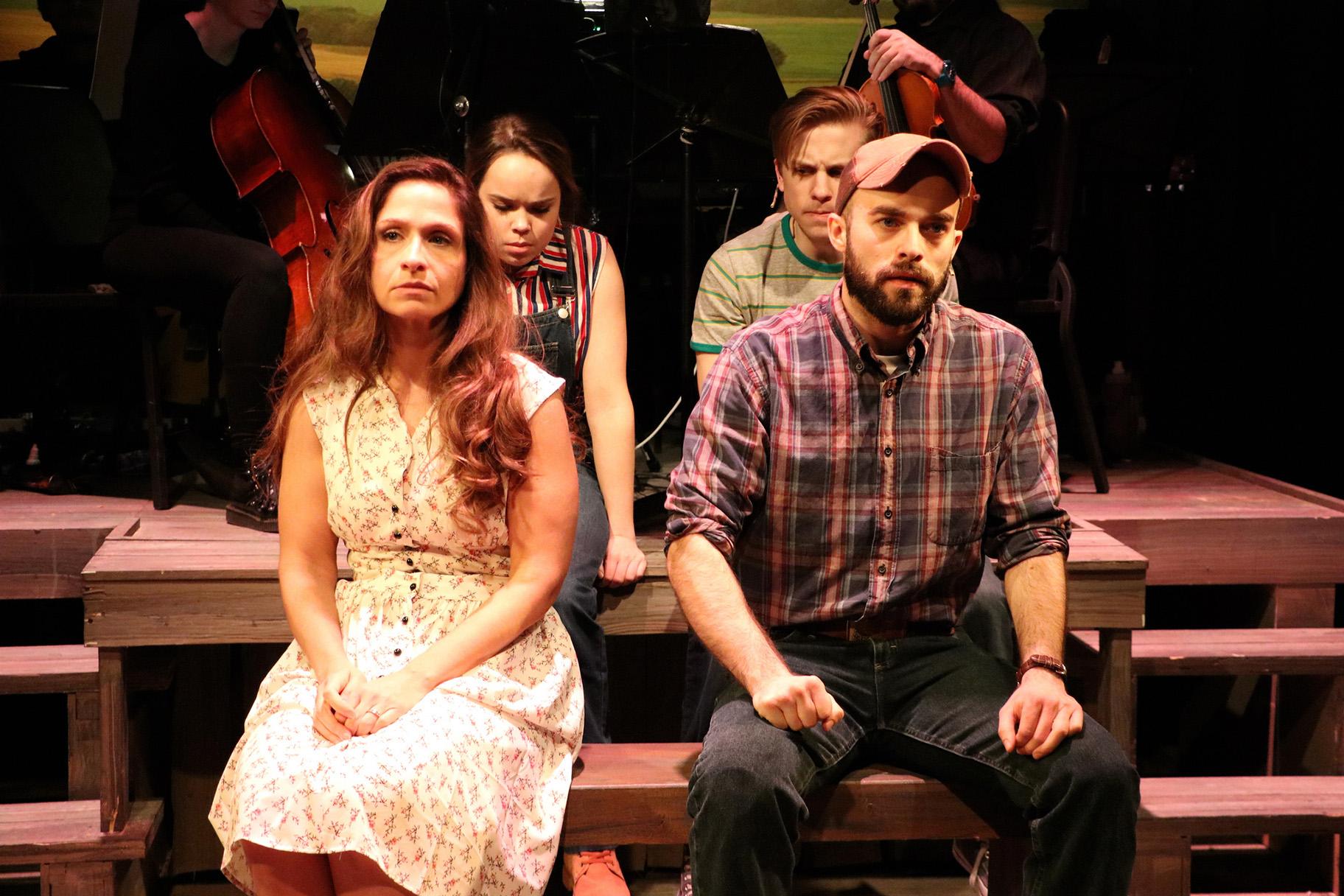 A scene from "The Bridges of Madison County" at Theo Ubique Cabaret Theatre. Front: Kelli Harrington, left, and Carl Herzog. Back: Peyton Shaffer, left, and Christopher Ratliff. (Photo by Cody Jolly Photography)
With just its second production in its new Evanston home, Theo Ubique Cabaret Theatre has not only fully unlocked the musical theater magic for which it has long been renowned. But at the same time it has unleashed the hidden Italian opera soul – with all its heated emotion and vocal beauty – to be found in "The Bridges of Madison County," the 2014 musical with a glorious score by Jason Robert Brown, and a book by Marsha Norman based on the best-selling 1992 romantic novel by Robert James Waller.
Credit director Fred Anzevino (and his authentic Italian roots), music director Jeremy Ramey (who has a genius for conjuring a symphonic sound with a five-piece ensemble), and the show's two stellar principal performers – Kelli Harrington and Tommy Thurston – for unlocking the show's full beauty, and for transforming a work often written off as soap opera by revealing its hidden depth.
The story is a tale of a wholly unexpected love affair, and the choice a woman must make between family loyalty and responsibility, and an upending, life-altering passion.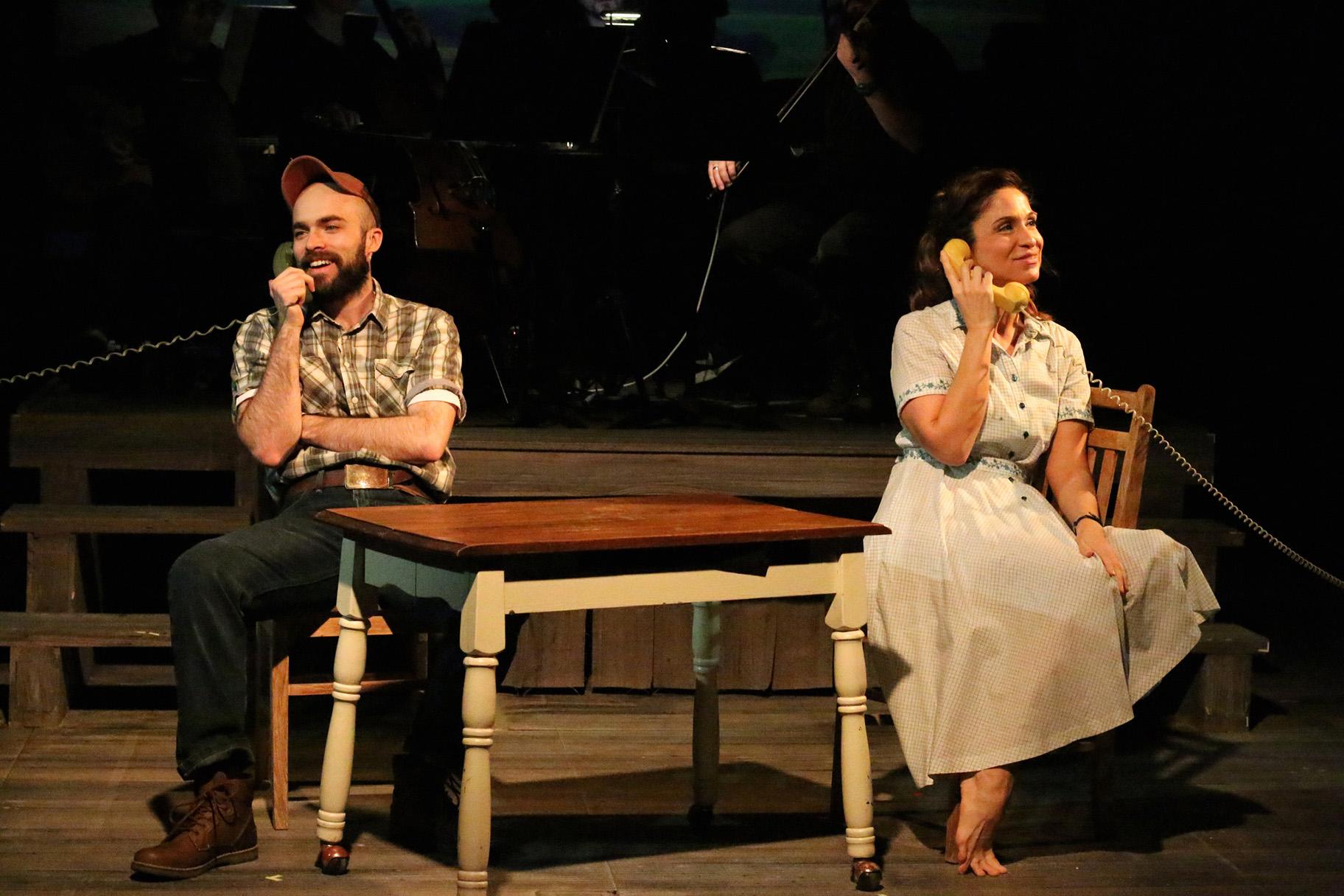 Carl Herzog and Kelli Harrington (Photo by Cody Jolly Photography)
Francesca (Harrington) is a war bride from Naples, Italy, who met her husband, Bud Johnson (Carl Herzog, who captures his character's hot temper and macho style, as well as his insecurity), when he was a soldier stationed in that devastated city in the wake of World War II. Her first boyfriend, Paolo (Matt Frye) had been killed in the war, her future looked impossibly bleak, and Bud was her lifeline. She headed to the whole new, radically different world of America.
When we first meet Francesca it is 1965, and she tells us of how, during the past 18 years, she has built a life on the rather isolated Iowa farm her husband grew up on, and how she has raised a son, Michael (Christopher Ratliff), now a rebellious 16-year-old, and a daughter, Carolyn (Peyton Shaffer), whose prize cow is about to compete in a state fair.
Lonely, and far from the urban European life of her youth, Francesca has never been able to afford a return trip to Naples. And while she yearns for something more, she has accepted her fate and gotten on with life.
Tommy Thurston (Photo by Cody Jolly Photography)
Then, after Bud and the kids drive off to Des Moines for a weekend at the state fair, and Francesca is blissfully alone, a handsome stranger in a blue truck just happens to pull up in her driveway and ask for directions to the Roseman Bridge, one of the famous old covered bridges in the county. As it happens, Robert Kincaid (Thurston) is a globetrotting photographer on assignment for National Geographic. He has even been to Naples to shoot that rebuilt city. And from the moment the two encounter each other, and she offers to accompany him to the hard-to-find bridge, there is an immediate bolt of electricity in the air.
In fact, a great spark of electricity could be felt in the theater from the moment Harrington, a long-haired beauty whose emotions sweep across her face like waves, began to sing the musical's first song, "To Build a Home." Her warm, velvety voice is close to operatic, yet at the same time wholly unaffected, and combined with her superb gifts as an actress she established instant belief. (This is not the actress' first foray to Italy; she starred in Theo Ubique's excellent production of "The Light in the Piazza" a number of years ago.)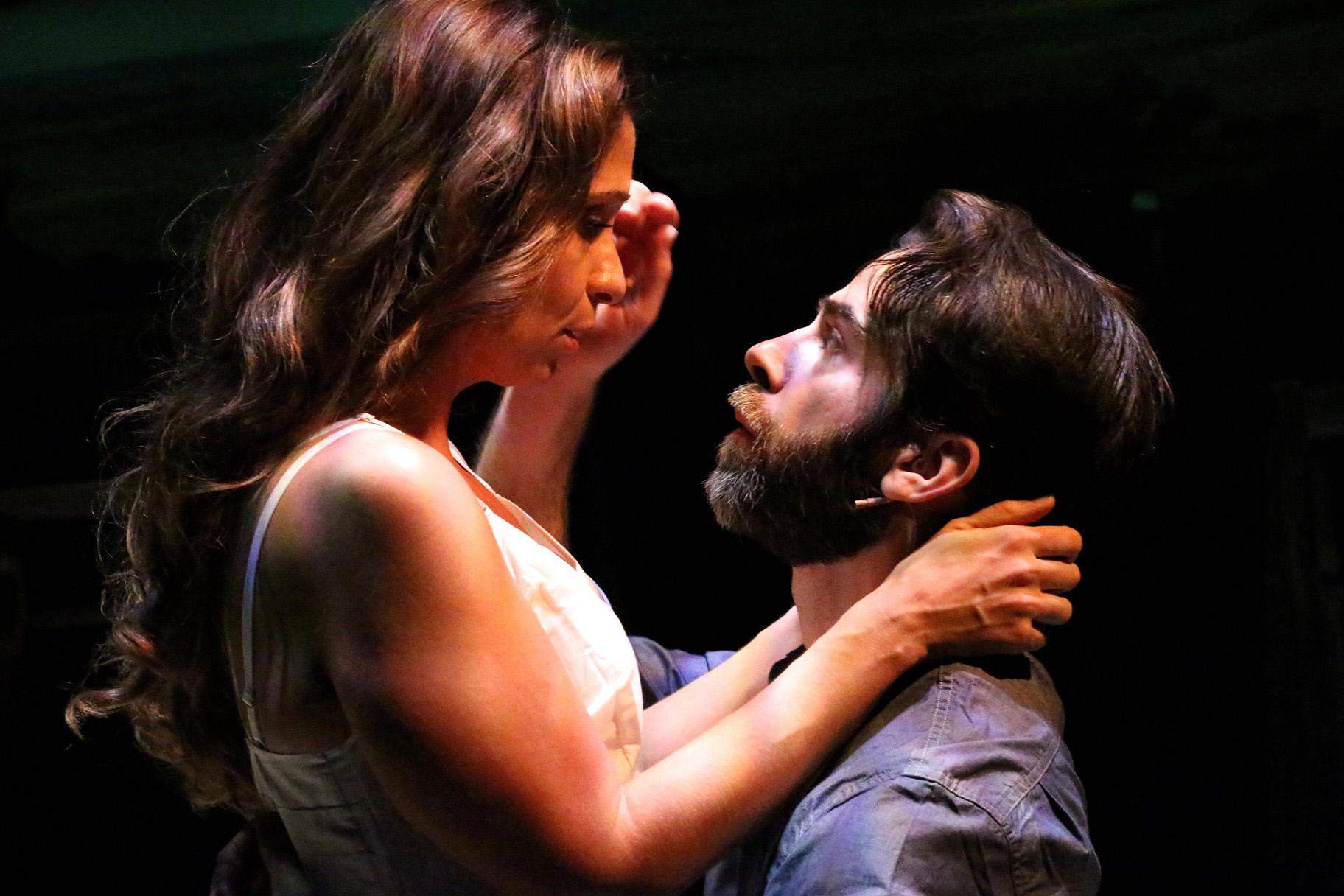 Kelli Harrington and Tommy Thurston (Photo by Cody Jolly Photography)
The connection between Francesca and Robert (a loner and obsessive artist whose earlier marriage to a young songwriter dissolved) is immediate and intense as each has found their soul mate. They give in to their passion, and then a crucial decision must be made.
Throughout, the lovers have what can only be described as full-fledged arias, whether soliloquies or duets, at moments backed by an impressive "chorus." And Brown's soaring music and feverish, soul-baring lyrics (in "Wondering," "Look at Me," "The World Inside a Frame," "Falling Into You," "Who We Are and Who We Want to Be," "Before and After You," "One Second & a Million Miles Away") find the perfect mix of vocal and emotional heat in Harrington and Thurston.
Bud, too, gets his chance to reveal himself with Herzog's powerful voice on display in "Something From a Dream" and "When I'm Gone." And there are fine moments in a flashback to Francesca's opportunistically sexy sister, Chiara (Molly LeCaptain, who also plays a country singer, as does Lizzie Cutrupi).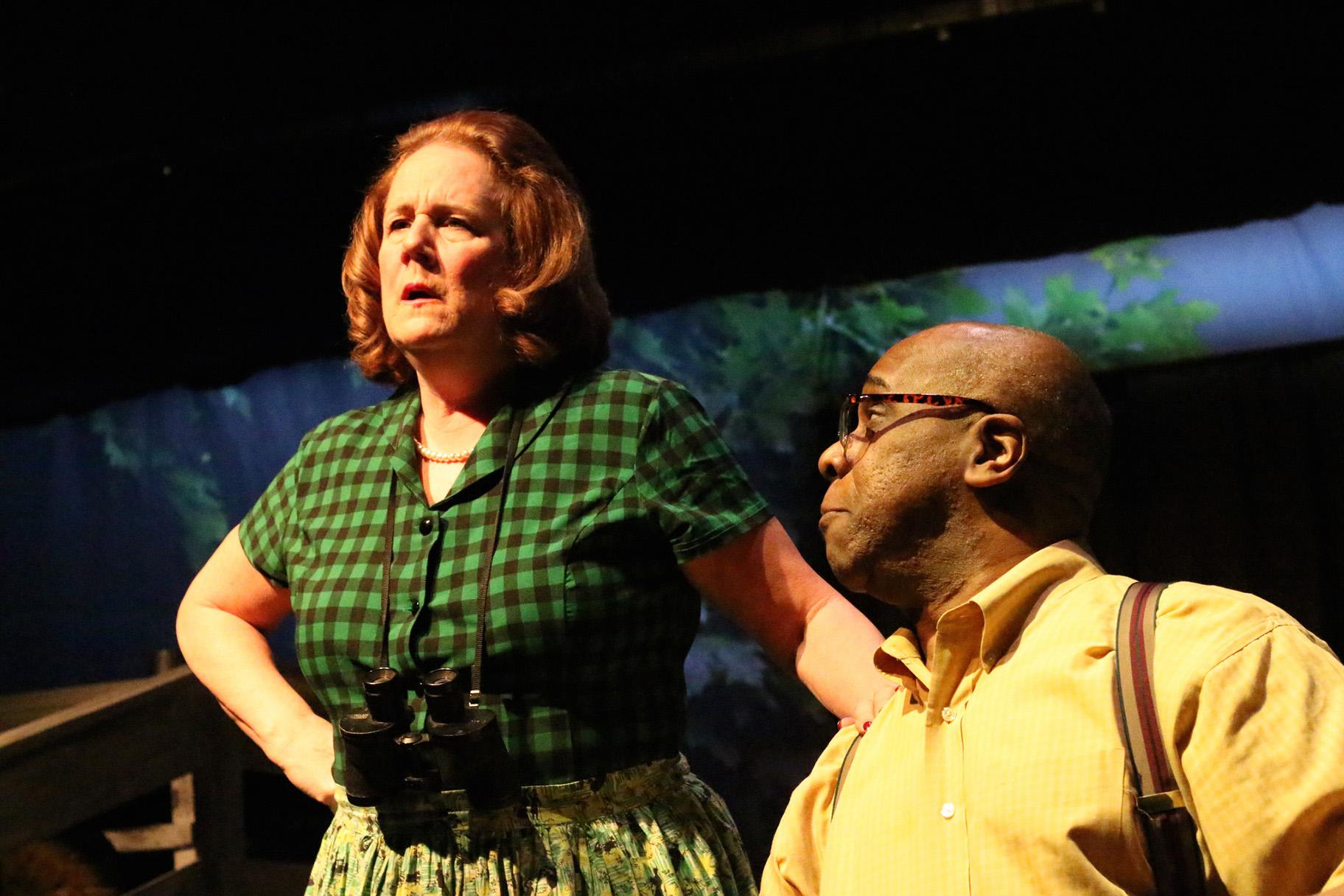 Kate Harris and Randolph Johnson (Photo by Cody Jolly Photography)
The fact that something is going on between Francesca and the attractive "stranger" does not escape the attention of Marge (the spot-on Kate Harris), Francesca's big-hearted but nosy older neighbor who shares the gossip with her husband, Charlie (Randolph Johnson, whose dry humor and bluesy voice get a fine chance to shine).
Set designer Colt Frank has ideally reconfigured Theo Ubique's new high-ceilinged space to create something of an in-the-square intimacy, with a painted panorama of an endless, open landscape wrapping around several walls, heavy wooden beams suggesting a farmhouse and fence, and an all-important bed wheeled out from beneath the stage on which the orchestra is seated.
And that orchestra is absolutely sublime, with Ramey conducting from the keyboard, Simeon Tsanev on violin, Kat Tarko on cello, and Perry Cowdery and Cesar Romero on guitars.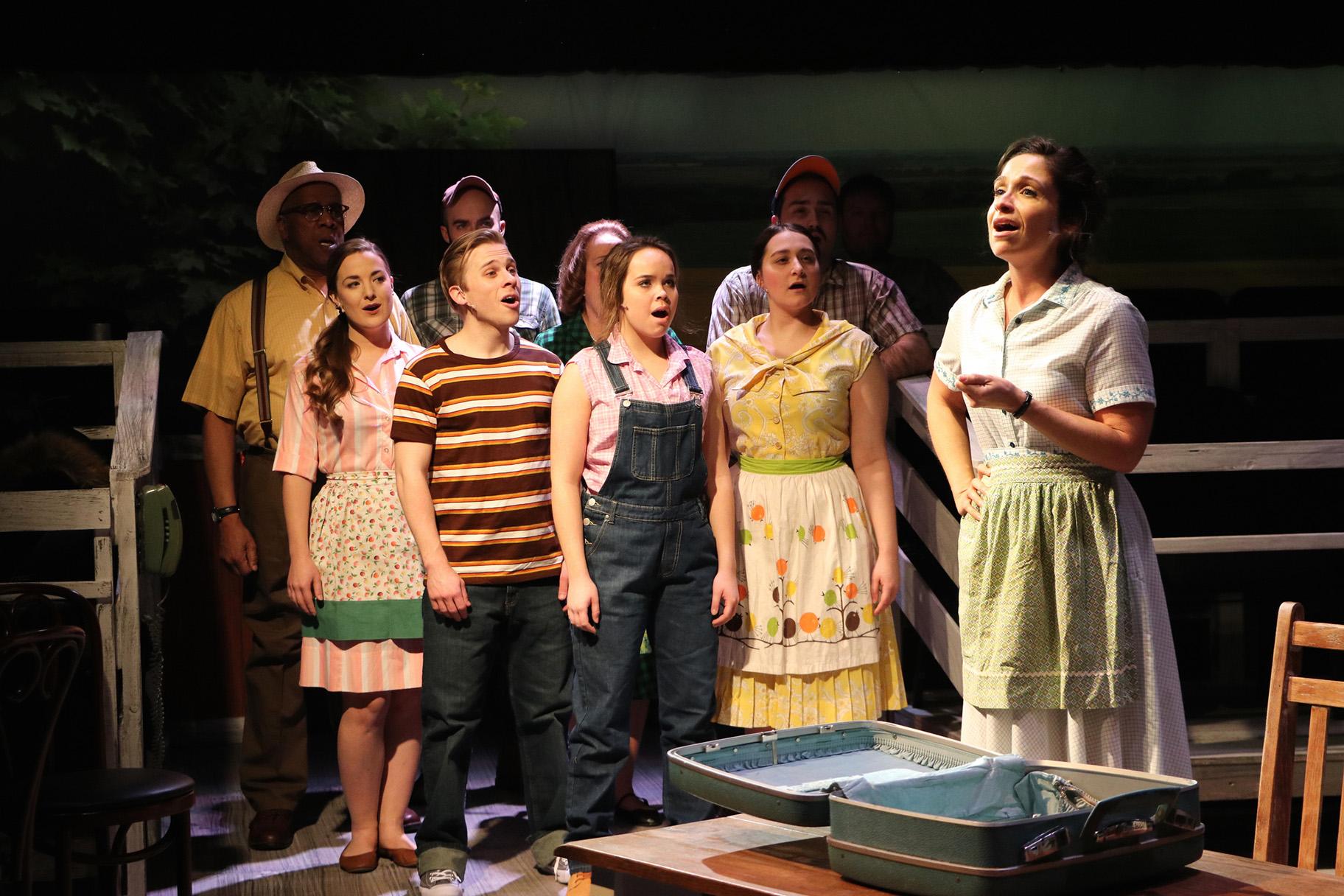 Front row, from left: Molly LeCaptain, Christopher Ratliff, Peyton Shaffer, Lizzie Cutrupi and Kelli Harrington. Back row, from left: Randolph Johnson, Carl Herzog, Kate Harris and Matt Frye. (Photo by Cody Jolly Photography)
How the story ends is not to be divulged here. Suffice it to say that this is one of those productions that makes you wish the show's composer and writer would make a quick trip to Chicago to see their work in what might just be its ideal incarnation.
"The Bridges of Madison County" runs through April 21 at Theo Ubique Cabaret Theatre, 1751 W. Howard St., Evanston. For tickets ($34-$54) call (773) 347-1108 or visit theo-u.com. Running time is two hours and 25 minutes with one intermission
Follow Hedy Weiss on Twitter: @HedyWeissCritic
---
A Contentious Family Dinner Morphs Into an Absurdist Black Comedy in 'Act(s) of God'
Six Girls Negotiate Difficult Road to Adulthood in 'Twilight Bowl'
In 'The Abuelas,' a Chilling Episode in Argentina's History Washes Up on Lake Shore Drive
---