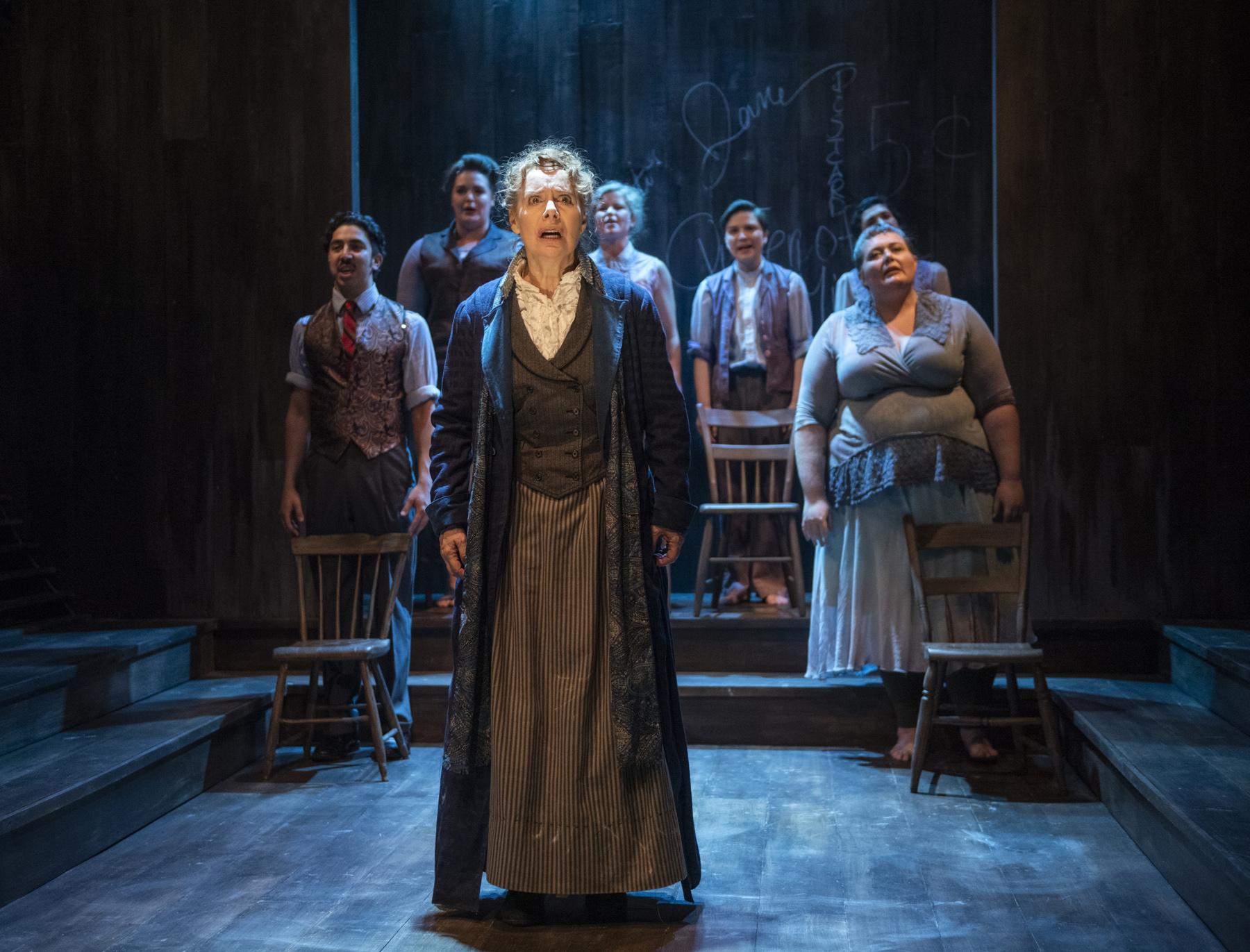 Barbara E. Robertson, center, with, from left, Max J. Cervantes, Neala Barron, Liz Chidester, Hannah Starr, Liz Bollar and Maryam Abdi in Firebrand Theatre's Chicago premiere of "Queen of the Mist." (Photo by Michael Brosilow)
In 1901, just as she reached the age of 63, Annie Edson Taylor became the first person to survive a trip over Niagara Falls in a barrel.
Annie had spent most of her life working as a schoolteacher, and then, after a series of moves to mediocre towns – where she tried to eke out a living by teaching dance, music and physical fitness – she found herself penniless.
Desperate to have a roof over her head, she swallowed her pride and asked her disapproving sister – a conservative wife and mother in the town of Auburn, New York, from whom she was estranged – to take her in. But that arrangement could not last for long. For as this brainy, difficult, freethinking, sometimes self-destructive woman repeatedly proclaimed (as much to convince herself as the rest of the world), "There Is Greatness In Me." And she was hell-bent on making her mark (and her fortune) at a time when women were treated as second-class citizens.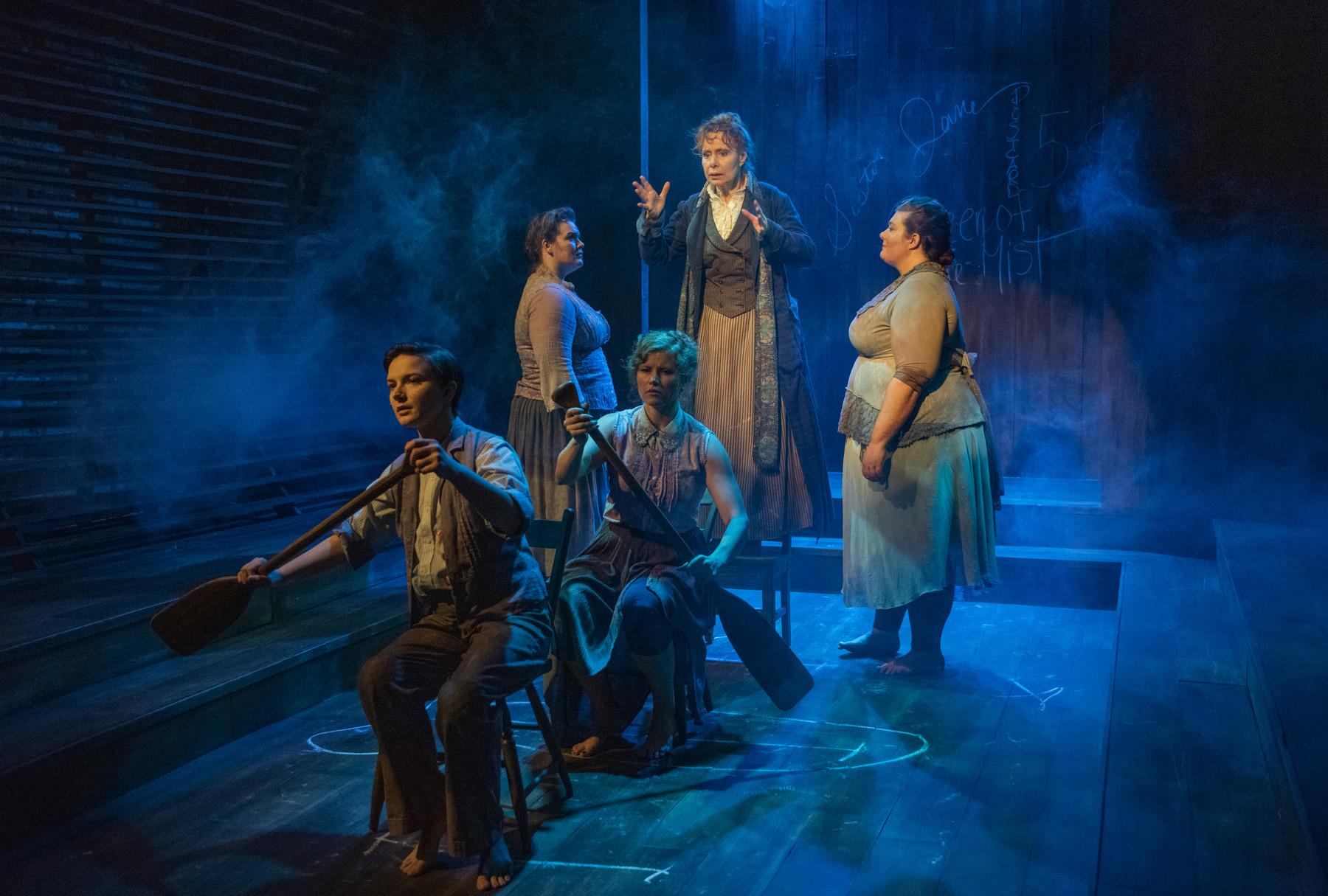 From left, Hannah Starr, Neala Barron, Liz Chidester, Barbara E. Robertson in "Queen of the Mist." (Photo by Michael Brosilow)
"There Is Greatness In Me" is the defining song in "Queen of the Mist," the musical by Michael John LaChiusa now receiving its Chicago premiere in a riveting Firebrand Theatre production that releases the full "greatness" in Annie by way of an electrifying, often heartbreaking (and vocally grueling) performance by veteran Chicago actress Barbara E. Robertson. Her portrayal is just the latest reminder of her extraordinary gifts.
The story unfolds within the confines of Lauren Nichols' inspired set (ideally lit by Cat Wilson) – a giant tunnel of dark wooden slats shaped to suggest the barrel that Annie herself designed and tested according to rigorous scientific formulations. And the airtight direction of Elizabeth Margolius, and the soaring musical direction by Charlotte Rivard-Hoster, is buoyed by a chorus of six supporting characters with voices as powerful and exciting as the roar of Niagara Falls itself. (It should be noted that Firebrand prides itself as being the first musical theater company devoted to employing women in all aspects of theatrical production. And as it completes its second season it can take great pride in its accomplishments.) In this show, there is just a single actor, with several roles written for men easily played by actresses.
When Annie decides to pursue her life-or-death mission, some dismiss it as a bizarre stunt with a potentially gruesome outcome, and even she muses about whether the barrel will be her "cradle or her coffin." But in many ways it is her last chance at feeling fully alive. She seeks out the services of a huckster said to be the best manager in the business – Frank Russell (a precision-tuned turn by Max J. Cervantes that captures both the heart and the sleazy aspect of his character). And though he senses Annie is a bit of a nut case, and doesn't want to be saddled with blame if all goes wrong, he also comes to admire her drive and fearlessness, and above all, believes she just might be his ticket to a fortune.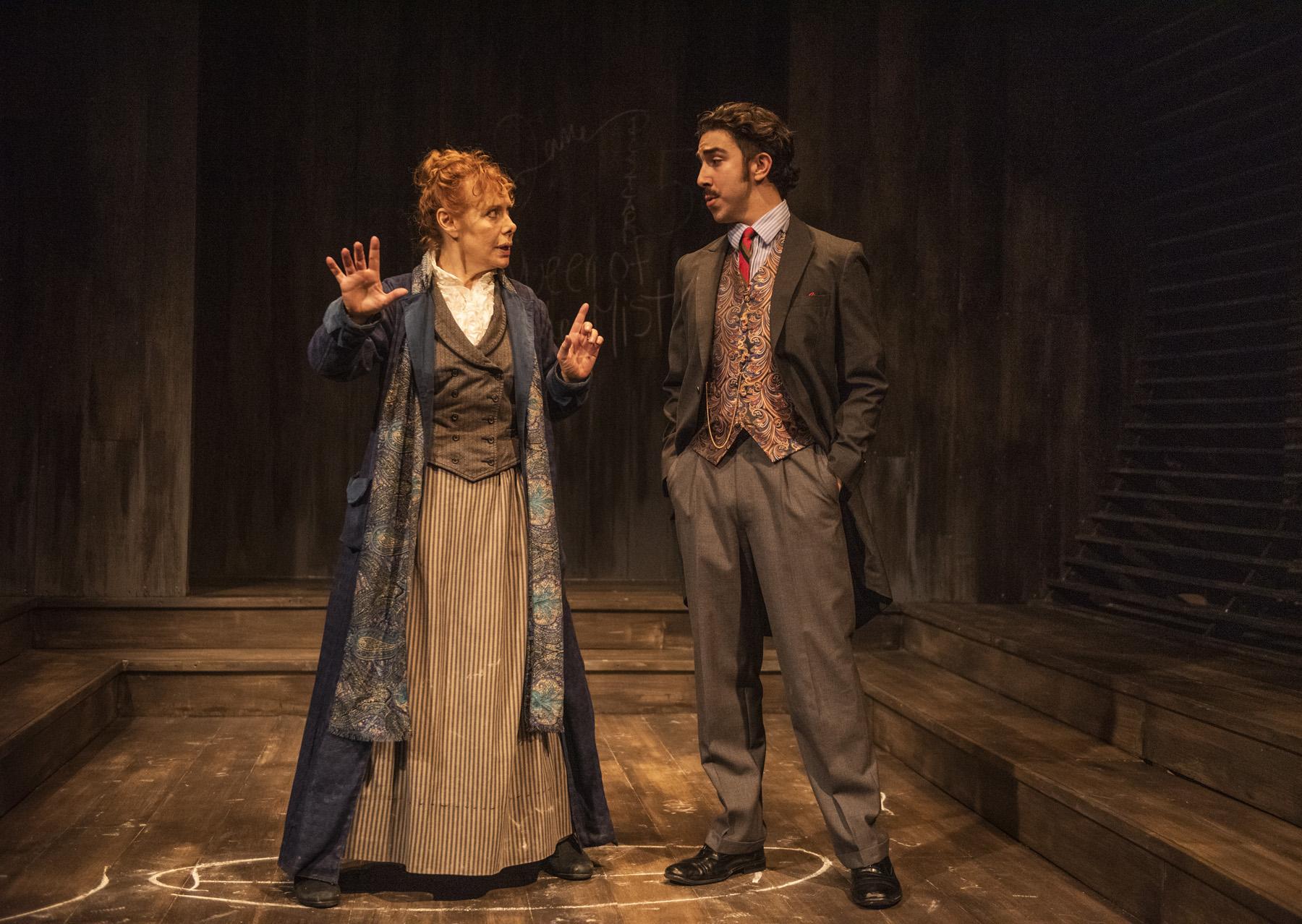 Barbara E. Robertson and Max J. Cervantes in "Queen of the Mist." (Photo by Michael Brosilow)
Annie survives of course, but her triumph is short-lived and deeply unsettling. And by the time the lights come up on the show's second act, she has hired a new manager (played by Liz Bollar), and Frank has absconded with her barrel and hired a slutty young woman (Neala Barron, in a fine about-face from her portrayal of Annie's sister, Jane), to assume Annie's identity. She also refuses to talk about what the whole experience actually felt like, because she realizes that in doing so she would cheapen it for herself.
Along the way, Annie tries to team up with Carrie Nation (the always exceptional, soaring-voiced Liz Chidester), the radical leader of the temperance movement (who makes it clear that another woman does not always opt for solidarity). And she has encounters with the anarchist who assassinated President William McKinley (the charismatic, clarion-voiced Maryam Abdi, who also plays the Barker), and a young soldier (deftly captured by Hannah Starr), who was enthralled by Annie's barrel ride when he saw it as a child, and is now about to head off to fight in World War I. (Mortality is a driving theme throughout this musical.)
Composer-lyricist LaChiusa (an often-overlooked musical master with a flair for operatic passion and strongly limned characterizations, as evidenced in such shows as "The Wild Party" and "Marie Christine") has written a ferociously difficult score that cleverly picks up on the sounds of the era, and is beautifully orchestrated by Michael Starobin. And the musicians (conductor-keyboardist Rivard-Hoster, along with Emily Beisel on reeds, Elena Spiegel on violin, Kelsey Vandervall on cello and Sara Neilson on bass), are absolutely stellar.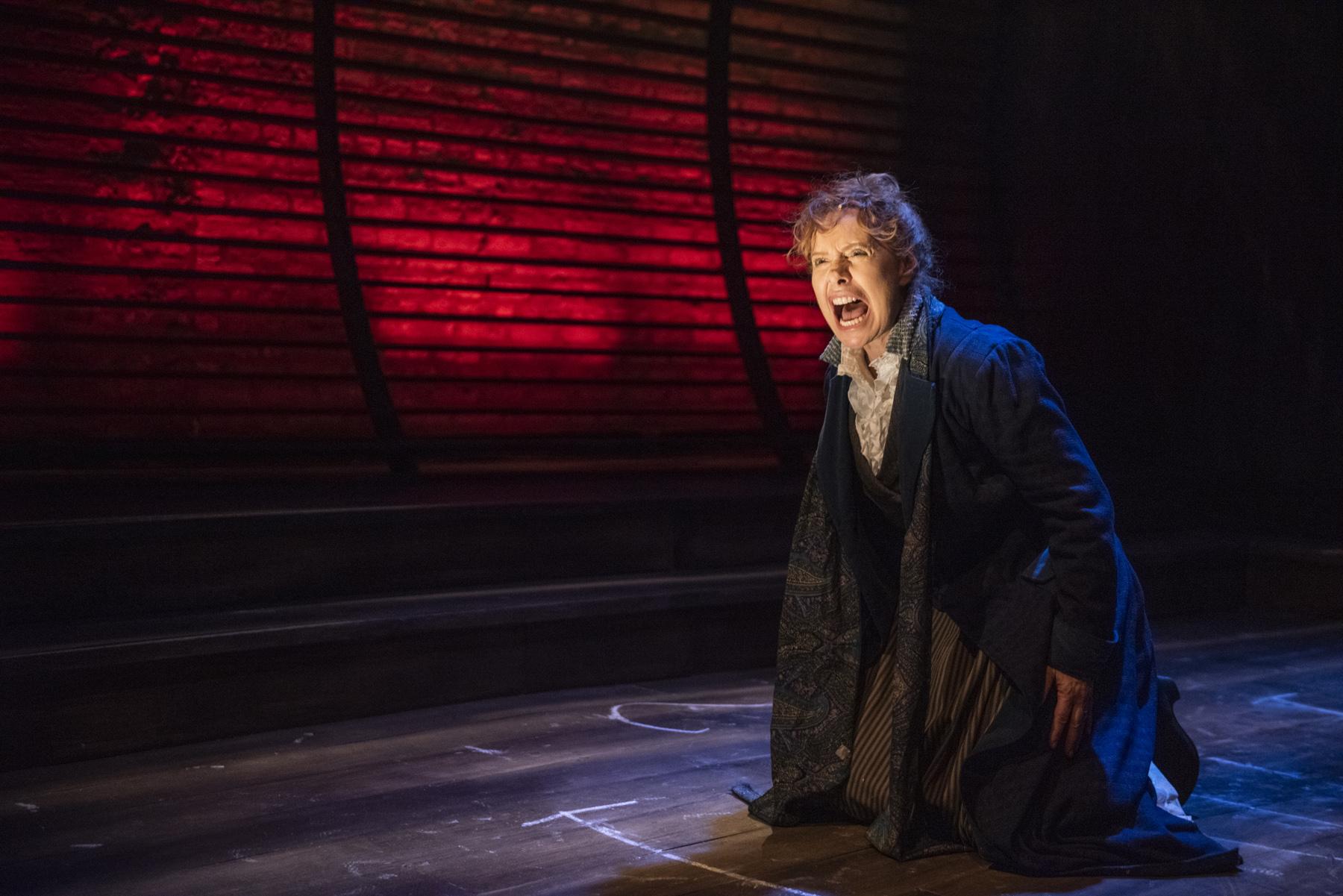 Barbara E. Robertson in "Queen of the Mist." (Photo by Michael Brosilow)
Finally, a few more thoughts about Robertson, whose marathon performance is so raw, so nuanced, and so complex in its shifts from the headstrong, to the vulnerable, to the larger-than-life. A true tour de force that will make you simultaneously cry and cheer.
Firebrand Theatre's production of "Queen of the Mist" runs through July 6 at The Den Theatre, 1331 N. Milwaukee Ave. For tickets ($55), call (312) 697-3830 or visit firebrandtheatre.org. Running time is 2 hours and 30 minutes with one intermission.
Follow Hedy Weiss on Twitter: @HedyWeissCritic
---
Mary Shelley's 'Frankenstein' a Cautionary Tale for Those Who Would Play God
In Knockout Musical 'Six,' King Henry VIII's Wives Have Their #MeToo Moment
'Bloomsday' a Breathtaking Play About Time, Love, Regret and Fateful Decisions
---