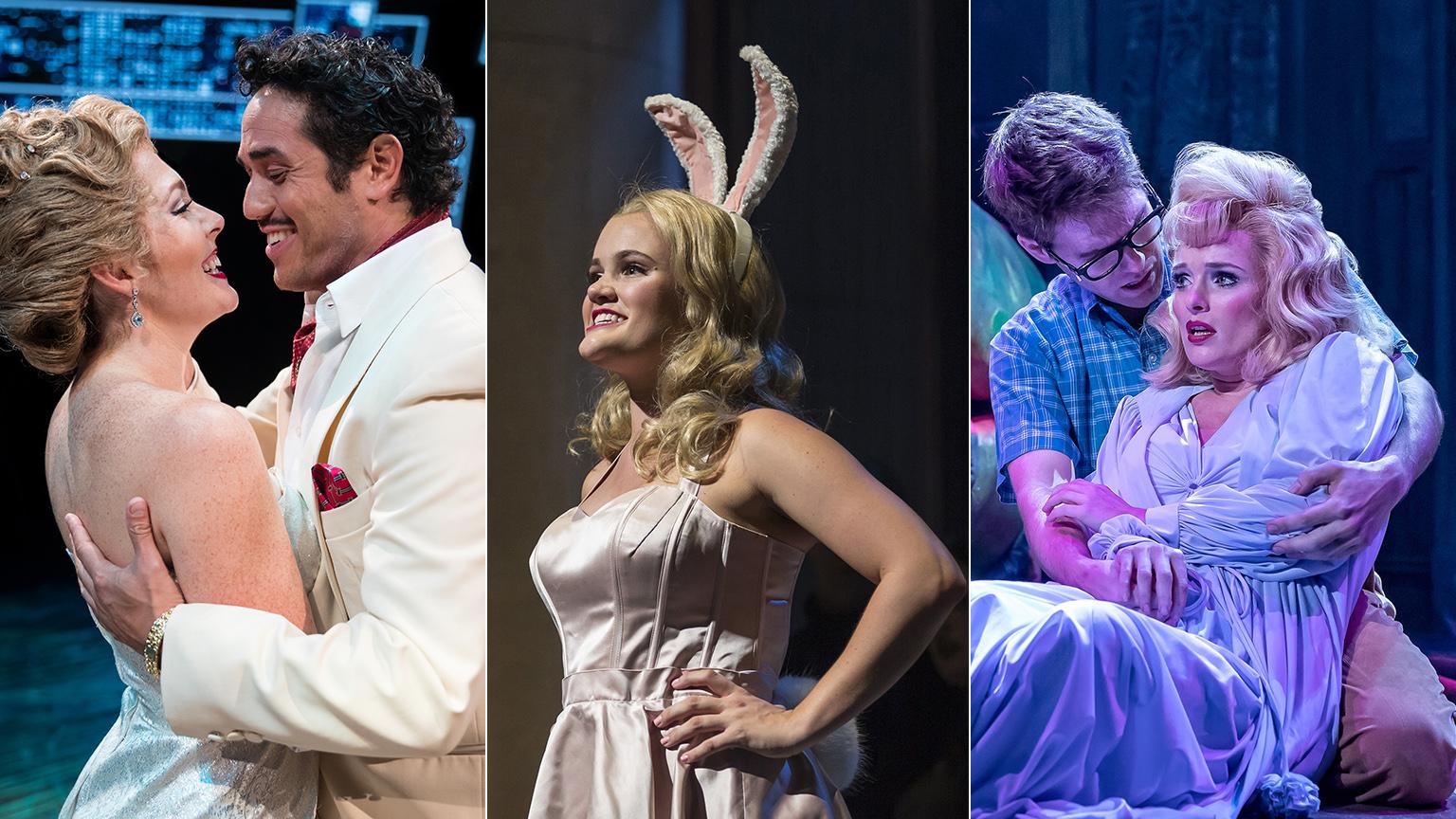 From left: "Sweet Charity," "Legally Blonde" and "Little Shop of Horrors." (Photo credit, from left: Justin Barbin, Liz Lauren, Brett Beiner)
They are set in different eras, and come with notably different sounds and story lines, but the three musicals now being produced on local stages – "Little Shop of Horrors" at Drury Lane Theatre in Oakbrook, "Sweet Charity" at the Marriott Theatre in Lincolnshire, and "Legally Blonde" at the Paramount Theatre in Aurora – share one major theme: the quest for self-esteem.
To be sure, these shows are not alone in this respect. Self-esteem is of the essence in a slew of Broadway (and Off Broadway) musicals, from "La Cage aux Folles," "Hairspray" and "Kinky Boots," to, more notably, "Ragtime." But seeing three highly polished productions in rapid succession during the past week brought the similarity of their messages into particularly strong relief.
Here's a closer look, arranged in order of the decade in which the shows are set.
"Little Shop of Horrors"
Will Lidke and Kelly Felthous in "Little Shop of Horros." (Photo by Brett Beiner)
This ever popular combination of mock-science fiction and dysfunctional love story comes with a hugely engaging score by Alan Menken (and a book by Howard Ashman) that riffs on the sounds of 1950s doo-wop and early 1960s Motown and plays on the all-American dream of life in suburbia, as well as success in the big city as imagined by a group of social outcasts.
The musical is set in and around the failing Skid Row florist shop of Mr. Mushnik (Ron E. Rains), the Yiddish-inflected owner whose employees include Seymour (Will Lidke), the nerdy orphan taken in by Mushnik years earlier, and Audrey (Kelly Felthous), the sexy-sweet blonde hopelessly under the oppressive, demeaning spell of her sadistic, physically abusive dentist/biker boyfriend, Orin (Steven Strafford).
Serving as a sensational streetwise Greek chorus is a trio of downtown dropouts with uptown aspirations and powerhouse voices echoing The Supremes, including Ronette (Melanie Brezill), Crystal (Candace C. Edwards), and Chiffon (Melanie Loren). And of course growing ever more fearsome at center stage – and bringing both celebrity and catastrophe to those who encounter it – is the exotic plant that Seymour nurtures and names Audrey II, in honor of the co-worker on whom he has a secret crush. (Lorenzo Rush Jr. supplies the plant's sonorous yet commanding voice, with Matthew Sitz as the puppeteer who animates the giant-mouthed, tentacled, avocado-shaped puppet designed by Martin P. Robinson.)
The ever-growing plant brings wildly unexpected fame and fortune to Seymour, and finally gives him the confidence to pursue Audrey. The only problem is that Audrey II has an insatiable appetite for human blood that proves disastrous.
Director-choreographer Scott Calcagno's motor-driven, high volume production is full of talented performers, but he has set them in such unrelenting overdrive that the cartoonish aspect of the show sometimes obscures its heart. That said, Felthous winningly taps into the wistfulness of "Somewhere That's Green," and she and Lidke (as the lanky, hapless, conscience-stricken Seymour), enjoy a charming bit of romantic awakening in "Suddenly, Seymour." I only wish Seymour and Rains would have been led to tap into the hidden pathos in their song, "Mushnik and Son."
Music director Roberta Duchak has clearly had a heyday working with Brezill, Edwards and Loren, whose clarion voices and snap, crackle and pop personalities suggest they could easily go off to do a "girls group" revue of their own. And conductor Chris Sargent and his band fully rock Menken's score. Applause, too, for Lynda Myers' flashy/trashy costumes and Kevin Depinet's revolving set.
"Little Shop of Horrors" runs through Oct. 28 at the Drury Lane Theatre, 100 Drury Lane, Oakbrook Terrace. For tickets ($50-$65) call (630) 530-0111 or visit www.DruryLaneTheatre.com. Running time is 2 hours with one intermission.
Note: Drury Lane has announced its 2019-2020 season which will include "Matilda," the musical based on Roald Dahl's book; "And Then There Were None," the Agatha Christie murder mystery; "The Color Purple"; and "Mary Poppins." Best of all, it has nabbed the rights to "An American in Paris," the ballet-driven musical set to a score full of the songs of George and Ira Gershwin.
"Sweet Charity"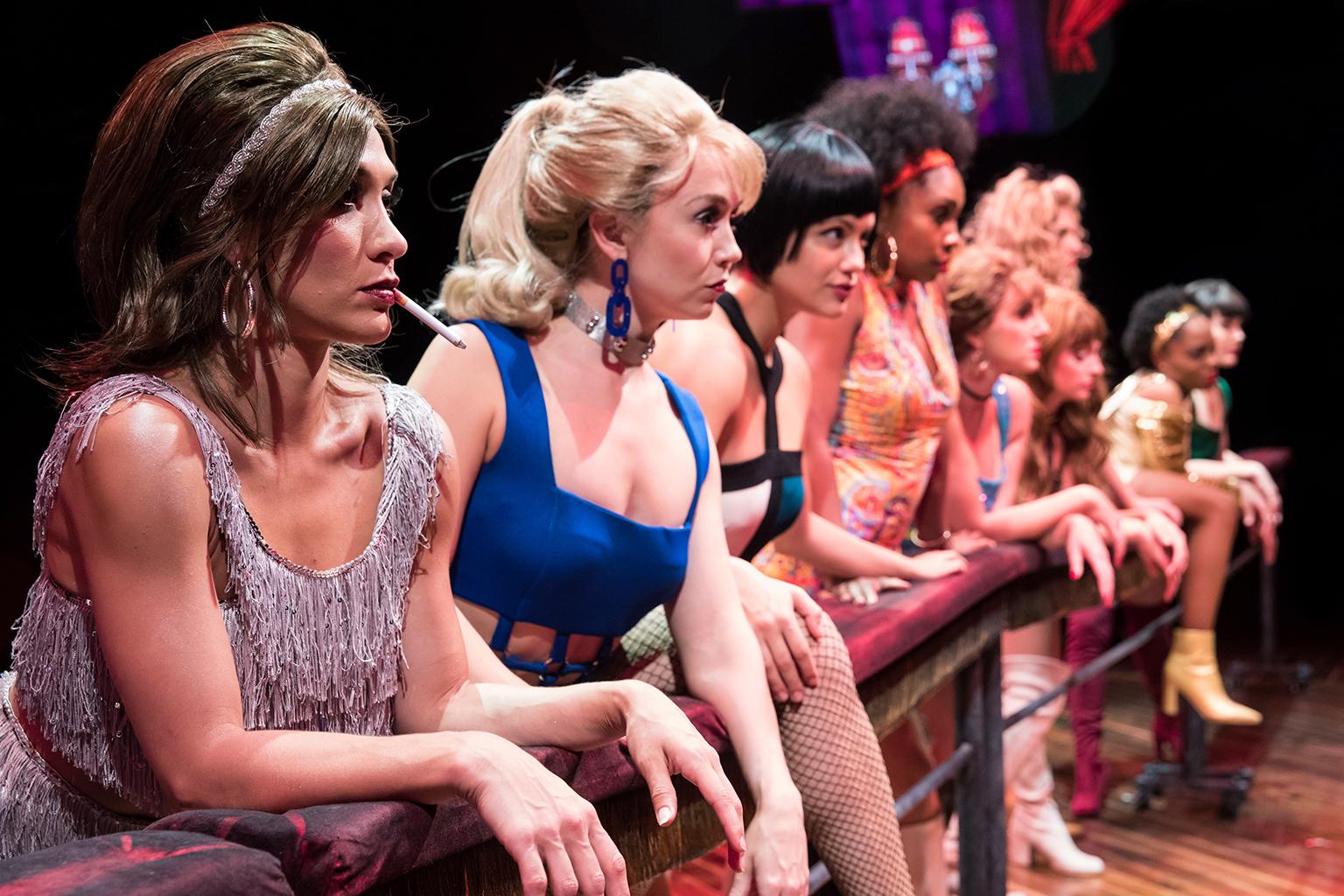 "Sweet Charity" at Marriott Theatre (Photo by Justin Barbin)
Charity Hope Valentine has a big heart ("Love is her religion"), decidedly awful taste in men, but a boundless belief that the next man who enters her life might marry her. She also has a desperate desire to free herself from the job she has been unable to leave for the past eight years – working as a dance hall girl at New York's Fandango Ballroom, where she and her co-workers don't so much dance as "defend themselves to music." It is the 1960s, and while the feminist movement might be starting to blossom, it definitely hasn't reached Charity – at least not quite yet.
The songs in this hit 1966 musical – with jazzy music by Cy Coleman and punchy lyrics by Dorothy Fields – have long since become standards, from "Big Spender" and "If My Friends Could See Me Now" to "Where Am I Going?" and "I'm a Brass Band." And while some of the late Neil Simon's lines for the show's book are admittedly antiquated, his heart and wit are still appealing.
But the real reason to see this show – which was originally created by director-choreographer Bob Fosse for his wife, Gwen Verdon – is for the dancing. And at the Marriott, director-choreographer Alex Sanchez and his excellent dancers have captured Fosse's signature style with great panache, and added plenty of flourishes of their own in such sensational numbers as "Rich Man's Frug" (with its highly stylized "posh set" affectations), "Big Spender" (with the hilariously jaded attitudes of the working girls), "The Rhythm of Life" (with its funky hippie era, cult church antics), and the celebratory "I'm a Brass Band."
The musical puts marathon-like demands on its title character, and Anne Horak not only sings and dances with stylish ease (launching into full-voiced song after the most demanding dance routines), but brings a natural vulnerability and resilience to Charity that make her more than an impish cartoon. True, she sees men as rescue fantasies, but she is a veteran of the school of hard knocks with the ability to bounce back from every disappointment.
Alex Goodrich brings his marvelous gift for physical comedy to the role of Oscar Lindquist, the neurotic, claustrophobic nerd who is intent on self-improvement but ultimately too insecure and moralistic to commit to Charity. He also brings a notable ferocity to his final breakup with her that adds a whole new gravity to the show.
Charity's "chorus of best friends" is played with great zest by singer-dancers Dani Spieler and NaTonia Monet, who are backed by a sensational ensemble of male and female dancers, with Adam Jacobs as Italian film star Vittorio Vidal, Alexandra Palkovic as his tempestuous girlfriend, Kenny Ingram as Daddy Johann Sebastian Brubeck (the charlatan at the head of The Rhythm of Life Church), and Terry Hamilton as the gruff manager of the Fandango.
Scott Davis' minimalist set is mostly on wheels, and is brightened by Anthony Churchill's pop art-like projections and Mieka van der Ploeg's fanciful costumes. Cheers, too, for the work of music director Ryan T. Nelson and the wonderfully brassy sound of the orchestra conducted by Patti Garwood.
"Sweet Charity" runs through Oct. 28 at the Marriott Theatre, 10 Marriott Drive, Lincolnshire. For tickets ($50-$60) call (847) 634-0200 or visit www.MarriottTheatre.com. Running time is 2 hours and 40 minutes with one intermission.
"Legally Blonde"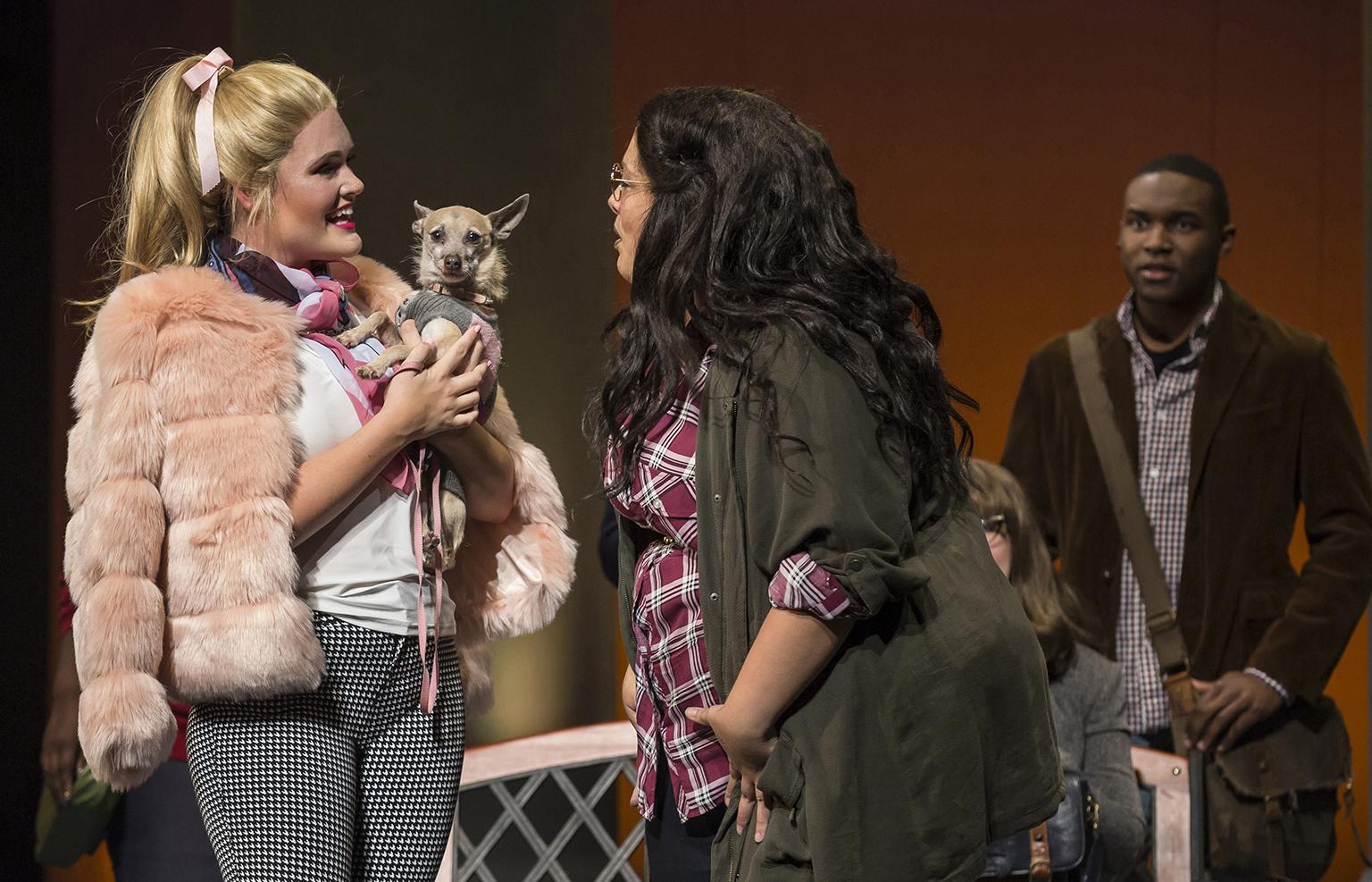 From left: Casey Shuler, Teressa LaGamba and Gerald Caesar in "Legally Blonde." Also pictured: Frankie, a rescue dog, as Elle's trusty sidekick Bruiser. (Credit: Liz Lauren)
It would take a significant stretch of a Spandex-like imagination to describe "Legally Blonde" – the 2007 Broadway musical based on the 2001 film and the Amanda Brown novel – as a feminist manifesto or a prologue to the #MeToo movement. Rather, it is pure, unadulterated fluff – a cartoon dressed up as a tale of liberation, and accessorized by a nod to female friendship.
But director Trent Stork's elaborately produced Paramount Theatre production of the show, with its score by Laurence O'Keefe and Nell Benjamin, and it's book by Heather Hach, does make a strong case for instinctual knowledge and life experience over rote academic learning. And that might just be the best lesson to take away from this "pretty in pink" comedy in which Elle Wood, a blonde, fashion-conscious sorority sister from a wealthy California family learns that there is something better in life than the demeaning pursuit of a status-conscious twit, Warner Huntington III, who she follows to Harvard Law School. (The current issue about Harvard's admission policies just happens to neatly coincide with this revival.)
Like Audrey and Charity, Elle (Casey Shuler, in an exuberant, power-voiced turn) is hell-bent on marriage, and suffers a near meltdown when Warner (Tyler Lain) dumps her, heads off to Harvard, and decides to secure his future by hooking up with a fellow student, the well-connected Vivienne Kensington (Jacquelyne Jones), who has all the proper Wasp credentials and smarts. But of course, against all the odds, Elle, with her fashion merchandising degree – plus more than a little support from her Greek chorus of sorority sisters (the clarion-voiced trio of Lucy Godinez, Sara Reinecke and Kyrie Courter) gains entrance to the law school.
Though initially way out of her comfort zone, Elle is befriended by teaching assistant Emmett Forrest (the sweetly appealing Gerald Caesar), a striver who not only forces her to hit the books, but develops a serious crush on her. (Casting an African-American actor in the role is an inspired touch.)
Along the way, Elle is derided by Vivienne, scorned by the prestigious Professor Callahan (ideally captured by James Rank), and bonds with a working class hair stylist, Paulette (zesty Sophie Grimm), whose rotten ex-boyfriend is ideally replaced by a hunky UPS delivery guy, Kyle (a very funny turn by James Doherty).
There also is a show-stopping jump-rope routine (Stork and Megan E. Farley share the show's choreography credit), that features a breathtaking ensemble aerobic display led by Jenna Coker-Jones as Brooke, a fitness guru charged with murdering her husband. And it would be most unfair to omit a mention of Frankie (surely the most gifted chihuahua in show biz). Any now you get the idea.
The orchestra, expertly led by music director Kory Danielson, is on Paramount's usual Broadway level. So is Jeffrey D. Kmiec's lavish set, Mike Tutaj's grand-scale projections of click-by-click messaging on a giant iPhone screen, and the work of designers Theresa Ham (costumes), Nick Belley (lights) and Adam Rosenthal (sound).
And there is this: The beautiful art deco-style Paramount has replaced 1,199 of its seats (just 204 more to go) with plush, plum velvet upholstery and has painted the theater's floor a rich dark blue. The seats are outfitted with drink holders – an addition designed to prevent spills in the landmark theater. A far better idea (and a his applies to all theaters) would be to confine beverage drinking to the lobby.
"Legally Blonde" runs through Oct. 21 at the Paramount Theatre, 23 East Galena Blvd., Aurora. For tickets ($36-$69) call (630) 896-6666 or visit www.ParamountAurora.com. Running time is 2 hours and 30 minutes with one intermission.
Note: Upcoming productions at the Paramount are "The Wizard of Oz," "The Producers" and the world premiere of "August Rush," to be directed by Tony Award-winner John Doyle.
Follow Hedy Weiss on Twitter: @HedyWeissCritic
---
Shattered Globe's Piercing Dramatization of a Dostoyevsky Classic Soars
Funny, Heartbreaking 'No Child' Taps Into the Art of Education
Chicago Talent Headlines Bernstein's 'Candide' in Knoxville, Tennessee
Black Button Eyes Brings John Collier's Twisted Stories To Life
---