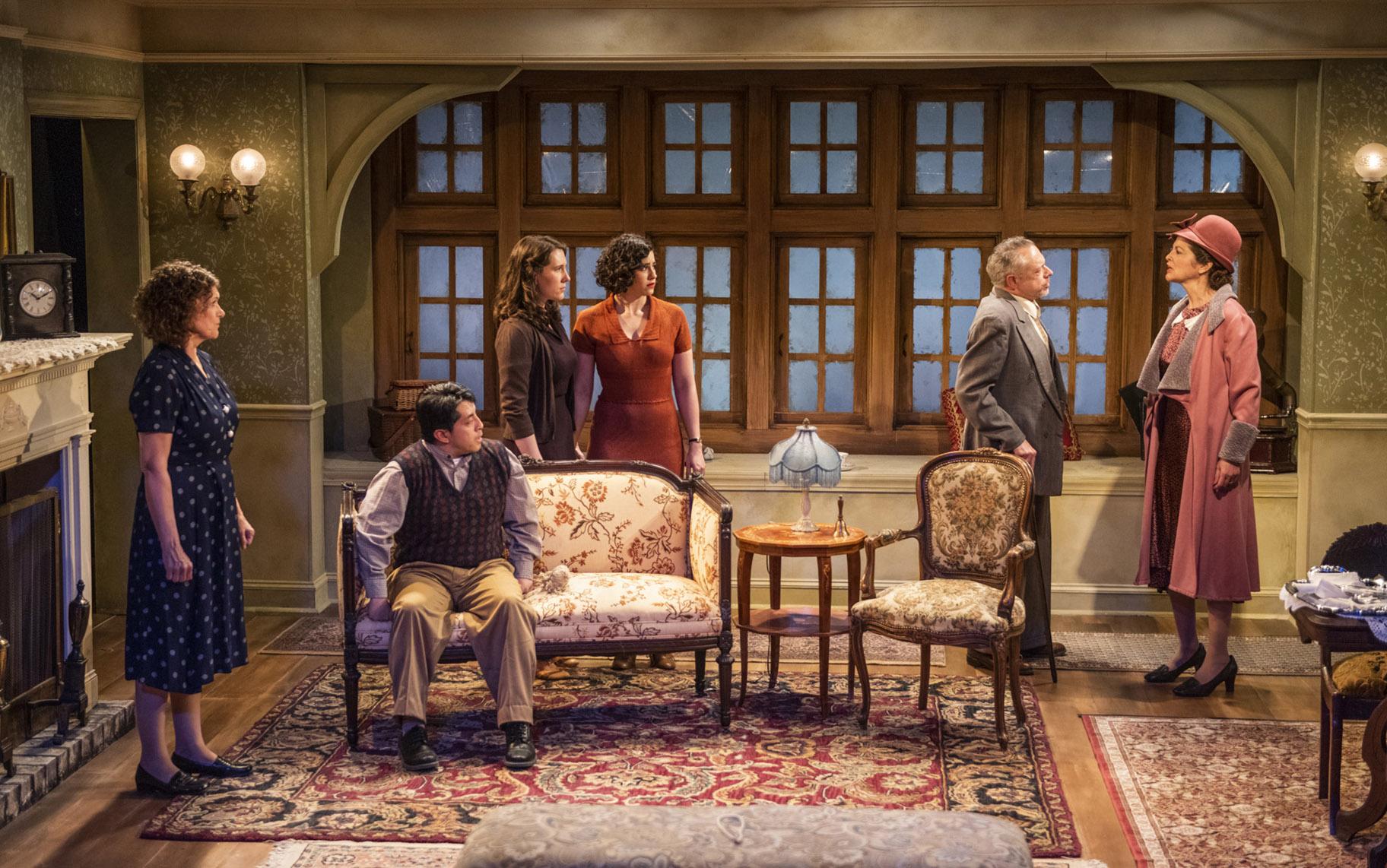 From left: Lynda Shadrake, Israel Antonio, Ella Pennington, Krystal Ortiz, Tim Newell and Cindy Marker in Griffin Theatre Company's production of "For Services Rendered." (Photo by Michael Brosilow)
They may have been heroes during wartime – celebrated for their sacrifice and patriotism, and proud of their ability to handle great responsibility in life-and-death situations. But once the war is over and largely forgotten, all that glory becomes just so much history, especially as civilian life replaces military life, and an economic depression takes hold.
While the veterans who suffered life-altering injuries are now just the unfortunate collateral damage of war who have had to adapt to their fate, the physically wounded are not the only ones to have suffered from the fallout of war. And this is the subject of "For Services Rendered," a rarely revived play by the prolific British novelist and playwright W. Somerset Maugham ("Of Human Bondage") that first arrived on the London stage in 1932, and is now receiving one of those revelatory productions at which the Griffin Theatre Company has long excelled.
The war in question in Maugham's play is World War I, which raged from 1914-1918. It is now 14 years after the Armistice, and the story unfolds in the home of the Ardsley family who live in a small country town in Kent. (The handsome, well-appointed set design by Sotirios Livaditis, with props by Rachel Watson, ideally set the scene, and suggest the family's all-important upper-middle-class social status.) Things are far from peaceful on the home front, however, even if Charlotte (Lynda Shadrake), and her quite oblivious husband, Leonard (Eddie Dzialo), would, in their own very different ways, like to believe otherwise. As it happens, the couple's four grown children are all in various states of misery.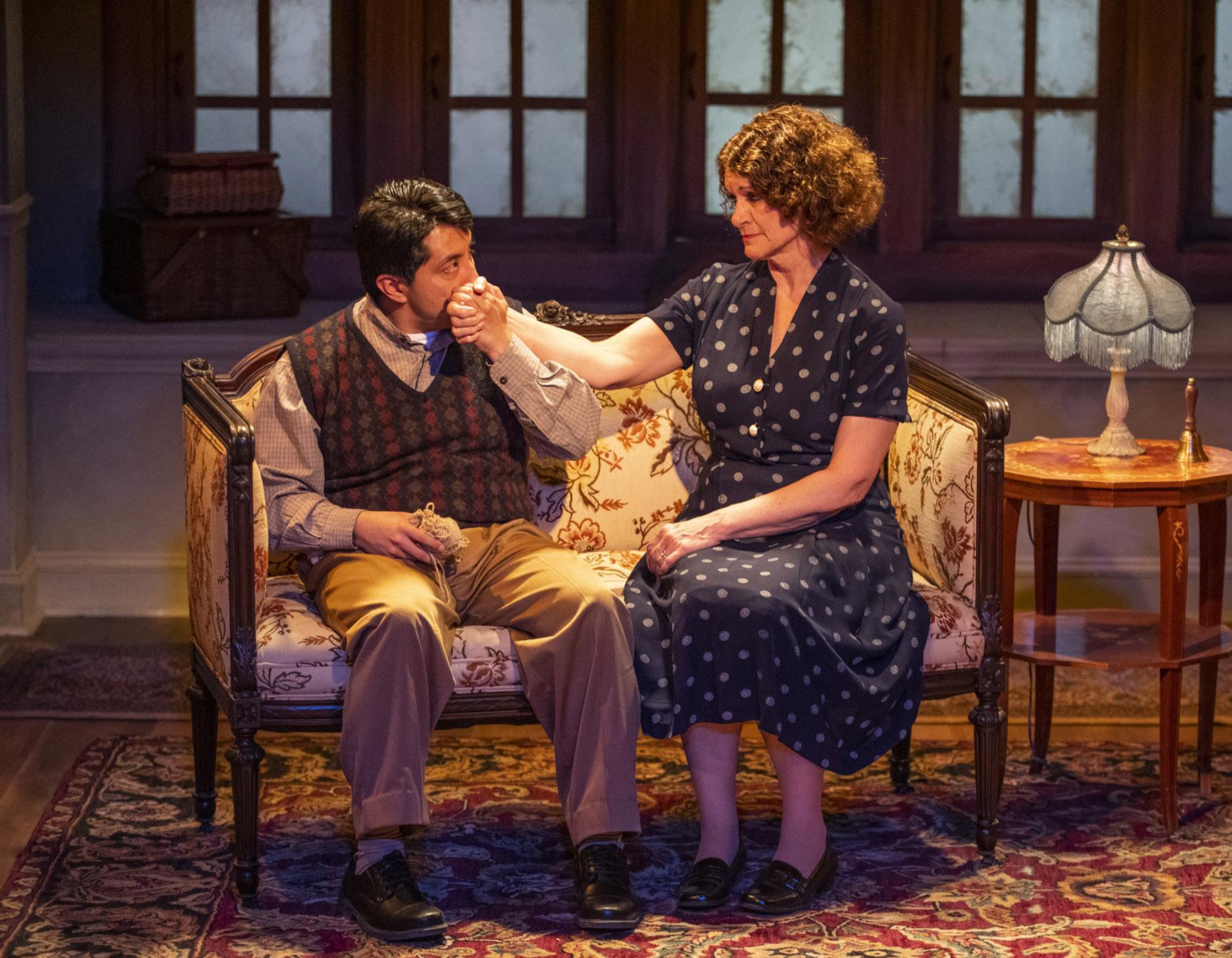 Israel Antonio and Lynda Shadrake in "For Services Rendered." (Photo by Michael Brosilow)
Living at home is the subtly cynical Sydney (Israel Antonio), who was blinded in the war, and who spends his days knitting, and his unmarried sister, Eva (Marika Mashburn), who has devoted herself to caring for him. Now closing in on 40, Eva is desperate to marry, and she is mad for Collie Stratton (Robert Quintanilla), who excelled when he served in the Navy during the war, but has now hit a patch of bad luck in his car repair business.
Also still at home is Eva's beautiful, restless sister, Lois (Krystal Ortiz), who is just 27, and is desperate to live in London, where she believes she will find a husband. Instead, she attracts the attention of her visiting brother-in-law, Howard Bartlett (Matt Fletcher), another man who was a successful officer in the military but is now a struggling farmer – a husband, father, and serious alcoholic with a lower-class background who causes great pain to his wife, Ethel (Ella Pennington), Lois' long-suffering sister.
Eva also is relentlessly pursued by a family friend, Wilfred Cedar (Matt Rockwood), a well-to-do businessman of retirement age who is easily ready to cheat on his wife, Gwen (Cindy Marker), who is fully aware of the situation and ready to fight. Wilfred is more than willing to lavish money and gifts on Lois, but when Collie pleads for a cash advance to keep his business going he refuses him. So much for lending a hand to a veteran – just another indication of the way the country's social fabric has disintegrated since the war.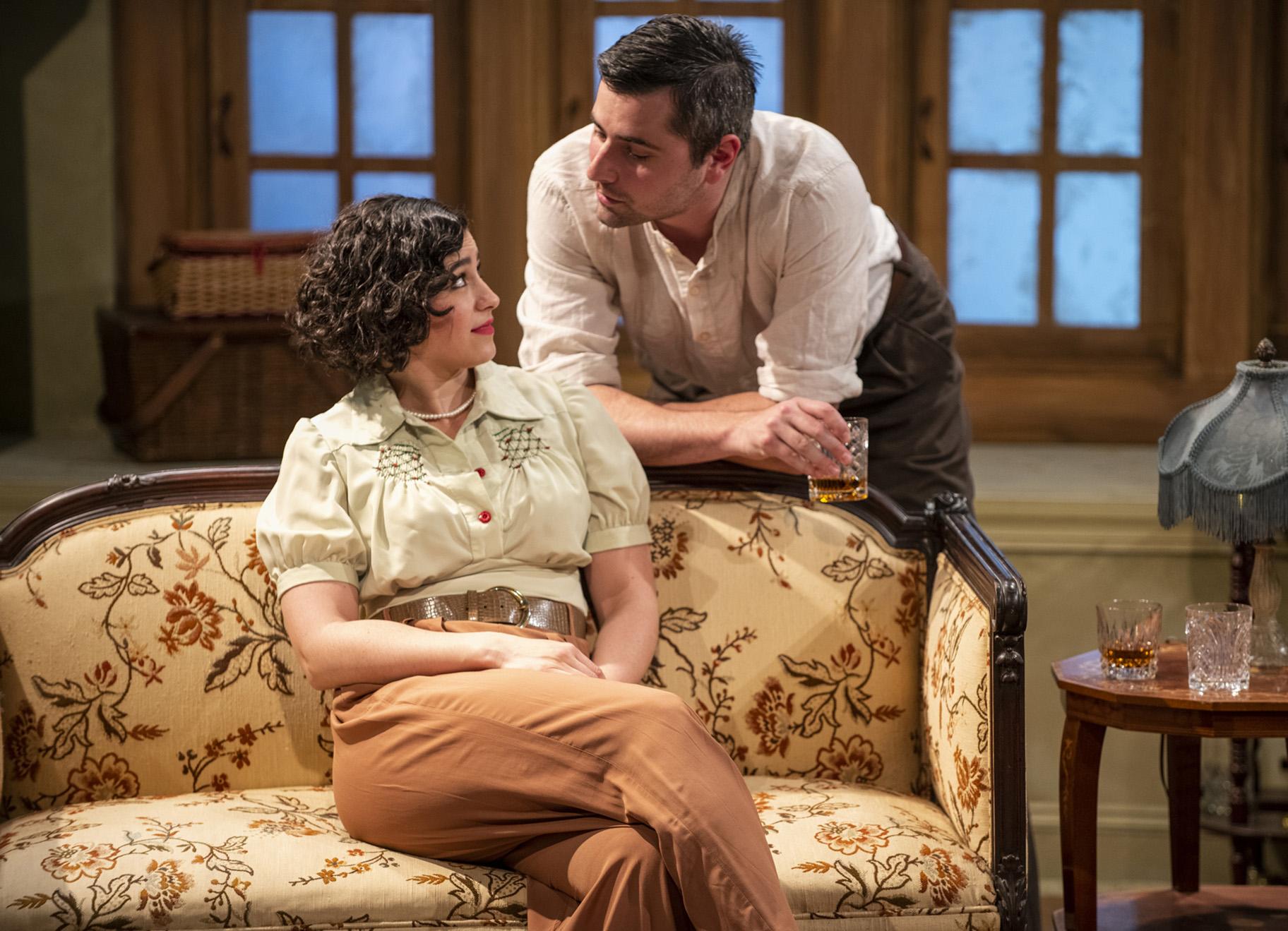 Krystal Ortiz and Matt Fletcher in "For Services Rendered." (Photo by Michael Brosilow)
In some ways, "For Services Rendered" is an old-fashioned play, but it is a beauty. And coming at a moment when Britain is undergoing a different sort of social and economic upheaval, it seems ideally timed for a revival, with its classic themes of age, mortality, class and money simply evergreen. In addition, director Robin Witt (who did such a fine job with other Griffin productions of forgotten British plays, including "London Wall" and "Flare Path") has assembled an ideal cast.
Ortiz is a formidable sparkler as the seductive emblem of "a younger generation." Quintanilla is full of fervor and terror as a man facing ruin. Mashburn makes romantic desperation painfully palpable. Antonio, who is, in fact, blind, puts a perfect sardonic edge on his situation. Fletcher and Pennington suggest the quintessence of an unhappy marriage. And Rockwood is spot-on as the classic dirty old man. 
Shadrake and Tim Newell (as Charlotte's devoted brother, a doctor), share an ideally played scene. And there are zesty turns by Dzialo, as the out-of-touch patriarch, Marker as Wilfred's betrayed wife, and Jennifer Huddleston as the housekeeper.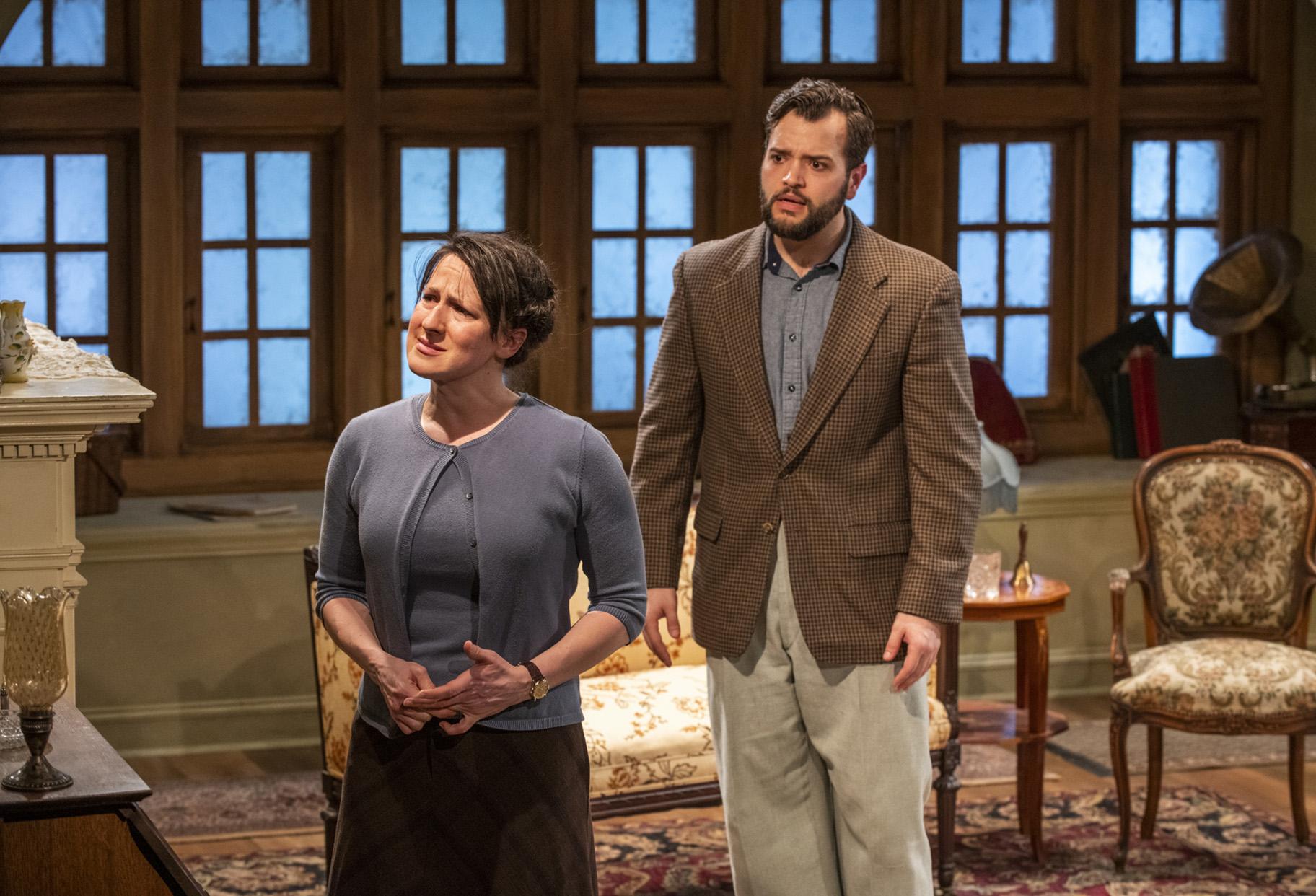 Marika Mashburn and Robert Quintanilla in "For Services Rendered." (Photo by Michael Brosilow)
As for Maugham, he has a most eloquent and knowing way of capturing men and women caught up in their own private wars – conflagrations that can ultimately destroy people by means of intimate emotional grenades.
The Griffin Theatre production of "For Services Rendered" runs through July 6 at The Den Theatre, 1331 N. Milwaukee Ave. For tickets ($37) call (773) 697-3830 or visit griffintheatre.com. Running time is two hours and 15 minutes with one intermission.
Follow Hedy Weiss on Twitter: @HedyWeissCritic
---
In 'Ms. Blakk,' a Raucous Campaign for a Queer Nation Candidate
There is True 'Greatness' in Firebrand's 'Queen of the Mist'
Chicago Theater Recommendations: 5 New Shows to See This Spring
---