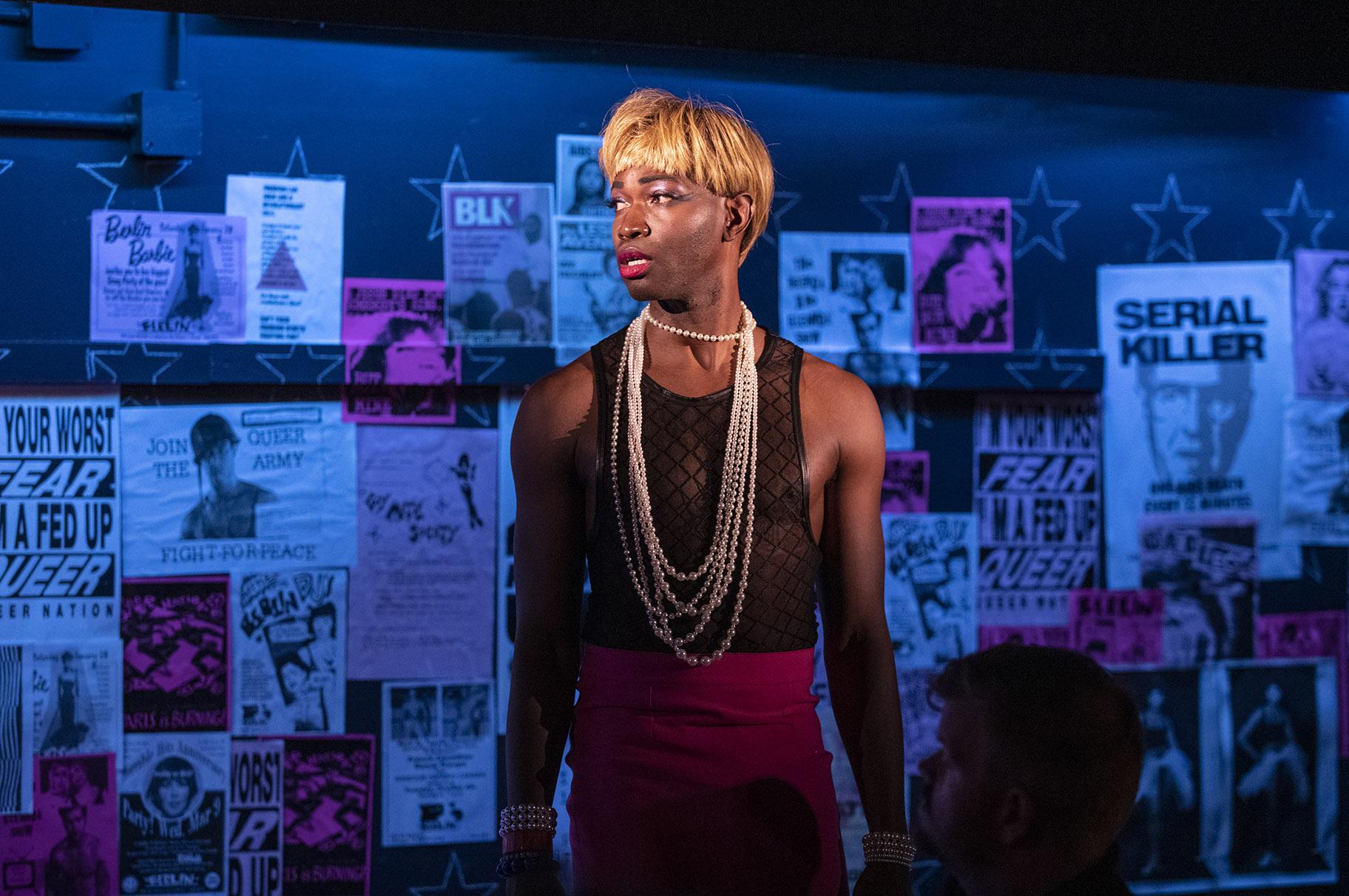 Tarell Alvin McCraney in Steppenwolf's world premiere production of "Ms. Blakk for President," co-written by ensemble members Tina Landau and McCraney. (Photo by Michael Brosilow)
Early on in "Ms. Blakk for President," the unabashedly flamboyant Queer Nation fantasia by Tina Landau and Tarell Alvin McCraney now in its world premiere production at Steppenwolf Theatre, there is a mock re-enactment of that iconic moment in presidential history when sex, show biz and politics conjoined for a giant leap into the spotlight.
The year was 1962, and John F. Kennedy had already broken one taboo simply by becoming the first Roman Catholic to lead the nation. Then, two years into his presidency, there was another groundbreaking moment when, at a Democratic fundraiser at New York's Madison Square Garden, the handsome young president was serenaded by Marilyn Monroe. Wrapped in a sparkling, form-fitting gown, the quintessential sex goddess arrived on stage and sang one of the steamiest versions of "Happy Birthday" on record, complete with every whispery, pillow-talk echo possible. And in a sense, that moment (as heterosexually charged and campy as it was), served as the prelude to something quite different that took place at the Democratic National Convention held at the same venue in 1992. And it is that convention that is at the core of "Ms. Blakk for President."
While most people remember the convention as the moment when a certain governor from Arkansas by the name of Bill Clinton was nominated, "Ms. Blakk" recalls the event from a radically different vantage point. It spins the true story of Joan Jett Blakk (the alter ego of the then Chicago-based drag performer-activist Terence Smith) who helped found the Chicago branch of the Queer Nation Party and had run for mayor of Chicago against Richard M. Daley in 1991. With the presidential election looming, and the fight for LGBTQ rights in high gear as AIDS activism reached a new peak a decade after the disease was initially reported, the desire to make a statement on the national scene seemed of the essence.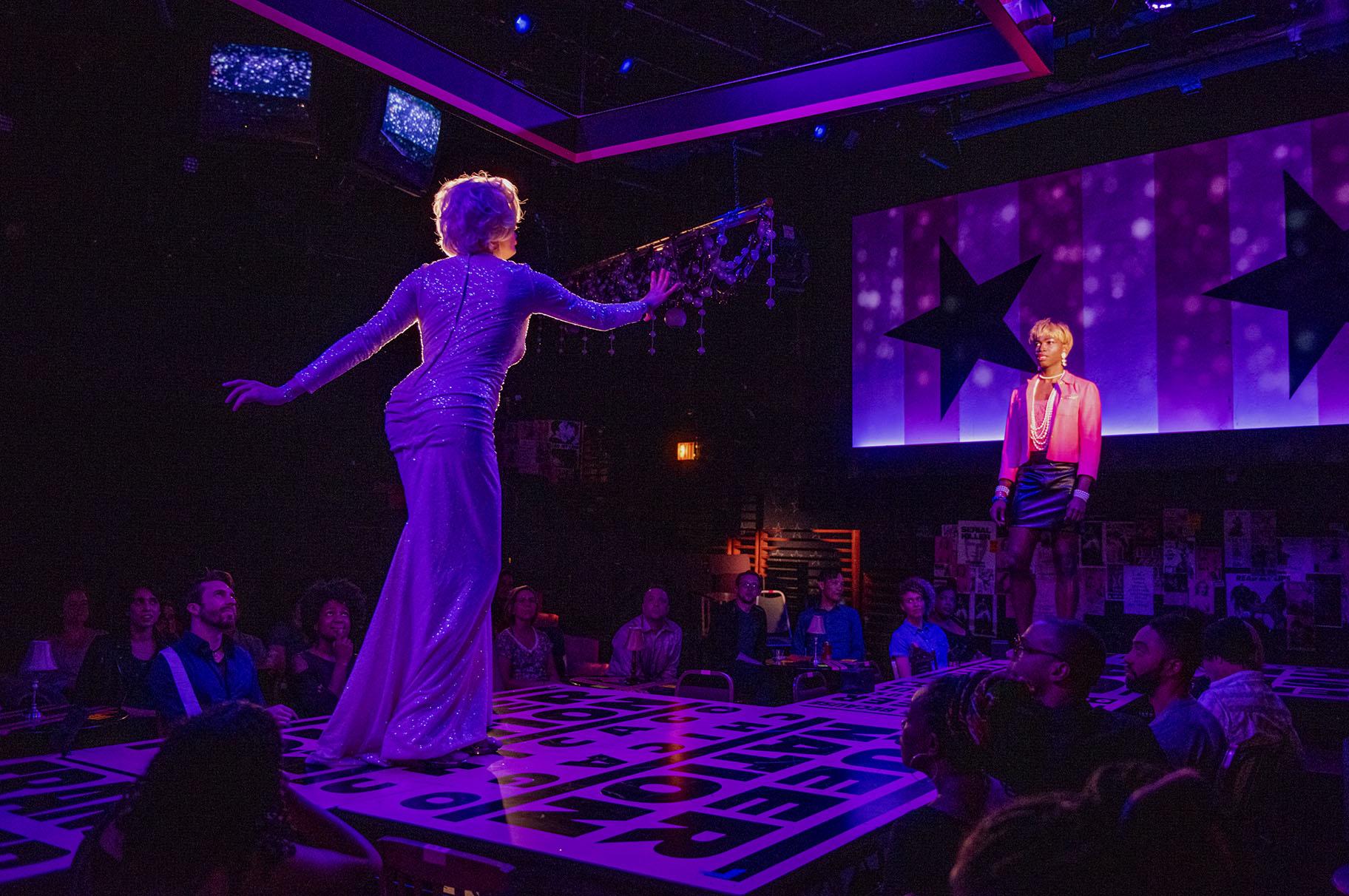 Sawyer Smith, left, and Tarell Alvin McCraney in "Ms. Blakk for President." (Photo by Michael Brosilow)
But was the image to be presented – ideally on television from the convention floor – to be that of a drag queen decked out as a flag-wrapped cross between Grace Jones and David Bowie, and devoted to the grand-scale "farce" of it all,  or was it to be something more mainstream?
Just getting admitted to the floor was going to be a major undertaking. Arriving in heels and a slip dress emblazoned with the red, white and blue flag was yet again something else. And the Terence Smith inside Joan Jett Blakk – the man who had grown up as the only black kid in his school, and had always been "the goody two-shoes" until he saw Bowie – was scared, even if he had been out and proud for years by then.
McCraney, who stars in this play that he co-wrote with Landau, is a phenomenal talent who began his career in Chicago with a haunting performance in the Northlight Theatre production of "Blue/Orange" in 2004, and has since gone on to win countless awards as a writer and actor, to serve as chair of playwrighting at the Yale School of Drama, and to write the script that became the source for the Oscar-winning film, "Moonlight." Tall, thin, graceful and emotionally raw, he is capable of moving from the most private emotions to the most exhibitionist showmanship as both an actor and writer, exposing the inner life of Ms. Blakk while also flaunting the persona that might be his truest self. It is quite the performance.
But if all this sounds like a traditional play be advised that it is anything but that. The stage of Steppenwolf's Upstairs Theatre is now configured as a high-fashion runway-meets-1990s-era nightclub (ideally designed by David Zinn and lit by Heather Gilbert). And in the pre-show follies that begin about 15 minutes before the formal curtain time, the cast engages in a political, and often outrageously lewd sexual romp that is definitely for a mature audience.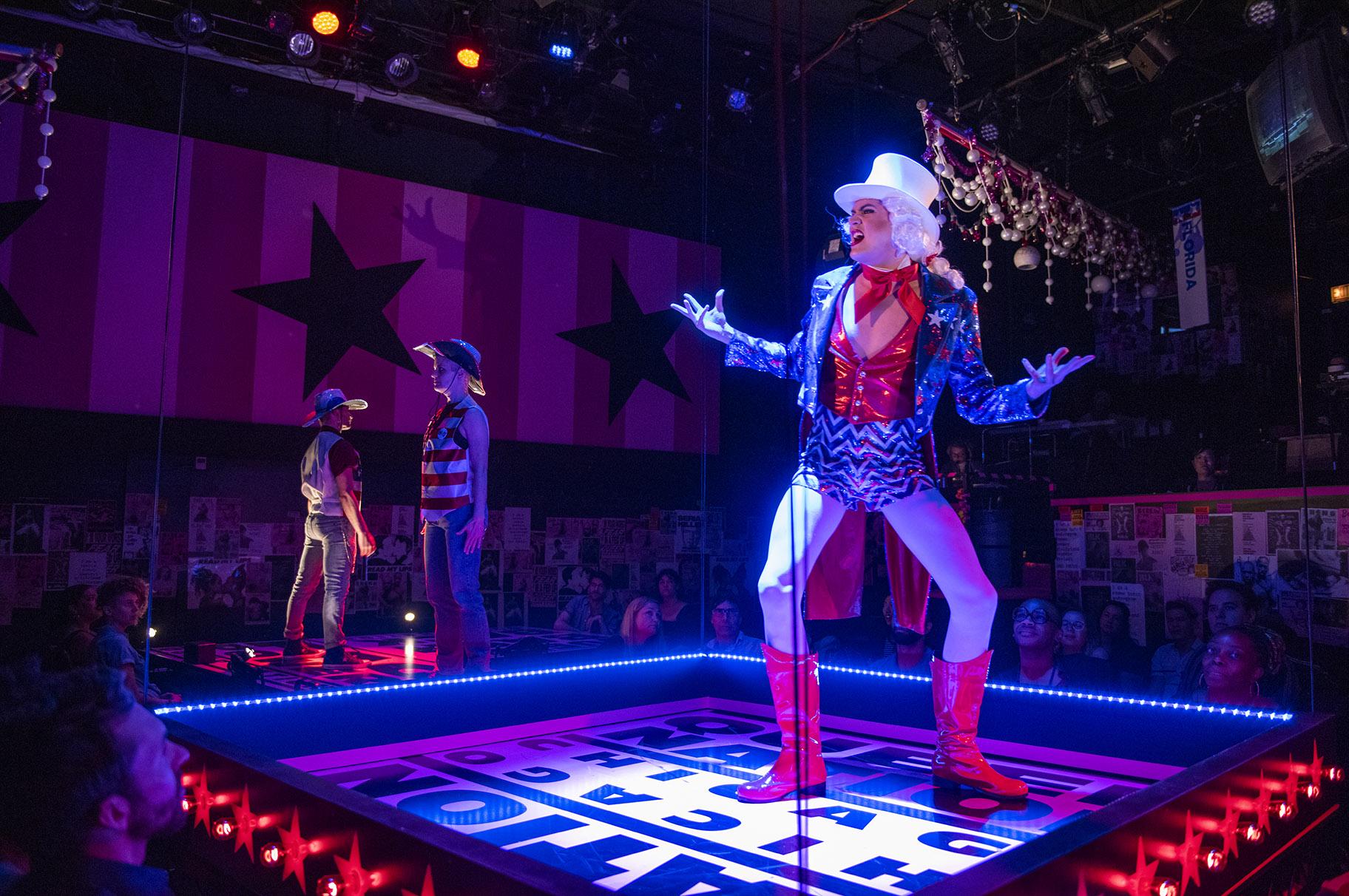 Sawyer Smith in "Ms. Blakk for President." (Photo by Michael Brosilow)
Dancer-singer-actor Sawyer Smith, one of the leggiest and most flexible of performers, plays Monroe to drag perfection, and also does a no-holds-barred dance routine that leaves little to the imagination. Daniel Kyri shifts easily from the muscled drag angel complete with a set of white wings, to the serious-minded cameraman who wants to document Blakk's groundbreaking and knowingly disruptive convention event. And in various roles, Patrick Andrews, Molly Brennan and Jon Hudson Odom are tightly wound as the media mavens and others who want to control Blakk in one way or another.
Landau has staged the show in a bold, fully environmental style. And Toni-Leslie James' elaborate costumes definitely play a starring role throughout, with Lindsay Jones' pulsating sound design and music, and the archival projections of Rasean Davonte Johnson bringing the era to full life. (A few timely but anachronistic quips for the Trump era are duly inserted at moments, too.)
Of course much has happened since 1992, with the election of the first black president, the first black and openly gay female mayor of Chicago, and the announced run of a gay man for president on the 2020 Democratic ticket.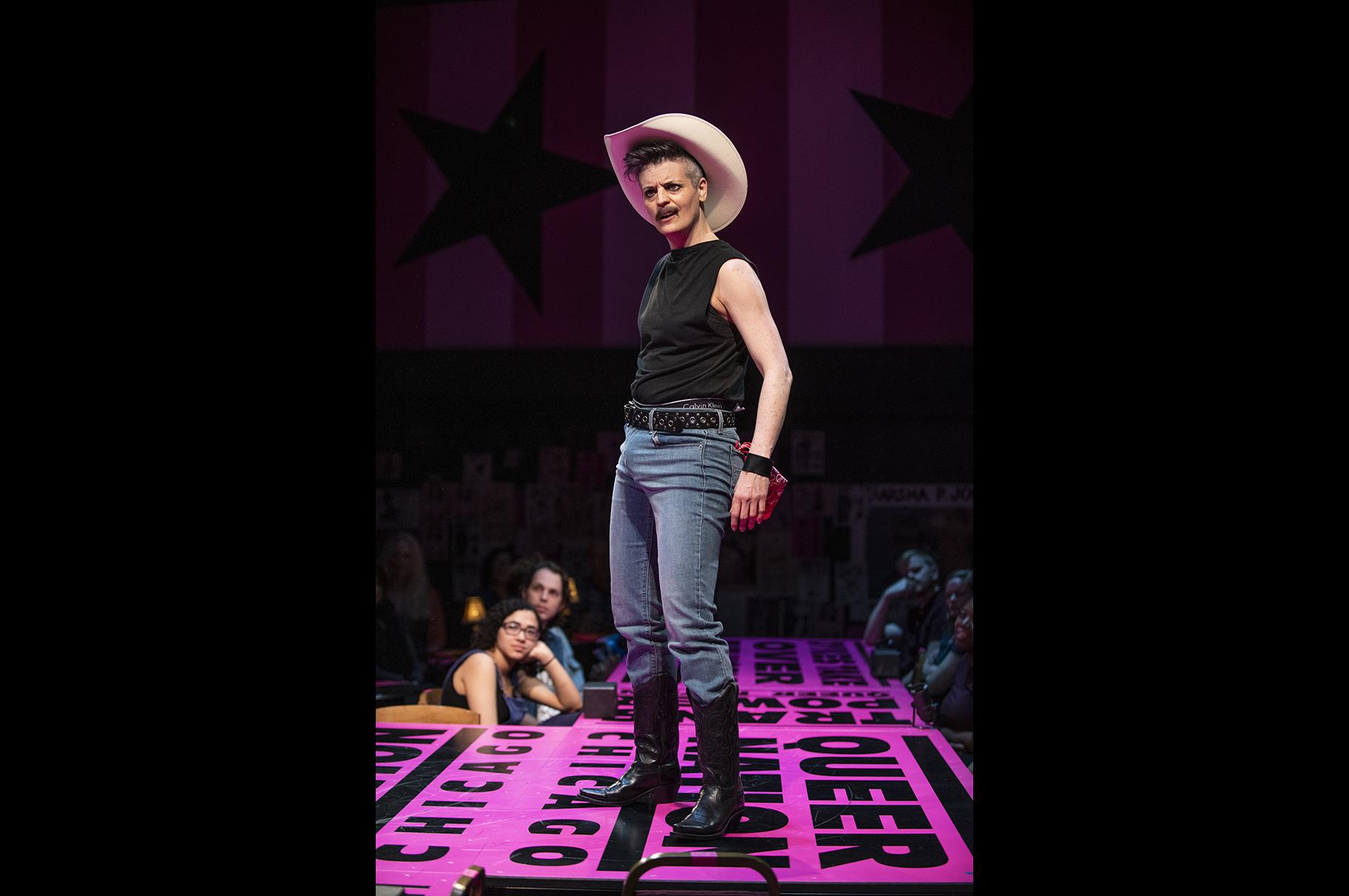 Molly Brennan in "Ms. Blakk for President." (Photo by Michael Brosilow)
But the question that remains after all the drama is simply this: Are sexual preferences and gender identity the most important parameters for leading the United States?
On a chalkboard outside the Upstairs Theatre, people are invited to write what they want most in a president. To my mind the only comment that really mattered was this one: "Person has to have read and understood the U.S. Constitution."
And one final note, as well as a bit of a spoiler alert: The play's "coup de theatre" comes in the form of a tearful videotaped interview with Terence Smith, who is now in late middle age and could easily pass for a retired teacher or lawyer. Smith was in Monday's opening night audience and took a bow from his seat.
"Ms. Blakk for President" runs through July 14 at Steppenwolf Theatre Upstairs, 1560 N. Halsted St. For tickets ($20-$94) call (312) 335-1650 or visit steppenwolf.org. Running time is 1 hour and 40 minutes with no intermission but the 15-minute prelude "on the runway" is very much a part of the show, so arrive early.
Follow Hedy Weiss on Twitter: @HedyWeissCritic
---
There is True 'Greatness' in Firebrand's 'Queen of the Mist'
Mary Shelley's 'Frankenstein' a Cautionary Tale for Those Who Would Play God
In Knockout Musical 'Six,' King Henry VIII's Wives Have Their #MeToo Moment
---