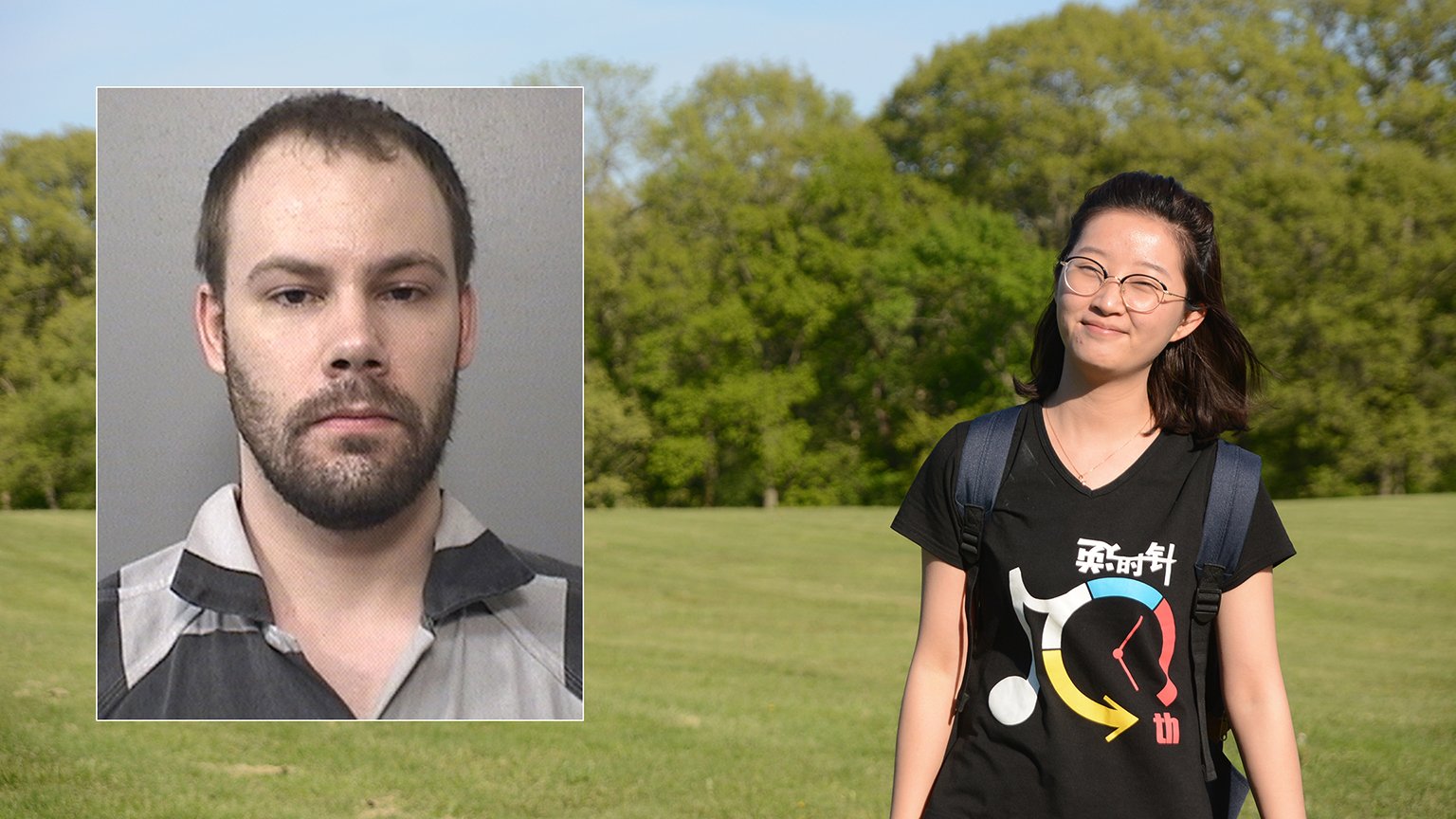 Yingying Zhang disappeared on June 9, 2017. (University of Illinois Police Department). Inset: Brendt Christensen (Macon County Sheriff's Department)
Brendt Christensen repeatedly wrote of his abduction fantasies online in the weeks before Chinese scholar Yingying Zhang disappeared, and he kept a close eye on the investigation into her kidnapping after the case began making national headlines.
Federal prosecutors walked jurors through Christensen's digital life on Monday, the fourth day of testimony in his capital trial, showing them an expansive listing of his texts, browsing history and online conversations compiled after he was arrested for Zhang's kidnapping.
Zhang, a visiting scholar at the University of Illinois, was last seen alive on June 9, 2017. Christensen is charged with kidnapping resulting in death and faces a possible death sentence if convicted.
"I want to test my limits and experience everything," he wrote in his profile on Fetlife.com, a social media site for adults with alternative sexual interests. He repeatedly read posts on that site about kidnapping and rape fantasies with titles like "abduction play," "perfect abduction fantasy" and "abduction 101."
FBI Senior Forensic Examiner William O'Sullivan catalogued Christensen's extensive online presence and presented it in court during his testimony Monday.
The former Ph.D. student researched serial killers by victim count, downloaded a research paper on human decomposition and possessed multiple photos of naked women who were bound and gagged that he'd found online weeks before Zhang went missing.
Surveillance footage shows Zhang entering a car allegedly driven by Christensen on the Champaign-Urbana campus after she missed a bus en route to an appointment to sign an apartment lease for the 2017-18 school year.
She has not been seen since, and her body has not been recovered. Prosecutors have alleged Christensen lured Zhang into his car before taking her back to his apartment, where he raped her, beat her with a bat and decapitated her.
On May 30, 2017, less than two weeks before the kidnapping, Christensen texted his girlfriend, stating, "Fading into nothingness is the default for most people ... (that) is not an option. I'd rather destroy humanity than let that happen."
On the morning of the kidnapping, Christensen checked his email and went on Reddit. He sent a text to his girlfriend that evening saying, "I'm exhausted" followed by another stating, "Just tired lol." He followed up with her three days later, telling her the FBI had just searched his apartment and vehicle.
"Was stressful in a way where someone is scrutinizing something harmless of yours," he told her in response to the search.
In the weeks that followed, he regularly checked in on local news stories, Reddit postings and FBI updates about Zhang's disappearance.
During cross-examination, lead federal defender Elisabeth Pollock noted that this activity online comprised just a small portion of Christensen's full browsing history. Christensen may have visited sites about rape fantasies, but he didn't post anything himself and only spent a few seconds or minutes on these sites, she said. Pollock also pointed out that O'Sullivan could only list these sites and searches, but had no idea of the context that surrounded them.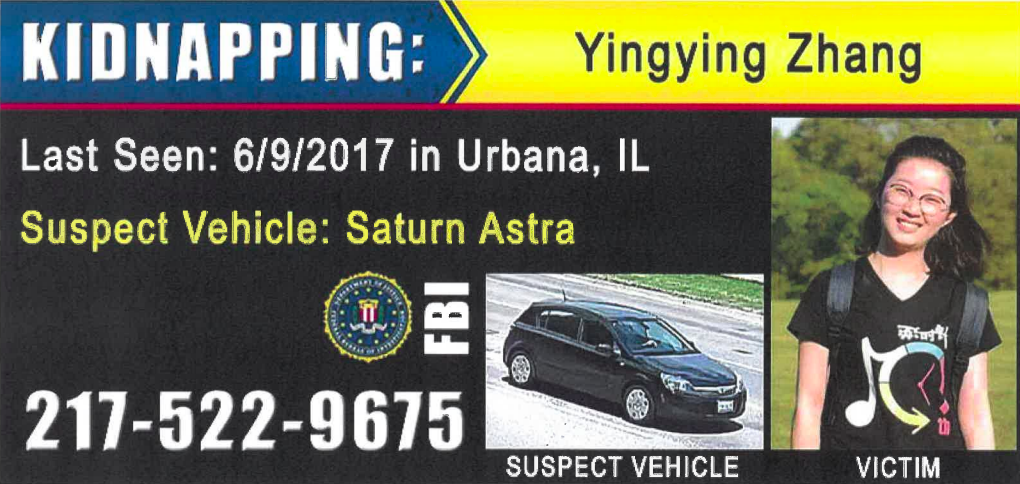 An FBI poster distributed after Yingying Zhang was kidnapped in June 2017. (FBI)
Also on Monday, jurors were shown the bat Christensen allegedly used to hit Zhang in the head as well as photos of bloodstains on Christensen's mattress.
Christensen's defense attorneys shocked observers last week by admitting to the jury in their opening statements that Christensen did, in fact, kill Zhang. But they've denied the prosecution's version of events.
Read: Full Transcript of Opening Statements in Brendt Christensen Trial
The prosecution ended the first week of trial by playing for the jury a recording of Christensen confessing to his girlfriend, who had begun wearing a wire to record their interactions for FBI investigators.
The pair were attending a vigil for Zhang, who was still considered missing just weeks after her disappearance. Christensen detailed to the woman how he raped and brutalized the visiting scholar before killing her and disposing of her body. He had allegedly begun planning to abduct and murder someone months before he ever saw Zhang. Prosecutors said he compared himself to serial killer Ted Bundy and bragged to his girlfriend that he's "pretty good at this," after investigators failed to locate Zhang's remains.
Christensen also alleged that Zhang was his 13th victim. But his defense team says he had been drinking heavily before the recording was made and claim there's no evidence he's ever killed before.
FBI Special Agent Andrew Huckstadt testified Monday that investigators identified 19 potential victims – all missing or murdered women and children in Wisconsin – who could have fit Christensen's profile. He said that no evidence has been recovered tying him to those crimes, but added "it's not impossible" Christensen is responsible for some of them.
Pollock then reiterated that despite a "massive" investigation into Christensen's background, the FBI has no other "shred of evidence" that he has killed before.
Prosecutors believe they'll wrap up their case later this week. Christensen's attorneys say they have at least two witnesses they want to call – including Christensen's ex-wife – which will likely take less than a day.
Contact Matt Masterson: @ByMattMasterson | [email protected] | (773) 509-5431
---
Related stories:
Defense Attorney: 'Brendt Christensen Killed Yingying Zhang'
Lawsuit: 'Deliberate Indifference' of U of. I. Social Workers Allowed Scholar's Kidnapping
Brendt Christensen Defense Team Wants Mental Health Records of Key Witness
Death Penalty, Religious Questions Highlight Day 1 of Brendt Christensen Trial
Attorney: Family of Missing U. of I. Scholar Wants to Believe She's Alive
Mental Health Defense Dropped in Chinese Scholar Case
Defense: Accused in China Scholar's Death Denied Proper Care
Judge Sets June 3 Trial in Missing Chinese Scholar Case
Bloody Handprint Among Evidence in Chinese Scholar's Case
---