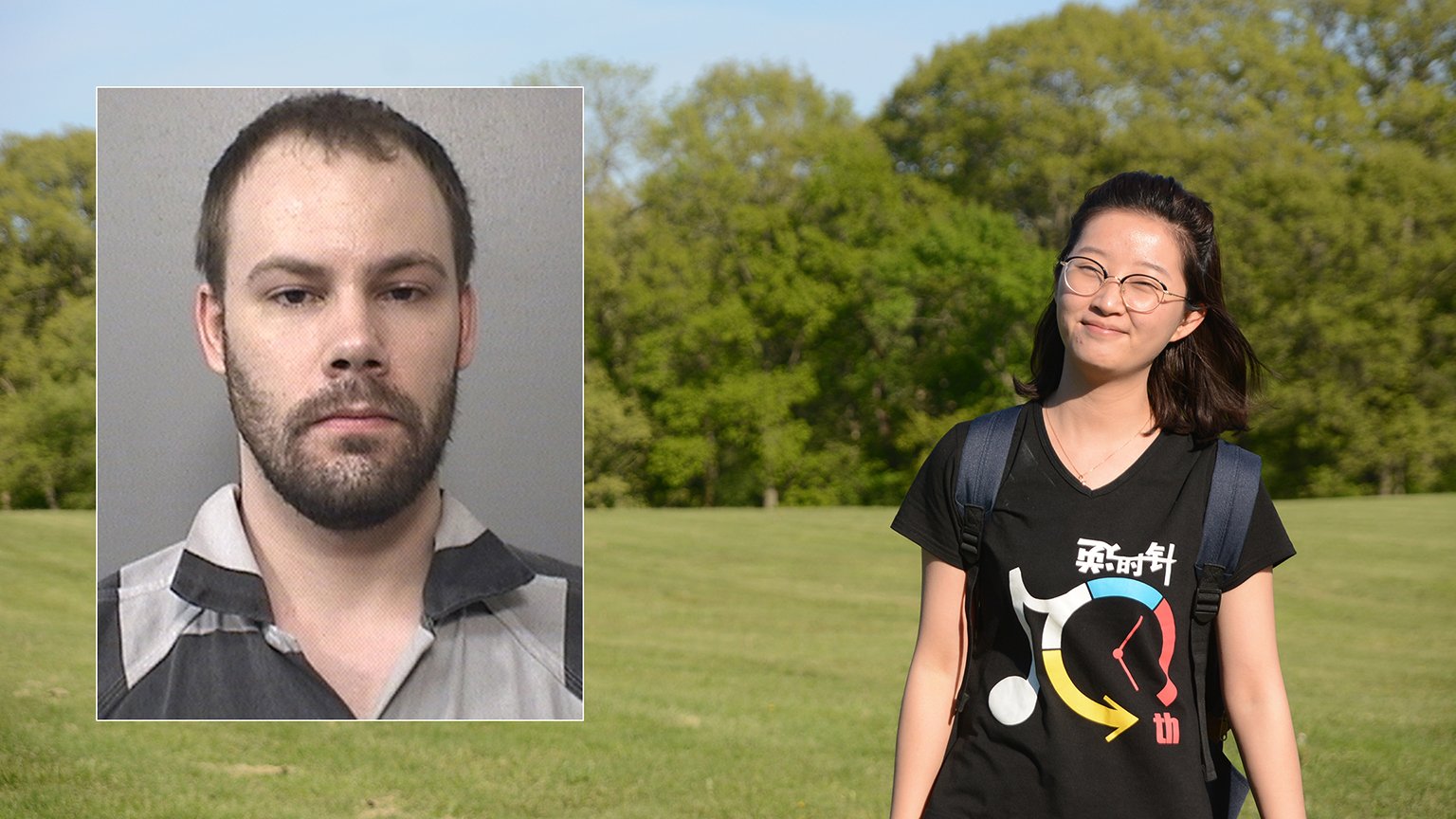 Yingying Zhang disappeared on June 9, 2017. (University of Illinois Police Department). Inset: Brendt Christensen (Macon County Sheriff's Department)
"'Yingying is gone. She is never going to be found,' he bragged. 'The FBI has looked for her. The police and FBI don't know where she is. I'm apparently very good at this.'"
That quote was read to a packed Peoria courtroom Wednesday by Assistant U.S. Attorney Eugene Miller, lead prosecutor in the capital trial of Brendt Christensen – the person who allegedly made that remark while he was unknowingly being recorded by the FBI.
Read: Defense Attorney: 'Brendt Christensen Killed Yingying Zhang'
Christensen, 29, is on trial for the kidnapping and death of 26-year-old Yingying Zhang, a Chinese scholar at the University of Illinois whom he allegedly abducted, raped and murdered in June 2017.
Reporters are allowed into the federal courtroom where he is being tried, but electronic devices are not. U.S. District Court Judge James Shadid has barred media and the public from carrying into his courtroom any phones, computers, cameras and recording devices.
That makes court transcripts the most reliable account of the daily proceedings. Christensen's alleged recorded confession was one of many stunning quotes included during the first day of testimony Wednesday.
"Thousands of miles from the parents that gave her life, alone, with a stranger, Yingying Zhang breathes her last breath," Miller said during the prosecution's opening statements. "The defendant ended her life abruptly without warning, without explanation."
"So let me just say here at the outset, it will be startling for many of you to hear, Brendt Christensen is responsible for the death of Yingying," federal defender George Taseff said during his opening remarks. "Brendt Christensen killed Yingying."
Below is a rough draft of the full transcript from the morning portion of Wednesday's hearing, including the full opening statements in the high-profile case. 
Note: Miller's comments begin on page 14; Taseff's on page 44
---
Contact Matt Masterson: @ByMattMasterson | [email protected] | (773) 509-5431
---
Related stories:
Defense Attorney: 'Brendt Christensen Killed Yingying Zhang'
Lawsuit: 'Deliberate Indifference' of U of. I. Social Workers Allowed Scholar's Kidnapping
Brendt Christensen Defense Team Wants Mental Health Records of Key Witness
Death Penalty, Religious Questions Highlight Day 1 of Brendt Christensen Trial
Attorney: Family of Missing U. of I. Scholar Wants to Believe She's Alive
Mental Health Defense Dropped in Chinese Scholar Case
Defense: Accused in China Scholar's Death Denied Proper Care
Judge Sets June 3 Trial in Missing Chinese Scholar Case
Bloody Handprint Among Evidence in Chinese Scholar's Case
---