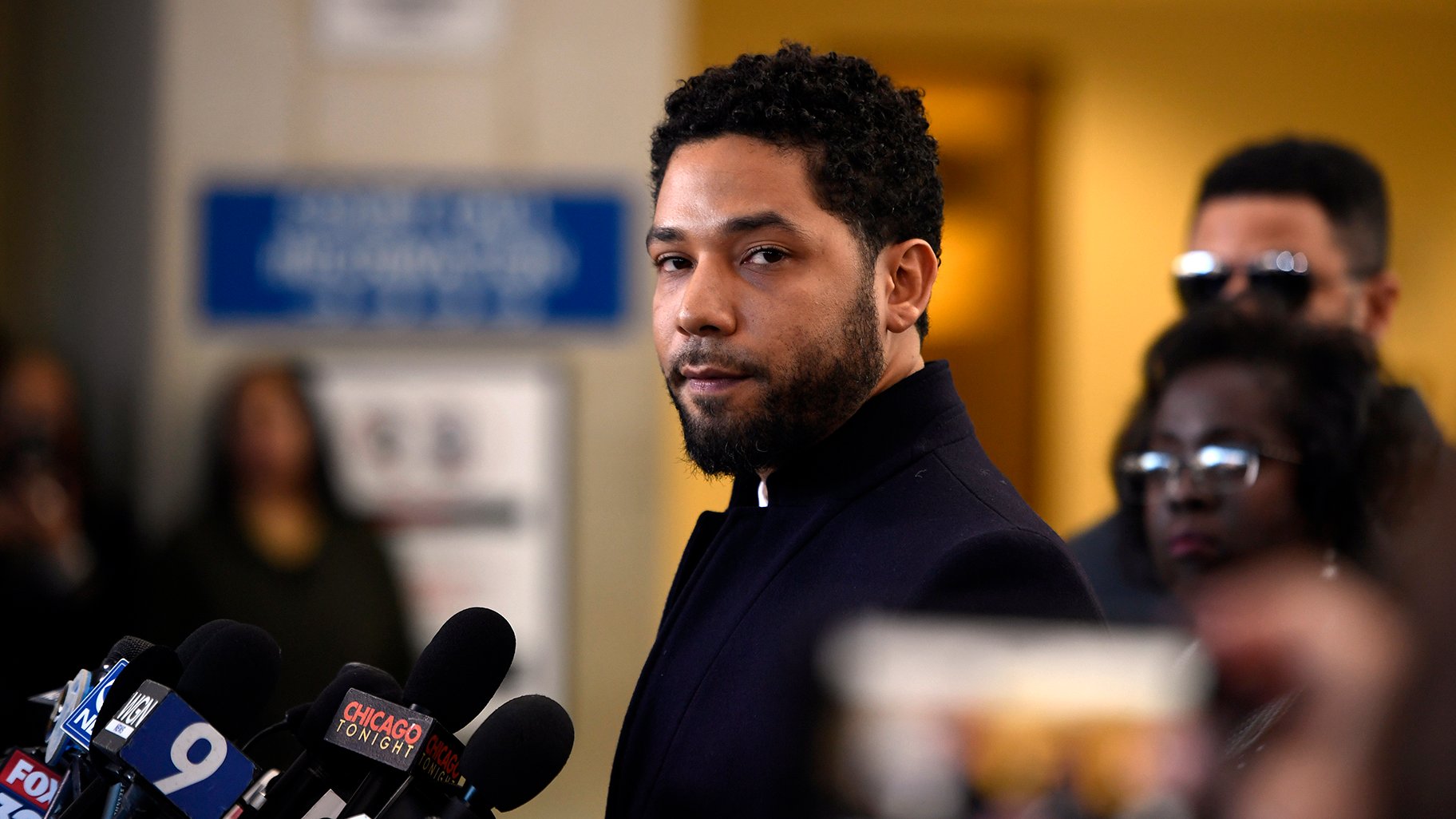 Actor Jussie Smollett talks to the media before leaving Cook County Court after his charges were dropped, Tuesday, March 26, 2019. (AP Photo / Paul Beaty)
Chicago city officials have made good on their threat of legal action against Jussie Smollett, filing a civil lawsuit Thursday seeking to recoup the cost of a police investigation into what they believe was a staged attack the "Empire" actor orchestrated on himself.
The city Law Department last month demanded Smollett pay back the $130,000 the police department expended on overtime as it investigated his claims, saying that if he refused, he could face a civil suit or prosecution for violating Chicago's municipal code.
The actor refused to pay before a seven-day deadline expired last week, prompting the city to move forward with a lawsuit. Officials say the civil complaint filed in the Circuit Court of Cook County "pursues the full measure of damages allowed under the false statements ordinance."
In its complaint, the city says Smollett submitted a false police report claiming that he was the victim of a racist and homophobic attack. In reality, the lawsuit claims, Smollett "knew his attackers and orchestrated the purported attack on himself."
"Later, when police confronted him with evidence about his attackers, he still refused to disclose his involvement in planning the attack," the complaint states. "In investigating the Defendant's false statements and false police report, the City incurred significant costs in order to provide services reasonably related to the defendant's conduct."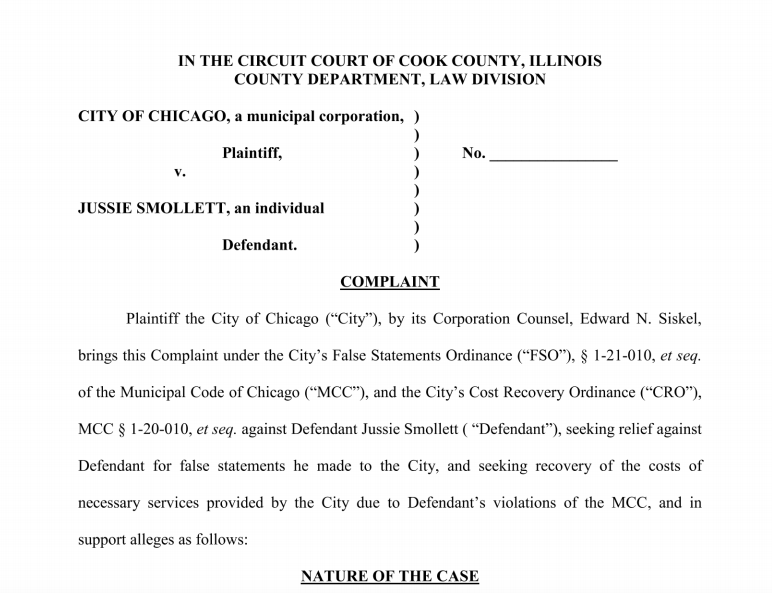 Document: Read the full complaint.
The suit claims Smollett is liable for a $1,000 civil penalty for each false statement made as well as "three times the amount of damages that the city sustained."
Celebrity attorney Mark Geragos, who represents Smollett, responded to the city's demand last week in a letter, reiterating his client's innocence and calling for Mayor Rahm Emanuel and Chicago Police Superintendent Eddie Johnson to both be deposed as part of this lawsuit.
"Your letter constitutes part of a course of conduct intended to harass and irreparably injure Mr. Smollett," Geragos wrote in an April 4 letter to Chicago Corporation Counsel Ed Siskel.
"All criminal charges against Mr. Smollett from this incidence have been dismissed and his record has been sealed. Thus, your claim that Mr. Smollett filed a false police report and orchestrated his own attack is false and defamatory."
More: Chicago's Top Cop Eddie Johnson on Smollett, Mayor-Elect Lightfoot
Smollett, 36, told police he'd been beaten in the early morning hours of Jan. 29 by two men who were yelling racist and homophobic slurs at him in the Streeterville neighborhood on Chicago's Near North Side. But police say the actor's claim eventually unraveled as they discovered Smollett had paid two brothers to stage the attack.
According to the suit, Smollett met Abel Osundairo – one of the two brothers accused of carrying out the staged attack – in 2017 as the men socialized and worked out together. Smollett also allegedly sought Osundairo's help in "obtaining recreational drugs."
Days before the attack, Smollett texted Osundairo saying he "might need (his) help on the low," according to the complaint. GPS and video records show the two men drove from the "Empire" studio to Osundairo's apartment. During that time, they allegedly discussed the planned attack, with Smollett saying he was upset with the way his employers handled a racist and homophobic letter he had allegedly received days earlier.
Once they arrived at Osundairo's apartment, Smollett allegedly asked the man's brother, Ola Osundairo, if he could trust him. The three men then began planning the attack, the complaint states.
More: Osundairo Brothers' Former Attorney Speaks Out
The day before they carried out the hoax, Smollett drove the brothers to the area where he wanted the attack to occur, the complaint states, making sure to point out a nearby surveillance camera he hoped would capture the incident on video.
Smollett then allegedly gave Abel Osundairo a $3,500 check and provided the brothers with $100 to purchase a rope and other materials needed for the attack.
On the night of the attack, Smollett was traveling back to Chicago from New York and arrived later than he expected. According to the complaint, cell phone records indicate he called Abel Osundairo just before 1 a.m. and told him the attack would need to occur at 2 a.m.
The brothers then traveled to the area via Uber, taxi and on foot and carried out the staged attack just after 2 a.m., the complaint states. They then ran from the area and flagged down a taxi.
Smollett turned himself in to police after he was charged with a felony count of disorderly conduct for filing a false police report. Weeks later, a Cook County grand jury indicted him on 16 more disorderly conduct charges.
But in a stunning turn, Cook County prosecutors dropped all charges against him in late March, citing what they called an "alternative prosecution" that would allow Smollett to forfeit his $10,000 bond in exchange for his case being dismissed. The actor has maintained his innocence.
Contact Matt Masterson: @ByMattMasterson | [email protected] | (773) 509-5431
---
Related stories:
Chicago to Sue Jussie Smollett After He Refuses to Pay
Emanuel: City Seeks to Recover Investigation Costs from Smollett
2 Major Cases Add Up to Big Doubts About Chicago Prosecutor
Confused by Jussie Smollett Case? Here's What You Need to Know.
Trump Calls on FBI, DOJ to Review Jussie Smollett Case
Kim Foxx Backs Dismissal of Charges in Jussie Smollett Case
---