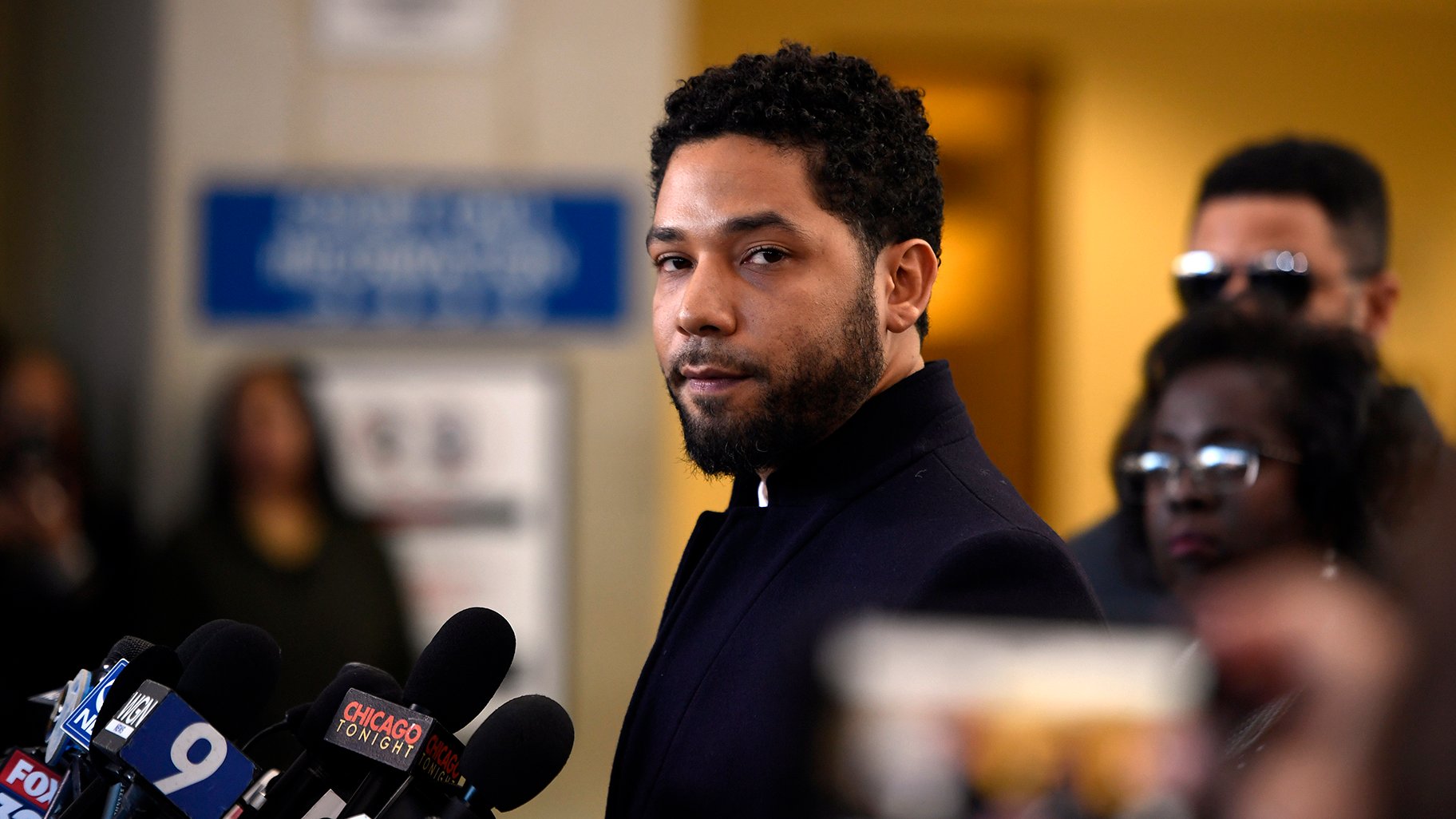 Actor Jussie Smollett talks to the media before leaving Cook County Court after his charges were dropped, Tuesday, March 26, 2019. (AP Photo / Paul Beaty)
The Jussie Smollett case is over, but confusion over the surprise ending is rampant. Why was the "Empire" star offered a deal? Was his record expunged?
And what about the role of Cook County State's Attorney Kim Foxx in all this? 
We get to those questions, and others, below.
---
What exactly happened this week?
In a surprising move, the Cook County State's Attorney's Office on Tuesday dismissed more than a dozen felony charges against the "Empire" star.
A grand jury earlier this month indicted Smollett on 16 counts of disorderly conduct for filing a false police report about a racist and homophobic attack he allegedly orchestrated on himself in January.
Smollett maintains his innocence, while prosecutors say they remain convinced of his guilt.
---
Was Smollett found guilty?
No. Charges against Smollett were dismissed through an "alternative prosecution" in which the actor agreed to forfeit to the city the $10,000 he paid in bond and complete 16 hours of community service, and prosecutors agreed to drop all charges.
Smollett maintains his innocence, and his attorneys say Mayor Rahm Emanuel and Chicago Police Superintendent Eddie Johnson owe him an apology for "dragging an innocent man's character through the mud."
But that doesn't mean prosecutors believe Smollett is innocent.
"In order for us to make this available as an option for diversion, we have to believe that he was guilty," Cook County State's Attorney Kim Foxx told WTTW News this week.
---
What is an 'alternative prosecution'?
It's a way for the Cook County State's Attorney's Office to dispose of low-level felony cases without proceeding through a trial.
"In Illinois under the statute, we are allowed to have alternatives to traditional prosecutions, sometimes known as diversion (programs)," Foxx said. "For some people, that is if they can complete certain conditions … those cases in exchange would then be dropped."
Foxx's office says it has referred more than 5,700 defendants for alternative prosecutions over the last two years. These often include people with no violent criminal past or previous felony convictions, like Smollett.
"The rationale behind that is for a number of people, entanglement in the criminal justice system and outcomes may not be worthy of the outcomes of an alternative prosecution," Foxx said. "In this case, because it was a Class 4 and the likelihood that he would get a similar outcome (if he had gone to trial) he was offered that."
---
What penalties would Smollett have faced had he been found guilty?
The disorderly conduct charges Smollett faced were Class 4 felonies, which can be punished by probation or one to three years in prison. While a grand jury indicted him on 16 individual counts, if he had been found guilty, Smollett would've likely received a single sentence on just one of those charges because they all stemmed from the same criminal act: filing a false police report.
As a first-time offender charged with a non-violent offense, Smollett probably would not have served prison time regardless of how the case shook out.
---
Was Smollett's case expunged?
No, the case has not been expunged from Smollett's record. That can only happen if his attorneys make a formal request to a judge to do so.
As of a Thursday hearing, they've done no such thing, and insist they want the records to be maintained. (The judge at that hearing said there is "no possibility" the records related to Smollett's case would be destroyed.)
But that doesn't mean the case file can be viewed by the public. It was placed under seal once Smollett's charges were dismissed Tuesday. That means an expungement may not be necessary given that those records are already being held out of public view. 
Prosecutors say they will notify media outlets if Smollett's lawyers do make a request to have his record expunged.
---
Why did Foxx recuse herself from the case?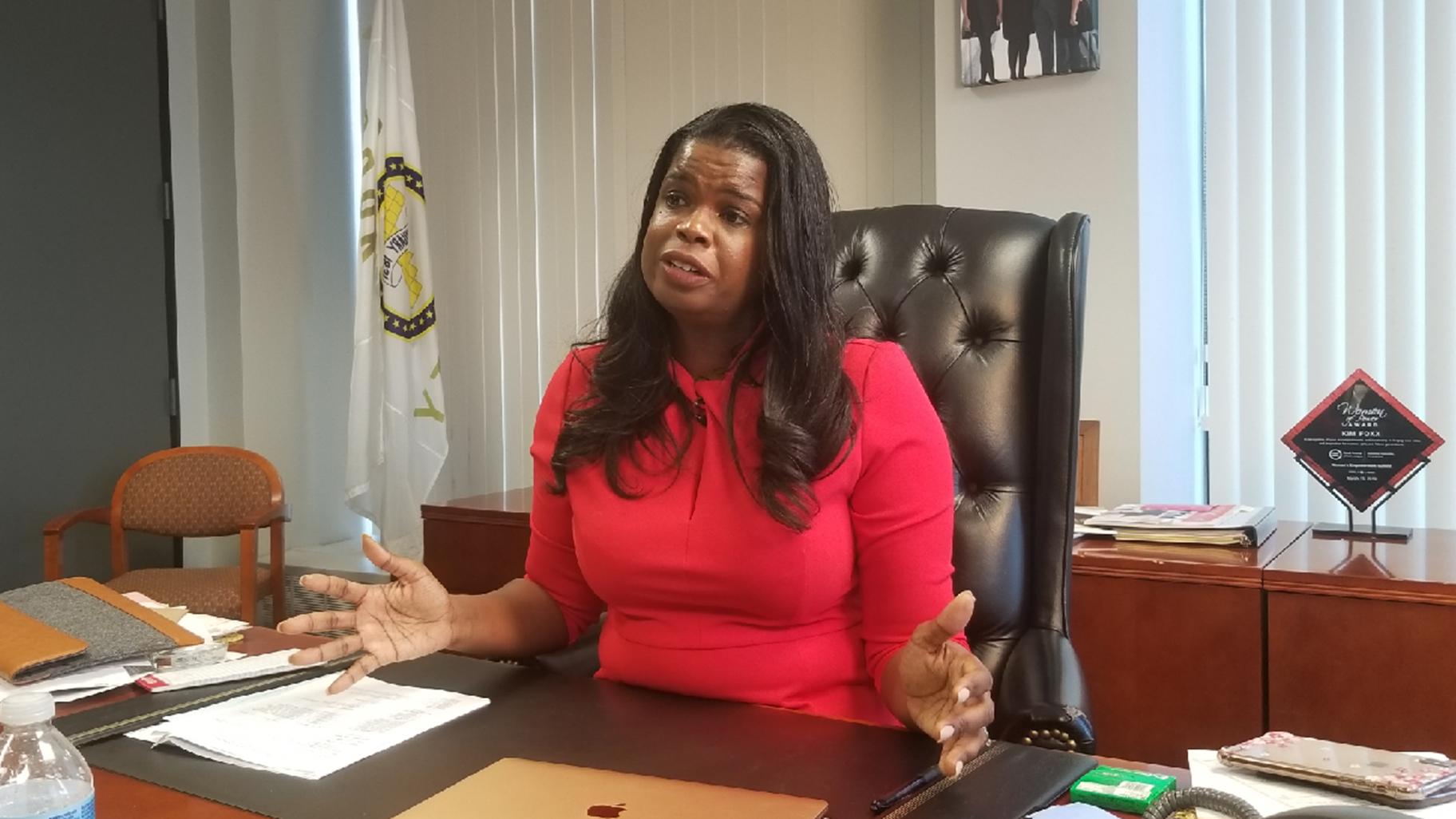 Cook County State's Attorney Kim Foxx speaks with WTTW News on March 27, 2019 to explain why the charges against Jussie Smollett were dismissed.
At the time, Foxx said the move came out of an "abundance of caution" in order to "address potential questions of impartiality."
It was later learned Foxx had communicated with Tina Tchen, a former adviser to Michelle Obama who was representing the Smollett family at a time when the actor was still considered the victim of an attack.
After speaking with Tchen, Foxx asked police Superintendent Eddie Johnson to consider turning the investigation over to the FBI. Foxx told WTTW News she made that request due to an abundance of leaks about the case coming from the police department.
Foxx said part of her job is to communicate with the families of victims throughout the legal process. But after Smollett turned from victim to possible offender, Foxx decided to pull herself out of the investigation.
"When he became a suspect, unlike any other case that I've ever had … that in the course of investigation, no one has ever become a suspect before, I took the responsibility with our first-ever chief ethics officer and recused myself a week before charges were filed," she said.
Typically that means the case would be given to a special prosecutor. But instead, this case was handed over to Foxx's second-in-command, First Assistant State's Attorney Joseph Magats. He insists he had no discussions about the case with Foxx after she recused herself.
Foxx defended her choice to recuse only herself, rather than her entire office. Doing so, she says, would have signaled that the office was abandoning someone who was still perceived at that time to be a victim.
"Taking our office out of the mix at that time would have suggested that Mr. Smollett was a suspect," she said.
---
As part of his deal, why didn't Smollett have to admit guilt?
Smollett has maintained his innocence throughout the investigation. Immediately after the charges were dropped, he told reporters he's been "truthful and consistent on every single level since day one."
Prosecutors obviously disagree with that claim. But the terms of this alternative prosecution did not require Smollett to admit that he orchestrated the attack on himself.
This is not unusual, according to Foxx. "There's an array of things we can offer," Foxx told WTTW News. "There are times where we have someone plead guilty first and then we will vacate a guilty finding. Some people, if you think of a carrot and stick measure, in order to make sure you are actually gonna come back and do the thing that we ask, it may require that you have some measure of allocution."
But Foxx said state statutes also allow for her office to offer deals like the one it handed to Smollett, in which a person can avoid a guilty plea by completing community service and turning over their bond. She believes Smollett is being held accountable through this agreement, and will continue to face repercussions for his actions.
"I think that's justice that may be long-lasting," Foxx said.
---
The city says it spent a lot if time and effort on this investigation. Can it recoup those costs?
It can try. Mayor Rahm Emanuel said the city has made a formal request to Smollett's attorneys demanding he pay back the cost of expenses related to the investigation into the actor's claims. On Thursday, the city announced it's seeking $130,000 to cover the cost of police overtime on this case.
"The City of Chicago and Chicago Police Department take seriously those who make false statements to the police, thereby diverting resources from other investigations and undermining the criminal justice system," city Corporation Counsel Edward Siskel wrote in a letter Thursday to Smollett's attorneys.
The city says that, in the past, it had sought restitution from other people who made false reports and from businesses that pursued city contracts by seeking disadvantaged business status.
Assuming Smollett isn't willing to pay that amount (on top of his forfeited bond, which totaled $10,000) the city has a couple other options.
It can take legal action, as the city suggested in its letter to Smollett's attorneys, and take up a prosecution for making a false statement under Chicago's municipal code. The city could also file a civil suit against Smollett to recover its losses.
The Associated Press contributed to this report.
Contact Matt Masterson: @ByMattMasterson | [email protected] | (773) 509-5431
---
Related stories:
Emanuel: City Seeks to Recover Investigation Costs from Smollett
Osundairo Brothers' Former Attorney Speaks Out
Surprising Outcome in Smollett Case Provokes Anger from Mayor, Police Superintendent
Prosecutors Drop All Charges Against Jussie Smollett
Chicago Police Union Wants Federal Probe in Smollett Case
Brothers in Smollett Case Say They Have 'Tremendous Regret'
Anita Alvarez to Kim Foxx: 'Do Your Job'
---