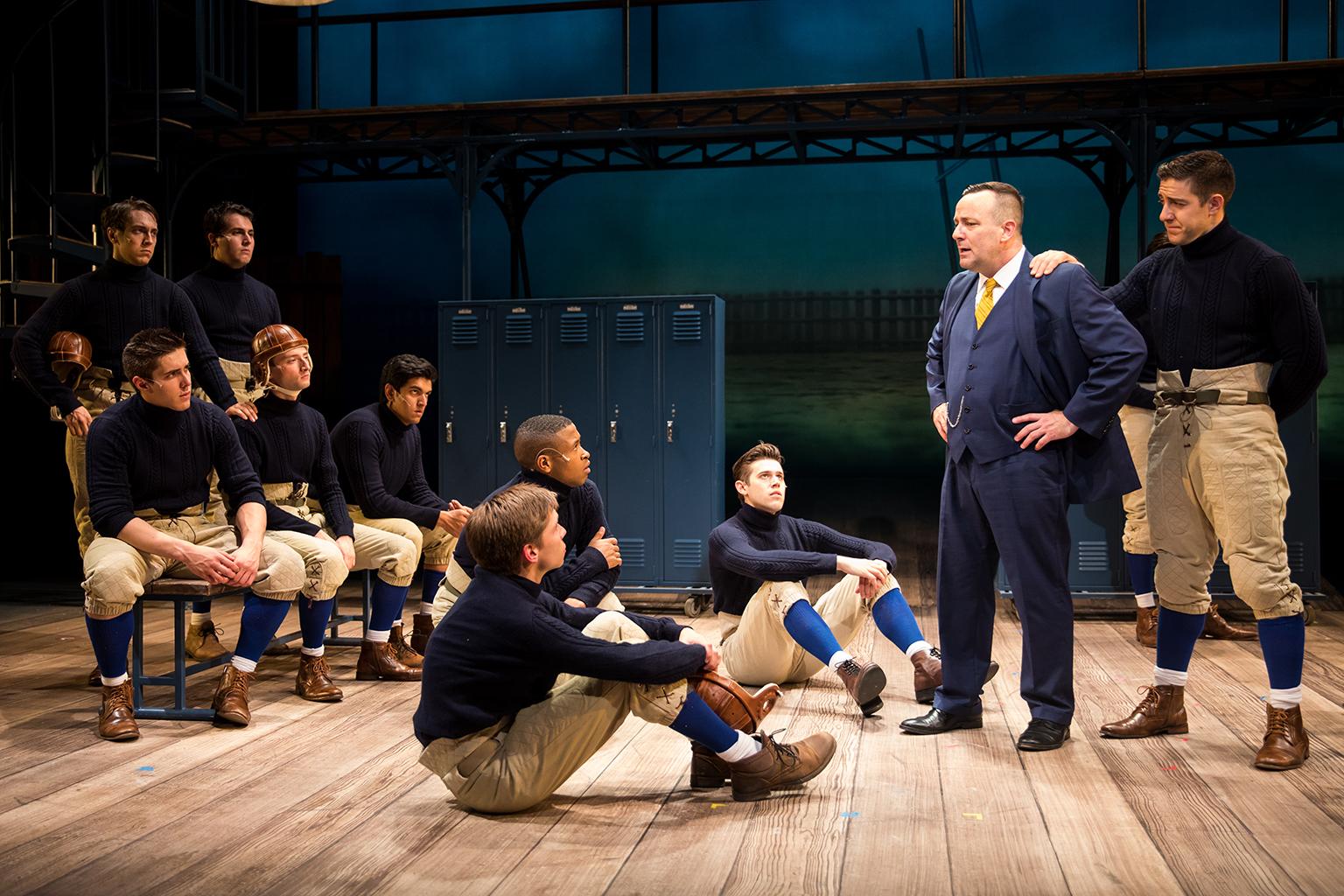 Knute Rockne (Stef Tovar) and George Gipp (Adrian Aguilar) give the Fighting Irish a pep talk. (Credit: Justin Barbin)
Before running even one yard further with this review I should confess that I know practically nothing about football and have less than zero interest in the sport.
Yet that only makes the immense charm of "Something in the Game: An All-American Musical" more of an achievement. For in spinning the tale of Knute Rockne, the legendary Notre Dame football coach from 1918 to 1931, and his prize athlete, George Gipp ("The Gipper"), the creators of this terrific show, which is now receiving a rousing production at Northwestern University's Josephine Louis Theater, have tapped into much grander themes than the nature of intensely competitive college football.
At the fiercely beating heart of this show is an exploration of father-son relationships and marital tensions, the nature of furious ambition, and the complex ways in which talent and self-destructive impulses are often intertwined.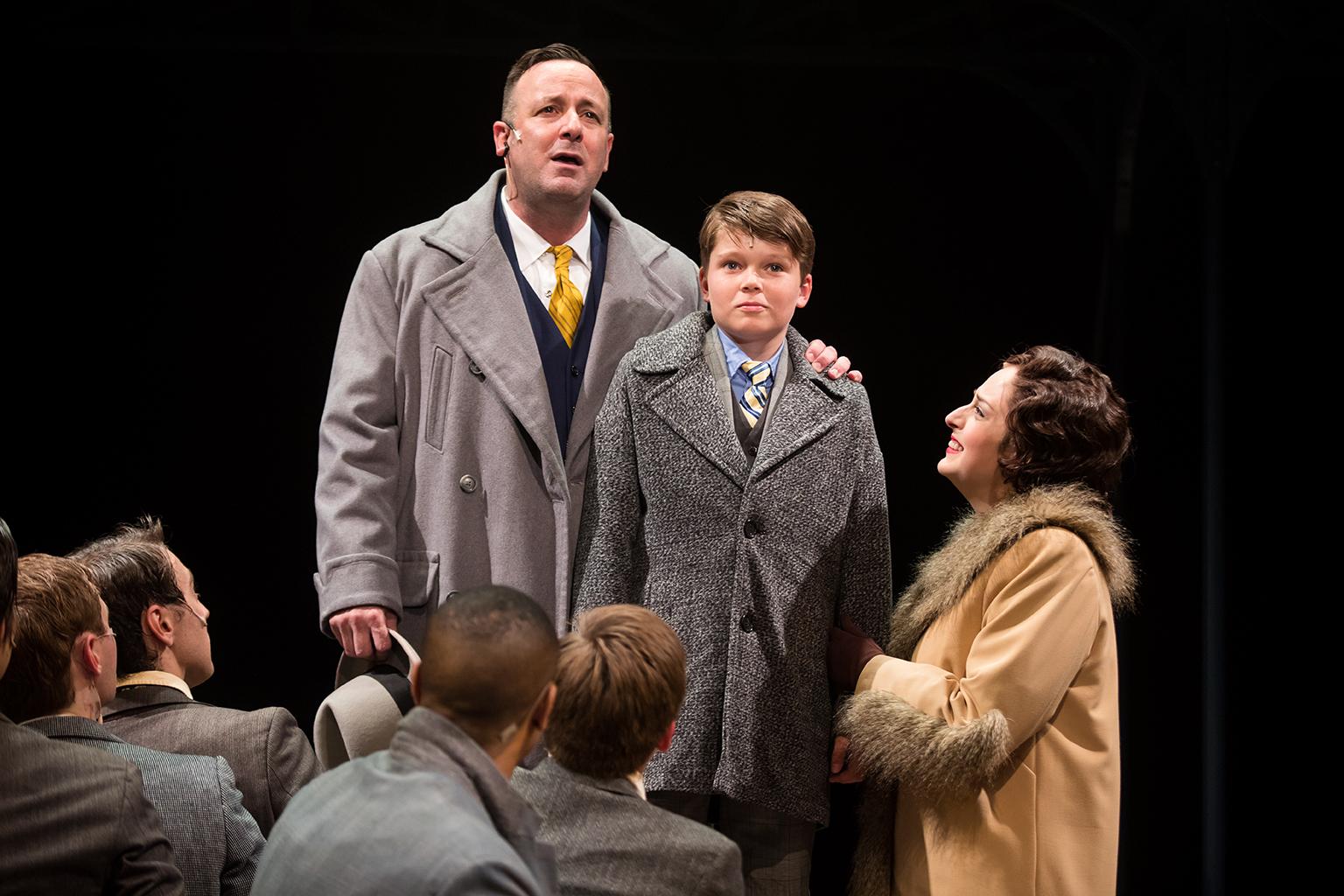 From left: Rockne (Stef Tovar), Billy (Charlie Herman) and Bonnie (Dara Cameron). (Credit: Justin Barbin)
I first saw "Something in the Game" back in 2008, in its debut at Theatre at the Center in Munster, Indiana, and while I thought it had great promise, that was the last I heard of it. Now, a newly updated version of this musical, which features a sharply penned book by Buddy Farmer, wonderfully varied music by the multitalented Michael Mahler, lyrics by Mahler and David H. Bell, and dynamic direction and ingenious choreography by Bell, is being exuberantly performed by a cast of 24. The top-notch Chicago professionals in the leading roles are impressively supported by an ensemble of excellent student actors, and accompanied by a first-rate orchestra comprised of the school's music students.
The tone of the show is set with the opening number, "We're the Irish," which serves as a solid reminder that Rockne (Stef Tovar), a Norwegian-American from a Protestant family in Chicago was seen as an outsider at the Irish Catholic Notre Dame. In addition, consistently demeaned as a loser by his blue-collar father, he arrived at Notre Dame at the age of 22, after working at the Post Office to save up tuition money. He definitely had something to prove.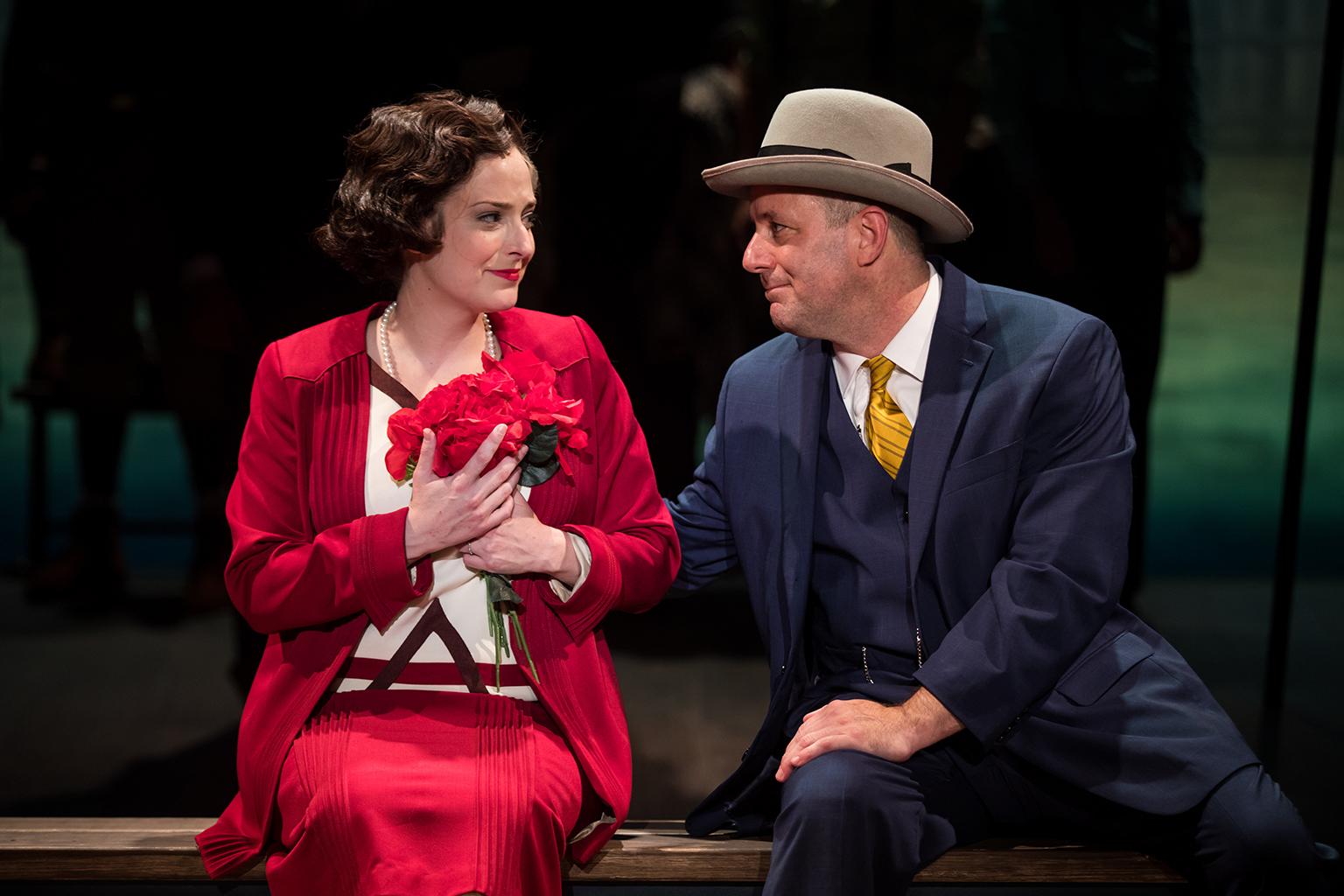 Bonnie (Dara Cameron) and Knute (Stef Tovar) fall in love again. (Credit: Justin Barbin)
While he studied chemistry and played on the school's football team, Rockne also fell madly in love with Bonnie (Dara Cameron), and was soon married and the father of a son. Recognized for his motivational and tactical skills, he left his academic pursuits behind and was soon named coach by the formidable and ever-prickly Father Walsh (James Rank). And he went on to oversee a remarkable winning streak that would define his career. Most crucially, he discovered Gipp (Adrian Aguilar), whose penchant for drinking and gambling could not disguise his innate athletic talent.
The relationship between Rockne and Gipp assumed a father-son quality of an intensity that was, sadly, never duplicated between Rockne and his own young son, Billy (Charlie Herman), who was diagnosed as "slow." But ironically enough, Gipp became something of an older brother to the boy.
Of course, as those familiar with the 1940 movie, "Knute Rockne, All-American" can tell you, "The Gipper" (played by Ronald Reagan), had only four golden years in the spotlight and then died of pneumonia at the age of 25 after a night of debauchery at the club run by Jimmy the Goat (James Earl Jones II), and good time girl Thelma (Rashada Dawan).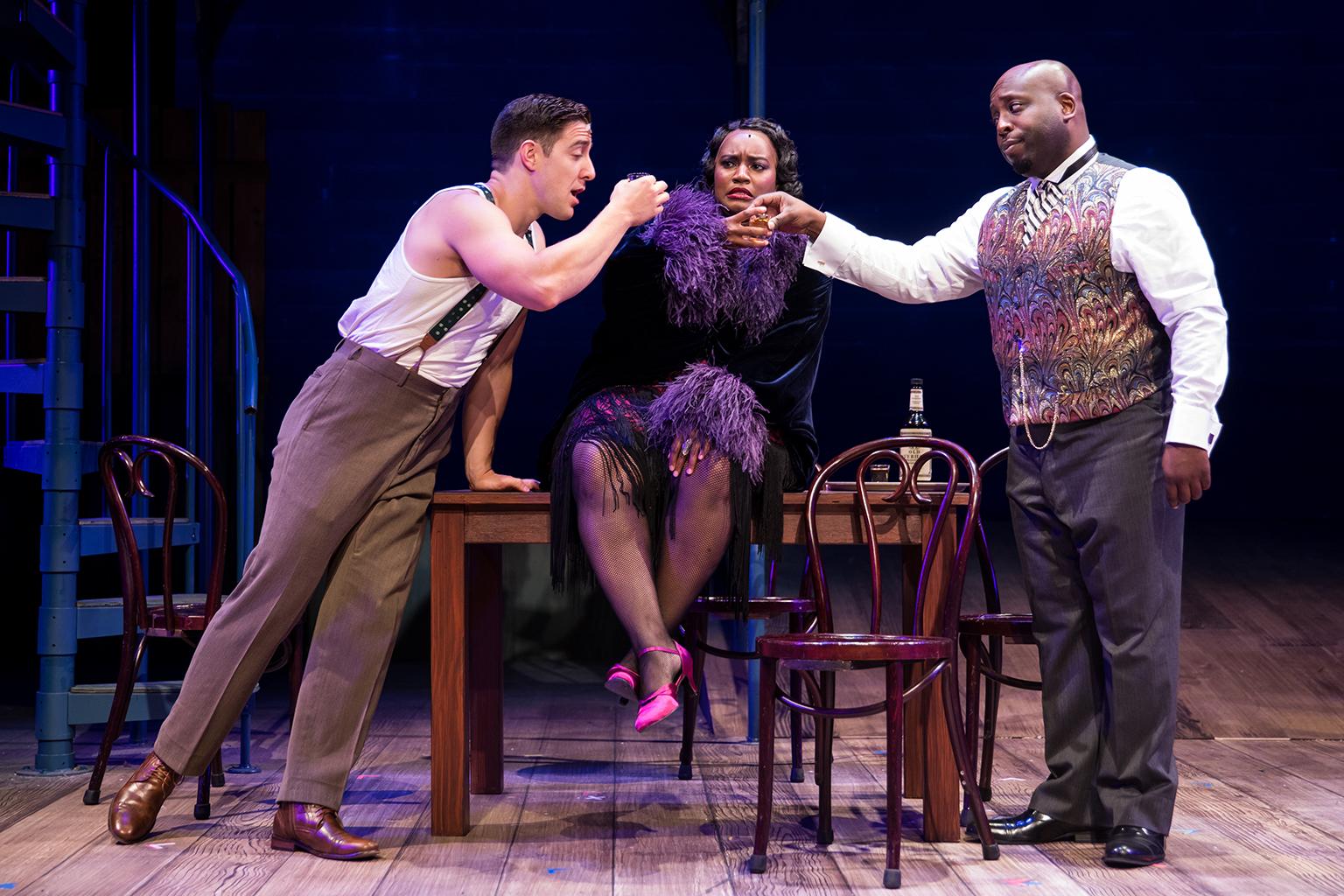 From left: Adrian Aguilar (Gipp), Thelma (Rashada Dawan) and Jimmy the Goat (James Earl Jones II). (Credit: Justin Barbin)
The beauty of the show is how its more than 20 songs – with their smart, emotionally driven lyrics, and melodies that range from fervent ballads to rah-rah football chants and jazzy, 1920s dance hall numbers – capture the essence of the characters with such insight and flair. (If there is one element that might be tweaked it is the element of time. The story spans the years 1909 to 1929, but many events are compressed.)
In an ideal portrayal, Tovar (who created the role of Rockne in the 2008 production), expertly taps into his character's many dimensions – from the pain, determination and workaholism, to the obliviousness and hunger for celebrity. Aguilar brings Gipp's natural grace to bear in every scene – most notably those in which he wins the confidence of World War I veterans, easily forges a bond with Billy, and sings his brutally honest "Confession." And late in the show the two men join ideally in the song that captures their sense of being "Ordinary Heroes."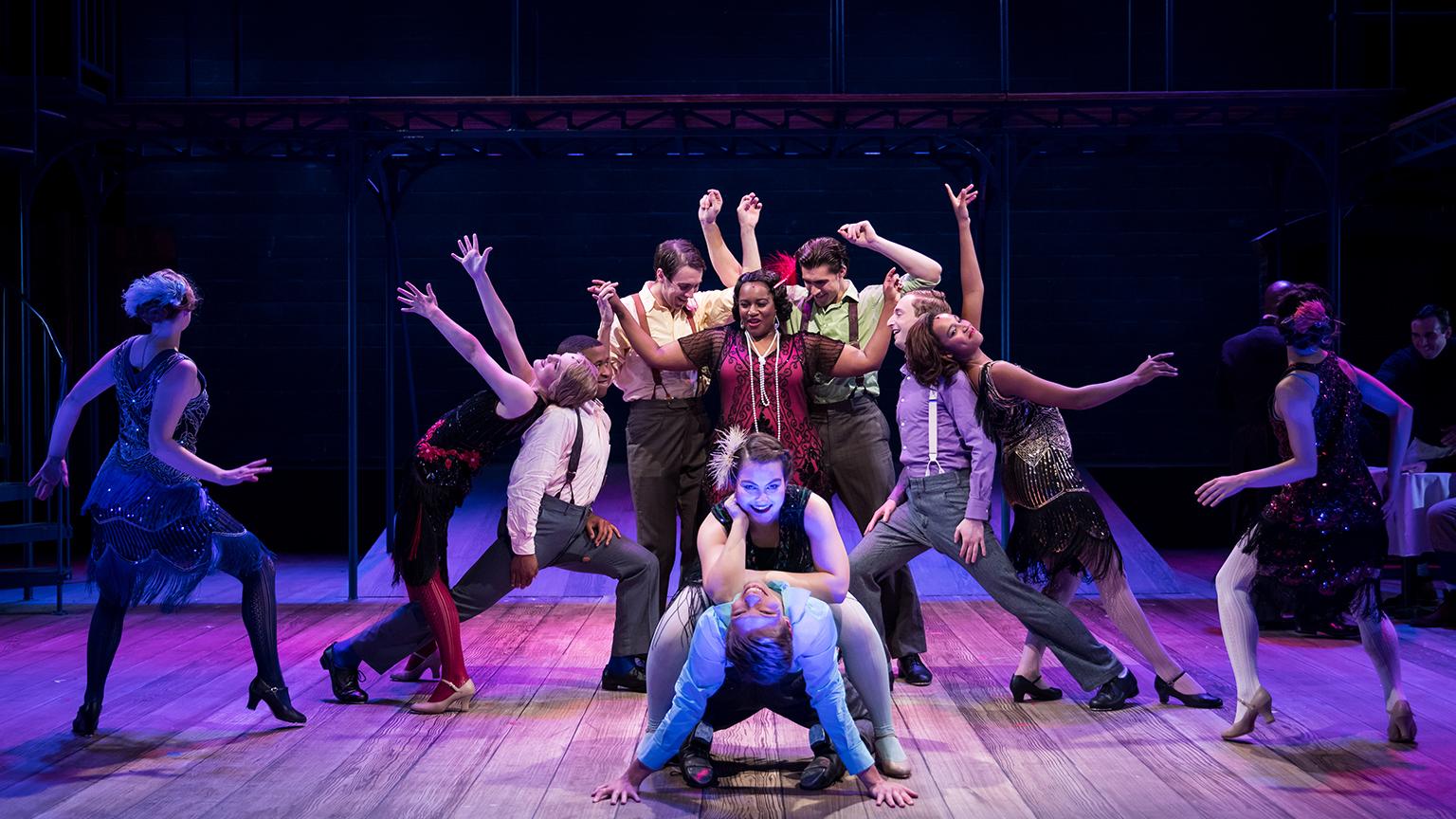 Thelma (Rashada Dawan) and ensemble dancing "The Shift." (Credit: Justin Barbin)
As Bonnie, Cameron, an actress of exceptional range, uses her clarion voice to superb effect and turns two songs – "Father and Son" and "If There Had Been Roses" – into plays all their own. She is riveting.
Rank precisely nails the hauteur and pride of Father Walsh. Jones nails every mischievous bit and comic line as Jimmy. And Dawan uses her volcanic voice and sassy spirit to add plenty of spice to the story.
Along with Brandon Springman and Neal Davidson, the ensemble of student singer-dancer-actors supplies great zest throughout. Robert S. Kuhn's period-perfect costumes and Alan Schwanke's multifaceted set (lit by Jesse Klug) capture the era. And music director Ryan T. Nelson, conductor Matthew Burgess and sound designer Christopher Kriz assure that all aspects of the score get their full due.
The show concludes with the anthem, "There's Something in the Game," which fully captures the spirit of "the fighting Irish." What it does not tell us is that just a couple of years later, Rockne will die in a plane crash at the age of 43. No wonder his guiding principle was, as the song title puts it, "Go, Go, Go." That should also be the motto for this "All-American" musical.
"Something in the Game: An All-American Musical" runs through Aug. 5 at the Josephine Louis Theater, 20 Arts Circle Drive on Northwestern University's Evanston campus. For tickets ($20-$35) call (847) 491-7282 or visit www.wirtz.northwestern.edu. Running time: 2 hours and 20 minutes with one intermission.
---
In 'Pamplona,' Stacy Keach Runs with Hemingway and the Matadors
Elvis Makes a Faustian Bargain in 'Heartbreak Hotel'
'Murder for Two' Sets Pair of Actors in Breathless Pursuit of Perpetrator
Tapping Into the Operatic in 'Cat on a Hot Tin Roof'
---